Do you like to draw and want to develop in digital design? Then you can use your iPad as an illustration device. It's great for all types of drawing and illustration and will be very convenient for designers, marketers, etc. Let's learn more about how to use iPad as a drawing tablet for Mac. So you can get quality results without unnecessary investment. The article will give you detailed instructions and a selection of applications.
Before we start
Save your time and let trained experts in drawing tablets issue resolution resolve your concern in minutes!
When selecting a graphics tablet and using it, you may encounter many difficulties. To avoid wasting your time and nerves, try to get help from the pros. Howly experts are always ready to help you get instant help. They are available 24/7 to answer your questions about drawing tablets.
The pros you'll get resolving your drawing tablets concern with Howly experts:
Specialized help with drawing tablets

Quick advice right in your device 24/7/365

Expert reply within 60 seconds

Clear step-by-step guidance

Limitless number of follow-up questions

Patient and friendly help till your drawing tablets concern is fully resolved

All answers you need in one place
Can I use iPad as a drawing tablet?
The answer to the question "Can you use an iPad as a drawing tablet" is Yes! And it's not as difficult as it may seem. This feature is very useful for designers, artists, animators, and those who have decided to learn and improve their skills in digital drawing. In the future, drawing can become not only your hobby but also a profession that help increase income.
When comparing the iPad to conventional drawing tablets, there are such advantages:
Ease of use. The iPad interface makes it very easy to use and there is no need for additional training. With other tablets, it is very uncomfortable.
Multitasking. Drawing is one of the hundreds of functions of the iPad. So when you buy it, you're getting a handy tool for life: taking pictures, using apps, etc. And specialized drawing tablets only have a set of drawing functions.
You may or may not connect the tablet to your computer. The iPad can act as a standalone drawing device.
How to use iPad as a drawing tablet with a Mac
Don't worry, using an iPad as a drawing tablet for Mac is not very difficult. It's very easy. Let's find out what you need to do it.
Connect your iPad to Mac
The first thing you need to do to use iPad as a drawing tablet for Mac is to connect the two devices. You can do it this way:
Install a connectivity application. Such as Sidecar, Astropad. You need to choose a comfortable application and check if it is compatible with your software version.
Then connect your iPad to your computer or notebook with a connection cable.
Now you need to open the installed application on two devices at once, and you're done! Now, everything you draw on your iPad will be duplicated on your monitor.
Connect your Apple Pencil to your tablet
For the drawing to get the best quality when you use iPad as tablet, it is worth using a smart pencil in the process. Thanks to it, you can adjust the density, brightness, and force of pressure, so that the drawing on the iPad will not differ from drawing with pencils on paper. To connect, you need to rely on your model of iPad and the generation of Apple Pencil.
If you have a Generation 2 Pencil, simply place it in the special area on the tablet.
To connect the Gen 1 Pencil, you will need to remove the cover from the Pencil and insert it into the slot on the iPad. If you want to connect it to a 10th-generation iPad, you need to pair the device with a cable.
How to use iPad as a tablet for Mac: install drawing apps
And to finally turn iPad into a drawing tablet, you need to get one or more drawing apps. Choose them based on your tasks and desires. All you need to do is to see if the application you choose is suitable for your needs and price (if it is not free). It is worth studying the description in detail and seeing if the set has the tools you need.
Once you have completed all the previous steps and all the devices are connected and synchronized, you can start creating drawings!
What should I do to connect your iPad with a Mac?
If you have plans to use iPad as a drawing tablet, you need to sync your tablet with your Mac. This is very easy to do with the help of special applications. So everything you do on your iPad will be broadcast on the PC screen. Here are some of the handiest apps that will help you connect your two devices and duplicate your displays in real-time.
Apple Sidecar
This is a built-in application that works with the Catalina operating system. Also, the iPad must be iPadOS 13 or later. With this built-in feature, you can transfer images from your tablet to your PC or notebook screen without lags or delays. Also, because it is a built-in feature, there is no need to install additional apps. If your tablet and Mac are compatible with Sidecar, here are handy instructions on how to use it:
First, you need to connect the two devices to the same Apple ID. This is the only way the feature can work.
Now go to the Mac Control Center.
Go to Display mode and click on Screen.
Now you need to select the Connect To feature. From the list of suggested devices, select your iPad.
Please note! For the function to work correctly, you need to have a network connection, and you have to turn on Bluetooth on both devices at the same time.
Astropad
Another popular app is Astropad. With its help, you will be able to use iPad as drawing tablet for Mac free. Thanks to it, you can combine the functions of the iPad and Mac to eventually create an amazing quality design, drawing, and animation. But not all devices are compatible with this application, so check this initially.
Using Astropad is very easy. Here are the instructions to follow:
First, check if your devices are compatible with the app and install it on two your devices.
Connect your iPad to the Mac.
Open the app on both devices at once and you're done! Now your tablet's screen will mirror the display.
Duet Display
To use your iPad as a graphics tablet to its fullest, this app will help you. With it, you will be able to duplicate the screen of your tablet directly on the Mac. To use this application, you need to have a version of the operating system MacOS 6 or higher. And the iPad version is iOS 7 or higher. You can easily understand the interface, even if you are a beginner and do not have enough knowledge. Here's how you can set it up quickly:
First, you need to install the app for two devices. Don't forget to check compatibility on each of them before installing.
Then you need to sync the iPad with the Mac. You can do this with a cable or using a wireless network. Also, note that you need to have a good Internet connection to work on this application.
Run both apps at the same time and see if your screen is mirrored.
EasyCanvas
Another handy and application to help you to use iPad as tablet for PC. It's very easy to use and takes a minute to set up. It will help you turn your Mac display into a display screen for your tablet. Furthermore, it is very convenient and allows you to work out the details of the sketch. This is especially important for illustrators and designers who are developing their projects from scratch. The installation is very simple:
You should start by installing this app on two devices at once.
Now you have to synchronize the iPad and the Mac.
Now open the application on the two devices. On the Mac and iPad, you will get built-in prompts to help you complete the installation.
Installing apps to use iPad as drawing tablet for PC
Also, to use iPad as graphics tablet for mac, it is important to have illustration apps. The choice should be based on your tasks and device compatibility. Here are some of the most relevant applications to use on iPad as drawing tablet.
Procreate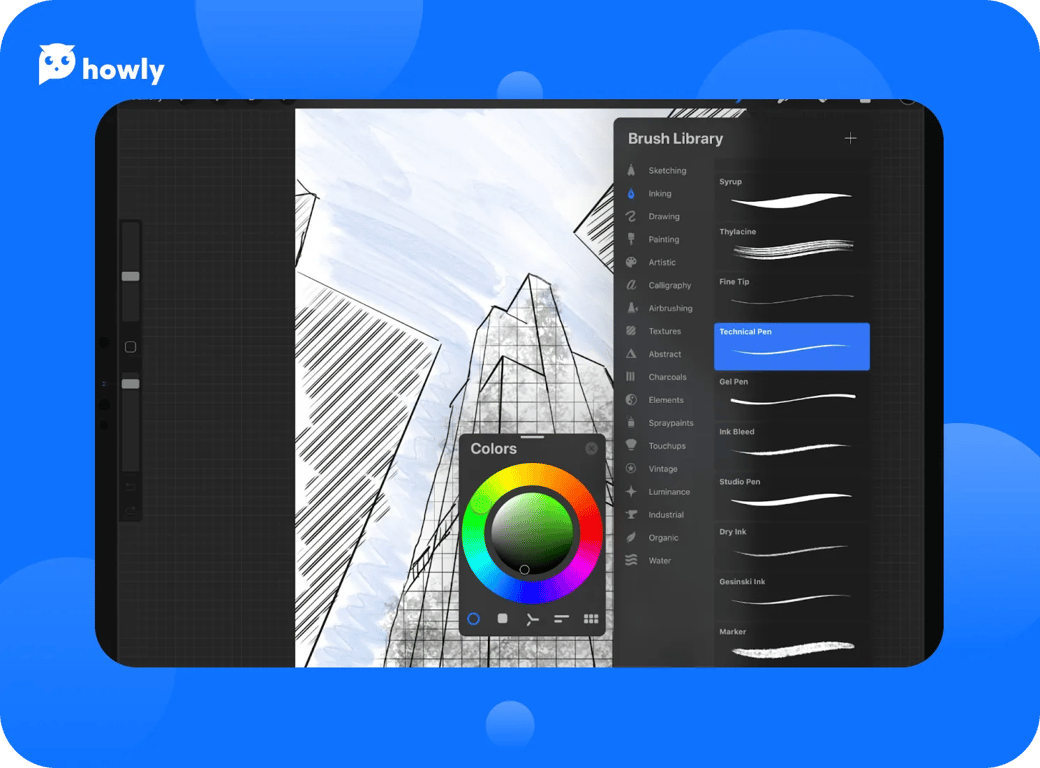 It contains all the essential tools for drawing. The application is suitable for both professionals and beginners. And the main feature is the ease of use: the interface is intuitive, and all the tools are fixed on the panel. It is important to note that this application is paid, but the price for such great functionality is quite budget-friendly. You can also track the price and buy the application at a discount. This app will b very helpful when you are using iPad as a drawing tablet for Mac.
Here you will find several hundred brushes, different backgrounds, and tools for 3D visualization. In the application, you can create simple drawings, logos, templates for social networks, etc.
iDraw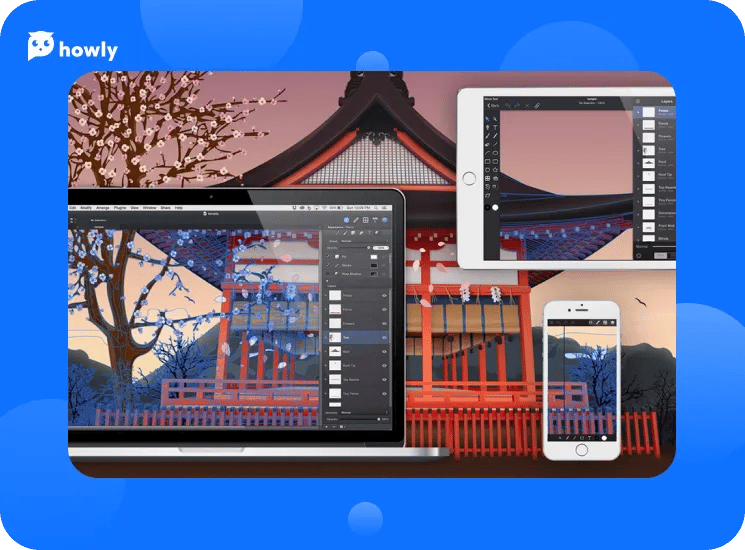 Another cool drawing app to help make your iPad as tablet for Mac. It's very simple and easy to use, you can use it even without any experience in digital drawing. It has a very clear interface and all the tools are easy to operate. By installing it you can create illustrations, logos, banners, and other types of designs from scratch. Also, the import function is available, where you can import a ready-made image and edit it.
The main useful features of the application are transparency adjustment, gradient fills, and a built-in share image function.
Photoshop
Few people know, but the most popular program for editing and creating illustrations, Photoshop, is also available on the iPad. It has all your favorite features and tools that help you create amazing and awesome drawings. The IOS app has the same features as the PC app. You can create graphics, illustrations, commercial designs, 3D drawings, and much more.
F.A.Q.
Do I need to buy a regular tablet for drawing?
You don't have to buy a regular drawing tablet if you already have an iPad. Your iPad can do the job just fine. You just have to connect your iPad to your Mac and install the app to draw.
Can I use my iPad as a drawing tablet for my pc?
Yes, absolutely. It has all the features you need to make the process comfortable, and you get a quality result. Many artists note that the iPad is much more convenient to work with than just a regular tablet.
How can I use iPad as a drawing tablet for Mac?
If you want to create drawings, animations, and designs using iPad to draw on Mac, you will need to synchronize iPad with your Mac (or PC), connect a stylus, and install the drawing app.
Can I use the iPad to draw if I'm a beginner?
It makes absolutely no difference if you're a pro or just starting to learn how to design and draw. The main thing is to find an app with a clear interface that is easy to use. So you can try your hand at this craft and see if it suits you.
Conclusion
Now you know how to use an iPad as a drawing tablet. It has all the features you need to create quality designs. So if you already own an iPad, there is no need to buy an additional graphics tablet and waste your money. But to draw nonsensical lines, shadows, and shading, you will need an Apple Pencil. The iPad is just as good as other graphics tablets, but it has a lot of cool features for every day. This makes the tablet an indispensable device in the daily routine and a great assistant in the work. Let's summarize what you need to do to use iPad as a drawing tablet:
First, you need to connect your iPad to the Mac so that the screen of the tablet mirrors the screen of the Mac. This will help to keep a closer eye on all the details and get a quality result.
Connect your Apple Pencil to the tablet. Note that different generations of Pencil have different connection algorithms.
Install and open the drawing app on the iPad, check if your screen is duplicated on the Mac, and start creating!