Apple Watch owners know that this device is very useful in everyday life. It helps plan your day, reminds you of the importance of sports, measures health indicators, wakes you up in the morning, and helps you manage your time. And Apple Watch perfectly complements any look thanks to its laconic design. But not all owners are aware of all the functions and features of the gadget. And to use the Watch to the maximum, you need to know all the secret tricks. The Howly team prepared a useful guide about Apple Watch: how to use it and what are the cool tips and tricks in use.
What can you do with an Apple Watch?
A watch from Apple is not only stylish but also a useful accessory. It helps solve many daily tasks and simplifies routines. Apple Watch users notice that after using the device, they cannot imagine their life without it. So why is this so, and what is so special about this Watch? Let's find out!
The gadget combines both taking care of your health and managing daily tasks. For example, the latest version of the watch has many functions for taking care of your health: it measures the pulse, and the oxygen content in the blood, tracks the effectiveness of handwashing, monitors the quality of sleep, and identifies the increase in body temperature. And many functions are indispensable in everyday work: a regular watch and synchronization with iPhone and MacBook. Let's find out what are the main functions of apple watches are and what the best uses of apple watches.
Convenient dial
The main answer to the question "What can my Apple Watch do?" is stored in its name. A watch is, first and foremost, a handy gadget for viewing the time. With Apple Watch, it is very easy and comfortable to find out the time, check the time on the timer, keep track of time with the stopwatch, and set the alarm. And you can easily customize the dial to your liking. The change is done by swiping from right to left and selecting the appropriate option. You can also change the stopwatch dial to your liking. So you'll always know what time it is, and you'll have the necessary tools at your fingertips.
Synchronization with iPhone and iPad
You can very easily sync your Watch with other Apple gadgets to monitor your notifications remotely. All notifications that come to the smartphone are visible to the owner on the watch screen. Users receive text messages, incoming calls, and notifications from social networks and messengers. This is very convenient in crowded places, for example, on public transport or in crowds, when it is not possible to reach the phone. Also, this gadget is very effective during work and study, because you just need to look at your wrist and see the notification without attracting attention.
Control of health and fitness
This gadget is one of the best motivators for taking care of yourself. You can use it to monitor your heart rate, temperature, and sleep quality. All of this can be found in the Health app. Also, pay attention to "Workouts"; it will help you track the effectiveness of your workouts, and the system also monitors physiological data during the activity you have chosen (running, swimming, CrossFit). These features are considered the best uses for Apple Watch for users who are concerned about their health.
Time management on a new level
If you're used to planning your day and creating to-do lists, the Apple Watch can help take it to the next level. Now you can keep your daily plans right on your watch. You don't have to take out your notebook or look for your phone and open your notes. Just flip it up, and you'll find it in about 15 seconds. This is one of the most useful features of does Apple Watch do. Create lists of plans, edit them, mark the things you've already done, and add new ones right in the watch.
Stylish appearance
It is also worth noting that the Apple Watch has a very stylish and concise design. Therefore, they will be versatile accessories for absolutely any look: sports, casual, or business. In addition, the strap, with which the watch is attached to the wrist, is removable. If you want, you can buy several bracelets and change them to the desired color or style.
25 best Apple Watch tricks to try
Make any photo you want the main photo!
You can select any photo from the gallery and make it the main photo on the screen. So you can customize your device and personalize it. It's one of the coolest things that an Apple Watch can do. To make a personalized design, you first have to choose the right photo in the gallery. Then pinch your finger on the photo and click on Create Dial. Now enter the basic dial settings, and you're done!
Use the watch screen as a flashlight
This is one of the best ways to use the Apple Watch, because it can help in any, even the most difficult situations. If you find yourself in a dark room, you need to illuminate some detail, to illuminate something in front of you, you can use the watch instead of a flashlight. You will find this function in the Control Panel. After you have activated the function, the brightness will still be minimal so as not to dazzle you. As soon as you point the watch at the area you want to illuminate, tap the screen, and it will become as bright as possible.
Activate the SOS signal
Got in a jam and need help? Then you can use your watch to activate the SOS signal. It's one of the most useful and best things that you can do with an Apple Watch. Because it can save your life if you're lost in the woods or mountains, injured, or a victim. In the settings, you need to activate the "Hold side button" under "SOS". Then the call will start if you hold the side key for a long time.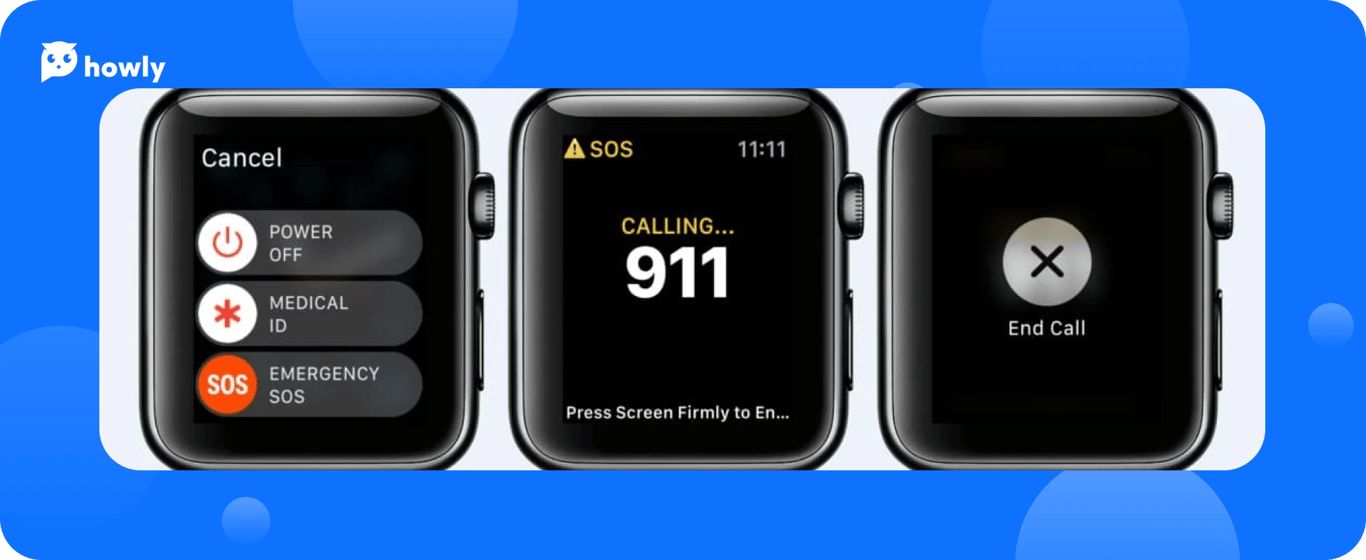 Create a list of favorite apps
If you use the watch often, you use a few apps more often than others. You can add your favorite apps to your favorites list so that you can access them quickly. This is one of the best Apple Watch tips and tricks that help to make using your gadget convenient and efficient. Adding apps to your favorites is very easy. You need to go to the Recent section and click on the Keep in Dock button. Now your favorite apps will be available when you press this button.
Be Always on time with this feature!
What can you do on an Apple Watch? For example, stop being late! Yes, with this gadget, you can adjust your punctuality. If you are often late, you can set the time on your watch a few minutes ahead. In Settings, you need to find the Time tab and edit it manually. Now you can fight the perpetual tardiness and arrive on time!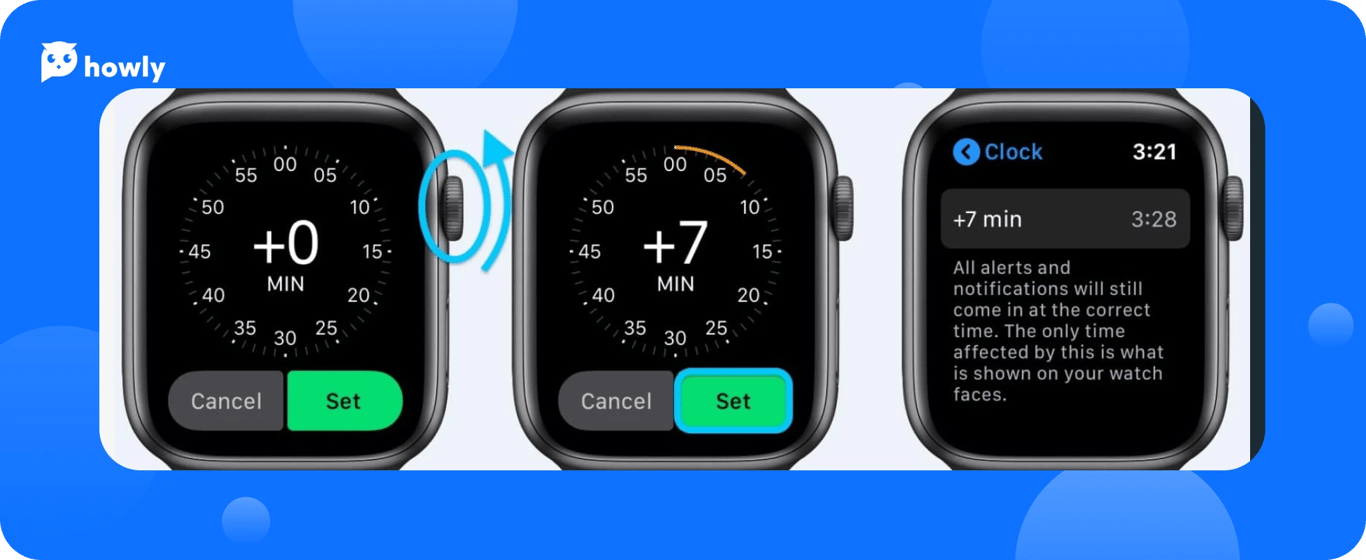 Take screenshots from the watch display
Yes, even your watch can take a screenshot. It's one of the most useful things that can Apple Watch can do. You can do it very easily. Press the side button and the Digital Crown wheel at the same time. If you can't take a screenshot, then you don't have the feature activated, but you can fix that very easily. You can activate the feature using the Screenshots switch in the Watch Basic menu. Now you can take screenshots on your watch without losing important information.
Share your location in a few clicks
What to use Apple Watch for? For example, to ensure your safety. There are times when you feel that you are in an unfamiliar place and are completely lost; you can send your geo position to your loved ones so that they know where you are. To do this, go to Messages on your watch and select a contact. Tap the message field once. In the field that opens, select Share location. Now you don't have to worry about getting lost in unfamiliar areas.
Activate the night mode
If you use your watch at night, you can easily change the backlighting. After all, daytime backlighting can be too bright and uncomfortable for the eyes. The night mode, on the other hand, has a dark theme and red backlighting. This will take the unnecessary strain off your eyes during use. How to use an Apple Watch in night mode? You can activate the mode through the toggle switch Night mode in the Basic menu.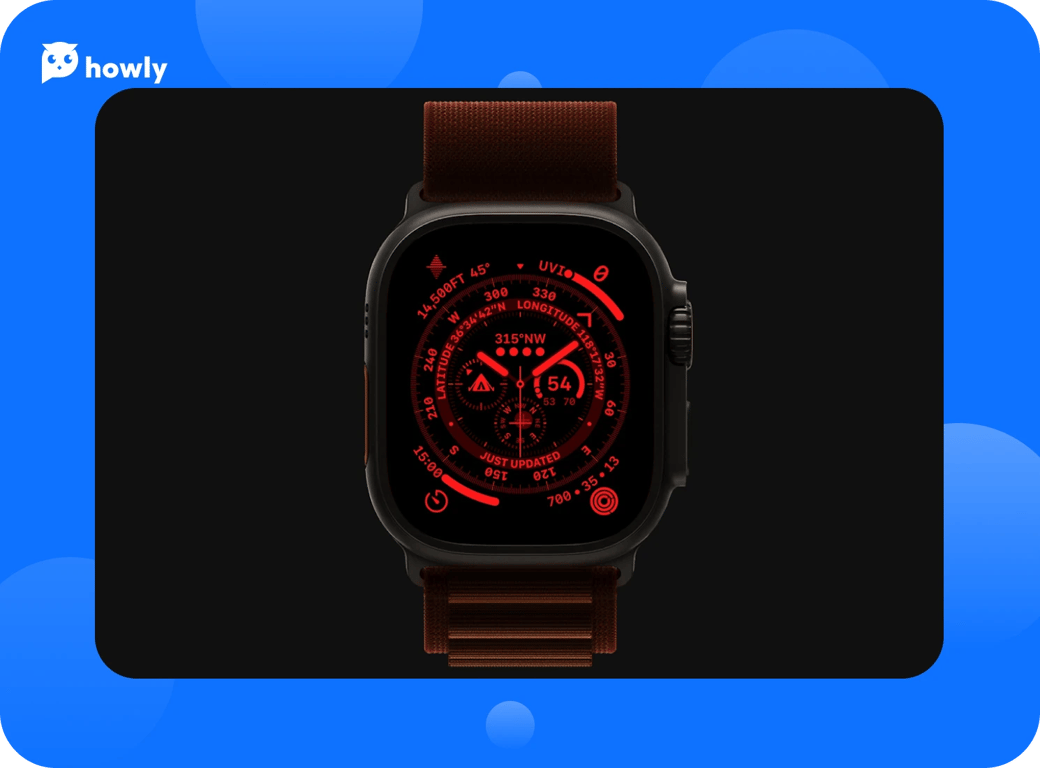 Practice with music
What can I do with my Apple Watch to improve my fitness time? You can create your unique playlist that automatically launches when you activate workout mode. To do this, open the watch app, and select Workout Playlist on Settings. You can add any songs saved in Apple Music. Now, when you work out, the playlist you've prepared in advance will automatically play.
Changing the style of the apps menu
What can I do with the Apple Watch to personalize it? For example, you can easily customize the menu style. You can do this in just a few seconds. Hold your finger on the apps' menu icon and then select Grid View or List View. By default, Grid View is selected. However, it's much more convenient to view apps as a list. Switching modes is available for owners of the Apple Watch 3-series and later.
Save energy to extend battery life
What can I do with an Apple Watch if my battery is low? For example, activate Eco mode. This way, you can start saving power consumption and extend the life of your battery. The Apple Watch has an extreme power-saving mode built in, which is especially useful when you're traveling. With it, the watch can tell time for days. To activate this mode, in Settings, open the tab with the charge and click on Eco Mode.
Turn off notifications for the training period
During workouts, notifications can be distracting and confusing. Therefore, you can turn off notifications when you have workout mode activated. To do this, you need to go to General mode and select Do Not Disturb there. This is one of the best Apple Watch ideas that help with concentration. This way, you can concentrate fully on yourself during your meditations and workouts.
Keep your notifications private
How to use your Apple Watch to protect your privacy? If you're worried about someone you don't know reading the content of your messages, you can easily keep your messages private. To activate this feature, you need to go to Privacy in your settings. And then click on the Privacy tab. This is great for keeping your messages safe from strangers in public places who are staring at your watch screen.
Use your watch to find your iPhone
How to use my Apple Watch to find a lost iPhone? If you have lost your smartphone somewhere, you can try to find your device using the watch. Open the control panel and press the icon with the smartphone on it. Now your lost device will beep and its screen will flash. This way, you can find it in just one minute.
Choose an activity goal each day
If you regularly engage in sports activities, then this trick will be very valuable for you. What can u do on an Apple Watch to improve your athletic performance? You can set yourself a goal for the day and then achieve it. If you want to change your planned goal, you have to press the ring in the app with force and then select the option Change mobility goal.
Modify the stopwatch to your liking
Stopwatch is a very handy and necessary widget that helps not only in sports but also in everyday life. For example, the stopwatch is indispensable in cooking, time management, work, and study. If you often use the stopwatch, you can change its shape to your liking. To do this, you need to click on the stopwatch icon, the system will offer 4 types of display: normal, digital, graph, or hybrid. Choose the one you like and save your changes. Now it will be much more convenient to use the stopwatch. This is one of the most useful features of the Apple Watch.
Mute your ringtone or notification
This is one of the coolest and most useful Apple Watch SE tips that also works on all other versions of the Apple Watch. It often happens that notification comes at an inopportune moment, and you need to quickly mute the sound. To do this, you can simply cover the watch screen with your hand. This way, you mute the notification sound and avoid an embarrassing situation.
"Feel" the time.
What can an iwatch do? For example, give you the ability to "feel" the time without paying attention to the screen. This is an ideal feature for those who are engaged in sports and need to understand regularly how much time has passed. It is also indispensable in training or work. You can find this function in Settings, and it is called Time haptically. Now you will get tactile signals, and you will be able to understand how much time has passed.
Resize text to your liking
Users can often have trouble reading text. This is because the size of the letters may be too small to comfortably read the text displayed on the screen. You can manually adjust the text size so that you are comfortable reading and viewing it. To do this, go to Settings and open the Text Size tab. Now move the slider until the text is large enough. That's it; now it will be much more comfortable to read text from the watch screen.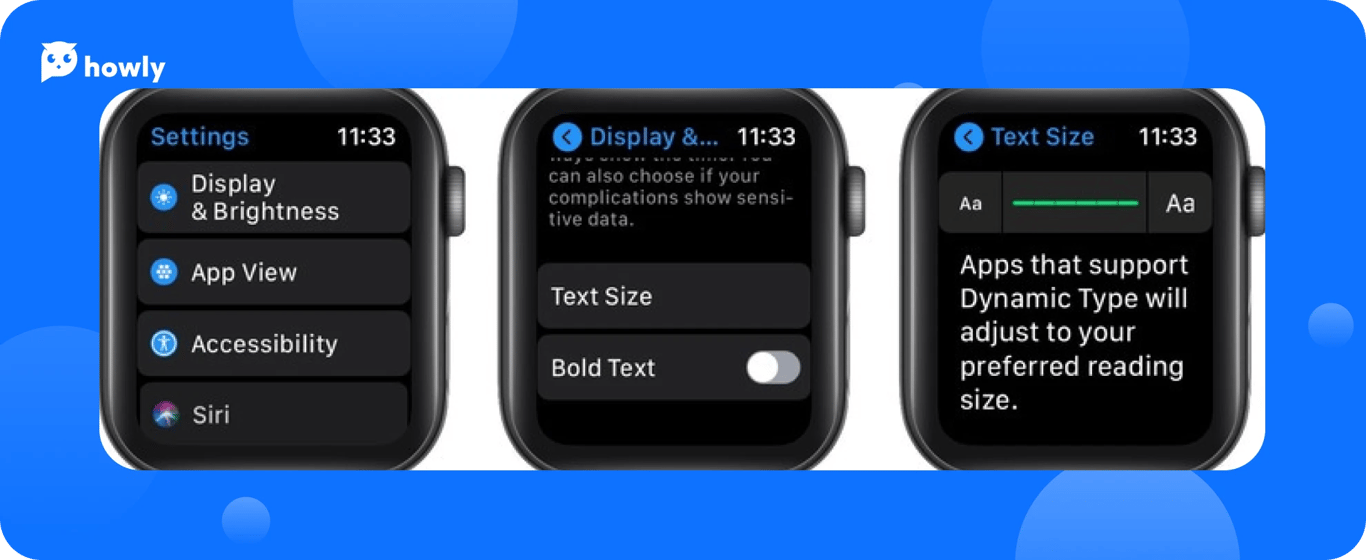 Did water get into the watch? Remove it with this function
This is the best use of Apple Watch for those who regularly work out in the pool. You don't need to take your watch off every time before your workout. You can swim in it and then use the useful function that helps get rid of water. To start, go to the Control Center, and swipe until you find the icon that shows a drop of water. Click on it and follow the instructions. This way, you don't have to worry, because your watch is completely dry.
Control your heartbeat
You can use your watch to control your heartbeat. This is what you can do with an Apple Watch to monitor your condition and health. To launch it, go to the Heart menu, and turn on High Heart Rate and/or Low Heart Rate. You will be notified as soon as your heart rate drops below a preset threshold or rises. This way, you can be instantly notified if your heart rate differs from normal.
Call Siri in one motion
You can summon Siri just by lifting your wrist. This is one of the coolest Apple Watch tips and tricks series 6. You just have to raise your wrist, and the voice assistant will ask you what you can do to help. Now you can dictate your commands to Siri, and the assistant will help you. This feature saves you a lot of time because you don't have to waste time calling the assistant by voice. Just raise your arms and you're done!
Unlock a MacBook without a password
Not many users know that the watch is synchronized with the MacBook, so they can easily unlock the laptop with the watch. And you do not need any passwords or codes. This is one of the best uses of Apple Watch, which saves users time. But this feature needs to be set up. Open the Settings menu on your Mac and follow this path: Basic, then Protection and security, then System settings. In the last item, you'll need to check the box next to Allow Watch to unlock Mac.
Control AirPods with your watch
You can easily control your headphones using the watch. For example, you can change the volume on your AirPods by scrolling the wheel. You can also view the remaining charge of your headphones on the Watch Control Bar. These are cool Apple Watch SE tips and tricks that simplify the headphone experience, which is indispensable during workouts.
Set up the device for left-handed people
If you are left-handed, you may have some difficulty using your watch. After all, it is designed more for right-handed users. But you can optimize the device to be comfortable for left-handed users. Find the Orientation tab in the settings and choose which hand you use for the watch.
F.A.Q.
How to know which Apple Watch I have?
If you need to know the model of your Watch, then take this tip. You can find out the model using the Apple Watch and iPhone. Using your smartphone, go to the Apple Watch tab in Settings and find the About button there. Here you will be able to see the model number by which you identify your Watch. Then go to Apple's official page and find your model in the list.
How to use iWatch?
Many users ask, "What can I do on Apple Watch? First, it helps with daily tasks: a handy dial, timer, stopwatch, alarm clock, the ability to create scheduling lists and receive notifications from iPhone. The watch is also indispensable for taking care of your health and sports. The watch helps you monitor your heart rate and temperature and helps you during workouts.
How to wear your Apple Watch?
The main rule of how to wear Apple Here is to make you comfortable. Adjust the strap to your comfort and change the position on your wrist to your liking. But still, there are a few best Apple Watch uses rules to help you wear your watch better. First, it's better to fasten your watch on your non-dominant hand. Second, the watch's best position is on your wrist, above the carpal bone. In this way, the watch can measure health indicators correctly.
How to get the most out of your Apple Watch?
To get the most out of your watch, you need to know its basic and hidden functions. There are many Apple Watch tips both for daily work and study, as well as for sports and taking care of your health. For example, you can change the stopwatch dial to your liking, make an SOS signal if you get in trouble, share your location with friends, concentrate on exercising, etc. More hidden features that every user needs to know about can be found in this article.
Conclusion
What can my Apple Watch do? Your Apple Watch can become your main assistant in your daily routine, as well as your motivator in training and taking care of your health. But to get the most out of your Apple Watch, you need to know all the secret and hidden functions. In this article, you will find 25 useful features that not all users know about. By learning them, you will be able to use your Watch more effectively and useful. Save this article and share it with your friends so that they, too know all the necessary Apple Watch tips.