Regular updates of applications like iTunes on your computer can significantly enhance their performance. Updates on iTunes provide useful changes to the app's security and functionality. And even though the new versions of the app usually install automatically, sometimes you need to do it manually.
Before we start
Save your time and let professionals resolve your issue in minutes!
Want to start solving your problem immediately? Experienced Howly troubleshooters can fix your issue ASAP. They're already waiting for you in the chat!
The benefits you'll get while troubleshooting your issue with Howly experts:
Qualified help with laptops HDD

Quick advice right in your device 24/7/365

Expert reply within 60 seconds

Clear step-by-step guidance

Limitless number of follow-up questions

Understanding and empathetic help till your laptop HDD issue is fully resolved

All answers you need in one place
Do you want to know how? In this article, we explain in detail how to update iTunes on computers with different OSs. Also, you'll find out what problems may appear during iTunes updates and how to restore your music, audiobooks, and other files from your iTunes if you accidentally lost all of them.
How to update iTunes on Windows
If you're a Windows user, you can download the latest iTunes updates either by checking for them in Microsoft Store or in iTunes. The way you should choose depends on whether you got the app from the Store or the Apple website. Check the instructions for both methods below.
iTunes installed from Microsoft Store
The iTunes software from Microsoft Store is usually auto-updated. But, you still can independently check if there are any new versions of iTunes and download them on your PC. Here is a guide on how to do it:
Open Microsoft Store.
Choose Library from the sidebar.
Click the Get Updates button. The Store will scan and show all available updates in a few seconds.
If your iTunes needs an update, you'll see the application icon. Click Update.
If there is no iTunes among the listed applications, it means this software is already updated by the system.
iTunes installed from Apple's website
In case you got iTunes from the Apple website, you can use a built-in tool in the app to check for iTunes updates and upgrade the application. Here is how you can do it:
Open iTunes.
Click Help from the top right menu bar. You will see a dropdown menu.
Select Check for Updates from the dropdown menu. In a few seconds, you will see the available versions to install.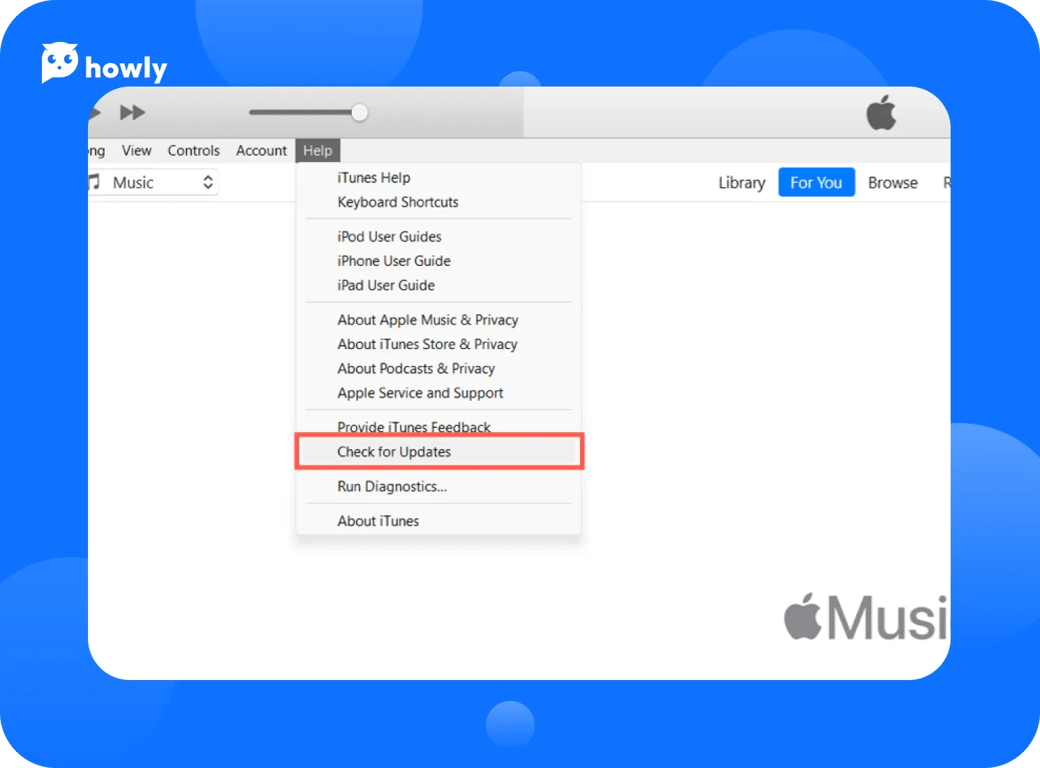 Follow the prompts on the screen to upgrade the software.
If you click Help but there is no option to update the application, you either already have the latest updates installed or your iTunes is from the Store. In this case, try the first method described above.
How to update iTunes on Mac
Those who have the latest version of macOS (10.15 and newer) probably know there is no iTunes anymore. You can find your files in 4 built-in applications: Apple Music, TV, Books, and Podcasts.
However, if you use macOS 10.14 or an older version, there is a way to update iTunes on Mac. Here is the instruction:
Open App Store.
Choose Updates from the sidebar.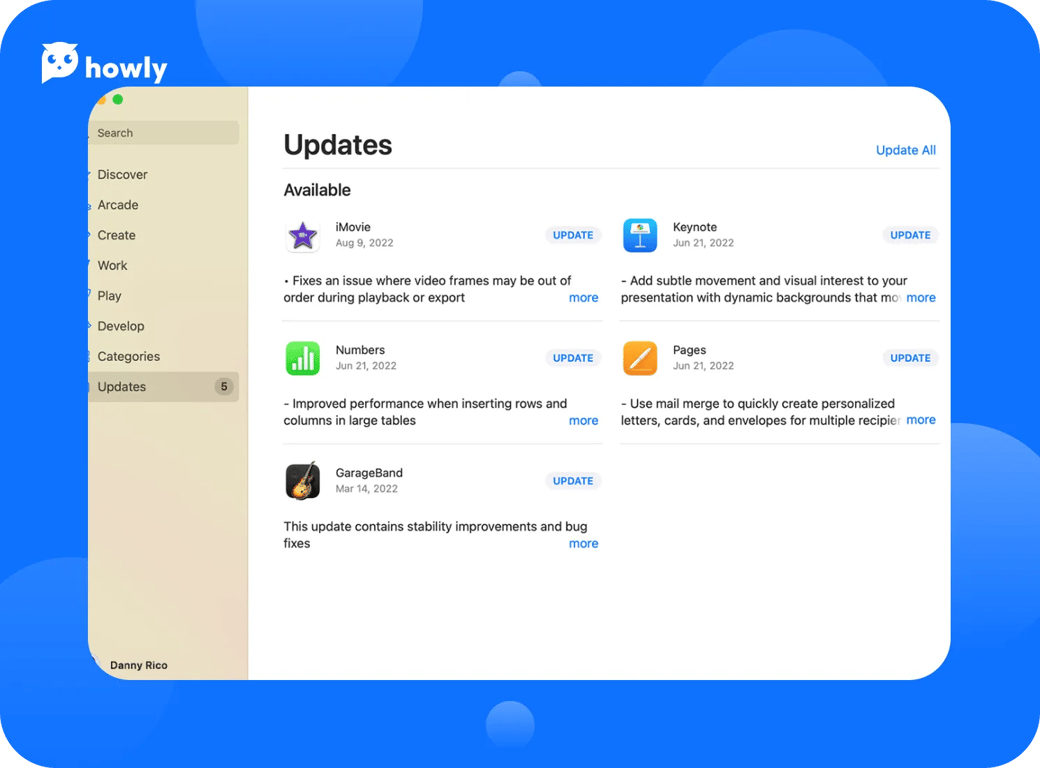 Check if there is a new iTunes version available, click Update.
Ways to recover lost files from your iTunes library
Sometimes, you can accidentally lose your data from the iTunes library when installing the app's updates. If it happened to you, don't worry. There is a way you can recover lost files after manually updating iTunes. To do so, you need only your Apple device and a cable to connect it to your PC. Follow the instruction below:
Connect your device using a USB cable to a computer.
Launch iTunes and wait until it spots on the connected device.
From the top menu bar choose File → Devices. You'll see a new page with your Apple device.
On the left sidebar select Summary. You'll see a new window that includes backup options.
Click Restore Backup and follow the prompts to retrieve lost files back from your iPhone or any other device.
iTunes can't update: possible causes and solutions
Another problem some users face is the failure to upgrade iTunes when there is an update available. Why won't iTunes update? Well, there are several reasons for it. Let's take a look at them one by one and what you can do to fix them:
You use macOS Catalina or any other version released after 2019, which doesn't have iTunes. Your files can be found in built-in applications like Apple Books, TV, Podcasts, and Music. You can manage all your media files there.
You're not logged in as an administrator on your Windows PC. Make sure you switch to the administrator account before updating iTunes.
You use an old version of Windows. iTunes won't update to the latest version if you have Windows 7 or any older release. Update the operating system to a newer one and then try to download iTunes again.
Of course, you might have another, more specific issue that we didn't mention above. In this case, you can contact Howly specialists via chat. We'll help you to find the best solution!
FAQ
What if I don't see the Check for Updates option in iTunes?
If your iTunes can't update the application was auto-updated earlier. Or, if you are a Windows user, you got the software from Microsoft Store and have to update it there.
Can I update the iTunes app through Microsoft Store?
Yes, if you downloaded it from Microsoft Store. It is easy to check by opening the Store, switching to the Library section, and clicking Get Updates.
What version of macOS doesn't have iTunes?
It is impossible to install iTunes on Mac with macOS versions released after 2019. Instead, all media files are organized into 4 applications by type of file. Check the Apple TV, Music, Podcasts, and Books applications to find the data from your iTunes library.
Conclusion
Whether you use Windows or Mac, it'll take seconds to get iTunes updates and enjoy their benefits. Follow the guidelines from this article to get an update for the app quickly and with minimum effort.
And if you have other questions about how to download iTunes updates, don't hesitate to ask Howly experts. We would love to help you find a solution to your problem. Just send your request via chat and get a quick response!