Google Chrome usually adjusts in the background, while you are using it. But sometimes, due to other software glitches, the browser may "forget" to install it automatically. That's why we create the guide on updating Google in less than 2-3 minutes on any device. Stick to our recommendations and everything will turn out perfectly.
Before we start
Save your time and let professionals resolve your issue in minutes!
Want to start solving your problem immediately? Experienced Howly troubleshooters can fix your issue ASAP. They're already waiting for you in the chat!
The benefits you'll get while troubleshooting your issue with Howly experts:
Qualified help with laptops HDD

Quick advice right in your device 24/7/365

Expert reply within 60 seconds

Clear step-by-step guidance

Limitless number of follow-up questions

Understanding and empathetic help till your laptop HDD issue is fully resolved

All answers you need in one place
How to update Chrome: 4 options for any device
The way how to update the Chrome version depends on the system you use. If it's ChomeOS, you can do this on system settings. Windows and macOS owners can do this on the Chrome browser settings. iOS and Android users should visit the app manager and check for new versions from there.
Update Chrome on a Chromebook
Chromebook is based on Chrome OS, so it has this browser by default. And you can update it in a few clicks:
Hold Alt + Shift + S combo to open settings.
Look for About Chrome.
Select Check for updates.
If the system detects a Chrome patch or update, it starts to load and install it immediately.
Update Chrome on Windows and macOS computers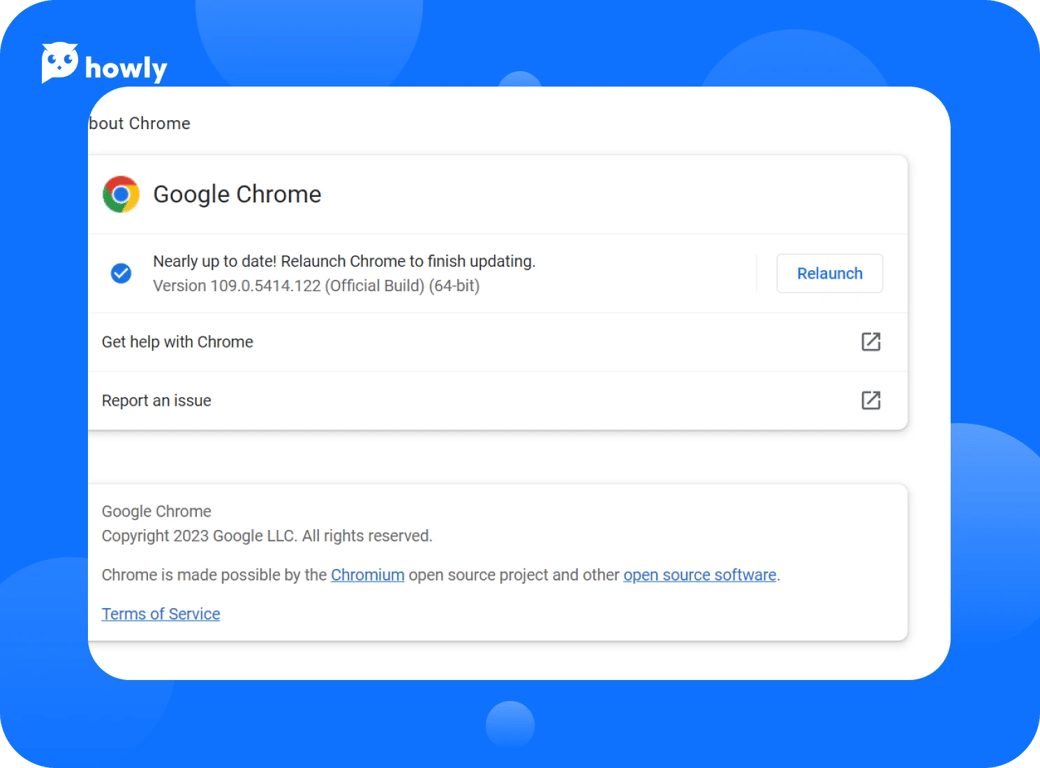 Unlike ChromeOS, Windows, and macOS users don't have Chrome as a proprietary app. They both need to install the desktop Google app. And Google creates highly-similar instructions on how to how update the google Chrome browser:
Open Chrome.
Find a menu (three dots near the profile icon at the top right screen) and click on it.
Choose Help → About Chrome.
It will redirect you to the About page where you can check details about the browser.
Once it downloads an up-to-date version, restart the browser. This action will finish the update.
That's how you can update Chrome on PC and macOS systems.
How to update Chrome on your Android device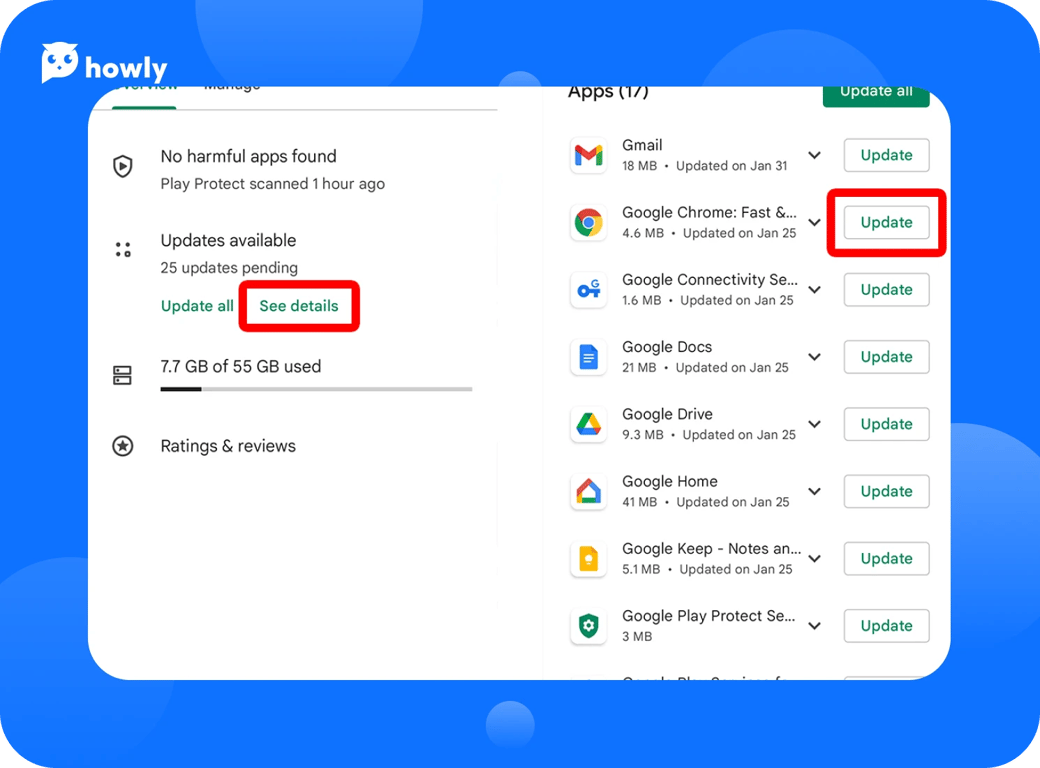 Although Chrome and Android are both owned by Google, Chrome is a separate application from the GPlay store. You can manage all apps from there. Here is your instruction on updating Chrome:
Go to Google Play.
Find the "burger" icon ( three lines at the top of the screen) and tap on it.
Select My apps and Games.
Scroll until you find Chrome.
Select Update and wait until the system installs Chrome updates.
Update Chrome on Apple mobile devices (iPhone and iPad)
iOS has Safari as its main browser. Chrome is a third-party application for the Apple ecosystem. So the only way you can get new versions is by using App Store. You can manage and delete all your applications from here. Here is your instruction to update Chrome on iPhone:
Visit App Store.
Tap on the profile logo to open the Account menu.
You'll see the list of applications to update.
Scroll, until you find a Chrome.
Choose the Update option.
This instruction is similar for both iOS and iPadOS. Also, you can visit the app page and press on the Update virtual button. It's another way to update Chrome on iPhone.
F.A.Q.
How can I find out that I have up-to-date Google Chrome?
If you use it on the computer, click the dots on the right part of the screen, and go Help → About Chrome menu. Android and iOS users should check GPlay and App Store.
How to manually update the Chrome browser?
If you do it from the computer, go to Chrome and click on the dots near your photo on the top right part of the screen. Find Help and select About Chrome. iOS and Android owners should use App Store and Google Play.
How to update Chrome on a tablet?
It depends on what tablet you are using. If it's iPad, open App Store, tap on your photo and find Chrome in the apps list. Choose Update. But if you are an Android owner, go to GPlay, tap on the "burger" menu, choose My apps, find Chrome, and press on Update.
Conclusion
As you see, it's pretty simple to update google Chrome on any device. You can do this on Chromebooks right from the system settings. If you have a more ordinary computer, like Windows or macOS, open the browser and go to its settings. Find the Help → About Chrome to launch the update. But if you want to do this on your mobile device, go to its app manager. Find the Chrome app page and select update the app.