It's unpleasant to have a locked SIM Card. But you can fix it if you stick to our instructions. Before your start, note that you have a limited number of attempts. The exact number depends on your carrier. Check out this easiest online guide on how to unlock a SIM card in less than 15 minutes!
Before we start
Save your time and let professionals resolve your issue in minutes!
Want to start solving your problem immediately? Experienced Howly troubleshooters can fix your issue ASAP. They're already waiting for you in the chat!
The benefits you'll get while troubleshooting your issue with Howly experts:
Qualified help with laptops HDD

Quick advice right in your device 24/7/365

Expert reply within 60 seconds

Clear step-by-step guidance

Limitless number of follow-up questions

Understanding and empathetic help till your laptop HDD issue is fully resolved

All answers you need in one place
Main causes of the SIM Card lock
There are 4 major reasons for this issue. All of them can be fixed at home, without a service help:
Carrier lock. Your phone is locked by the carrier. If you insert a card from a different provider, it won't work. Put the original card back.
Region lock. Some carriers and phone manufacturers have a "region lock". That means you can't use the phone to call if you are outside of the selected country. You need to contact the provider and ask it to remove the region lock.
Android System Error. Sometimes Android phones get glitches like this after significant updates. Restore your phone with the backup that was made before the big update. If you don't have it or don't know how to do it — go to the nearest service center or contact Howly experts.
The "SIM Lock" option has been accidentally turned on. We have instructions on how to unlock your SIM card and how to prevent situations like this in the future.
3 steps to unlock it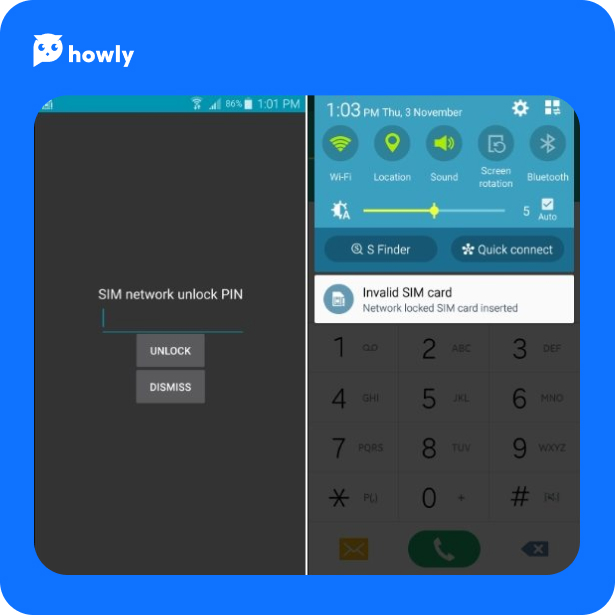 If you have a locked SIM card, stick to our instructions. You can still save your number and all information on the SIM even if you use prepaid options. All you need is to follow 4 easy steps.
1. Enter your PIN
If you experience a locked SIM, the first thing you need to do is to enter your PIN. There are two most popular default PINs used by the US carriers:
Sprint, Mint, and T-Mobile — 1234;
AT&T, Verizon — 1111.
Try them first. If none of them works, stop entering data. Maybe you or someone else has changed your SIM PIN lock, so you have to remember and enter a new code.
Note that after you enter the wrong code incorrectly from 4 to 10 times (the number of attempts may vary), you will be required to enter the PUK (Personal User Key) code.
2. Enter the PUK code
If you enter the wrong PIN more than 4-10 times, the card will get locked. So you will be required to enter the correct PUK to unlock the SIM card.
Check the contract with your provider: it's always written there. But if you don't have a contract near you, or you use prepaid cellular services, check the package of your SIM card. Carriers often provide PIN and PUK numbers on the back of this plastic card.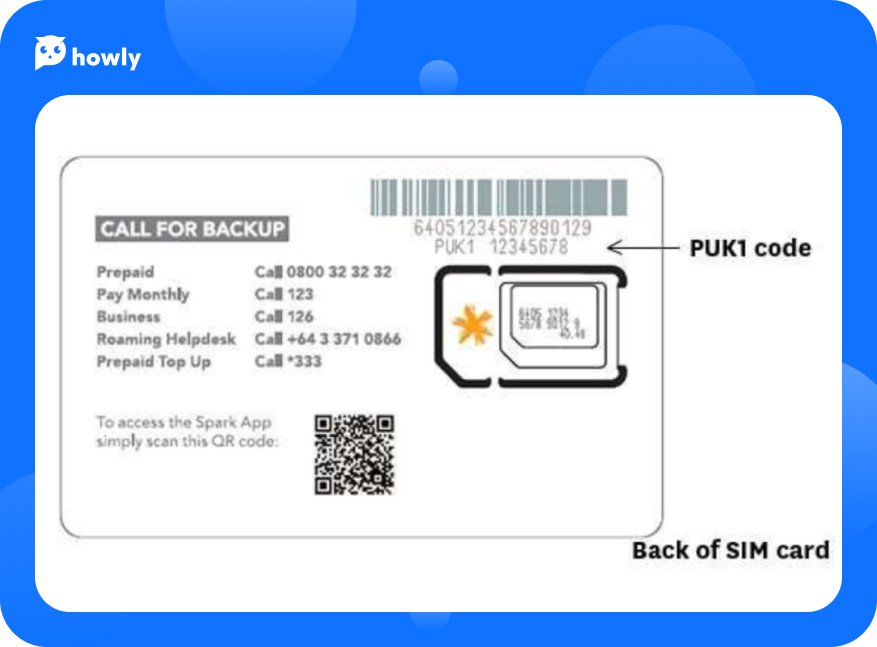 Chat with customer service online, call the hotline, or visit the nearest carrier office. Customer Care specialists will help you fix the locked SIM on the iPhone or Android.
Some providers like AT&T also allow you to get the PUK on the web. Here is how you can get it:
Sign in to your AT&T account and pick "My wireless".
Choose "My devices" and find the locked phone number.
Choose "Manage My Device".
Select "Get PUK".
If you don't have access to the correct PUK, don't try to guess it, because, after 10 incorrect attempts, your SIM will be deactivated permanently.
3. Create a new PIN
After you have successfully entered the PUK, create a new PIN. Figure out a new, easy-to-remember code. It can be the date of birth of loved ones, favorite football player number, etc.
How to disable the SIM locking option
If you don't want to enter the PIN code while you boot the phone, turn down this option in the settings. Here is how to fix a sim-locked iPhone:
Find the Settings.
Choose "Cellular".
Select the "SIM PIN".
Turn it off.
Enter your new PIN only once. That's how Apple can verify that you still remember it.
That's it! Yes, it's that easy. And here is how you can do this on Android phones:
Open the Settings.
Choose the "Security" option. It can be "Biometrics & Security", "Lock security", "Data Security", or something similar. The naming of this menu depends on the manufacturer and model of the smartphone.
Then select "Advanced" or "More options".
Find a "Sim Lock" line.
Turn off the switch.
Enter your PIN to verify those changes.
Now you no longer need to seek answers to the question, "How to unlock a locked sim card?" If you want to turn this option on, go to the settings and toggle the switch in another position.
F.A.Q.
What if I forgot the PIN code to unlock the SIM card?
If you don't remember your PIN, try the standard 1234 for T-Mobile, Mint, and Sprint US carriers and 1111 for Verizon or AT&T. If it doesn't work, try entering any code 4 to 10 times. Attempts are limited, so you will then be asked to enter your PUK code.
Where can I find my PUK code?
The surest way is to look at the back of your SIM card package. The PUK code is usually written in the upper right corner below the barcode. You can also contact your SIM card provider to resolve the issue.
How to create a strong password to protect my data?
First of all, don't write your date of birth and first/last name. It's too predictable. Come up with a longer and stronger password using different combinations of letters, numbers, and special characters.
Conclusion
If you see that your SIM card is locked, it means that you got yourself in one of 4 situations: carrier lock, region lock, system error, or that someone (or even you) enabled the locking option. When it's a carrier or region lock, contact your provider. When you face an Android system error, restore your phone with the backup that is made before the update. When it's the "Sim Lock" option: create a new PIN and disable the locking option.