Sometimes, you can't log in to an iPhone with FaceID or TouchID. In that case, you could use the passcode to unlock the device. But what are you going to do if you forget it and accidentally block your phone?
Before we start
Save your time and let professionals resolve your issue in minutes!
Want to start solving your problem immediately? Experienced Howly troubleshooters can fix your issue ASAP. They're already waiting for you in the chat!
The benefits you'll get while troubleshooting your issue with Howly experts:
Qualified help with laptops HDD

Quick advice right in your device 24/7/365

Expert reply within 60 seconds

Clear step-by-step guidance

Limitless number of follow-up questions

Understanding and empathetic help till your laptop HDD issue is fully resolved

All answers you need in one place
Today the Howly team will guide you on how to unlock a disabled iPhone. Check out our instructions and get access to your phone in less than an hour!
Cause of this issue
The main reason for a locked iPhone is that a person types the wrong passcode 10+ times.
Usually, you get 5 attempts to do it without disabling the phone. Once you surpass this number, you will get a warning.
After 10 attempts, you are offered to erase all data. There is no way to undisable iPhone without deleting info in the modern iOS version. Apple implemented this rule to protect its gadgets from unauthorized access. If the phone gets stolen, no one will be able to get your data.
This security measure has its benefits and drawbacks. Yes, no one will be able to get your data. And if you forget your phone in a crowded place, all your data will be safe. But if you don't remember your passcode, you will also lose access to your phone. You will need to unlock the iPhone with iTunes or try some tricks.
Can you unlock a disabled iPhone without iTunes and save all your data?
The short answer is no. If you have an Apple phone with an up-to-date version of iOS (12.1 and higher), there is no option for unlocking the disabled iPhone without iTunes while saving all data. Even when you contact Apple representatives, they can't reset the device and leave data in it.
Unfortunately, you can only reset the disabled iPhone without iTunes to the factory settings. And only after this can you restore all your data, messages, and call history from iCloud.
5 ways to unblock your iPhone
Now, let's talk about 5 working solutions to bring your device back. The easiest one is to use iTunes on your PC. But if it's not possible, you still have ways for unlocking a disabled iPhone without iTunes. There is a loophole for old iOS versions ( up to 12.0.1) which allows users to get access to the device.
You can plug a phone into the computer and restore the iPhone. There is another option to fix a disabled iPhone without iTunes with Apple tools: visit Find My iPhone's website or app. The last option is to connect the phone to the PC and use some external tool to factory reset the device.
In the last of those three cases, you will unlock an iPhone without iTunes, but there will be no data in it. So we recommend you backup the device as often as it is possible.
1. Using iTunes
If you don't like tricky solutions, you can always do what the iOS says and unlock the device this way. But you need to have the PC with iTunes sync. It can be Mac or even Windows PC. To unlock your iPhone with iTunes, do the next:
Connect the phone to the PC with a cable.
When you get an iTunes pop on the PC — click on it.
Choose your phone.
Find the "Summary" option. Choose it.
Click on the "Restore" button.
Once the unlock is finished, you will see the greeting interface.
2. Using the loophole in old versions of iOS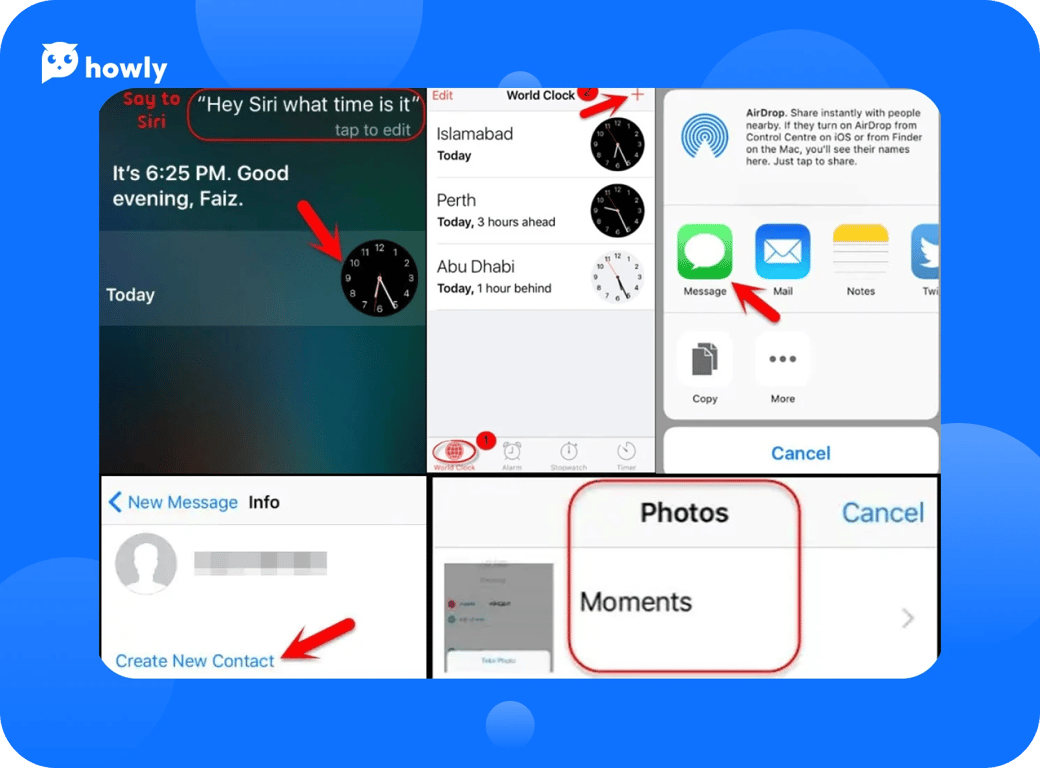 Alt: The loophole in old iOS
If you still have iOS 8.0 – iOS 12.0.1, there is one loophole that may be useful for you. It's tricky, but it's worth the effort. This loophole is the only option to unlock a disabled iPhone without iTunes and save all your information. So it's worth trying these steps:
Activate Siri with voice or with the Home button.
Ask her something about the time. It can be "Time today" or another similar question that will activate the Clock App.
Tap on the clock icon.
Add the clock by pressing "+".
An interface will open a window where you can choose a city. Type in the cell anything you want.
Double-tap on the thing you just wrote. Then choose "Select all".
Select "Share". This action opens a new window with few options. Choose Message. And wait until this app opens.
Write anything you want to in the "To" field.
Tap the "Return" on the keyboard. You can find it in the right-down corner.
Select text and tap on "+" one more time.
Choose "Create Contact". This will open on the new screen.
Tap the "Add Photo".
Choose one of your albums.
Press the Home.
Congratulations! You have successfully unlocked the iPhone without iTunes. But if you have an up-to-date version of iOS, you need to use other tricks.
3. Using your PC or laptop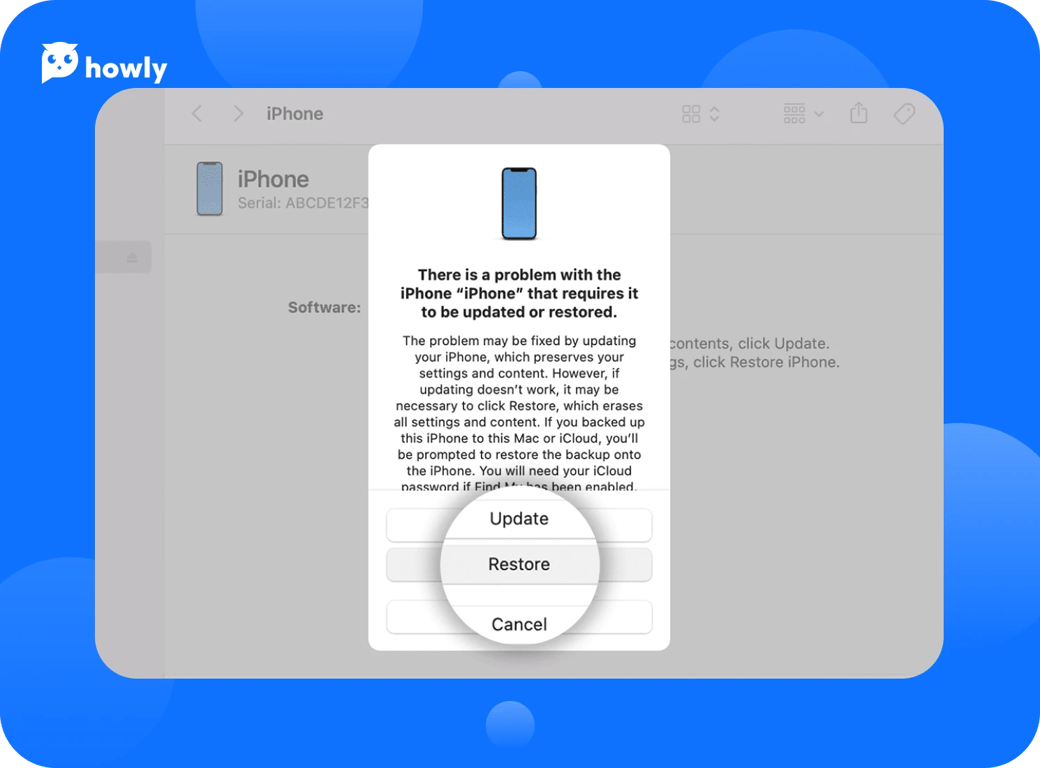 If you have a computer with macOS Catalina or higher, you can also undisable an iPhone without iTunes. This option is only available for Apple products. If you have a device with another operating system, seek third-party solutions. Here is an instruction for MacOS:
Turn down your phone.
Connect it to the PC.
Turn on the recovery mode on the phone:
For iPhone 6S: Hold the Home button while connecting iPhone to Mac.
For iPhone 7 / 7Plus: Hold the Volume Down button until you witness the recovery menu.
For iPhone 8 or later (modern SE includes here too): Hold the Side button.
Come back to your MacOS PC or laptop. Locate your iPhone in the Finder window.
Select the "Restore" option.
This guide may help you to bring your phone back. But note that all the information from the device will be erased.
4. Using the Find My iPhone tool
It's another popular way to unlock a disabled iPhone without iTunes. You can do this on any device that has an internet browser. It can be any PC, tablet, or smartphone, even with Linux and ChromeOS.
Thanks to the Find My Phone service you have partial remote access to your iPhone. To undisable an iPhone, follow these instructions:
Open the Find My iPhone site. If you have an iOS device, you can install the "Find My iPhone" application.
Sign in to iCloud.
Once you log in, you will see all your devices that are connected to the same iCloud. Find the disabled phone and tap on its icon. This action will open a new screen.
Click on the "Actions".
Choose "Erase iPhone". Note that all information from your phone will be erased. But this will remove any passcode as well, so you will be able to set a new one.
Then, pick the "Restore" option to bring your data back.
This way to fix a disabled iPhone without iTunes is suitable for you if you remember the username and password you use to log in to the Find My Phone website and iCloud.
5. Using other unlock tools: AnyUnlock, Dr.fone, PassFab
If you don't have access to iCloud and don't remember your password, use external apps to unlock your disabled iPhone without iTunes. There are numerous apps with similar interfaces and functionality. Today we review the 3 most popular of them: AnyUnlock, Dr.fone, and PassFab. The rest of the apps which can unlock an iPhone without iTunes have almost the same interface.
5.1 AnyUnlock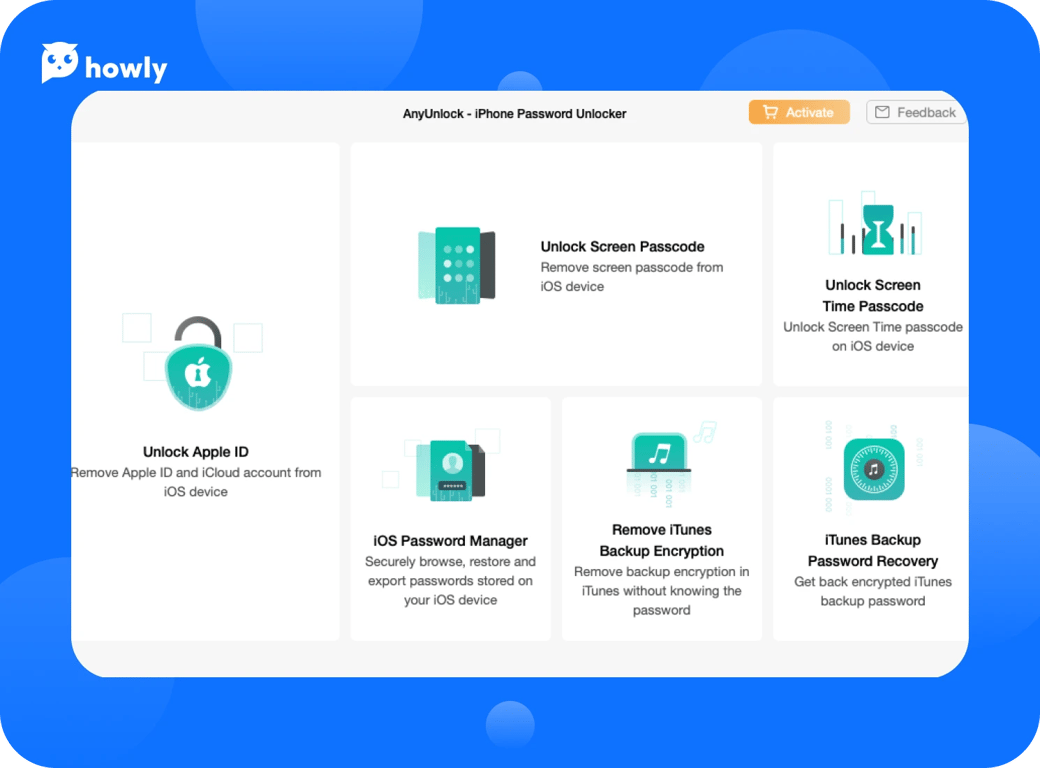 This tool can unlock a disabled iPhone without iTunes even if it has an old 5C version of iOS. It's the most popular app on our list. Follow these steps to enable a disabled iPhone with AnyUnlock:
Install AnyUnlock on your computer or laptop.
Connect your iPhone to your PC.
Choose Unlock Screen.
Download the firmware.
Pick the "Unlock Now" option.
After this, you will get a phone without any data on it. But you already know what to do. Connect your iPhone to your AppleID, and restore all your data from iCloud.
5.2 Dr.fone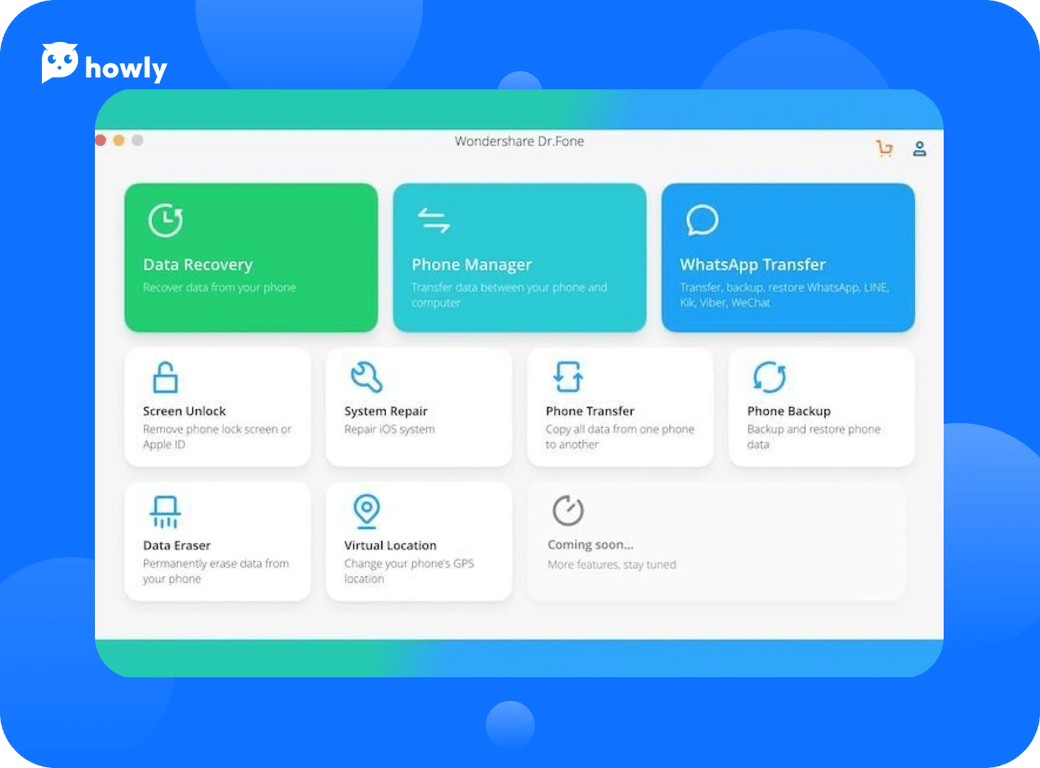 This app also was created to help people restore a disabled iPhone without iTunes. It has similar functionalities as the previous one. The great advantage is that you can install it on almost every computer. Here is how to get into a disabled iPhone with Dr.fone:
Download and run this app.
After this, pick the "Screen Unlock" option.
Connect iPhone to the PC.
Once the computer detects your device, you will get a few alternatives. Pick "Unlock Screen".
Then boot the phone in Device Firmware Update mode. This action will reset everything in your device to default. Also, it will help you to open a disabled iPhone without iTunes.
If you don't know how to boot your smartphone in Firmware Update mode, find your iPhone model and follow these instructions:
For iPhone 6s: press the Power key and Home for 8-11 seconds. Release the Power but hold the Home for another 10 seconds.
For iPhone 7 — hold the Power and Volume keys until you see the restart screen.
For iPhone 8 and newer — hold the Side key for 5 seconds. While you hold it, press the Volume Down key. Hold both of them for 10 seconds. Let go of the Side, but hold Volume till you see the boot screen.
Despite all these phones having the same software, their hardware differs. That's why the instructions are also a little bit different in every case.
As soon as your phone boots in DFU mode, the app will detect it. After that, it will provide you with an opportunity to unlock your iPhone without iTunes.
Next, go to a "Screen Unlock" window and enter details about your phone.
Click on the "Download".
Select "Unlock" to finish the process.
5.3 PassFab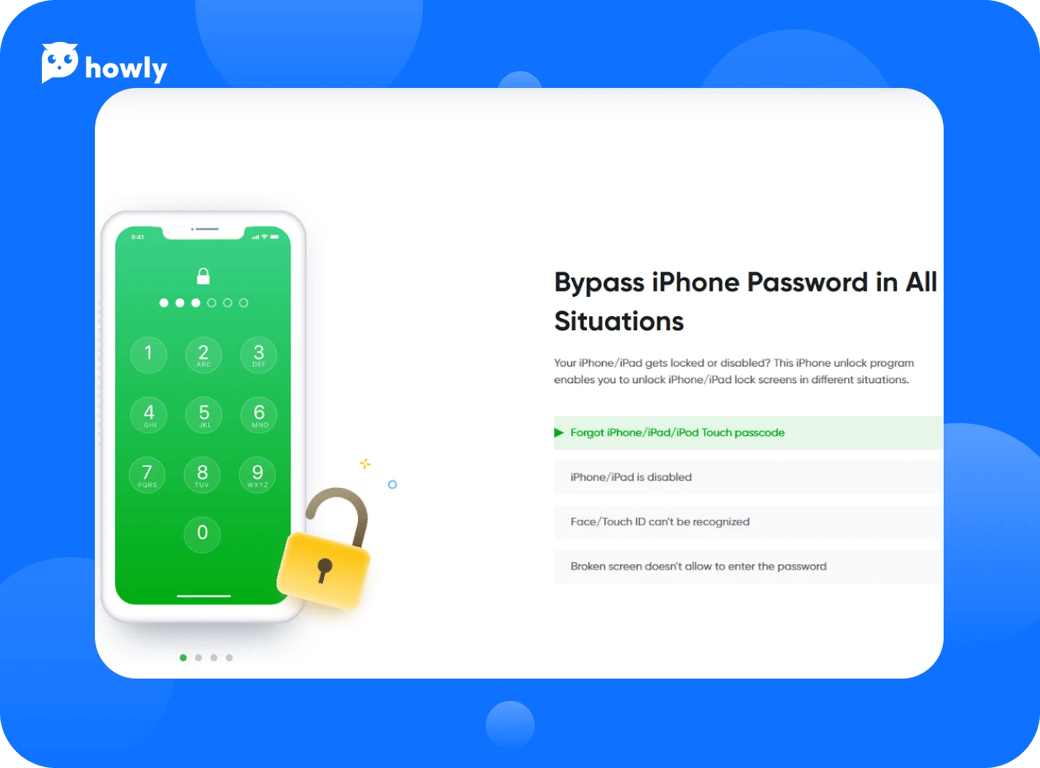 It's a simple tool that can quickly unlock a disabled iPhone. Also, PassFab can remove the passcode, TouchID or FaceID and even remove iCloud without a password. Do the following to enable iPhone without iTunes using PassFab:
Install PassFab.
Connect the phone with the Lightning option.
Wait for 10-20 seconds until PassFab identifies the device.
Click on the "Start".
Fill in the info about your phone. This app uses this information to find suitable firmware.
Wait for 3-15 minutes until the app downloads the firmware.
After this, you have 2 choices: set up your phone as a new or restore information from the latest backup. Choose the most suitable for you. Congratulations. Now you have an undisabled iPhone without iTunes!
How to avoid getting a disabled phone?
Modern iOS devices require you to remember all your passwords. If you forget it, all your data will be deleted from the device forever. So the best option is to avoid situations like this. Here are a few life hacks which will help you prevent your iPhone from being disabled.
1. Use biometrics
If you need to share your phone with another person, you can add their biometrical data (Touch ID or Face ID), so they will have access to the device. So they won't need to remember your passcode and enter it every time they take your phone. For you, it means that you won't have to google "How to undisable the iPhone without iTunes".You can add up to 2 different faces and 2 fingerprints.
Apple added an "extra" Face ID in 2021 because COVID restrictions allow you to unlock your phone with a mask on. But you can use this loophole to share your phone with your significant others.
2. Create an easy passcode
Figure out an association that will help you to remember the passcode. It can be your favorite numbers, the date of birth of your loved ones, etc. Also, it can be repetitive numbers that it is easy to remember for you.
Don't use basic codes like "222222" or "777777". Be creative! Use a variation of your favorite football player's number " 455445" or the date of birth of your ex-classmate "12051995" as your iPhone passcode. Here are other creative ideas:
date when you break up with your ex — "251222";
alteration of your favorite numbers — "133113";
your average scores at university — "829186";
your dream salary — "973948".
Try to be as creative as you can. It will help you keep the passcode in mind, so you won't fall into the situation where you need to unlock a disabled iPhone without iTunes or iCloud or computer.
3. Shut down Auto-Lock time
It's a basic setting that shuts down the screen and locks the phone when you don't use it for a while. By default, it's set to 1 minute. Set the timer to "Never" — so the phone screen will shut down only when you press the Power button.
Do the next:
Open Settings.
Choose Display.
Find Auto-Lock and set it to "Never".
After this, you will need to shut down the screen of your phone only manually. Otherwise, it will switch till it loses all of its battery. That's why, in most cases, it is considered an unjustifiable option. It will be a lot easier just to turn down the accidental screen activation.
4. Switch off the "... to Wake" Options
iOS phones automatically activate the display when you raise an iPhone or tap on it. Sometimes the device accidentally activates in the pocket. And it can lead to a disabled iPhone with no iTunes "saving" option. Follow this instruction to disable the "Tap" option:
Go to Settings.
Check Accessibility.
Select Touch.
Turn off "Tap to Wake".
To turn off Raise to Wake, go to Display and Brightness. Switch off this option. If you still have problems with your screen — contact the professionals.
Ask for professional support
If you have questions about how to unlock your iPhone, ask a Howly expert for help. We will gladly guide you on how to fix a disabled iPhone without iTunes in your situation.
If you don't want to remove a disabled iPhone without iTunes at home, find a repair service that will provide this service.But if you don't have the documentation which proves that this is your device — most of them won't fix your phone.
They may think that you have stolen this device and try to remove the data. So bring your papers to the service or try to fix a disabled iPhone without iTunes on your own.
F.A.Q.
How to connect iPhone to iTunes when disabled?
If you remember the iTunes password or the computer is synced to the same iCloud, you can do this. Plug your phone into the PC with a cable, click on the iTunes pop-up window, choose your phone, and click Restore. It launches a factory reset with an auto-download of the most recent backup.
Can I fix a disabled iPhone without iTunes?
Yes, but it will delete all data from the device. The only way to fix the phone without removing data is a loophole for iOS 12.0.1 and older.
How to unlock a disabled iPhone?
You have a few ways: via iTunes, with the Restore option, via Find My iPhone service, or with third-party apps. In all those ways you factory reset the device, removing all data. You can also use a loophole if you have an iPhone with old iOS (up to 12.0.1).
Conclusion
Now you know how to get past a disabled iPhone without iTunes. There are a few ways to solve this issue. The fastest way it's via Find My iPhone. Log into iCloud on any device and erase all of your information this way.
Also, you can use an unofficial loophole for the old versions of the system. But it will work only for those with iOS 12 or lower (down to 7.0).
If you have up-to-date software and forgot your iCloud password, there is still a chance to fix your phone. You need to run unlocking apps. They may solve the situation. Be careful: use only the popular ones. There are a lot of scam apps that promise you to unlock your disabled iPhone without iTunes. Don't share sensitive data with suspicious apps. It will be better if you choose one of the apps from this article.