Do you find yourself struggling with an unresponsive iPad? No need to worry, as there is a simple solution — you just need to learn how to restart iPad. In this guide, we'll explain how rebooting and resetting your tablet can help you to fix frequent problems such as the unresponsive screen. So, read on, follow our simple guides, and your iPad will be up and running in a few minutes.
Before we start
Before we start
Save your time and let top professionals in iPad troubleshooting resolve your issue in minutes!
When using iPad you can face different issues that make you stress out and take a lot of your time. Why try fixing everything by yourself when you can ask for professional help and get your issue resolved within a few minutes? Contact Howly experts and get professional help right away!
The benefits you'll get troubleshooting your iPad issue with Howly experts:
Pro help with iPad

Quick advice right in your device 24/7/365

Expert reply within 60 seconds

Clear step-by-step guidance

Limitless number of follow-up questions

Patient and understanding help till your iPad issue is fully resolved

All answers you need in one place
How to reboot iPad: detailed walkthrough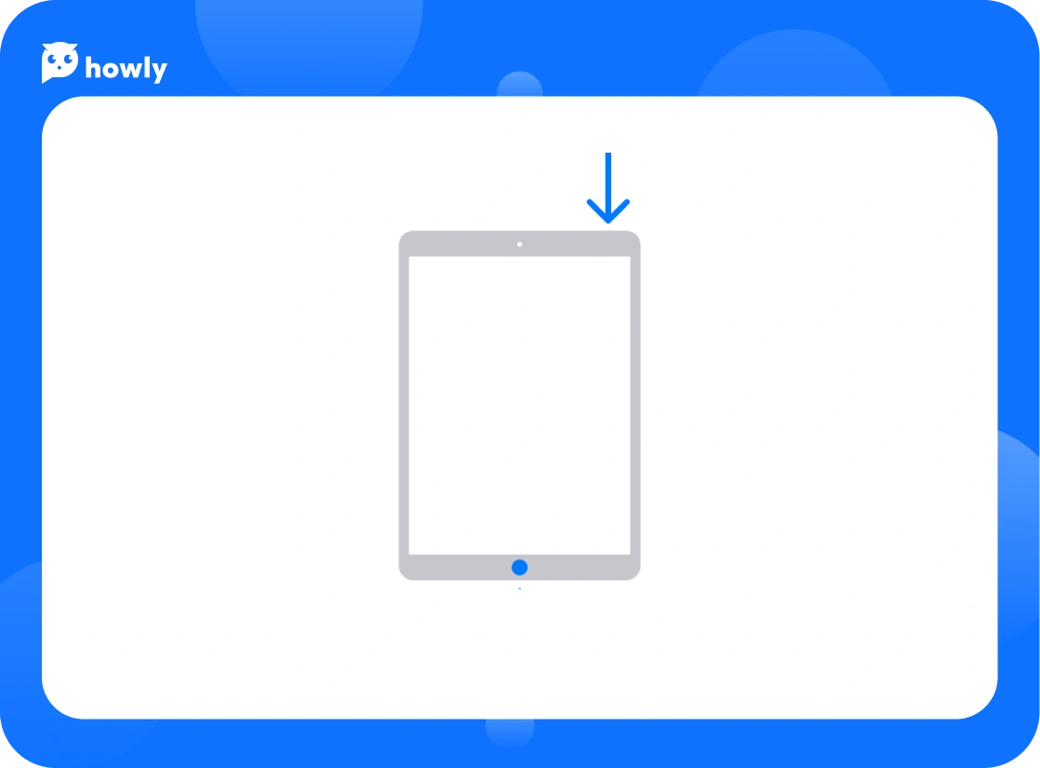 So, your iPad is acting up and absolutely unresponsive? A reboot is one of the most effective and quick fixes for minor tablet software issues. The process is slightly different for iPad models featuring a Home button and those without one. So, depending on what iPad you have, read one of the instructions below to learn how to reboot iPad.
Reboot iPad with a Home button
To reboot an iPad model that comes with a Home button, you need to do the next:
Firmly press down the Power button that can be found at the top right of your iPad until the Slide to Power Off option is visible on the screen.
Utilize the Power Off slider to switch off your tablet.
Wait for your iPad to fully power off before moving to the next step.
Firmly keep the Power button pressed one more time to turn it back on. Wait for the display to show a logo.
Stop pressing the button and let your tablet complete the rebooting process.
This method is suitable to restart iPad (1-9th Gen), the first several models of iPad Air (1-3rd Gen), iPad mini (1-5th Gen), and a few models of iPad Pro. All other models don't have a Home button and you can restart them with the method provided below.
Reboot iPad with no Home button
To restart an iPad Pro and other models like iPad Air 4/ 5, the last model of iPad mini, and iPad 10, adhere to these instructions:
At the same time, firmly hold down the Power button that is on the top of the device and any of the Volume buttons. Stop pressing both buttons when the Power Off prompt shows up.
Use the Power Off slider to shut down your iPad.
After the iPad is switched off, hit the Power button again and don't release it until the start of the boot-up (the logo will appear).
Stop pressing the button and allow the iPad reboot to finish.
That's it! Your iPad should now be rebooted and ready to use. But, if nothing changed, try the methods described further in this article.
iPad force restart: when reboot didn't help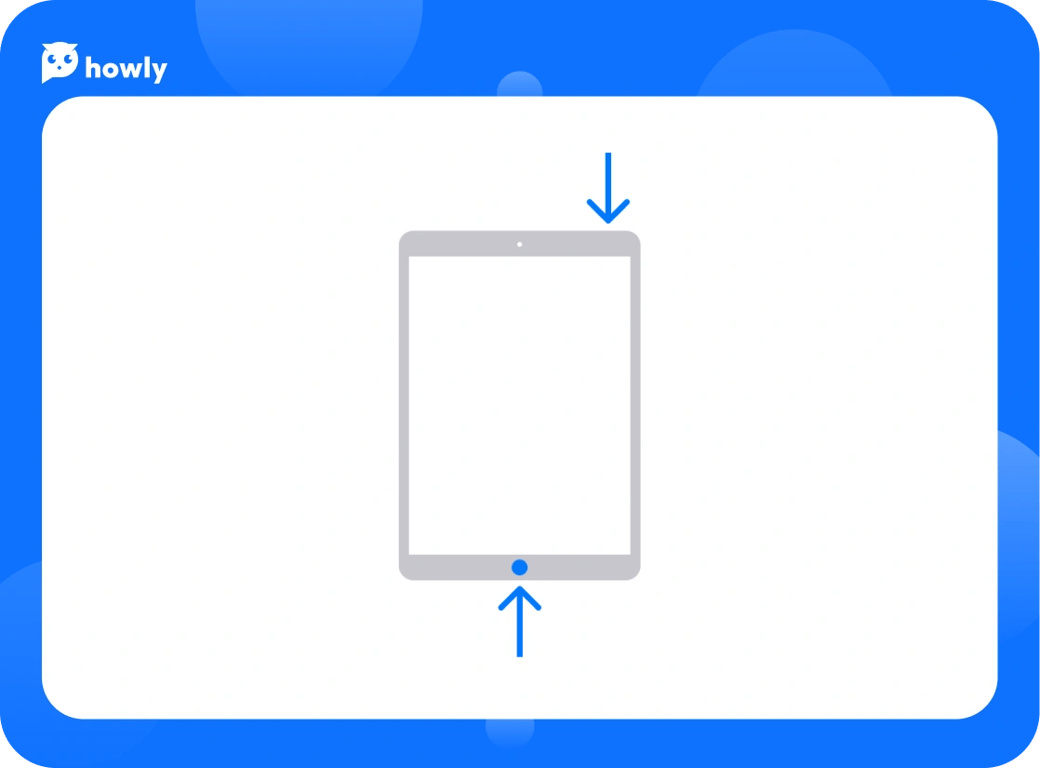 If the issue persists and our recommendations above don't work, you can attempt to force restart iPad. Again, two slightly different ways to do it: for Apple tablets with a Home button and without one. Take a look down below to find the detailed instructions for both device types.
iPad force restart: method for models with a Home button
To perform an iPad force restart on the tablet that has a Home button, you need to do the steps from the guide below:
To begin, press the Power button (positioned at the top of your device) and the Home button (on the bottom center of the front side) simultaneously. Keep holding them down and ignore the Power Off slider when it appears.
Only when the display shows the Apple logo, you can stop pressing the button. This indicates that the iPad hard reboot has started.
Wait until the restart finishes and your iPad power back on.
After these steps, your Apple tablet should start working normally. If not and you still see a black unresponsive screen, read further and follow the instructions provided in the next section to fix your iPad through the computer.
iPad force restart: method for models with no Home button
To force restart iPad Air 4 and other models that lack a Home button, you should adhere to the instruction below:
Hit the Volume Up button for a moment (on the left side of your Apple tablet).
Repeat the same with the Volume Down button located next to the Volume Up button.
Next, firmly hold down the Power button situated at the top. Ignore the Power off slider when it appears. Allow the Apple logo to appear on the black screen. Once it is visible, you can stop holding the button.
The iPad hard restart starts. It will take about 30 seconds and then the device should power back on.
If nothing changed, there are some iPad software issues that require more extreme methods than a hard restart. Try one of the methods below.
What to do when your device stuck on system startup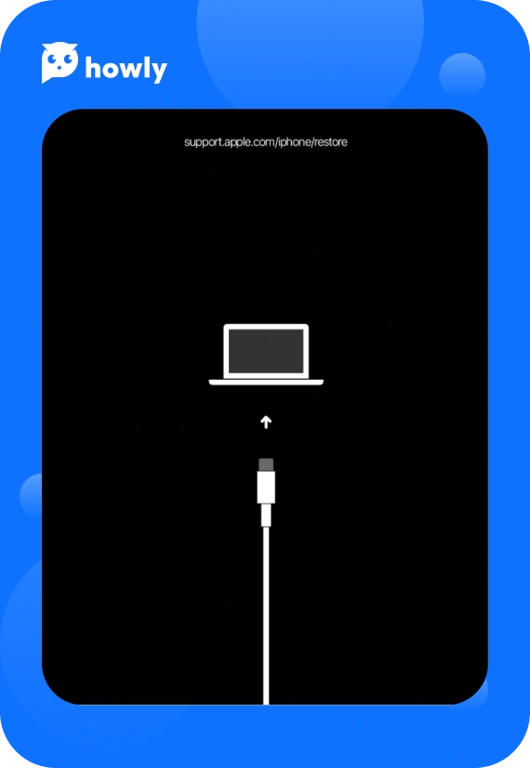 Did you restart your iPad, but it stuck on the system startup and all you see is a blue frozen screen or the Apple logo? It is an issue that can be fixed through your computer. You need to enable a recovery mode. Here is how to do it:
Using a charging cable that comes with your iPad, connect your tablet to a PC.
Depending on what PC you use, open either the Finder application (for macOS Catalina and later) or iTunes (for macOS Mojave and older, and Windows OS) on your computer.
Locate your device in the app and initiate a hard restart on iPad:
If your tablet has a Home button, hit the Power button at the same time as the Home button and hold them.
If your tablet doesn't have a Home button, quickly hit the Volume Up button, then hit for a moment the Volume Down button, and finally, hit the Power button.
Keep the button or buttons pressed until the text "Connect to iTunes/ Finder" shows up on your iPad. This indicates that the recovery mode was activated.
On your computer, iTunes or Finder will identify your iPad in recovery mode and display a message saying there is an iPad that requires updating or restoring.
Follow the prompts in the app to update or restore your tablet.
Note, that if you choose to restore, all your data will be erased from iPad, so ensure you have a saved copy of your files on another device.
iPad factory reset: how to prepare your device and reset it to original defaults
In extreme scenarios, where the previous methods have failed to help, you can try to fix your device with a factory reset. It's one of the best ways, but also the extreme one. After the factory reset, all your data will be erased from your iPad. Further, we'll explain how to reset your Apple iPad. But first, you should know how to back up your personal files.
Data backup guide before a factory reset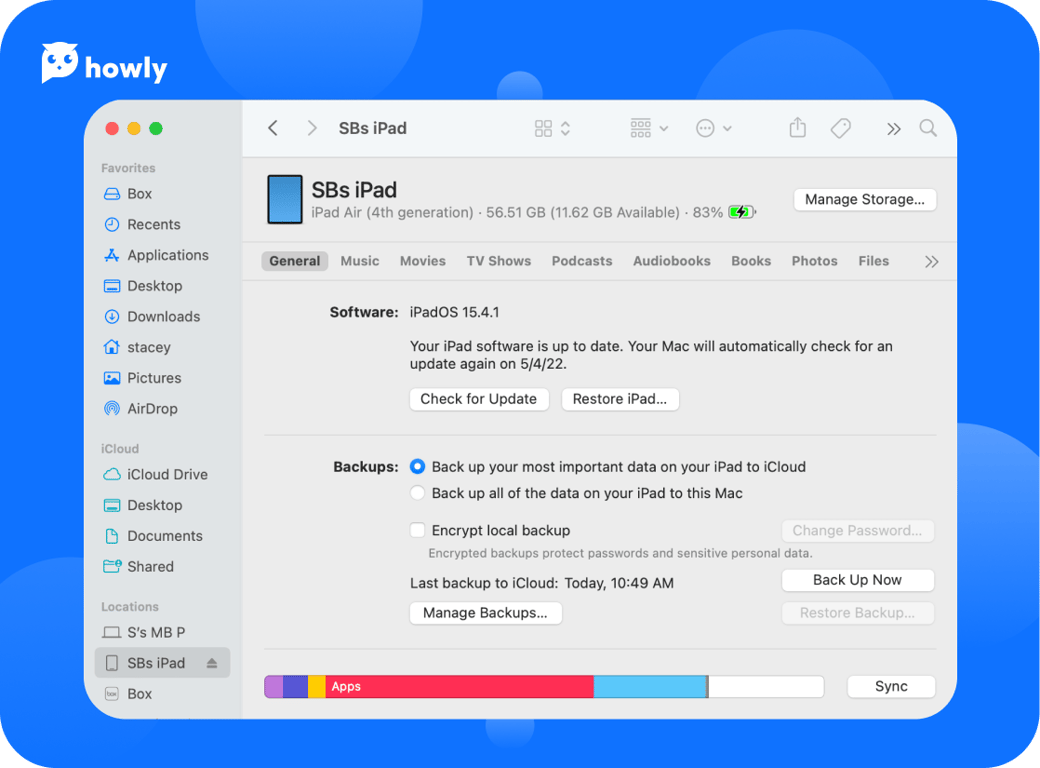 To duplicate your personal files from your iPad and therefore save them before a hard reset, you have the option to use iTunes, Finder, or iCloud. Here is how you can do it.
By using iTunes (on Windows, or macOS Mojave or older) or Finder (on macOS version Catalina or newer) you can back up your files even with an unresponsive screen:
Link your iPad to a PC and run the Finder application or iTunes.
Trust the PC on your iPad if prompted and enter the passcode if required.
In the app, select your iPad and click Back Up Now to make a copy of data from your tablet.
Allow the backup process to finish.
Another option is to use iCloud. It works only with a responsive screen. Here's how to do it:
Ensure your iPad is connected to WiFi.
From the tablet's home screen, go to Settings and tap your username at the top.
Tap on iCloud → iCloud Backup → Back Up Now.
Allow the backup process to finish.
Once it's done, you can proceed to factory reset. Take a look down below to learn how to reset an Apple iPad.
How to reset Apple iPad to its original defaults
So, how to reset your Apple tablet to its original configuration? You can do it in two ways. The first one is suitable if you don't have a black or stuck screen issue:
Access the Settings menu and then tap on General.
Navigate to the bottom and choose Reset. To restore the device to its factory settings, select Erase All Content and Settings.
Verify yourself with your Apple ID password. Then. confirm the decision by choosing Erase iPad.
The process will take a few minutes and finish with the iPad restart.
But, if your screen is unresponsive, you have to use another method to reset your device to its original defaults. Follow the instructions to activate the recovery mode on your iPad from a PC provided earlier in this article. But, in the end, instead of Update, choose the Restore option.
FAQ
What to do if I try to reboot my iPad but its screen is still frozen?
If after the iPad restart, the device's screen is still locked up, try the hard reboot of the device. Keep the Power and Home buttons pressed at the same time. Release when there is a logo displayed on the screen.
How to reboot iPad Air?
To restart iPad Air, keep the Power button and one of the buttons on the side (either Volume Up or Volume Down) pressed until the Power Off prompt shows up. Drag the slider to initiate device restart.
Will all data on my iPad be removed after a factory reset?
Yes, after factory reset Apple iPad all your data will be erased. So, ensure you have a backup before proceeding.
Conclusion
Restarting your iPad can help with many technical issues like frozen or unresponsive screens. In this guide, we have told you about 4 ways to restart or reboot iPad with a few clicks. Use our tutorials to deal with the frozen screen issue next time your iPad starts acting up. And if you have more questions about restarting iPad, feel free to contact Howly specialists! We would love to answer all your questions and help to resolve your iPad issue.