Occasionally, this happens - your hardware stops looking for the hub (which may no longer exist), hangs up, fails to load, or has synchronization or update problems. This means that software patches are "bricked up," and you cannot continue booting.
Before we start
Save your time and let professionals resolve your issue in minutes!
Want to start solving your problem immediately? Experienced Howly troubleshooters can fix your issue ASAP. They're already waiting for you in the chat!
The benefits you'll get while troubleshooting your issue with Howly experts:
Qualified help with laptops HDD

Quick advice right in your device 24/7/365

Expert reply within 60 seconds

Clear step-by-step guidance

Limitless number of follow-up questions

Understanding and empathetic help till your laptop HDD issue is fully resolved

All answers you need in one place
About the device
The hub works with almost all modern models of phones and tablets, as well as devices based on Android 4.0 and above. After connecting the hub to the network, you need to download the mobile application and then do the whole process of setting up with its help.
Setting up the device is simple, although the application will be a bit hard to understand. If you want to use a smartphone to control the smart home, it is better to use the mobile version. Once the hub is connected to the Wi-Fi network, it automatically recognizes all compatible devices connected to that network. Everything else can be added manually by entering the company name and model number.  You are able to  connect even devices absent from the Logitech database.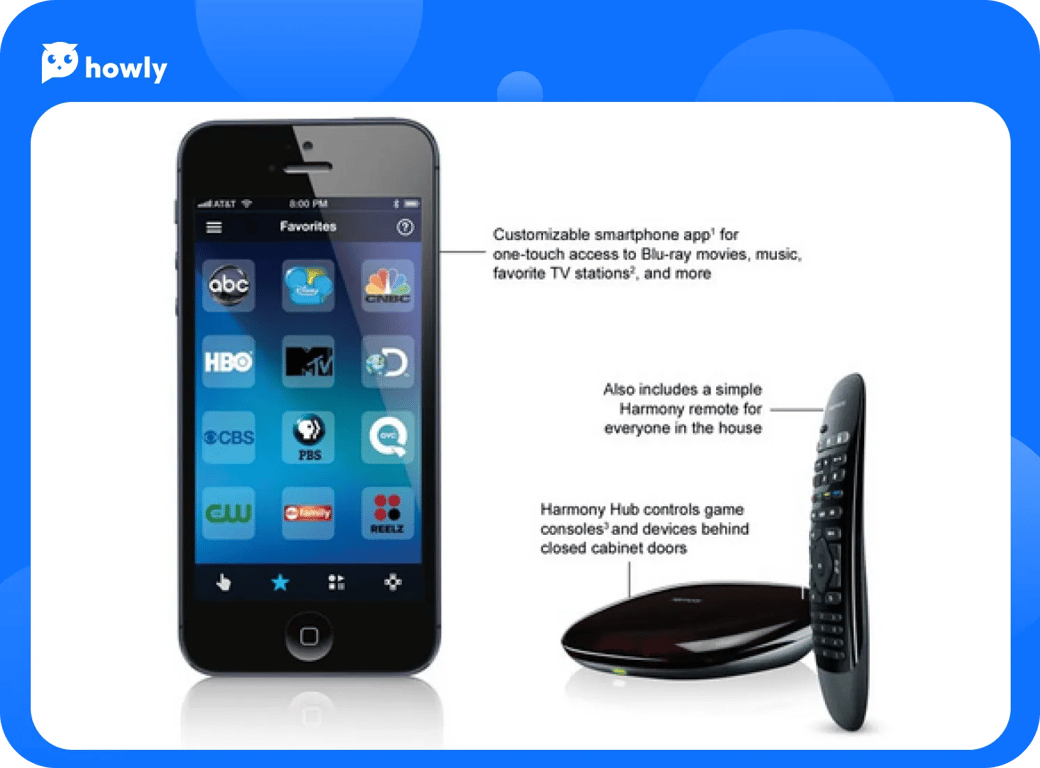 Troubleshooting the Logitech harmony hub
Here are the first things to consider when trying to fix the device:
Very often, a problem can be solved by rebooting completely. Try turning it off, waiting, and then turning it back on after 15 seconds and checking everything.
Also, a frequent problem is an inability to connect. Often this is due to problems with the Internet; check your password; it should not contain any smiley faces. If everything is okay, try restarting your internet or turning it off from power at all, wait and turn it back on.
The harmony remote control does not connect or does not work at all. Try holding down the red button at the top and then turn it back on. Check that there is no external damage. Also, if it was dropped, the internal parts might be damaged. This might not work at all.
The LED will light red. It means the device is synchronizing with the site when updates are being received. A firmware or user configuration update may have been initiated by the remote or reset harmony hub. The LED will blink red during firmware installation.
How to factory reset harmony hub
Press and hold the Menu button and the Off button together for 20 seconds. Then the screen will turn off, and it will automatically turn on again. A circular arrow and the reset harmony remote control will be displayed. When your harmony remote control is restored to its factory default state, you can sync with the remote control again.
Configuring harmony account
If you want to customize your app, you need to read all of the setup instructions that are on your app screen. Remember to read all of the instructions for your application carefully.
During the setup process, you can see information about what is actually happening in the settings.
The configuration of the mobile device must take place in the wireless Wi-Fi network. For this, you will need to connect it to it and configure it properly.
Once connected, you will need to connect to the application.
Then click the Continue button on the Welcome screen. You can also make purchases on the welcome screen. Then start logging in.
You are to choose between using your e-mail or social media accounts to log in. Enter the needed credentials and proceed.
From the overview, you will learn about the setup steps, and you can continue your work.
Wait 30 seconds for the Hub to pair with the app, then press the Pair / Reset harmony hub button. You can now use the HarmonyHub app on your mobile device.
Remote configuration
Click the gear icon in the upper left corner to change harmony remote control settings such as vibration, backlight, and tilt sensor, as well as touch duration to trigger actions. This provides a more personalized experience and only takes a couple of minutes to set up.
Setting up a mobile app
Log in to your account. Select add a customer or add harmony remote. If you do not currently have an account, go to the special address.
Set up your account. The app will start automatically and prompt you to enter your client's email address and information. The harmony remote control can be initially programmed without a password.
Add home entertainment devices. Simply enter the manufacturer and model number for products not detected during the network scan.
You may need to update the software of your harmony remote control. You will be informed when the mobile device setup is complete. You will see the indication that synchronization is in progress and then when everything is ready to use.
F.A.Q.
How do I put my harmony hub in pairing?
Your hub must be working and connected to Wi-Fi. Start by holding the Action button on the device for 5 seconds until the LED flashes. Open the Harmony app on your phone and click Settings, then Add a New Remote.
How do I update firmware on harmony logitech?
A mobile application is needed for this step. Go to Menu > Setup > Hardware > My Devices. Pick the name of your hub and then choose Settings. There will be a button to update the firmware. Tap on it and proceed with updating.
How do I restore my harmony account information?
Sign into your account using any preferred method, preferably from the desktop app. Use the USB cable to connect the remote and click Sync.
Conclusion
All in all, this is a wonderful addition to any home entertainment system or home theater! It's such a powerful tool that integrates with many devices, and it's easy to set up with little or no programming knowledge.
If it didn't work and you couldn't fix the problem, it's better to get help from our Howly experts. They will help you solve your problems and give you a lot of advice on how to reset logitech remote.