AOL Mail is a free service created and provided by Verizon Communications, a subsidiary of AT&T. This global telecommunications giant is regarded as one of the largest in the industry. AOL Mail is known for the following functionalities:
Before we start
Save your time and let professionals resolve your issue in minutes!
Want to start solving your problem immediately? Experienced Howly troubleshooters can fix your issue ASAP. They're already waiting for you in the chat!
The benefits you'll get while troubleshooting your issue with Howly experts:
Qualified help with laptops HDD

Quick advice right in your device 24/7/365

Expert reply within 60 seconds

Clear step-by-step guidance

Limitless number of follow-up questions

Understanding and empathetic help till your laptop HDD issue is fully resolved

All answers you need in one place
Different email accounts from other providers can be linked.
Embedded links and ads attached in emails are disabled by default and may only be activated by the recipient of the email.
Protection against spam.
Virus removal.
Supports After login, use TLS/HTTPS.
Bear in mind that if you don't use an AOL account for 90 days, it will be terminated and will return any emails sent to it. The system may delete the account if you are inactive for 180+ days. Even though AOL provides its users with many additional services, it is known for possible issues that some Apple users might face. One of them is the problem of getting mail access on iOS devices.
But why is AOL mail not working on the iPhone even when you use it regularly? In those cases, a phone asks for a password after the user enters the correct one. You may see a notification with the "No password provided" text. You may also see similar messages such as "Please, fill in the correct AOL app password" in other email services.
What causes that error message on iPhones?
AOL has its own sign-in procedure. But some applications do not fully support it. If you are using your Mail app via iPhone, set up the account by selecting AOL as one of the main accounts. Otherwise, you'll have AOL problems on the iPhone.
If your account was set up using "other" or you are required to provide additional info like incoming mail servers, it means that you aren't using AOL's sign-in. If the application does not want to accept your password or does not show you an "AOL sign-in box," visit your AOL account and request a password.
However, resetting the password may not fix the AOL issue. This method usually works on the PC but not on the iOS. So if your device continues saying, AOL email is not working on iPhone, try other methods from this article.
How to fix an issue of your AOL not working on an iPhone without a password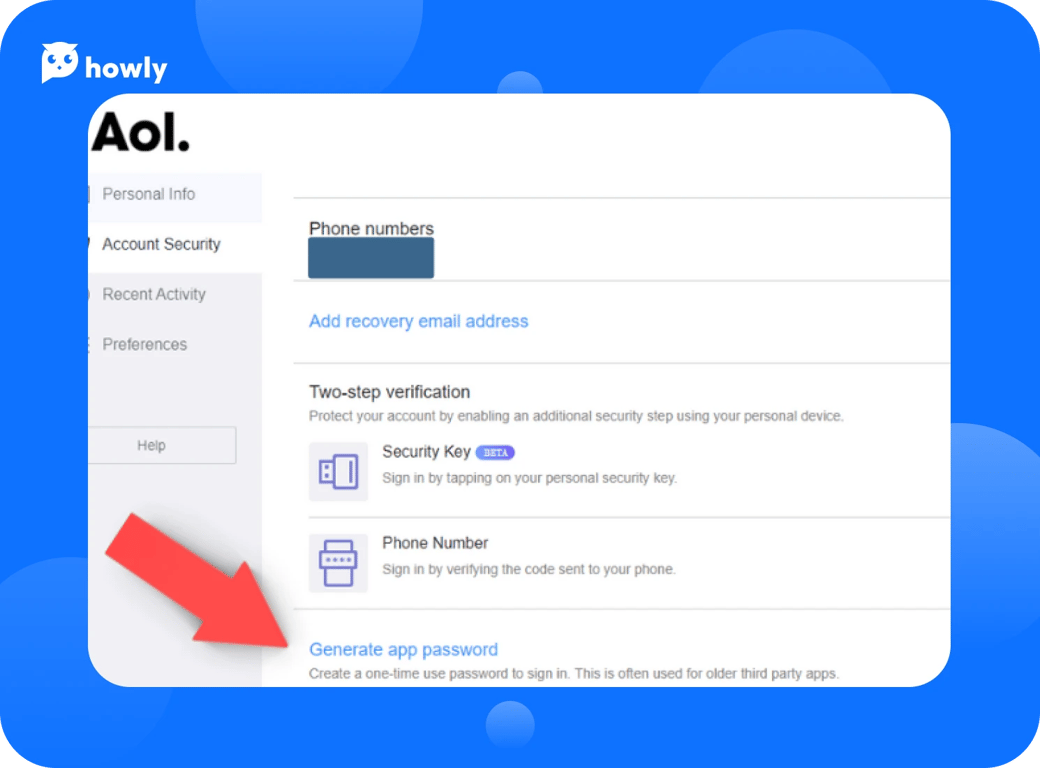 If your AOL profile already has a two-factor verification option, reset the AOL password on the iPhone and create a unique one. This password is usually a lengthy, procedurally generated passcode that grants access to your AOL account from a non-AOL app. To sign in to your email app, you'll only need to enter this code once and link it to your device.
Use the next instruction to generate the AOL app password:
1. Open the AOL Security main page from your computer.
2. Sign in to your personal AOL account.
3. Choose the Generate app password.
4. Enter the application's name in the field.
5. Tap on Generate password.
6. Follow the guidelines on the screen.
7. Click Done.
8. Sign in to your email app with this password and your email.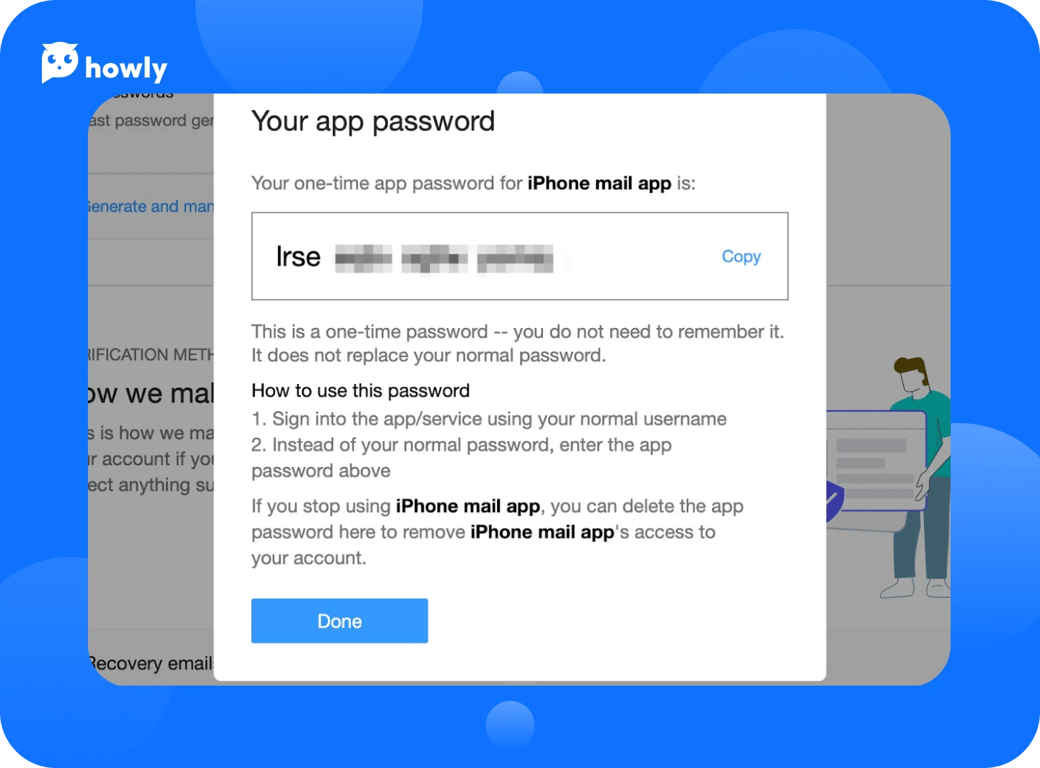 After that, reset a password for an app:
1. Open the AOL Security main page from your computer or laptop.
2. Sign in to your personal AOL account.
3. In the Account, Security menu, select Generate and manage passwords.
4. Search for the application's password you want to remove.
5. Choose Delete to confirm.
To update the AOL password on the iPhone, open the account settings and write down a new password:
Open Settings and find Mail.
Select the AOL account.
Write the new password.
Another simple way to fix a glitch is to delete and create the AOL account once again:
Visit the AOL webpage from your computer.
Go to the Settings menu.
In the Account, Security menu, find the Delete account option.
Create a new account.
Then take your smartphone and open the settings. Here navigate to Mail → Accounts → Add.
Finally, open your AOL account.
One more solution is simply to iOS or iPadOS device to the latest version. Outdated iOS can lead to various system glitches. And a mail problem is one of them. So, this easy decision may help to fix any technical errors.
No password provided for AT&T
AT&T mail subscribers may go to their account page and get a unique key to use with the email, just like AOL users do. To fix your AT&T account error mail on your iPhone, do as follows:
Visit the AT&T webpage.
Sign in to your account.
Navigate to Settings → Mail, and click Accounts. Click your AT&T account picture and search for Delete Account. Then, click on this link.
Return to Accounts and search for the Add Account → Other → Add Mail.
On that screen, enter the information needed. This includes a password – which is considered to be your new secure key, not just your typical email password.
In the Account type field, you should choose IMAP.
Note: Ensure that all the fields are filled in properly.
Username: your email
Host: imap.mail.att.net
Outgoing Host Name: smtp.mail.att.net
For any appearing Server Identity, click Continue.
Save the changes.
Alternative ways to fix the error "No password provided" for iPhone email apps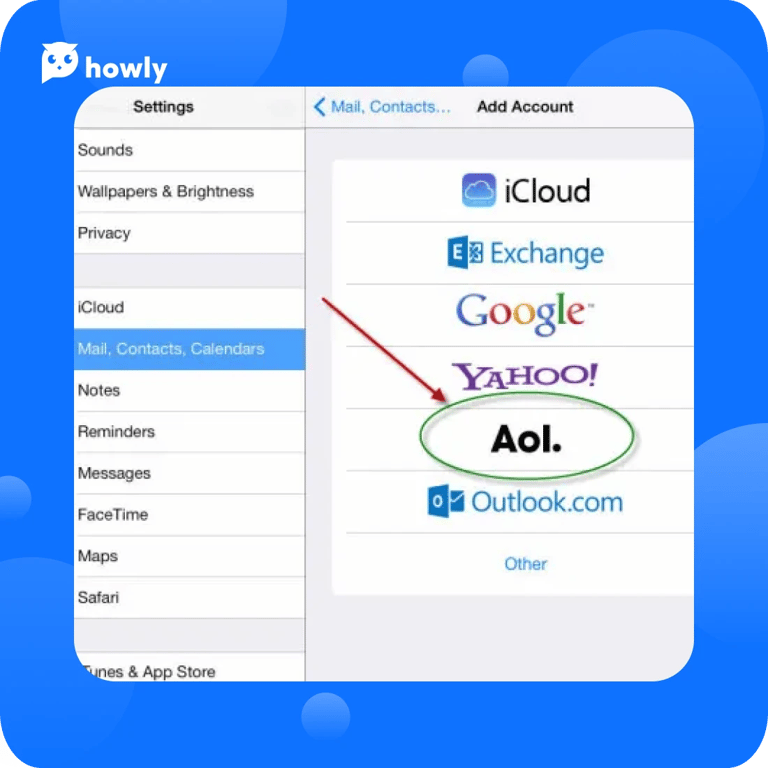 No password provided for SBCGlobal
There are a few options for resolving your iPhone's inability to sign in to SBCGlobal. Reset your password if AOL is not working on the iPhone. AT&T systems require users to update their passwords regularly for better security and to maintain their data updated. You may accomplish this by going to My AT&T:
Go to Sign-in information.
Change the password option.
Fill out and save your password information.
No password provided for BellSouth
To resolve this issue when the AOL password is not working there, delete and re-add your account:
Open your iPhone Settings.
Open the Mail tab.
Choose the BellSouth email from the list.
Select the Remove option.
Go back to the Mail tab and tap Accounts → Add account → Other.
Type in the BellSouth credentials and save the changes.
After this, generate a security key:
Navigate the AT&T web page and sign in to your BellSouth account.
Open your account and tap on the Sign in info.
Here you will see the list of all the AT&T email accounts you have. Choose the one needed to generate the key.
Go down the page and search for the Secure Mail Key → Manage Secure Mail Key.
Select the BellSouth email you need.
Pick Add Secure Mail Key.
It's worth giving the nickname for that key in the field. It will make it easier for you to find the key later.
Click Create Secure Mail Key.
Save both the created key and all the changes.
No password provided for Comcast
Using external apps to access Comcast.net could lead to leakage or other security problems of your Xfinity ID. Visit Xfinity Connect and pick "Email" to access Comcast email. After this, follow iOS guidelines:
Open Settings → Mail → Accounts → Add → Mail → Other.
Write credentials on the New Account page and tap on the Next button.
Once your information is checked, the Comcast email will configure automatically.
From now on, you can sync your phone with Comcast email.
Useful tips
If you still see the "AOL account error cannot get mail" message, withdraw your account from the device and re-add it.
You may also double-check your account's settings. We recommend asking your provider for additional support or following these instructions on how to reset the AOL password on iPhone:
Ensure that the email username you want to use is available. Check your computer or connect to your webmail account.
Open Settings → Mail → Accounts.
Find your account in the menu. Then click Delete Account.
Follow the next path: Settings → Mail → Accounts → Add Account.
If your provider is displayed, select it. If not – select Other.
Follow the onscreen guidelines and fill in the spaces to create an account.
F.A.Q.
Why is AOL not working on my iPhone?
If you're receiving an error message when trying to sign in or add an account in the AOL app, you may need to reset your password. The AOL app works best on the latest version of iOS software. To resolve most app issues, make sure you have the most recent version of iOS installed on your device.
Is AOL 2022 shutting down?
Starting on April 30, 2022, you won't be able to send or receive emails using your love.com email address. You'll temporarily still be able to sign in to your inbox to read old messages and access any files that were attached to emails, but you won't be able to send or receive emails from your love.com email address.
How do I update my AOL Mail?
1. On your device, tap Settings.
2. Scroll down | Tap App Store.
3. Tap the slider next to App Updates.
Conclusion
Taking into consideration all the facts mentioned above, we can come to the conclusion that in order to fix the issue with your AOL not working on an iPhone, you should follow these steps:
Follow the AOL security page guidelines to create a new password.
Reset an old password. To do so, visit the AOL Security Page → Personal Account → Security Menu → Generate app passwords. Then, search for the app`s password you wish to remove.
Activate your new password. Open your iPhone settings, find AOL mail, and enter the new code.
Don`t forget about an alternative way - delete the AOL account and sign up one more time.
The final possible solution is choosing the account type and entering credentials on the AT&T web page.
We hope this article was helpful to you. You can repair the AOL issue on iPhone/iPad with the mentioned options. Try the above techniques if your Apple ID password isn't functioning. Also, try other alternatives from the article. You can also leave your comments and responses below. We will do our best to answer you as quickly as possible.