Is your iPhone behaving like crazy: twitching, blinking, clicking on different points by itself as if it had a ghost in it?
Before we start
Save your time and let professionals resolve your issue in minutes!
Want to start solving your problem immediately? Experienced Howly troubleshooters can fix your issue ASAP. They're already waiting for you in the chat!
The benefits you'll get while troubleshooting your issue with Howly experts:
Qualified help with laptops HDD

Quick advice right in your device 24/7/365

Expert reply within 60 seconds

Clear step-by-step guidance

Limitless number of follow-up questions

Understanding and empathetic help till your laptop HDD issue is fully resolved

All answers you need in one place
This problem is not uncommon. Owners of iPhones of the latest versions sometimes notice that the screen moves on its own, opens random apps, tries to type something, or, on the contrary, stops responding to any touch. This issue is called "ghost touch." Before you start googling "How to fix a ghost touch on iPhone 11" or "How to fix a ghost touch on iPhone XR," or another model of iPhone (because every phone can become crazy one moment), read this article. We have gathered tips applicable to any iPhone model!
What is a ghost touch on an iPhone?
iPhone owners sometimes notice that their phones misbehave. Like someone else is clicking and scrolling through the screen or opening applications.
Just imagine that your phone does not obey and gives you a lot of inconveniences. For example, it may accidentally call other people, write strange messages, and take random photos. This behavior annoying behavior is called "ghost touch."
Sometimes, a significant overhaul is needed to correct the situation, but, frankly, you can often fix your gadget with simple steps, which we will discuss in this article.
But first, let's find out what can cause such a breakdown?
Causes of ghost typing on iPhone
This problem affects all iPhone models, but it often occurs on the iPhone X and iPhone XR models. That's why you can find a lot of information about how to fix the ghost touch iPhone X on the web.
Such a breakdown can occur for various reasons:
Dirty or greasy screen;
Water droplets on the sensor;
Inadequate contact of the board with the screen;
Incorrectly glued glass or incorrect cover;
Small debris under protective glass;
Application problem;
Problem installing updates;
Serious device failure.
All of these reasons boil down to three simple problems:
The contact between the screen and the board is broken;
Insufficient conductivity of electrical impulses from your iPhone's body to the screen;
System errors.
So the wrong case, protective glass, and small debris inside the phone can break the contact between the board and the screen. And greasy traces or dust on the screen affect the conduction of impulses from the human body to the microcircuit. We will analyze all this in detail later.
So, now you know why your iPhone is moving on its own. Let's discover how to fix a ghost touch?
Replace the protective glass and clean the screen
Why is my phone moving on its own? This is a question that many iPhone owners face. And one of the non-obvious reasons for screen twitching is a case or protective glass you use. The smartphone screen responds to changes in the electric field that our body creates. Therefore, nothing happens when you click on it while wearing protective gloves. If this interaction is affected or insufficient, your phone may not work correctly.
The glass may not fit snugly against your screen, or it might not be appropriately glued. Or some excess moisture, debris, etc., may have appeared between the case and the phone. Water or greasy marks on the protective glass can also cause the iPhone touch screen to glitch.
Try removing the case and wiping your phone with a microfiber cloth. This will help eliminate grease, dust, and dirt without damaging the screen. If your iPhone's screen is heavily soiled, gently wipe off any dirt. Do not use sharp objects, and wipe gently without pressure.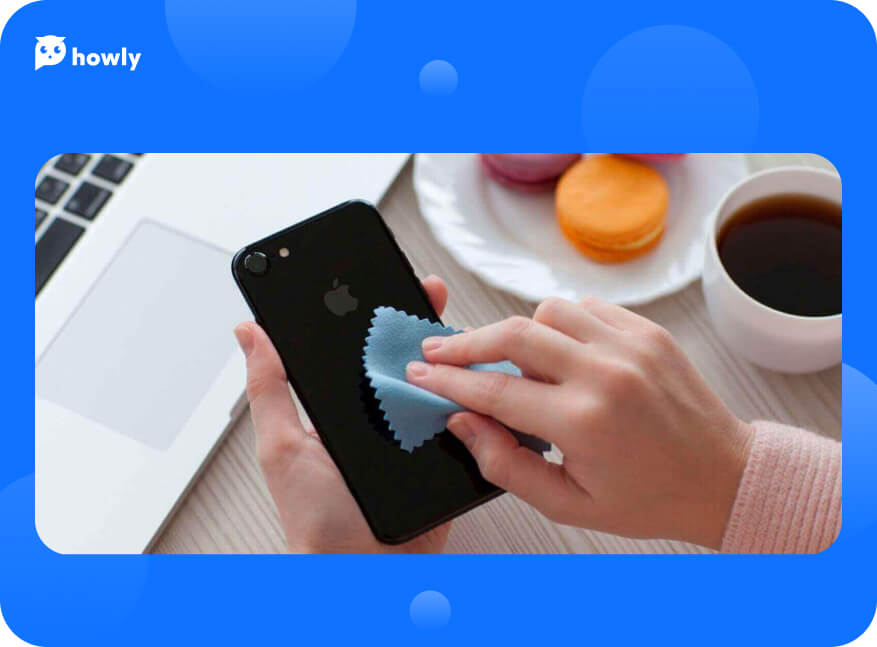 Decided to moisten a cloth with water? We do not recommend doing this. It is better to use special wet wipes for screens and monitors. But if you don't have it, and you really need a phone, be careful not to get water into the connections. Also, turn off your headphones and other gadgets before cleaning.
If it doesn't help, try peeling off the glass to see if the situation improves. If your protective glass is damaged or broken, you should replace it. Shards of glass can not only damage your phone but also cut your face when you are talking.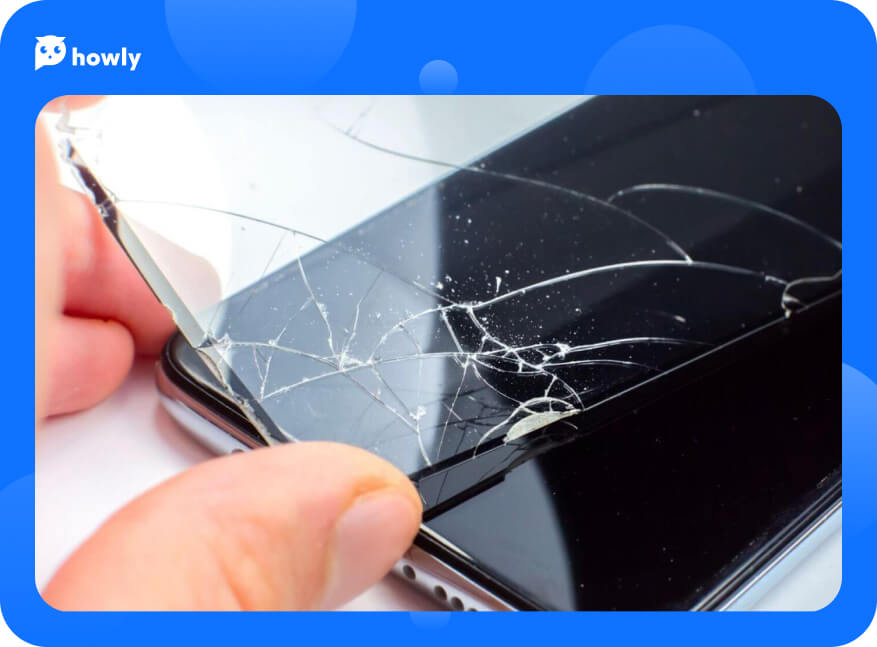 Phone screens are very scratch-resistant nowadays, so don't worry if your screen isn't protected for a while until you put on a new glass on it.
Also, a hard case can be the cause of the malfunction. It distorts the screen and may break the contacts of the chips with the screen. If you know your case is very tight, remove it.
Check if your iPhone has phantom touch now. If this issue is still bothering you - continue reading.
Reboot your phone
The easiest way to fix a ghost touch on iPhone 6, 7, X, and other models is to restart your phone. If you have an iPhone 6 or earlier, simultaneously press the power button and the Home button. Hold for 15-20 seconds until the phone starts to turn off.
For newer models, press the side and the volume buttons simultaneously. When the question "Turn off the phone?" appears, agree to turn off the device. Then, turn it on.
Another way to turn off new iPhone models is to hold the volume key up, down, and press the side key. Do it and check how your device works.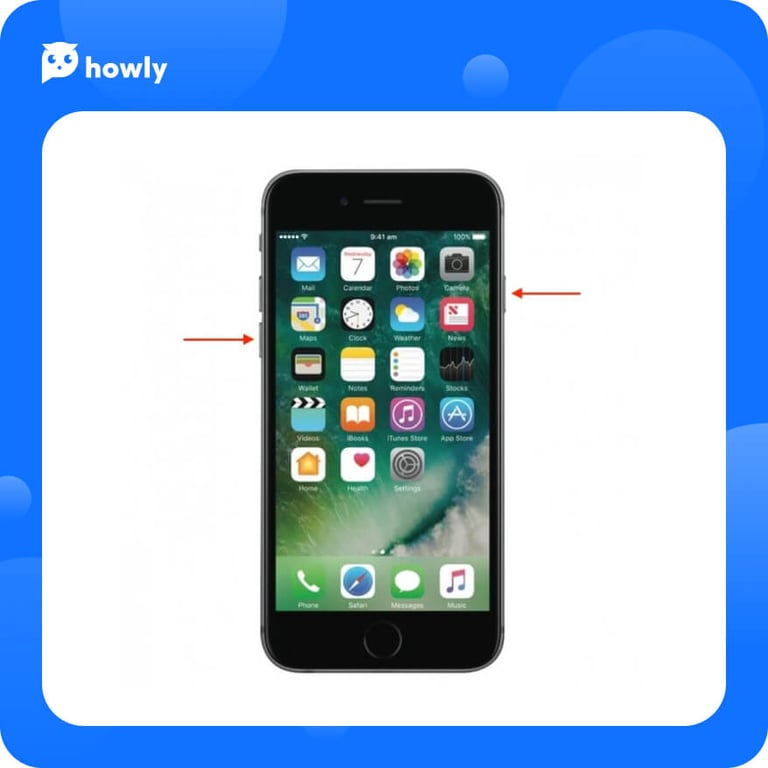 Press on the screen
If you drop and hit your iPhone, the connection between the board and touchscreen may have been damaged, and your phone may have been "haunted." Apply gentle pressure in a few places on the screen to fix this. Be careful! The screen is fragile, and you can break it with solid force.
If the reason is really in the connection, such an action will return all contacts to their place, and the phone will stop twitching. It is one of the quick answers, how to stop the ghost touch.
Turn off auto-brightness
Sometimes your phone automatically changes its brightness, and you may feel that it is buggy. Although in reality, it is not. Simply turning off auto-brightness can help.
To do this, go to settings, then scroll down to "General." Then click on "Display adaptation", find the automatic brightness switch there and turn it off.
Try not to touch your phone for a while
Sometimes the reason for the ghost touch on iPhone is very natural:
You went from a cold room to a warm one;
You came from the street where it was raining or snowing into a dry room;
Atmospheric pressure has changed.
The thing is that under the influence of the external environment, the humidity of the air changes, and microdroplets that interfere with regular operation can accumulate in your device. Moreover, a sudden temperature change can be detrimental to the iPhone.
So if you don't want to ask, "Why is my phone doing things on its own?" try not using your iPhone for 30 minutes when you've come from a snowy street into a warm apartment or an air-conditioned room on a hot day. During this time, the temperature inside the device will even out, and you will not damage it.
Replace charging cable
Apple is known for being conservative. It produces perfect products… that do not interact well with products from other manufacturers. That's why a non-Apple cable can break and cause ghost touch. If you use such a cable, find the original charger and check if the cord really affects the phone.
Suppose the problem appears after using such a cord. Replace it because prolonged use can lead to more severe problems. However, if you see that the iPhone is doing things on its own, check your cable first.
Check the sensitivity of the 3D screen
Is your phone still behaving strangely? Maybe the reason is the sensitivity of the 3D screen. It may accidentally be set to a minimum. To fix this, you need to follow a few simple steps:
First, go to settings and click "Accessibility";
Scroll down to 3D & Taptic Touch;
Adjust the slider according to your preference. For example, you can choose from Light, Medium, and Hard. Try to do this and check if you still have a ghost screen on your iPhone.
Close all background applications
Another common problem that affects the performance of your iPhone is application conflict. Or maybe a malicious program has been installed on your phone that works while you are not aware of it. See if that's what caused the ghost touch.
To close all applications that are running in the background, follow these steps:
Swipe up on the screen to see all open programs and apps
Swipe right to close each window
Try to close windows and programs that you don't use all the time.
Check how your device feels now. Sometimes these easy steps help remove ghost touch on the iPhone.
Install updates
Another easy way to fix phone twitches is to install updates. Of course, if your phone allows it.
To update the iOS, go to Settings - General - Software Update. Your job is to make sure you have the latest updates installed.
It is a simple way to fix the ghost touch on the iPhone 6 and other models of Apple devices.
Check for app crashes
Sometimes the reason for the twitching of the screen is in a particular application. For example, it may not have been downloaded or installed correctly, and then every time you open it, your phone will twitch.
If this happens, close the app and reopen it. If the iPhone screen is doing things independently, uninstall this app. To do this, click on the application icon and hold it until a cross appears. Click on it and then click "Delete." Done. The app no ​​longer interferes with your iPhone.
You can uninstall this application and try downloading again. There may be no problems with the new version. And if there are - then find an alternative. The AppStore usually has a lot of similar good apps.
Reset to factory settings
Sometimes new updates are the cause of the malfunction. To get rid of their influence, you need to reset the settings.
But before doing this step, make a backup copy of all the data on your phone. To do this:
Go to Settings > [your name] > iCloud > iCloud Backup.
To perform a factory reset:
Go to Settings - General - Reset. Click "Delete all content and settings" and confirm the operation.
After that, restore your data from the backup.
Turn on your device, follow the onscreen setup steps until you reach the Apps & Data screen, then tap Restore from iCloud Backup.
Ready! Now check if you get rid of the ghost touch.
Repair DFU
Often after a normal reboot, the cramps disappear. But sometimes, the phone works fine for a few minutes, and then the screen of the iPhone goes crazy again.
What to do in this case?
Most likely, the problem is more profound, so you need to move on to more severe methods of solving it.
This method is excellent when you can't do a factory reset directly from your phone.
Restoring DFU means updating your device's firmware. Firmware is software for hardware.
Be sure to back up to your iCloud, iTunes, or Finder before reinstalling it. We wrote a little earlier about how to do this.
To reinstall DFU:
Connect your iPhone to your computer.
If you have an iPhone 7 or older, hold down the Home button and the Sleep Button. Press and hold both the volume and side button if you have newer iPhones.
Your iPhone will connect to iTunes or Finder.
Confirm DFU update.
Ready. Check how your phone works after updates. This is one of the proven iPhone X ghost touch solutions.
Take your iPhone to the service center
If you have followed all the steps and nothing has helped, do not rush to get upset - there is one more solution for you. If your iPhone continues living its own life, it may be worth taking it to the service center and replacing the screen or other hardware parts.
Sometimes, poor contact with the existing screen or severe problems within these connections can cause ghost touch. Screen replacement can solve everything. You can replace the screen in the official Apple store.
It would be best to find the nearest center in your city, take all the documents to your phone, and come to the Apple Store. Experts will help you solve the problem and restore the functionality of your phone.
If your city does not have an official store, you can contact a third-party service. But still, if you want to make the iPhone ghost touch repair, it is better to do it in the official representation.
F.A.Q.
Can viruses be a reason for a ghost touch?
We can identify several reasons for the ghost touch. They are usually related to the hardware and include poor transmission of electrical impulses, dirt or water remnants on the screen, and system problems. Viruses rarely cause the ghost touch issue.
What are the main signs of a ghost touch on my iPhone?
Ghost touches refer to weird moves on your screen when you're not even touching it. So, the iPhone can type messages, make random calls, open folders or photos, and so on. Such wild behavior signals a screen problem that you should fix as soon as possible.
How to clean the iPhone screen from greasy stains?
Wipe the surface of your iPhone with a soft cloth such as microfiber. Use an antiseptic or low-alcohol product to get rid of greasy stains. Avoid products that contain hydrogen peroxide or bleach.
Finally
As you can see, there can be many reasons for the failure of the iPhone. You can fix a ghost touch on an iPhone in a matter of minutes, but you will need the help of specialists for something. If nothing has helped or you want to talk to an expert before going to the service center - Howly specialists are always ready to help.
Ghost touch is a truly annoying problem that every iPhone owner can face. Therefore, do not be discouraged. Instead, follow the guide, and you will regain control of your gadget.