Sometimes it happens that the password was set by accident, or the phone fell into the hands of a child, and he changed the usual combination. What to do in such cases and how to unlock the iPhone if you forgot the password? Read our material to find out.
Before we start
Save your time and let professionals resolve your issue in minutes!
Want to start solving your problem immediately? Experienced Howly troubleshooters can fix your issue ASAP. They're already waiting for you in the chat!
The benefits you'll get while troubleshooting your issue with Howly experts:
Qualified help with laptops HDD

Quick advice right in your device 24/7/365

Expert reply within 60 seconds

Clear step-by-step guidance

Limitless number of follow-up questions

Understanding and empathetic help till your laptop HDD issue is fully resolved

All answers you need in one place
Nowadays, mobile device manufacturers do not forget about the security and privacy of personal data. Digital code, fingerprint scanner, Face ID technology - all this is designed to prevent scammers, curious partners, children, and colleagues from accessing the contents of your phone. A password and other identification methods will reliably preserve the inviolability of personal life and finances. But here's what to do and how to unlock the iPhone if you already forgot the password.
First, don't get upset. The maximum that threatens you with the most severe recovery methods is the complete loss of all personal information. For this not to come as a surprise, make periodic «backups» through iTunes. And, of course, be careful when buying a gadget from your hands, check the device by the serial number to make sure that no one is looking for it.
Why is my iPhone disabled?
An iPhone can become disabled for several reasons:
Incorrect Passcode: If you enter the wrong passcode multiple times, your iPhone will be disabled for a certain amount of time to prevent unauthorized access.
Software Issues: If there are software issues on your iPhone, it may become disabled as a result.
Jailbreaking: Jailbreaking your iPhone can cause it to become disabled if the process is not done correctly.
Hardware Issues: If there are hardware issues with your iPhone, such as a malfunctioning power button or battery, it may become disabled.
Remotely Erased by iCloud owner: If the iPhone is tracked and located by the iCloud owner and the owner remotely erases it.
It is important to regularly back up your iPhone data to prevent data loss in case of a disabled iPhone.
What are some iPhone is Disabled error messages and what do they mean?
Here are some common "iPhone is Disabled" error messages and their meanings:
"iPhone is disabled. Try again in X minutes." This message appears when you have entered the wrong passcode multiple times. The number of minutes specified in the message is the amount of time you will need to wait before attempting to enter the passcode again.
"iPhone is disabled. Connect to iTunes."  This message appears when you have entered the wrong passcode too many times and your iPhone has been disabled. You will need to connect your iPhone to a computer with iTunes to regain access to the device.
"iPhone is disabled. Connect to iCloud." This message appears when the iCloud account associated with the iPhone has been used to remotely erase the device. To regain access, you will need to connect to iCloud and follow the steps to restore the device.
"iPhone is disabled. Please contact support." This message appears when your iPhone has become disabled and cannot be fixed by the user. You will need to contact Apple Support for assistance.
It's important to remember that the more attempts you make to enter the passcode, the longer the waiting time before you can try again will be. In some cases when you've entered the passcode too many times, you may need to restore the device using iTunes or iCloud.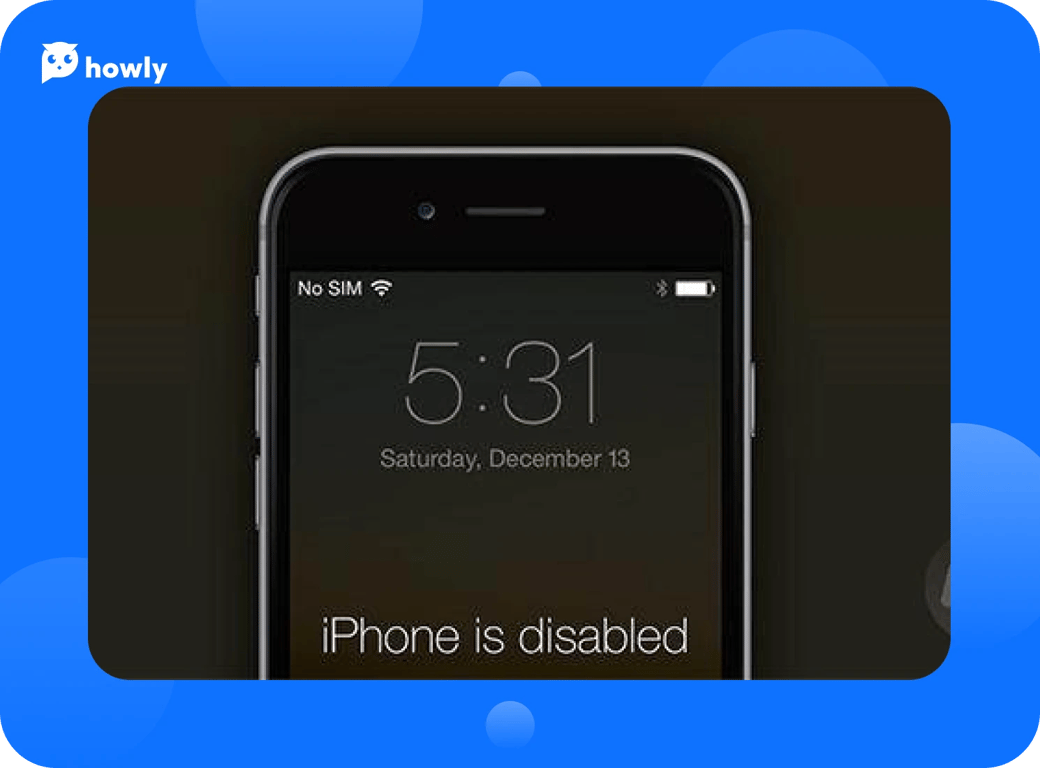 Troubleshooting the issue
Step 1: First of all, wait one minute
After you have received a message «iPhone is disabled» stating that your attempts to enter a password have ended, you need to wait a minute or try again in five, fifteen, or sixty minutes.
Step 2: Consider the reasons for this message
«iPhone is deactivated,» the warning says in the worst-case scenario. The gadget will be inoperable until you connect it to iTunes. So, what exactly is going on here, and why is the iPhone turned off? And how can you get it fixed so you can use your iPhone again? Although the answers to these questions are usually clear, let's go over the reasons for this warning and how to fix it so you can unlock and restore full functioning to your iPhone.
After six failed passcode tries, an iPhone will become deactivated. That means you have five attempts to unlock your device before it locks you out. Your iPhone will be disabled for one minute after the sixth try. The seventh attempt will lock you out of your crippled iPhone for five minutes, the eighth effort will lock you out for fifteen minutes, and the tenth attempt will lock you out for sixty minutes. However, if you reach the tenth attempt and still haven't entered the right passcode, you'll get the warning that your iPhone is disabled. If your iPhone is set to wipe after 10 failed passcode attempts, that is.
One of the options on your iPhone is to self-destruct. If this option is enabled, your phone will immediately wipe all its data after the 10th failed attempt to unlock it using a password.
Step 3: Reboot your iPhone
If your iPhone is attached to your computer, disconnect it or turn off your iPhone. In each version of the iPhone, all settings and hotkeys work differently.
For iPhone 8, iPhone 8 Plus, iPhone X, and later, SE (2nd and 3rd generation) you need to press and hold both until the power off slider displays, then press the side button and the Volume down button.
For iPhone 7, iPhone 7 Plus, iPhone 6s, and iPhone 6 you need to hold the side button down until you see the power off slider appear.
For iPhone SE (1st generation), iPhone 5s, and earlier the power off slider will appear if you press and hold the top button.
To switch off your iPhone, drag the slider to the off position, then wait a minute to ensure that it is entirely turned off.
Step 4: How to unlock a disabled iPhone using Find My iPhone
Another option is to use Apple's Find My iPhone function, which allows you to trace your iOS devices and, in the worst-case scenario, reset them if they're stolen and can't be found. You may use that feature on your disabled iPhone as well.
You need to open the Find My iPhone website in any web browser.
Find and choose your iPhone from the list of devices in the drop-down menu at the top of the screen.
To confirm, click «Erase iPhone» and then «Erase». You'll still need to enter your Apple ID password, but the iPhone's passcode isn't required.
After it's been wiped, it'll be reset to factory settings, and you can restore the iPhone using a recent backup by following the instructions.
Step 5: Connect to iTunes
The data on the iPhone will be wiped and lost forever if you do not know the passcode and do not have a backup. There is no way around it; in such a case, not even Apple can unlock an iPhone and retrieve the data. As a result, remember to set a device passcode and make regular backups!
So, if you don't remember your iPhone passcode and can't unlock it, you can try using iTunes. All you need is a computer (Mac or Windows) with the latest version of iTunes installed. And then do the following:
Connect your iPhone to your computer with a USB cable. Launch iTunes and sync your data so you don't lose it if your attempt fails.
Now you need to put your phone into DFU mode. To do this, press the power button and the HOME button at the same time (on the iPhone 7, the volume down button). The apple logo will appear on the iPhone screen - release the power button, and still hold the second button. Then let her go.
3. iTunes will notify you that the device is in recovery mode. The phone will be synced with iTunes. When the process is completed, the iPhone will return to DFU mode, but the password will no longer be on it.
Disadvantages of this method: can take a very long time; it is impossible to use this method if the Home and lock buttons do not work on the iPhone; if you interrupt the process, you can lose all data.
What should you do if your iPhone refuses to connect to iTunes?
If your iPhone is disabled, likely that it won't connect to iTunes, making it difficult to restore it using the instructions above. In this instance, you'll need to use iCloud to restore your iPhone.
This method will only work if Find My iPhone was previously set up and the disabled iPhone is connected to the internet.
Otherwise, we recommend going to an Apple Store or contacting customer service.
Follow the instructions below to recover your iPhone if you previously set up Find My iPhone.
Sign in to your iCloud account via icloud.com on any computer or smartphone you have access to. If you're logging in on someone else's computer or smartphone, make sure to log out as soon as you're finished.
Select Find iPhone from the menu.
If you've previously set up Find my iPhone, you'll see a map showing your iPhone's current location. Select All Devices, then the iPhone you want to restore from the list.
Select Erase iPhone from the menu. This approach comes with the same warnings as the previous one: your data will be deleted, and your old passcode will be removed.
After completing these steps, you can restore your data from an iTunes backup or an iCloud backup.
Step 6: How to use Finder to fix your disabled iPhone
If you're using a Mac with macOS Catalina or later, you can use the Finder to fix a disabled iPhone. Here's how:
Connect your iPhone to your Mac using a lightning cable.
Open Finder, and click on the "Trust This Computer" button on the iPhone.
Click on the iPhone icon in Finder, then click on the "Back Up Now" button. This will create a backup of your iPhone's data.
Click on the "Restore iPhone" button. This will erase all data and settings from your iPhone and restore it to its factory settings.
After the restore process is complete, you'll be prompted to set up your iPhone as a new device or restore from a backup. If you have created a backup, you can choose to restore from the backup.
Follow the on-screen instructions to complete the setup process.
It is important to remember that restoring your iPhone will erase all data and settings from the device and it can't be undone. Make sure you have a recent backup of your iPhone's data before proceeding.
F.A.Q.
Is it possible to unlock a disabled iPhone without losing data?
You will manage to access your data only if you restore a previous backup after unlocking your device. Disabled mode implies a complete phone reset. So when you unlock your iPhone, the data is erased by default.
Can I unlock my iPhone without iTunes?
If you want to unlock your iPhone without iTunes, Find My iPhone is what you need. The service allows you to manage your device remotely. You just need another phone to visit the website or enter the app and unlock your iPhone.
What are the most reliable apps to fix a disabled iPhone?
There are several apps to unlock iPhones. The best recovery tools include AnyFix, iMyFone, Tuneskit, and Dr.Fone. They are all reliable and worth your attention. Moreover, their functionality is similar, so you can choose any application to your liking.
Conclusion
We hope these tips have helped you figure out and fix your disabled iPhone. In the future, to avoid such a problem with forgetting the password, try to create the ones that you can always remember or do not set any at all (although this is not a good option because your phone will be easily hacked if it gets lost). Also, always make backups in iCloud or another program in case you need to restore your iPhone so that all information, photos, and videos are saved and can be easily restored. In case you need some more help, text Howly experts. They have a lot of expertise in this area.