As long as almost all Roku series link to the internet through Wi-Fi, there might be a gross difficulty in connecting Roku TV to Wi-Fi without remote.
We know how frustrating this issue might be, and that's why the top tech experts of Howly prepared this article to get the answers on alternative ways to control your Roku. We gathered the most effective solutions that would be easy to follow. Connect with the Howly team 24/7 to get your tech things done.
Don't waste time; let's learn how to use Roku TV without remote, including tips on how to connect it to the internet.
Hotspot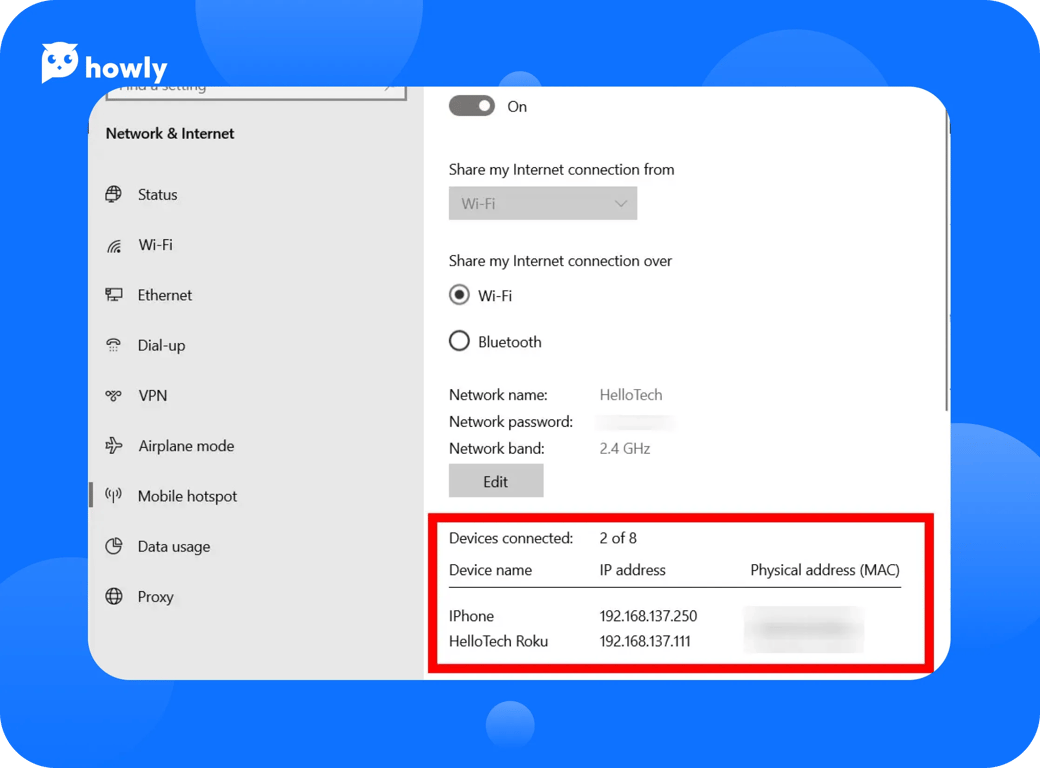 This is the first option to connect to Roku without remote, but prepare two devices beforehand. They will be engaged in the process. It can be two phones with internet access or a phone and a tablet or laptop. The idea is that you turn one gadget into a Wi-Fi hotspot and another help to handle Roku.
Follow this easy scheme for that:
Make a hotspot on your laptop, computer or phone. Your Roku gets connected on its own, and the setup Roku without remote will be finished.
On iPhone, go to Settings, move to the General bar, proceed to About, and pick Name. Write the name and then return to Settings and launch Personal Hotspot, confirming Allow Others to Join. Insert the password. Here you go.
On Android, move to Settings, Wi-Fi & Network, pick Hotspot & connection, Wi-Fi hotspot. Name it and type in a password.
On Windows, launch Settings, through Network & Internet go to Mobile hotspot. Edit it, naming and paroling. Remember to save the progress.
On Mac, move to the Apple menu, hit System Preferences, and select Sharing.
Use the Roku app on your other device by connecting it to the hotspot you created in the previous step.
On iPhone, open Settings, select and authorize Wi-Fi you need. That's all, so easy.
On Android, move to Settings, open Wi-Fi & Network, then Wi-Fi. Choose the necessary network and sign in.
Use Roku without remote on your phone. If you haven't installed it yet, it's time to go to the official store and download it. Use only official apps.
Start up the Roku app on your phone. Skip onboarding to get to the main page. Choose your Roku device there. Confirm Remote to have access to a virtual remote control. Then go to Home Screen, move to Settings, Network, Set up connection, picking Wireless. Sign in to your network, and confirm by clicking Connect.
That's it. Your network connected Roku without remote now. Remember, the network of the both gadgets must be the same. It's a crucial requirement.
Roku app
We have reviewed a little about how to install the Roku app regardless of the manufacturer of your smartphone and operating system. It's free regardless of the system. To connect Roku without remote, do as follows:
Go to the Roku app and hit Devices.
On your Roku gadget, turn on Remote, then proceed to Settings, then pick Network.
Choose the Set up link, and then choose Wireless to let your Roku scan the room for signals. Sign in to the found network.
Don't freak out if your virtual remote stops working. Reenter the Wi-Fi; it will work again. Besides, there is no limitation on how long you can use this virtual remote. It is as functional as a regular Roku remote, but you can't lose it in the sofa.
Roku Chrome browser extension
An alternative way to set up Roku TV without remote is via the Roku extension for Google Chrome or the Remoku plugin for Microsoft Edge. The same thing, use the same internet connection. It's vital to get things to work. Then, follow the algorithm:
Go to Google Chrome.
Launch Remoku in the Chrome menu. A fake remote on your screen will appear, making it possible to use Roku without a remote.
Enter Settings, then hit Network.
Pick Set up link, and then proceed to Wireless. Sign in to the network, and the job is done.
Ethernet cable into the router
This method goes well if the Rukus model of yours has an Ethernet port. Do as follows to connect Roku to Wi-Fi without remote:
1. Plug in an Ethernet wire to connect the gadget. Enter the internet on your phone.
2. In the Roku app, go to Devices.
3. Select your Roku device in the list.
4. Click Remote.
5. On Roku, go to the Settings icon and Network with the virtual keys.
6. Confirm Set up connection and Wired.
7. Pick up and sign in to your network.
8. Click Connect, and your Roku will connect. Now, you can now unplug the Ethernet cable if you want to.
Another Roku remote
One of the simplest ways to connect TCL Roku TV to Wi-Fi without remote is to acquire one from your neighbor. Because using alternatives can be very annoying, as every time you'll have to reconnect both your Roku and your smartphone to the network. Getting a new remote from your local tech shop or Roku customer service is a quick way to escape the problem.
Comment below which way you opt for.
Just use Roku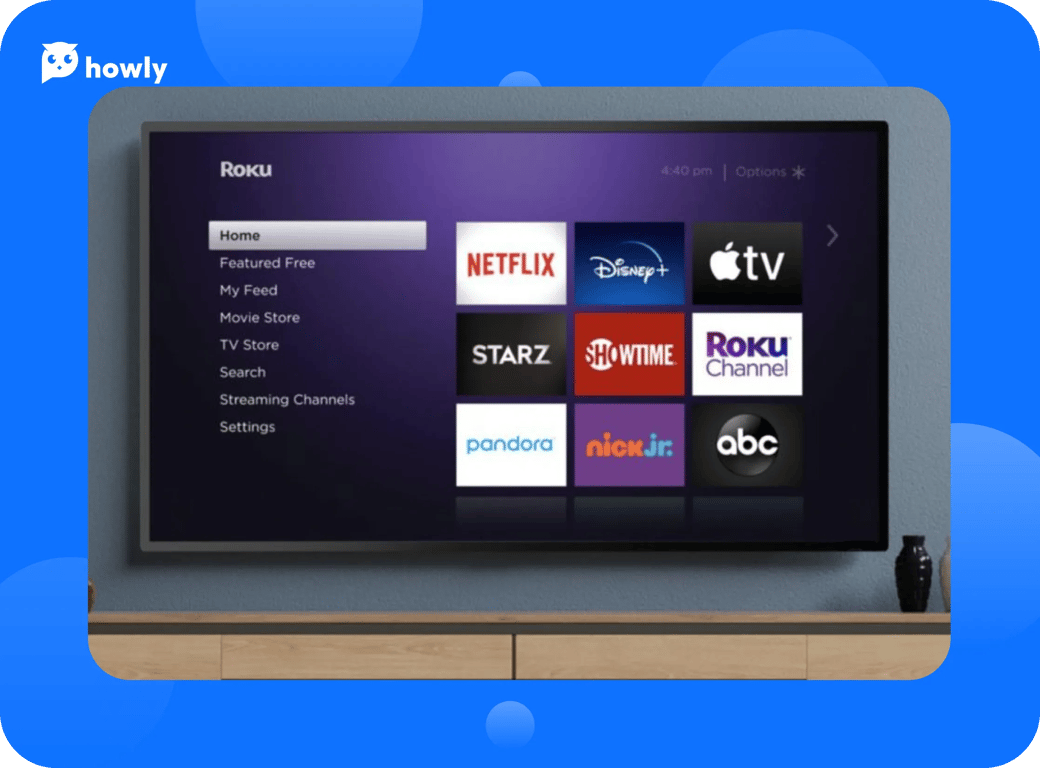 The last thing we need to reveal about setting up Roku without remote is how to avoid remotes at all. Most of the time, your best bet is to apply the Roku app. Besides, making hotspots with your phone is a good alternative. Nevertheless, it may have some speed restrictions.
Actually, you may take benefits of several options altogether. Decide on the proper way to use Roku according to your habits and needs. Go on!
F.A.Q.
How to change the IP address?
You can do it only after you connect Roku to Wi-Fi without remote. No Internet connection means no IP address. To read the IP address in the official app, do as follows: go to Remote, and after that, Home. Open Settings, Network, and About. This option contains information about the network and its IP address.
How do I pair a Roku remote?
If you have an IR remote or an enhanced remote, it's possible. Just put the batteries in, for an IR remote, and you're ready to go. In other cases, just wait until Roku does the job.
How to reset Roku remote?
Take out the batteries and turn off the Roku. Press the power button for a pair of seconds.
Conclusion
We tried to describe the best options for using Roku TV without remote and Wi-Fi.
If your Roku is already on the internet, and you just want to switch it to another, use the app or extension. In other cases, prefer the Ethernet option, if any. Anyway, there is always a possibility to borrow or acquire a new remote.
If you have any questions, connect with Howly tech support. We work day and night to get your tech problems to go away. Comment on this article to get more details on Roku and other gadgets.