AirPods are one of the most popular headphones in the world. They are part of Apple's infrastructure, so they are seamlessly connected to any device within its ecosystem. But what about other brands? Is it possible to connect AirPods to PC?
Before we start
Save your time and let qualified experts in AirPods connection troubleshooting resolve your difficulty in minutes!
Some say that it's impossible to connect AirPods to Windows devices. But they are wrong. Chat with the Howly expert to get instant help connecting Apple devices to the PC. Our team is working 24/7 to help you when you need it the most.
The benefits you'll get resolving your AirPods issue with Howly experts:
Specialized help with AirPods and Apple devices

Quick advice right in your device 24/7/365

Expert reply within 60 seconds

Clear step-by-step guidance

Limitless number of follow-up questions

Patient and friendly help till your AirPods difficulty is fully resolved

All answers you need in one place
Yes, you can do it with ease. All you need is to use our instructions on how to connect AirPods to the laptop on Windows. They are pretty similar on all Windows versions: from modern 11 to ancient 7 and 8. Stick to them to get everything done within 3-5 minutes!
Is it possible to pair AirPods with Windows 10? Yes, totally!
We know how different tech enthusiasts may persuade you that you need a MacBook to use AirPods. They tell you that you can't launch them on Android, Ubuntu, and Windows.
But we strongly disagree with those prohibited statements. We think, that you, as a user, should use any device that perfectly suits your needs. And we help you to sync them into a fine workspace.
AirPods are great wireless headphones that will work great even with non-native devices. And today we will share with you proven guidelines on how to connect them.
How to pair AirPods or AirPods Pro with Windows 10
Initially, you should launch the Pair mode. Put the headphones in the case. If they are not here, you can't launch the Pair mode. And it means that you can't sync your AirPods with new devices, like your computer.
Once you hide your headphones in the case (turn off the Max option), go to your PC's settings:
Click on Windows and choose the gear icon. Click on it.
Choose Devices → Bluetooth → Add.
Select Bluetooth in the next window.
Open the lid of the headphones case. Skip it if you have AirPods Max.
Hold the small button on the rear of the case. On AirPods Max, press the control button right on them. Wait until it starts to blink in white. That way you launch it in the Pair mode.
Go back to the PC and check the Add a Device → AirPods. Click on it.
Wait for a few seconds until you see a success message. Click on the Done option.
That's how you can pair AirPods with a PC. As you see, it takes just a few minutes. Beware that you can't use Spatial Audio or other distinctive Apple features. They are available only when you sync them with other devices from the Apple ecosystem.
How to unpair your AirPods with the Windows 10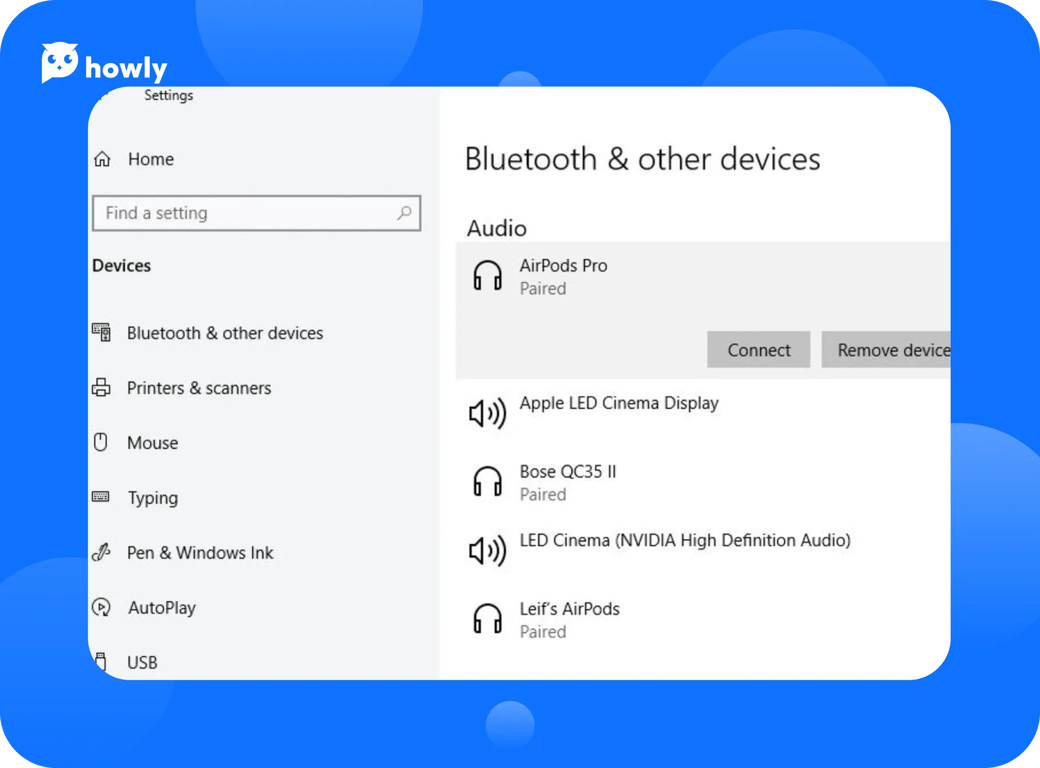 You can unpair both devices from the same PC menu where you paired AirPods with Windows 10. Launch Settings → Devices → Bluetooth. Go to the Audio tab and look for AirPods. Click on it and choose Remove device.
This action can troubleshoot minor glitches in this connection. It usually happens with computers with relatively old hardware (2018 and earlier) and outdated software.
It will also help to update your AirPods drivers to the latest option. Once you reinstall it back, you'll get up-to-date drivers. So, it's an effortless way to maintain fine software for this non-standard connection.
How to reconnect or disconnect AirPods with Windows 10
What if you no longer want to hear music from your PC on the headphones right now, but might want to listen later? We recommend you disconnect devices from each other. You can connect air pods to windows in a moment, like any other Bluetooth headphones.
To disconnect devices, you can put AirPods into the case and close it. It will show the Windows that you no longer want to keep both devices connected. You can also go to the Bluetooth menu on the PC, find out the AirPods in the audio list and click on the Disconnect button. Those actions won't unpair devices, so you can connect AirPods to Windows when needed.
How to pair AirPods with Windows 11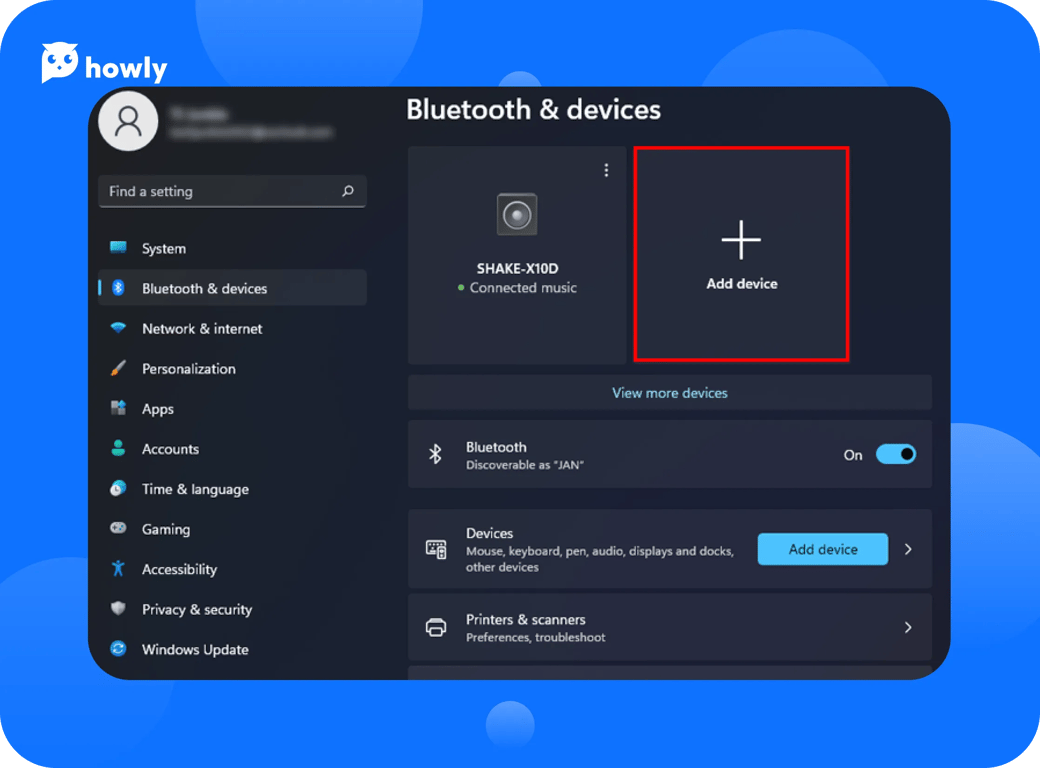 Newer Windows have slightly different connection algorithms. You still need to put wireless headphones back into the case. While computer guidelines to connect AirPods to the computer are following:
Click on Windows and find grey gear. Click on it to launch Settings.
Hold the button on the headphones case until you witness a white light. In the Pro option, simply press the control button.
Pick Bluetooth & devices → Bluetooth → Add → Bluetooth.
Moments later, you'll see the AirPods as one of the possible connections on your PC.
Choose them and wait for 20-30 seconds until both devices sync.
Once you see the "You ready to go" window, you are done with connecting AirPods to a PC. Congrats! You can listen to music, change its loudness and talk with others via headphones. It will be fine.
How to unpair the AirPods with the Windows 11
If you want to permanently disconnect the headphones and computer, stick to this instruction. It's pretty similar to those which you are used to pairing AirPods to PC, but with a different last step:
Click on Windows and pick a gear icon to launch Settings.
Open Bluetooth and find the big button with AirPods.
Click on the dots in the upper corner of the block. Select Remove device.
If you can't find the wireless headphones, go to View more devices. Find the AirPods, click on the three dots, and pick Remove. As you see, the primary difference between adding AirPods to Windows and deleting them is the last step of the instruction. Other aspects remain the same. So simply stick to the main instruction, and everything will go nice and smooth.
How to disconnect and re-connect AirPods with the Windows 11
Usually, your AirPods automatically reconnect to the Win 11 computer if it has enabled Bluetooth. But in some cases, you don't need that connection at the moment, so you start looking for a way to disable it. Here is your instruction:
Click on Windows and choose Settings → Bluetooth.
Look for a big button with headphones on the logo and AirPods text. Find a small Disconnect button on it. Click on it.
From this moment you can reconnect your AirPods to another device. Don't worry, they are still paired with the PC. It means that you can connect AirPods to a laptop anytime you need it: just launch the headphones into the Pair mode and pick them on the PC's menu.
Wrapping up
You can connect AirPods to PC like any different Bluetooth device. It will act as any other similar headphones: you can listen to audio, change its volume change the tracks on your media player, or talk in online meetings.
But there will be no distinct Apple features like Spatial Audio, "Hi, Siri!", instant reconnection, and many other tricks. They are available only when you using another Apple product like MacBook or iPad. But even with ordinary Windows computers, AirPods remain great headphones for their price.
Once you decide to pair AirPods to PC, launch the Pair mode on headphones and Bluetooth on PC. Go to Settings → Devices → Bluetooth → Add. Wait for a few seconds until both devices pair.
We hope that our guidelines have helped you to solve this issue and now you can listen to audio from your favorite headphones even on a Windows computer.