Netflix is full of content for any taste. And the more you watch it, the more the system understands your preferences and promotes similar shows to you and sometimes family members. But what to do if you want to keep watch records in secret?
Before we start
Save your time and let professionals resolve your issue in minutes!
Want to start solving your problem immediately? Experienced Howly troubleshooters can fix your issue ASAP. They're already waiting for you in the chat!
The benefits you'll get while troubleshooting your issue with Howly experts:
Qualified help with laptops HDD

Quick advice right in your device 24/7/365

Expert reply within 60 seconds

Clear step-by-step guidance

Limitless number of follow-up questions

Understanding and empathetic help till your laptop HDD issue is fully resolved

All answers you need in one place
Is it possible to erase Netflix history, so no one can take a peek at your recent watches? Yes, it's possible. Just make sure that you strictly follow our guidelines.
How to delete the Netflix history: 3 common ways
You can edit your watch history and lists from PC, mobile, or Roku TV. Beware that you'll need to use your browser to modify the account on your computer and phone. Unfortunately, you can't clear Netflix history on the mobile application.
If you own Roku devices, you can modify watch lists by removing shows from them. And you can do it straight from the official application. But if you have a TV from another brand, follow the basic instructions. Open the browser, launch the website, and reach the settings to modify it.
Clear Netflix history via computer
You can use this instruction on any system because you'll need just a browser and 5 minutes of your time:
Sign into Netflix via a preferable browser.
Click on the profile icon and pick Account → Profile & Parental.
Click on the dropdown arrowhead near a needed account and View → Viewing Activity.
You'll witness the list of titles that you've watched. You can remove them from your history one by one by clicking on the circle near it. Also, you can clear Netflix history by choosing Hide All. Confirm such drastic change by selecting Yes, hide all.
You can use this instruction even in a built-in tablet inside your car. These guidelines stay identical in any browser on any device.
Modify your Netflix history on the phone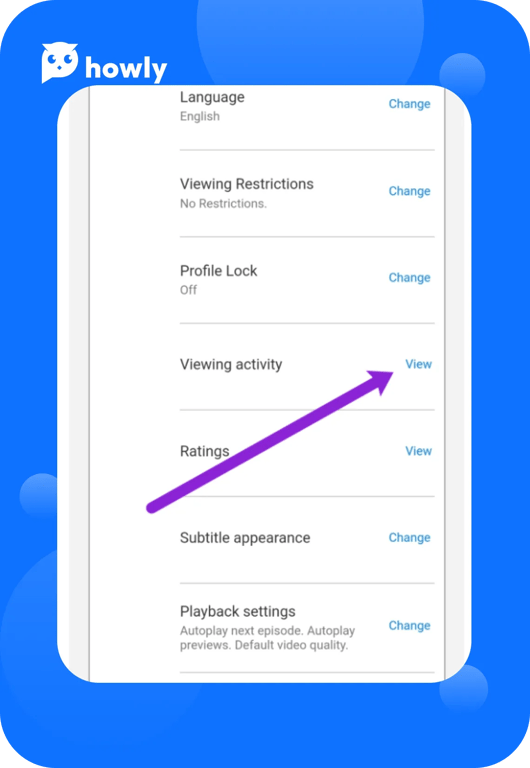 Sadly, you can't clear Netflix history right on the app. So, you should open any browser and repeat the same steps as in the above's instructions:
Go to the Netflix website and ask to request a desktop site. On Safari, tap on aA and pick Request Desktop. On Chrome, tap on the three dots and select Request Desktop.
Sign in and tap on the account icon.
Choose Account → Parental → View → Activity.
Once you see all titles, you can remove all records or delete them one by one. If you decide to delete history on Netflix in bulk, select Hide All. If you need just to remove some movies, tap on the circle near it.
Remove recently watched movies on a Roku
If you are using Roku TV, you have your way to clear history on Netflix. Here is your guide on deleting shows from watch lists:
Go to the main screen and find the Netflix application
Launch it and find the movie page that you want to remove from your playlist.
Scroll down in the pop-up menu until you find Remove from My List.
But if you have a device from another brand (Samsung, Apple TV, etc.), follow basic browser guidelines. As for 2023, it's impossible to remove movies from the watchlist straight from the Netflix TV app on other devices.
F.A.Q.
If I remove my account, will it also erase Netflix's history?
Yes, this action removes all watch and download history related to the account. It also deletes Netflix content stored on synced devices.
How to delete Netflix history on my mobile?
Firstly, go to the browser. You can't remove titles from the watch list via the application. Once you've opened the browser, launch the Netflix site and request a desktop version. Open account settings and go to the Parenting block. Go to the View and View Activity to remove unneeded shows from the watch records.
How to delete Netflix history from my computer within 5 minutes?
Launch the Netflix website and sign in. Click on the profile photo and select Account → Parenting → View. Once you get to the View Activity, adjust the history list. Remove titles one by one, or delete them all.
Wrapping up
It's possible to delete Netflix watch history, so no one will see what you like to see in your free time. You can do this from your browser, both from your PC and phone. Unfortunately, you can't modify your watch history on the mobile app. If you own Roku TV, you can slightly modify your watch lists from the Roku Netflix app.