Whitepages is one of the top directory platforms for checking acute information about US residents. The database is impressive – the service allows performing background checks, scam screening, and identity verification for more than 250 million people from all over the country. At the same time, the company boasts over 30 million active users per month. Although a Premium membership gives access to the vital private info of businesses and consumers, there are very few people who use the service on a regular basis. So having learned everything they need, users want to stop payments and seek ways to unsubscribe. There are also those willing to remove their accounts because of privacy concerns. To make things easier, Howly provides stepwise instructions on how to cancel a Whitepages membership as well as delete your account online using your smartphone or PC. Keep reading and get through it immediately!
Before we start
Save your time and let professionals resolve your issue in minutes!
Want to start solving your problem immediately? Experienced Howly troubleshooters can fix your issue ASAP. They're already waiting for you in the chat!
The benefits you'll get while troubleshooting your issue with Howly experts:
Qualified help with laptops HDD

Quick advice right in your device 24/7/365

Expert reply within 60 seconds

Clear step-by-step guidance

Limitless number of follow-up questions

Understanding and empathetic help till your laptop HDD issue is fully resolved

All answers you need in one place
Issues users get while trying to cancel Whitepages Premium
Encounter an annoying issue in an attempt to cancel a Whitepages Premium account? You're not alone! Users often seek help with their accounts and turn for instant solutions to Howly. Actually, it never comes down just to an inability to find the cherished "Cancel" button. The problems vary:
refund fails to accrue;
no option for account cancellation on the website;
system bugs/screen freezes when sending a cancellation request;
account removal problems;
difficulties during membership termination via Android/iPhone.
One of the listed issues sounds familiar to you? Or you have other concerns? Expert guidelines from Howly will save you the hassle!
How to cancel Whitepages account via the website
You can stop your Whitepages membership manually on the website. This handy option requires a minute to complete:
Visit the Whitepages login page and get into your profile.
Open the tab called Account Settings.
Head to Purchases & Billing.
Spot the Subscription Status subsection and pick out Cancel AutoRenew.
How to unsubscribe from Whitepages via Android
This option would fit you if you signed up through Google Play. So you should use the same service to unsubscribe:
Hit the Play Store icon to launch your app.
Hit your avatar -> pick out Subscriptions.
Search for Whitepages and tap it.
Hit Cancel to stop your membership.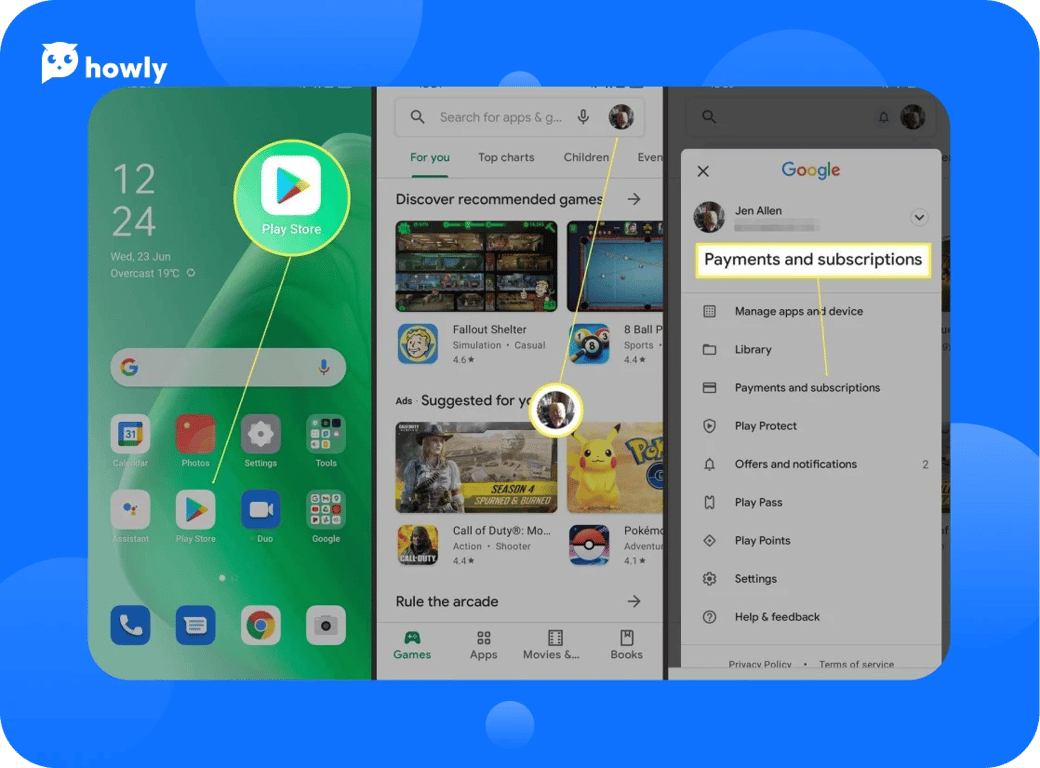 How to cancel Whitepages Premium account via iPhone
Apple device owners rarely face problems canceling their Whitepages accounts. Whether you subscribed through iPad or iPhone, the steps to terminate your account are the same:
Tap the Settings icon to launch your app.
Hit your account name -> pick out Subscriptions.
Look for Whitepages and hit it.
Pick Cancel to stop your membership.
How to delete Whitepages account via any device
Complete deletion of a Whitepages account is carried out on the company's website from any device convenient for you. Please note that deleting your account doesn't stop your subscription, meaning you'll still be charged monthly fees. So make sure you cancel the Whitepages membership before following the next steps.
Log in to the Whitepages website.
Get into the Settings tab.
Head to the very bottom of the tab -> hit Delete Account.
You'll be requested to enter your password for confirmation – type it in.
Tap Delete Account one more time.
If you encounter any problems on your way to account deletion, visit the Whitepages Help Center (click the Request Help button if necessary) or contact Howly for instant assistance.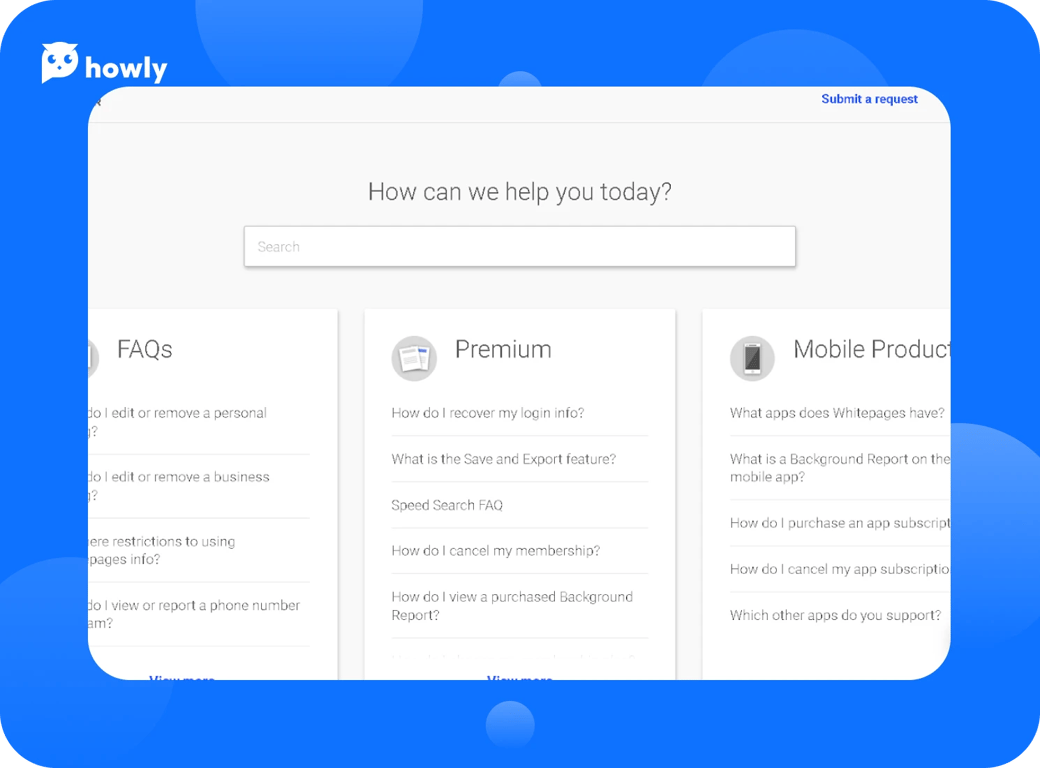 F.A.Q.
Will Whitepages give me a refund?
The refund policy of the company states that you can't receive a refund for unused service features or partial-month subscriptions. However, if you sign up via third-party accounts (Apple iTunes or Google Play), you'll need to request a refund using the same platform.
Can I speak with Whitepages customer support to get my membership canceled?
To speak with a live company representative and terminate your sub, call the cancel Whitepages Premium customer support number – (800) 916-7806. They'll ask for your login info and clarify all the details.
How do I cancel my trial subscription to Whitepages Premium?
Terminate your trial subscription in Account Settings by accessing the Purchases & Billing tab. Once you spot your $1 trial, hit the button to end it. It's better to unsubscribe in advance to avoid auto-renewal.
Conclusion
Whitepages has been operating for a long time and managed to gain popularity due to its inclusive databases of personal information. No matter what caused your desire to cancel Whitepages Premium, you can do it effortlessly via the website, Google Play, or Apple iTunes. In case you seek professional advice on any of the issues with your account, bear in mind that Howly specialists ensure full assistance 24/7. We'll help you cancel and delete your account as well as opt out your private info from Whitepages.