Sky provides its customers with a whole lot of premium live channels, Sky TV originals, and a wide range of on-demand media content, including Kids TV and Netflix. In addition, there is plenty of packages to choose from, and you can even create your own custom package that will match your viewing needs perfectly well. Moreover, the provider also offers lucrative broadband deals, mobile services, and various discounts to make your streaming experience even more pleasurable.
Before we start
Save your time and let professionals resolve your issue in minutes!
Want to start solving your problem immediately? Experienced Howly troubleshooters can fix your issue ASAP. They're already waiting for you in the chat!
The benefits you'll get while troubleshooting your issue with Howly experts:
Qualified help with laptops HDD

Quick advice right in your device 24/7/365

Expert reply within 60 seconds

Clear step-by-step guidance

Limitless number of follow-up questions

Understanding and empathetic help till your laptop HDD issue is fully resolved

All answers you need in one place
Despite all these perks, users keep wondering, "How do I cancel my Sky subscription?" out of the desire to switch to an alternative service. Indeed, breaking ties with a TV provider may be a daunting task. Therefore, Howly is here to streamline the process. We'll arm you with all the crucial information you need to know and also share easy guidelines on how to cancel your Sky subscription over the phone call, live chat, and email. Stop scratching your head; let's puzzle things out!
What you should know before Sky TV cancellation
To avoid any possible difficulties during Sky TV cancellation, you should be aware of all the nuances of the process. And Howly is here to simplify things, so check out the info below:
Whether you're going to cancel Sky Q, Sky+, or any other package, you should check the due date of your contract in order to avoid extra bills. After all, even though you have an opportunity to cut ties with the service at any moment, there's an early termination charge you may need to pay. To find out when your contract ends, head to UNKNOWN TAG — ins and sign in to view your account details. And all the information about early charges is available on the UNKNOWN TAG — ins.
It's noteworthy that you can cancel Sky TV without penalty if you're still in your cooling-off period, that is if you've set up the service recently. The period is 14 days in the ROI and 31 days after you become a member or receive your streaming equipment in the UK.
Once you terminate some Sky TV services (for example, Sky Q), you're obliged to return the equipment or products that the provider lent you. In this case, it's worth contacting Sky support and asking for a prepaid return label.
You need to notify the provider of your desire to end the subscription in advance. Therefore, you must provide an advanced notice 14 days before you want to cancel Sky Broadband and 31 days before Sky TV cancellation.
How to cancel Sky via phone number
The option to get rid of your Sky TV subscription manually via the site is unavailable. But you still have an opportunity to ring Sky to cancel your membership plan with a live agent. The method is pretty convenient since it allows you to save time on paperwork and avoid filling out any forms. The contact number to cancel Sky is free to call if you're a Sky Talk or Sky Mobile user, in other cases, you may encounter some charges. Now, let's consider your steps:
Prepare all the information about your contract as you'll need to provide it to their support representative.
The telephone number to cancel Sky is 03300 413 000 – call it and announce your decision to say goodbye.
Get ready for a long conversation, as the agent will try to convince you to change your decision. Be assertive, and they'll cancel your subscription.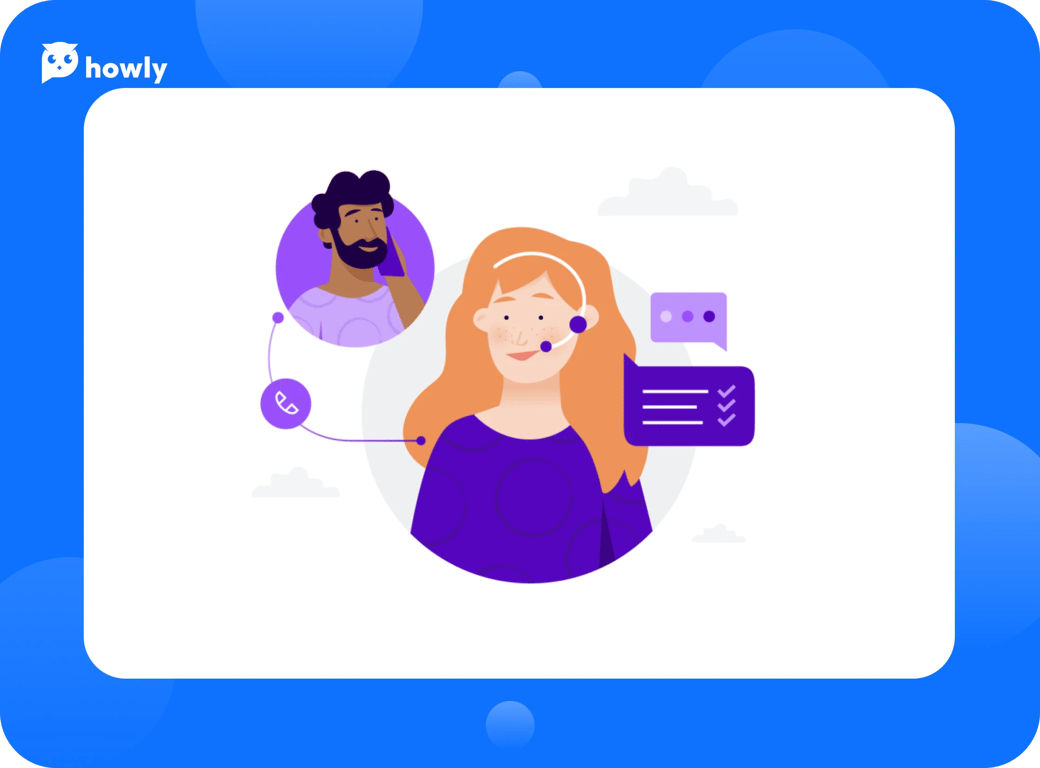 How to cancel Sky TV subscription via email
Have trouble terminating your sub by phone? You can also cancel a Sky TV contract by sending them an email. It's noteworthy that you'll have to wait up to 5 days for a response. However, the procedure itself is simple:
Create an email directly to UNKNOWN TAG — ins and include your address, name, postcode, and mobile number.
Wait for a support representative to contact you (they can either text you back or call you) to make sure you're the legitimate account holder.
Follow their instructions and provide all the information they ask for.
You can also mail Sky Experts if you prefer more old-fashioned ways to solve subscription issues. Thus, you just need to send a letter to Sky Subscriber Services Ltd, PO Box 43, Livingston, EH54 7DD.
How to cancel Sky via live chat
Online chat proves to be a much faster method to cancel a Sky account than via email. However, the response may still be far from immediate. The point is that the chat is available from 9 am to 7.30 pm, and if you contact them outside of this period, their expert will respond to you the following day. The algorithm is as follows:
Head to the UNKNOWN TAG — ins from your computer or Android/iOS.
Scroll right to the bottom of the screen and spot the Still need a hand? block.
Tap Yes, I still need help, and after that, the Contact Us window will appear.
Pass to the Message Us section (make sure you're texting them during operating hours, otherwise, you'll see the red circle notifying you that the chat is closed) -> hit Sign In.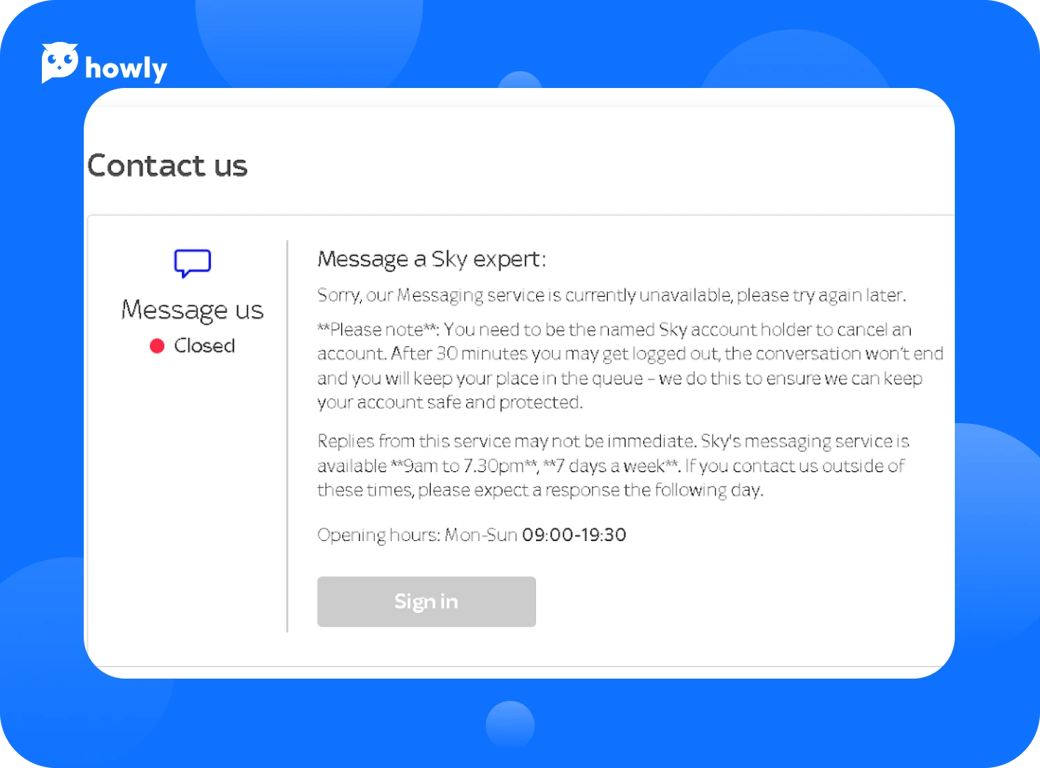 When the chat window opens, write "I want to cancel my Sky account" and follow the instructions that their expert will give you.
F.A.Q.
How to cancel my Sky Broadband?
The best and quickest option is to terminate your Sky Broadband sub over the phone. Make sure you have all the information about your contract at hand before calling.
How do I cancel Sky TV without paying a fee?
You'll pay no penalty if you manage to terminate your Sky membership during the cooling-off period. That is, within 14-31 days after subscribing.
Can I cancel my Sky Broadband if its speed is too slow?
If your broadband is much slower than you expected, it's an obvious reason for cancellation. Contact Sky support and ask them to solve the problem.
Conclusion
Even though the procedure for unsubscribing from Sky TV may seem complicated to you, it's actually far from the truth. You can easily break ties with your provider by following our instructions. And keep in mind, the process of fixing any tech problems is always simple if you're with Howly. You can ask any questions 24/7 and get an instant response. Cancel your Sky subscription and solve other service problems in minutes!