Are you stuck in a situation where you want to relax, but PS4 controllers are not connecting wherever you try to fix them? We understand your struggles, so we create this article with troubleshooting guidelines. In most cases, this issue is fixable at home. So you don't need to go to the service center.
Before we start
Save your time and let qualified experts in PS4 troubleshooting resolve your problem in minutes!
PlayStation controllers tend to fail in the least at the worst possible time. So why do you spend extra time waiting for the service station to open? Chat with Howly to get an instant answer to any question about PS4 controllers!
The privileges you'll get fixing your PS4 issue with Howly experts:
Pro help with PlayStation

Quick advice right in your device 24/7/365

Expert reply within 60 seconds

Clear step-by-step guidance

Limitless number of follow-up questions

Kind and pleasant help till your PlayStation 4 concern is fully resolved

All answers you need in one place
How to fix the situation when PlayStation controller is not connecting: 8 effective solutions
It's mostly a software issue, so you can fix it on your own. We've sorted ways to troubleshoot measures for the case when a controller is not connecting to PS4 from the easiest to the hardest option.
Firstly, connect the controller to the console via USB. If this doesn't help, check the charging port or try to connect it to another device. If you have concerns about the quality of the cable, change it. Reset your controller or try to forget and re-pair it to the console.
If this doesn't help, you mostly have some issues with the PlayStation. Power cycle it and do a factory reset. A hard restart is the most severe software action that you can do with the system. It removes every file from the system. So, if the PS4 is not connecting to the controller even after this, you have a hardware malfunction with your DualShock or PS Move.
Connect via USB
We understand why you prefer a wireless connection. It gives you more freedom of movement, so you can place yourself more than 8 feet away from the console, squat, and jump when you want. But that connection often gets corrupted.
Connect the controller to the console with a cable to find out if it's your situation. Try to play some games that way. Experiment with different cables from various manufacturers. Some of them work faster, some slower. Restart the console with the controller plugged by wire.
Once the system recognizes it, you can plug off the wire and try to play wirelessly. It should fix the situation when PS4 controllers are not connecting wirelessly.
Examine The Charging Port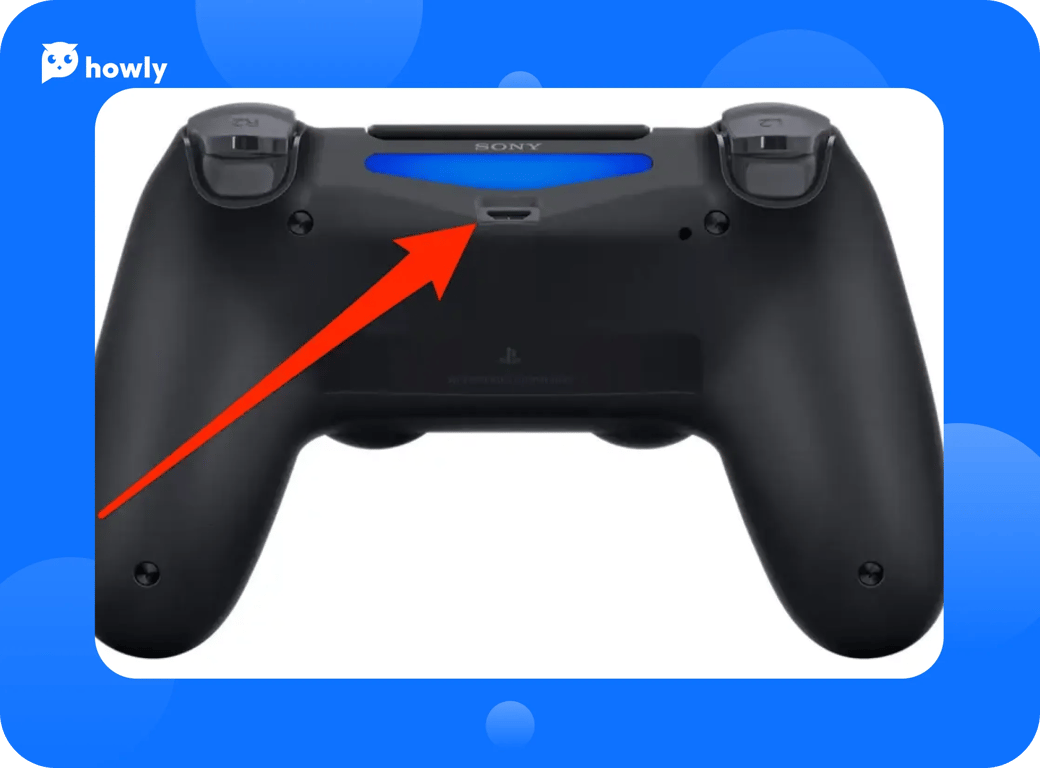 Take a closer look at the charging interface. Maybe your controller won't connect to the PS4 due to a lack of battery. So you should check for a clogged or broken charging port.
Take a Q-tip and clean the visible dirt. Gently blow or use a hair dryer at the coldest temperature. Don't use water of any kind, even wet wipes. It can oxidize connection pins, so you will eventually break the DualShock. And it will be a reason why your PS4 controller won't sync.
So we recommend you do it as gently as possible. It will be the key to cleaning a muddy charging port. If it's physically broken, the only way to fix it is to change the port. Those who are confident in their skills can try to change it at home. If you are not satisfied with your technical skills we recommend you to visit the nearest service station so experts fix the PS4 controller which is not connecting to PS4.
Try to connect the same DualShock elsewhere
Try to sync your controller with another device. They are perfectly working with Windows computers, so you can test it in any PC game. If everything works, the issue's source hides in PS4 itself, so you need to modify its settings.
Change The Charging Cable
Check the charging cable if your DualShock refuses to work even after you clean it and test it on the other devices. It may look whole but still have some issues that you don't see with your eyes. That's why your PS4 controller won't connect to the PS4 with USB after the reset. It just has a broken cable. Change it to new and check your system again.
Reset the controller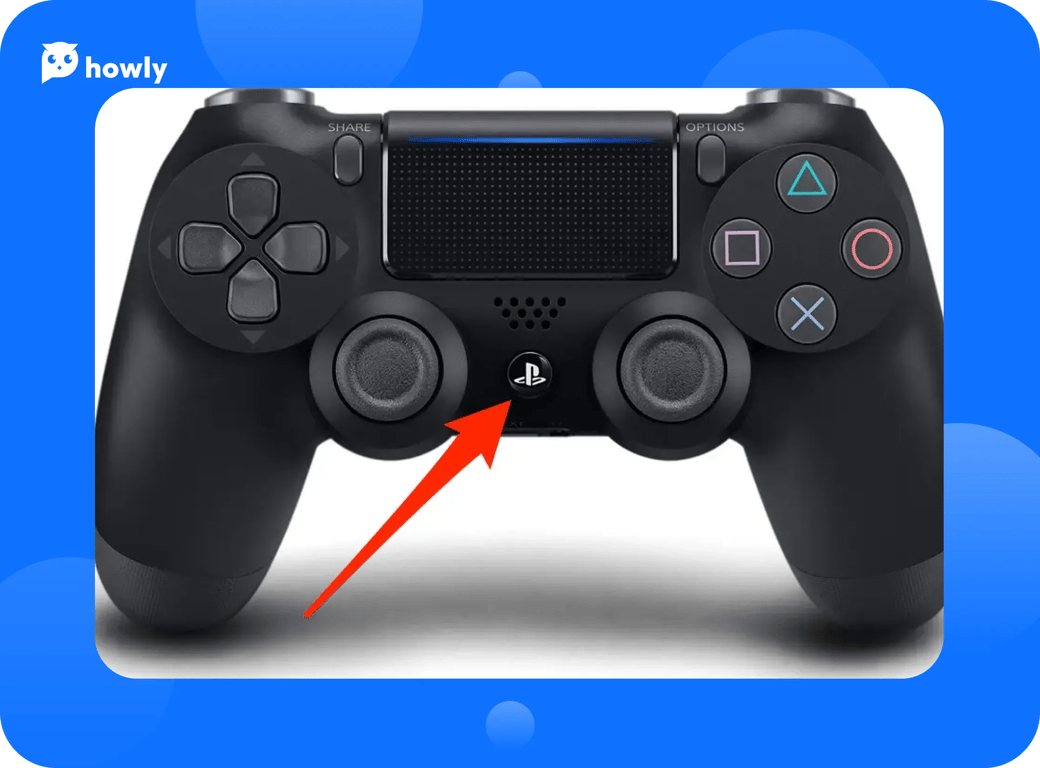 When you find out that your PS4 controller won't connect to the console even after those measures, try more severe options. You may catch a glitch. But you can troubleshoot it by resetting the controller. All information and other settings stay in the console.
Firstly, try the deep restart. Hold the PS physical button for 10 seconds and restart it. It should fix the situation when the native PS4 controller is not connecting to the PS4 console.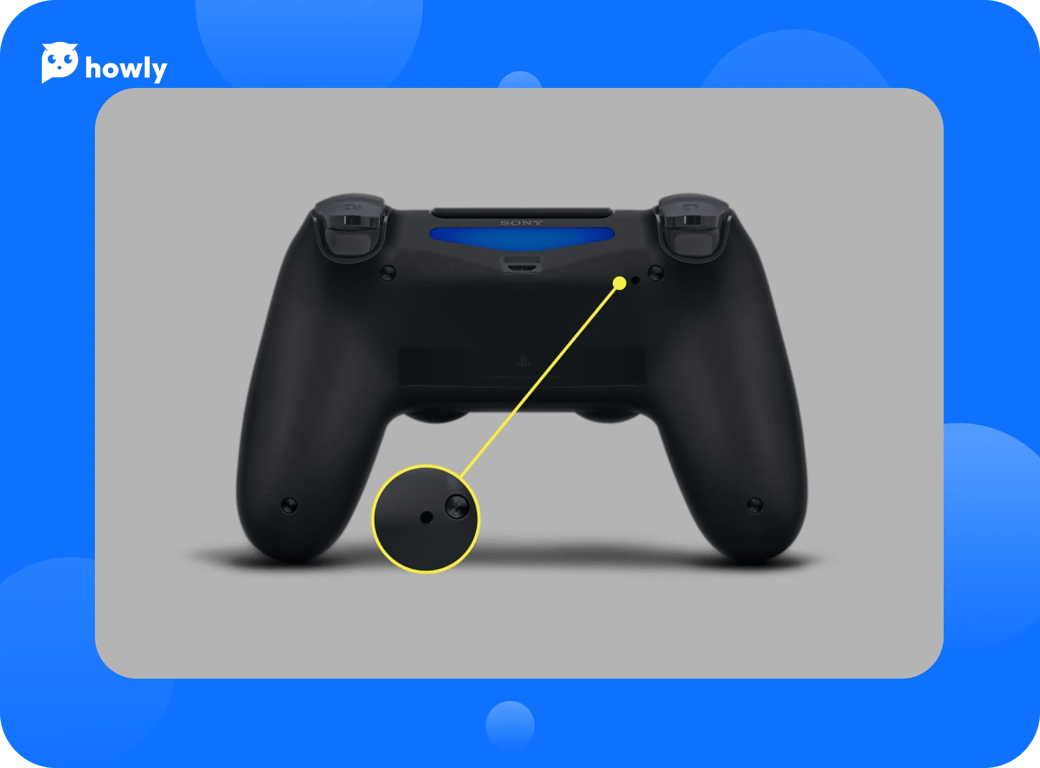 If this doesn't help, try resetting the controller. It's a more severe troubleshooting measure for situations when a PS4 controller won't connect to the console even after a deep restart. Here are your guidelines:
Shut down the console.
Find the reset key on your controller. It's located near the L2 button. Push this button with a paperclip, toothpick, needle, or something similar. Hold it for 10-20 seconds.
Connect the controller to PS with a wire and turn the console on.
Check the system to ensure that everything is working now. If this doesn't help fix the situation where the PS4 controller is not pairing, stick with other measures.
Forget and Re-Pair the Controller
If you have a second DualShock or PS Move controller, you can use it to access the console menu and re-pair a problematic controller. This will help you even with the situation when a new PS4 controller not connecting to the console:
Connect your working controller and launch Settings (suitcase icon).
Pick Devices → Bluetooth.
Choose the inactive controller in the menu. It doesn't have a green icon near it.
Hold the Options physical button on your working controller to open a new menu.
Pick Forget Device.
Power down the PlayStation and connect a broken controller to it with a USB cord.
Turn on the console and wait until it boots with up-to-date software for your problematic controller.
Power Cycle Your PS4
In some cases, the PS4 controller won't connect due to corrupted file issues. In this case, power cycling may fix the problem by removing temporary files:
Press the Power physical button on your PlayStation and wait until you hear two separate beeps. Release the button after the second sound notification.
Unplug the power and controller from the console and leave it for 5-7 minutes.
Plug the power and controller back into the PlayStation.
Turn it on.
Beware that for the first 2-4 times your apps may load slightly longer than usual. It happens due to a lack of temporary files which speeds up the loading process. After a few gaming sessions, everything will get back to normal.
Hard reset your PS4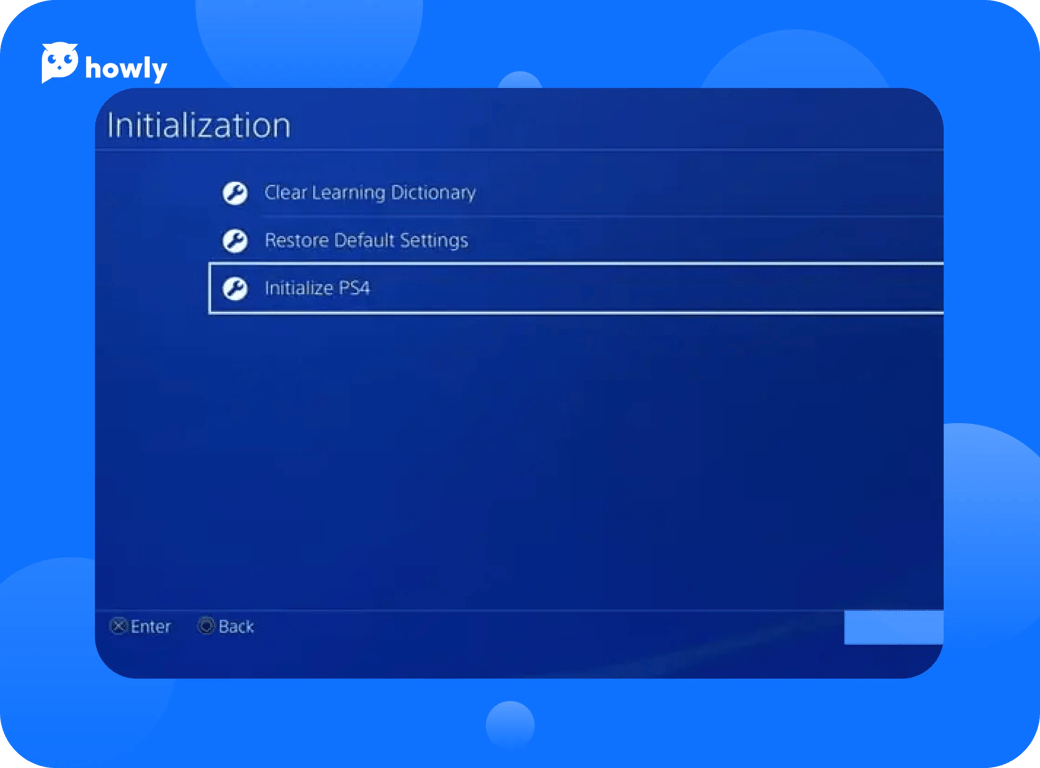 If you are sure that the issue's source hides in the PlayStation software, you can reset its system to the default state. It should fix the situations where the PS4 controller won't connect due to severe software glitches. But be aware that this action will reset all your personal settings to default. Once you decide to do this, back up the crucial games so you can return to them and start playing right at the point you leave them. Here is how you can do it:
Launch the console. You can connect the keyboard to it, so you can manage the settings.
Go to Settings → System → Initialize PS4 → Full → Next.
Confirm your intentions by picking Yes.
Wait for 30-70 minutes until the system completes it. This duration depends on how many apps you got on your console. In some situations, the PS4 controller won't connect to the PS4 even after this severe measure. It shows that you have a broken controller. If it's under warranty, contact Sony. In other situations, visit the service or buy a new DualShock or PS Move.
Wrapping up
It's disappointing when you try to play some games on your console, but your PS4 controller won't pair no matter what you are doing. That's why you may see dozens of questions like "Why won't my controller connect to my PS4" or "What to do if your PS4 controller won't connect to your PS4?" in PlayStation-related forums. That's why we've gathered all troubleshooting measures into the ultimate guide.
Firstly, connect DualShock or PS Move via USB. Maybe it doesn't have enough battery, so you can easily fix it with a wired connection. Examine the charging port if the controller refuses to gain battery percentage. Connect it to another device like a PC and try to play. If the PS4 controller is not connecting with USB even to the PC, change the cord.
You can also reset your controller and re-pair it with your console. The most severe action in this situation is to factory reset your PlayStation. If even this didn't help you to fix this issue, you had a hardware problem. Visit the nearest service station to restore the controller or buy a new one in the nearest shop.