The Fitbit Sense is an advanced smartwatch that is designed to help you track your fitness, monitor your health and stay connected on the go. However, like any device with a battery, it can sometimes run into charging issues. It can be a frustrating experience and may prevent you from being able to use the device. If your Fitbit won't charge, let's talk about how it might look like first.
Before we start
Save your time and let professionals resolve your issue in minutes!
Want to start solving your problem immediately? Experienced Howly troubleshooters can fix your issue ASAP. They're already waiting for you in the chat!
The benefits you'll get while troubleshooting your issue with Howly experts:
Qualified help with laptops HDD

Quick advice right in your device 24/7/365

Expert reply within 60 seconds

Clear step-by-step guidance

Limitless number of follow-up questions

Understanding and empathetic help till your laptop HDD issue is fully resolved

All answers you need in one place
Fitbit won't charge or turn on: signs of malfunction
Here are some indications of a possible problem:
There's no reaction from the device in any way, shape, or form when connected to a charger.
The indicator light does not switch on or is flashing.
The battery level does not increase or drains quickly when connected to the system.
The smartwatch gets hot to the touch while charging.
There's clear evidence of physical damage.
The device fails to connect to the cord or keeps going on and off frequently.
Before reaching a full charge, it turns off automatically as soon as unplugged from the charger.
If you are experiencing any of these signs, it is likely that your Fitbit doesn't charge properly and you should do something about it.
Why isn't my Fitbit charging: possible causes
Here are some common reasons you may want to look into:
Damaged or incompatible charger.
Problem with the charging port. It might be dirty, blocked, or otherwise impaired, which can cause trouble.
Battery issues. It may be faulty or have reached the end of its life, preventing it from holding a charge.
Software bugs. Different glitches can sometimes cause charging problems.
Power-saving mode.
Temperature. If the smartwatch or the environment is too hot or too cold, it can affect the process.
Interference with other electronic devices or materials, such as metal objects.
Some of these issues can be resolved by users, but others may require further assistance or replacement of the device.
My Fitbit Sense won't charge. How do I fix it?
Here are some steps you can try by yourself.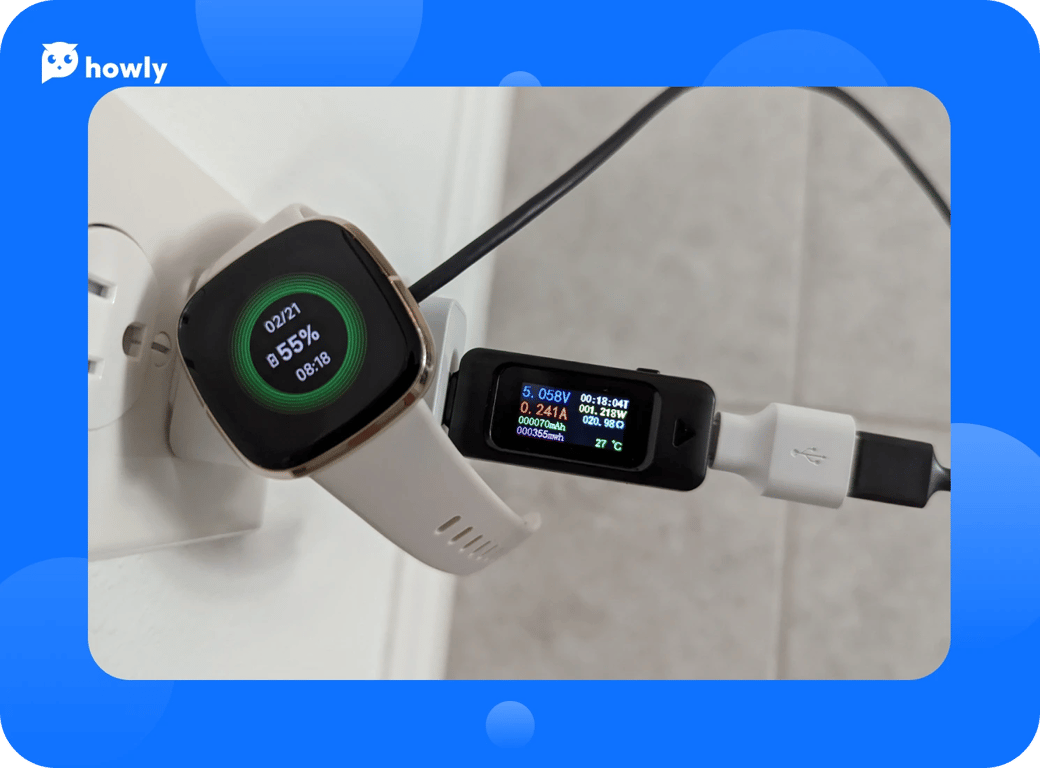 Check the cord if your Fitbit charge HR won't charge
Make sure you are using the correct one. Try using a different cable to see if that resolves the issue. The Fitbit Sense uses a proprietary charger and cord, and using different ones may not work or could even damage the device. To make sure everything is fine here, inspect them for any visible impairment, such as frayed or bent cable, or any breakage to the charging connector. The pins are not to be bent or broken. It also should be properly plugged into a working outlet, so check it as well with another device. If you suspect that the charger is the problem, it may be necessary to replace it with a new one.
If your Fitbit Sense still won't charge, check the port
It has to be clean and free of debris. Try to see if there's any visible damage or blockages. If it needs cleaning, use a soft-bristled brush or a toothbrush to gently remove anything that may have accumulated inside. Inspect the charging port for any visible impairment, such as bent or broken pins, or any other physical breakage that may be preventing the charger from making proper contact. The cable has to be properly inserted into it. If you suspect that the cord is causing the issue, try using a different one to see if that resolves the problem. If your smartwatch has been exposed to water or moisture, it's very important to dry it before trying to charge it. If there are noticeable signs of corrosion or rust, it's best to not use it and contact the manufacturer.
Restart the device if your Fitbit Sense will not charge still
Hold down the button on the side for 10 seconds to do so. It may help resolve software bugs or glitches that may be causing the issue. Once the device has restarted, try connecting it to the charger again to see if everything has been resolved. Doing this will not lose any data from the watch, it will only refresh the software. If the problem persists, it may be necessary to try other troubleshooting steps or contact customer service for further assistance.
If your Fitbit charge 3 won't charge, make sure your device's firmware is up-to-date
You can check for updates and install them through the app. It's important because they control all the basic functions of the watch. Occasionally, Fitbit releases new ones to the firmware that can fix bugs and improve performance. Here are the steps to check and update the firmware on your device:
Open the application and enter your account.
Tap the icon and go to the Device settings option.
Look for the About or Firmware version option and check if an update is available.
If it is, follow the instructions provided in the app to install it.
Throughout the whole process, your device must be connected to the internet and have enough battery life to perform it. Otherwise, it will not be able to update.
Going through this procedure can help fix software bugs that may be causing the charging issues and improve the overall performance of the device. If your Fitbit Versa dies and won't charge even after updating the firmware, it's recommended to try other troubleshooting steps.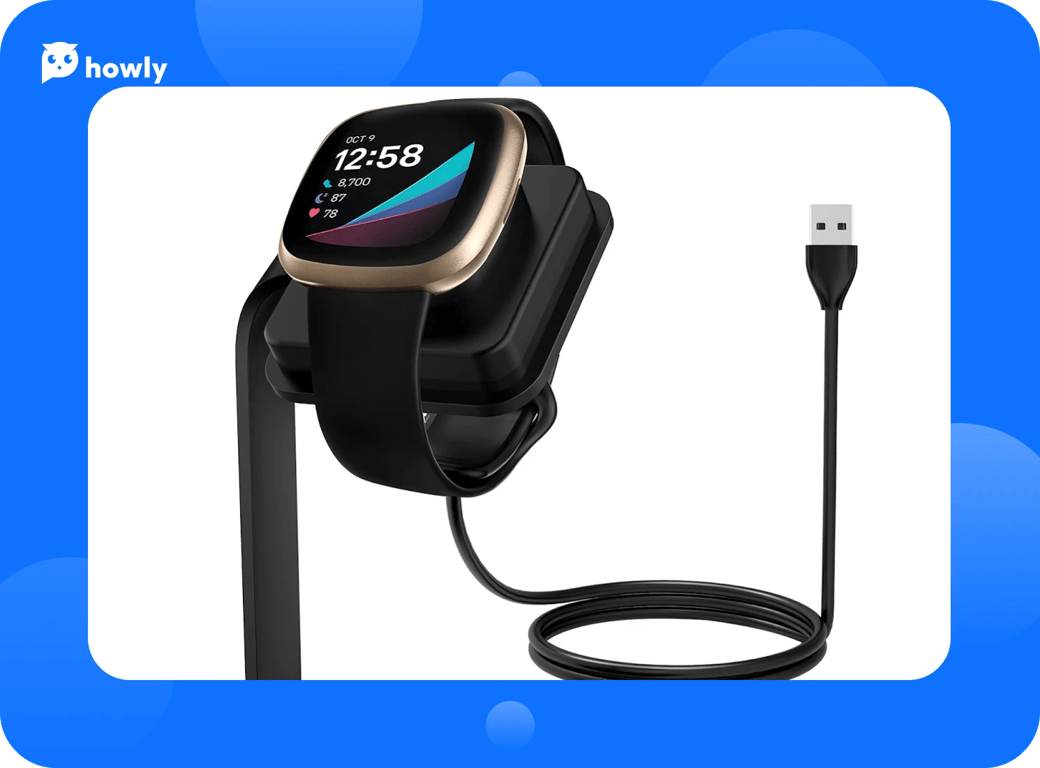 Fitbit charge won't charge? Try a different outlet
This step is important because sometimes the problem may not be with the device or charger, but with other parts of the system. Here are some things to keep in mind when trying a different one:
Check that the outlet you are using is working properly. Test it with another device to make sure it is providing power.
Make sure it is not controlled by a switch or a special timer.
If you are using an extension cord or power strip, make sure it is functioning properly and that it is rated for the device you are using.
Try a different outlet in the same room, or in a location. This can help to determine if the Fitbit HR won't charge because of anything specific.
Keep in mind that some issues like a loose contact with the charger or the smartwatch port, or a low power outlet can also be the cause of the issue, so trying a different one may help to understand where the problem is coming from.
If your Fitbit charge 4 is not charging, pay attention to the surroundings
Both the smartwatch and the cord have to be in a cool, dry place at room temperature. Avoid charging the device in extreme temperatures, as it may be the reason why your Fitbit Versa 2 died and won't charge. Keep in mind that, if you tried all the steps and the problem still remains, the root of the issue may be with the device itself, and you should contact Fitbit customer service for further assistance or consider replacing the watch.
Your Fitbit charge 3 is not charging? Keep it away from metal
Your smartwatch should be kept away from other electronic devices or materials at all times. They can interfere with the process, so no metal objects must be near. This also includes wireless charging pads, especially while it is charging. The reason for this is that electronic devices emit electromagnetic fields that can interfere with the whole process. It can cause disruptions which can lead to the "Fitbit Surge won't charge" problem.
To avoid this issue, it is recommended to keep the device and the cord in a clear area, away from other metal things. This will help to ensure that the whole procedure is not disrupted and the smartwatch will charge properly. You should also avoid using the device or running apps while connected.
Contact customer service if your Fitbit charge 4 won't charge
If none of these solutions work and the Fitbit Versa 2 still won't charge, it may be necessary to contact them for further assistance or consider replacing the device. When you do so, you can expect the following:
They will ask you to provide your device's serial number, which can be found on the back of the watch or in the settings menu.
You may need to share additional information such as purchase date, place, and any troubleshooting steps you've already tried.
The representatives might ask you to perform some other things over the phone or through email.
If they determine that the device is defective or has a manufacturing issue, they will provide you with options for repair or replacement.
It is important to note that if the watch is still under warranty, those things will likely be covered by it, but it depends on whether it has expired. In this case, you might have to pay for it.
In addition to the "Fitbit Versa won't charge" problem, the customer service team can also help with other issues or concerns you may have with your device and can provide guidance on how to best use and take care of your smartwatch.
It is important to note that these steps are general troubleshooting, and may not solve the issue in all cases. Some problems may require further assistance or a complete replacement.
F.A.Q.
My Fitbit Sense won't charge. Can I use any charger for it?
No, you should only use the particular cable that came with your device or a compatible cord, which was recommended by the company. Using a different one may cause huge malfunctioning issues.
It seems like the Fitbit battery is not charging. Is it normal for it to take a long time to charge?
It depends on how low the battery is, how long the device has gone without any charge, and the temperature of the surrounding environment. Generally, it should not take longer than a few hours to charge fully.
Why won't my Fitbit turn on? What should I do?
Try restarting the device by holding down the button on the side for 10 seconds. If it still does not turn on, attempt charging the smartwatch for at least 15 minutes and then try switching it on again. If the issue persists, contact customer service for further assistance.
Why is my Fitbit not charging? Is it covered by warranty?
It depends on the duration of your warranty and the technical reason for the issue. You can contact customer service and they will provide you with the answer.
Conclusion
So, if your Fitbit charge HR will not charge, it can be a frustrating problem to deal with. However, there are several troubleshooting tips you may try to resolve the problem. These include checking the cable and port, restarting the device, updating the firmware, trying a different outlet, keeping everything at room temperature and away from interfering materials, and contacting customer service for further assistance. It is important to follow them in order, as some may resolve the issue more quickly than others. If none of them help, you should contact the Howly team experts. They can help diagnose the problem and provide options for repair or replacement. With the right troubleshooting steps and support, you can get your Fitbit Sense charging properly again and back to tracking your fitness and wellness goals.