Fitbit is an excellent fitness solution among most trackers and smartwatches. They are accurate, responsive, and attractive to users. Nevertheless, these devices have their model vulnerabilities like losing automatic time setting from time to time.
Before we start
Save your time and let professionals resolve your issue in minutes!
Want to start solving your problem immediately? Experienced Howly troubleshooters can fix your issue ASAP. They're already waiting for you in the chat!
The benefits you'll get while troubleshooting your issue with Howly experts:
Qualified help with laptops HDD

Quick advice right in your device 24/7/365

Expert reply within 60 seconds

Clear step-by-step guidance

Limitless number of follow-up questions

Understanding and empathetic help till your laptop HDD issue is fully resolved

All answers you need in one place
Howly's tech experts will be glad to share their experience with you on how to fix the time on a Fitbit in mere minutes. Moreover, if you need assistance, lay your technical issues on us. We are here to help. Contact the team 24/7.
How to fix time on Fitbit?
Fitbit may fail to display the right time for various reasons: Time Zone Tracking default, problems with Bluetooth, or wrong setting. Read further to know how to change the time on a Fitbit watch.
Restart your Fitbit
A restart helps to renew the sync with an app and reset time on Fitbit. For that purpose, open Settings, pick the About section, and confirm Shutdown.
You will need to wait for some time before switching your device on. After the boot is over, your time will be refreshed.
Check your Fitbit time zone in the app
While traveling through many time zones, your device may lose the correct time settings. Alternatively, refer to the Fitbit app to update time on Fitbit.
Having both an iPhone and an Android phone, the procedure is simple. Open the app and its Settings. Manually alter the Time Zone. Sync your device to apply the changes.
Sync your device
If the previous step hasn't helped, try this one. Usually, it syncs automatically, but in this case, manual synchronizing will help to control the process.
Open the app and swipe down the screen, commanding it to sync with your phone. Among other data, this step will help to update the wrong time on Fitbit.
Reset to default settings
For Fitbit smartwatches, the option is applicable through the Fitbit Settings dashboard menu under the About section. Select Factory Reset and follow the given instruction. Since the reset is fulfilled, set your device over again. Remember to check the time zone.
An alternative way is to reinstall your Fitbit app. With this step, you will lose all your settings and data; however, it resolves connectivity between your phone and Fitbit.
Apply the correct settings
To avoid any problems, keep your Fitbit tuned and updated. There is a list of settings that help to prevent connectivity and time zone, like Fitbit showing wrong time.
Allow app updates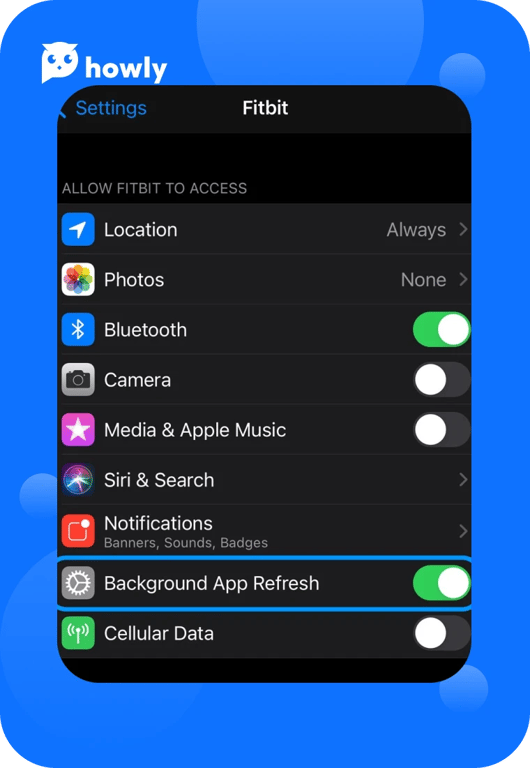 Keeping the latest possible updates prevents Fitbit charge time is wrong. In this case, the Fitbit app updates data even if it is not active on your phone.
If you have an iPhone, open Settings to update the app. Toggle on Background App Refresh.
If you have an Android phone, the procedure is slightly different. Open Settings > Apps > Fitbit > Mobile data & Wi-Fi and then switch on Background Data and Unrestricted Data Usage.
That's it. Wait until your app refreshes.
Change the Fitbit time zone
Start with follows:
Launch the app.
Click your account icon in the upper-left area.
Choose app Settings and find the Time Zone.
Ensure your time zone is appropriately displayed.
It is especially crucial while traveling in several time zones.  If your Fitbit won't change time, sync your gadget. The sync applies the changes.
Alter a time format
If you want to alter the format of the Fitbit time displayed in your app, do the following.
In the app, click the Today tab, your profile logo, and Settings. Choose the Clock Display Time and pick one from 24- or 12-hour format. Sync your Fitbit device to confirm the changes.
F.A.Q.
Why didn't my Fitbit change time?
It may occur for various reasons: failing to connect or outdated versions. Restarting your app will likely help in most cases.
How do I sync my Fitbit to the correct date and time?
Launch your app on your phone and open Advanced Settings. Find your proper Fitbit time zone from the list. Sync your tracker.
Summary
Since Fitbit devices sometimes fail to correctly display the time zone settings, you should prepare to solve this issue. You can simply apply the time zone manually, allow timely updates, and sync your device.
Nevertheless, if you face severe issues with your Fitbit, contact the team of experts from Howly. We will find a way to mend the device, so you will not spend your time fixing it on your own.