Seeing Kindle charging issues is not the best life experience for those who like to read. It lowers overall usability, causes unexpected issues, and provides stress. That's why we gather the most common Kindle charging port problems with resolutions to them.
Before we start
Save your time and let professionals resolve your issue in minutes!
Want to start solving your problem immediately? Experienced Howly troubleshooters can fix your issue ASAP. They're already waiting for you in the chat!
The benefits you'll get while troubleshooting your issue with Howly experts:
Qualified help with laptops HDD

Quick advice right in your device 24/7/365

Expert reply within 60 seconds

Clear step-by-step guidance

Limitless number of follow-up questions

Understanding and empathetic help till your laptop HDD issue is fully resolved

All answers you need in one place
Two main reasons why your Kindle may not charge
We can split all causes for this issue into two big categories: software and hardware. You can easily fix software glitches at home. Hardware problems are more complicated: the troubleshooting process often requires buying spare parts or visiting a repair station.
Software factors why your Kindle doesn't charge
Sometimes, a tablet may not recognize a cord. It mostly happens when you change the old wire or adapter to a new one. Make sure that it suits your Kindle version.
Check the reader's battery. It may be too low, so the system refuses to charge the device. It also relates to the "Critical Battery" message. Plug your reader to power and leave it for 30+ minutes. It needs time to charge to the minimum acceptable level.
Hardware factors why your Kindle is not charging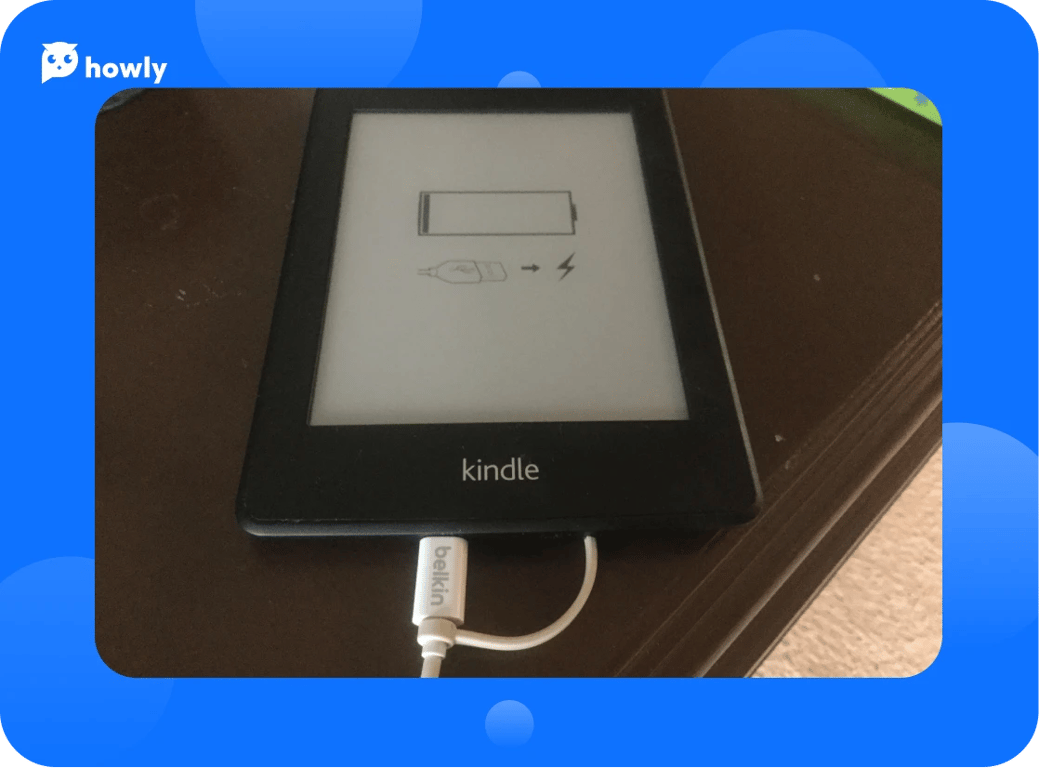 Sometimes, your Kindle may not charge because your cord won't fit US power system requirements. If you bought a Kindle charger on your Europe trip, it may not work when you get back home. Make sure that you use an Amazon power adapter for the US power system, or connect a USB cord to your computer and charge the reader that way.
Try to charge your Kindle with other cords. If the reader works with other wires, you have a broken cord. Replace it.
If the wire is charging other devices except for your Kindle, you have port issues or a dead battery. In both cases, the solution lies in repairing broken detail. If you see a clogged or loose socket, you are facing kindle fire charger port problems. In other cases, it's a dead battery.
If you are confident in your repair skills, contact Howly experts for step-by-step repair instructions tailored just for you. If you are not confident in your hard skills, visit the nearest service station.
F.A.Q.
Why is my Kindle not charging?
It can be a software glitch, inappropriate power adapter, damaged cord, loose charging port, or dead battery. Run our troubleshooter to find the source of the problem.
How can I find out that I have a loose Kindle charging port?
Find a new spare charging cord and plug it into a Kindle. If the device refuses to charge, you have issues with a charging port.