Unlock the power of convenience with seamless printing from your iPhone to an HP printer. Whether it's important documents, cherished photos, or crucial emails, this comprehensive guide will walk you through the step-by-step process, ensuring a flawless printing experience every time. The process is similar if you need to know how to print from an iPad to an HP printer. By following our instructions, you can achieve flawless printing results every time.
Before we start
Before we start
Save your time and let proficient specialists in how to print from iPhone to HP printer troubleshooting resolve your difficulty in minutes!
Printing from a phone to a HP printer can be challenging if you don't connect correctly or your printer works with problems. Do you face such a situation? Contact Howly specialists, and they will help you.
The pros you'll get resolving your how to print from iphone to hp printer without WiFi concern with Howly experts:
Specialized help with how to print from iPhone to HP printer

Quick advice right in your device 24/7/365

Expert reply within 60 seconds

Clear step-by-step guidance

Limitless number of follow-up questions

Understanding and empathetic help till your how to print from iPhone to HP printer difficulty is fully resolved

All answers you need in one place
Compatibility check and connection made easy: how to connect a HP printer to iPhone
Before diving into the world of wireless printing, let's ensure your iPhone and HP printer are a perfect match. Stay ahead of the game by confirming that your iPhone runs on the latest iOS version and that your HP printer supports the remarkable AirPrint technology. Follow these effortless steps to establish a flawless connection:
Ensure both your iPhone and HP printer are connected to the same Wi-Fi network.
Open the desired document, photo, or email on your iPhone, ready to bring it to life in tangible form.
Tap the "Share" button, portrayed by a square with an upward arrow, and let the printing unfold. It is the best way to print from iPad to wireless HP printer.
Printing a document from iPhone using a USB
It can be a convenient way to get a hard copy of important information on the go. To do this, you will need a Lightning to USB cable, a printer with USB connectivity, and a compatible printing app.
Connect the Lightning end of the cable to your iPhone and the USB end to your printer. Then, open the printing app on your phone and select the document you want to print. Follow the prompts to set the print options and hit the print button. Within moments, you should have a physical copy of your document in your hands.
This method will help to print from iPhone to HP printer without WiFi.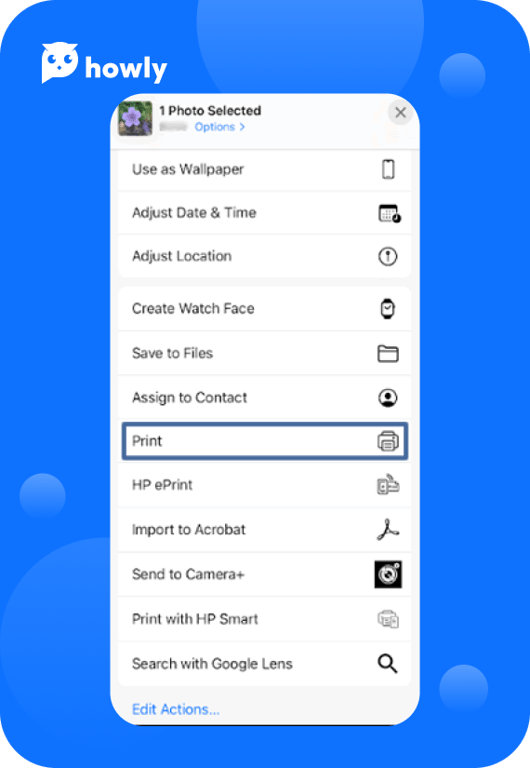 Printing using WiFi direct
If you want to use this convenient method, tap on the WiFi Direct image. Connect to the printer on your iPhone and enter the printer's password. If you need to print from iPad to HP printer, you can do the same.
The first sheet usually displays the password for models without a touch screen and automatically logs you in. Select the printer in your phone's WiFi settings and enter the password.
If you encounter any issues, contact Howly specialists for 24/7 technical assistance.
Printing using data recovery software
If you're having trouble printing using the methods mentioned above, don't worry! There are third-party applications available that can assist you in printing documents through Data Recovery software. These apps can be handy if you need to connect a HP printer to an iPhone without WiFi. Here's what you need to do: First, download SD iPhone Data Recovery, a top-notch iPhone data recovery software, and install it on your computer. Next, launch the program and select "Restore from iOS." Connect your iPhone to the computer and choose the file or picture you want to print from phone to HP printer. Click on the name of the file and select "Restore." Once the files appear on your computer, you can print them using your HP printer with the standard printing methods.
Selecting and preparing the document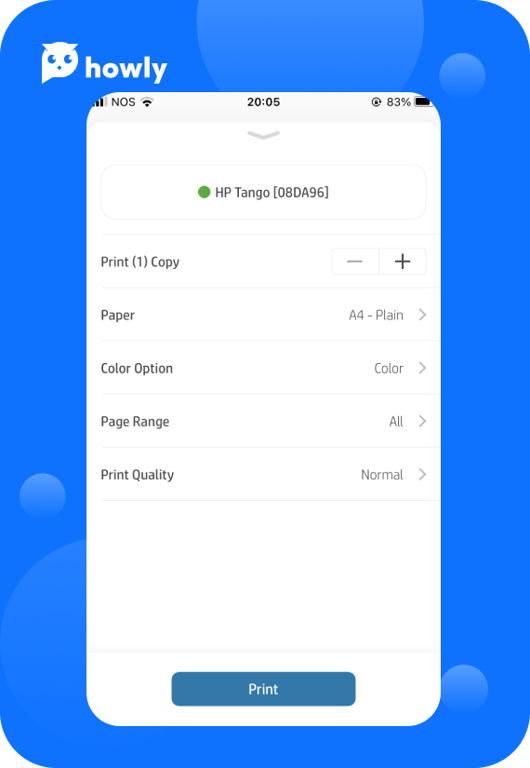 With your printer and iPhone connected, select and prepare the document you want to print:
Access the desired document on your iPhone, such as a photo, email, webpage, or file from a compatible application.
Check the layout and formatting to ensure it matches your vision. Make any necessary adjustments or edits before proceeding.
If you need printing from iPad to hp printer, do these actions also.
Initiating the printing process
With your chosen printer in place, the time has come to watch how the papers come to life. So stop looking for the answer: "how to print from my phone to my HP printer" and make it happen:
In the top-right corner of the screen, a beacon of progress awaits—tap the "Print" button, infusing your intentions into the digital realm. But before it select HP print from iPhone.
Observe as your iPhone communicates with the HP printer, orchestrating a seamless transmission of your print job.
Troubleshooting made simple: overcoming potential obstacles
Even in the smoothest of processes, a few bumps may arise. Fear not, for we have solutions to common hurdles:
Is the printer Not Found? Ensure your iPhone and HP printer bask in the same Wi-Fi network glow. A quick restart of both devices might work wonders.
Print Quality Not Up to Par? Double-check your iPhone's print settings, ensuring they match your desired outcome. And don't forget to replenish your HP printer's ink or toner supply for flawless results.
Incompatible File Types? Expand your horizons by exploring third-party printing apps that embrace a wider range of file formats, bringing compatibility to the forefront.
FAQ
How to print from iPhone without AirPrint?
You can use USB or Data Recovery software. Connect iPhone to the HP printer using a USB cable. If USB is unavailable, try using WiFi Direct if your printer supports it.
Do I need USB to print from my iPhone?
No, you can use AirPrint for wireless printing.
How do I print from my phone to my HP printer?
You can use AirPrint, WiFi Direct, or USB to print files.
Conclusion
Discover the true magic of wireless printing as your iPhone effortlessly connects to your trusted HP printer. With this comprehensive guide in hand, you'll navigate the printing process with ease and achieve impeccable results. Should you encounter any challenges, rest assured that Howly specialists are ready to provide personalized assistance. Embrace the joy of hassle-free printing from phone to HP printer.