Has the Apple keyboard for iPad not worked? Can't type or perform actions in a program?
Before we start
Save your time and let professionals resolve your issue in minutes!
Want to start solving your problem immediately? Experienced Howly troubleshooters can fix your issue ASAP. They're already waiting for you in the chat!
The benefits you'll get while troubleshooting your issue with Howly experts:
Qualified help with laptops HDD

Quick advice right in your device 24/7/365

Expert reply within 60 seconds

Clear step-by-step guidance

Limitless number of follow-up questions

Understanding and empathetic help till your laptop HDD issue is fully resolved

All answers you need in one place
The iPad, for many, has become an indispensable tool for study and work. Due to its small size and great functionality, you can do different tasks and projects on it. But it becomes more difficult or even impossible when the keyboard does not work.
Unfortunately, these Apple iPad keyboard problems occur relatively often. And there are more reasons for this than it seems at first glance. In this article, we will analyze the most common ones, and you will also see some ways to fix the keyboard on iPad.
Reboot your device if Apple smart keyboard not working
A universal remedy that often saves you from most problems is rebooting the device. For example, you can restart your iPad and see if that helps. During the restart, possible errors in the operation of applications are corrected, so this action should be enough.
To restart the iPad, press and hold the power button for several minutes (or if your model has the button Home, you need to press it at the same time as the power button) and wait for it to turn off. Then press the power button again and start the device.
If you still see iPad keyboard problems, go to the next step and try another method.
Update the program
If the smart keyboard for iPad is not working in any program, you can update it. For example, due to incorrect settings, the keyboard stopped working correctly. But you can quickly change it.
First, enter any other program and check if the keyboard works there.
If yes, click the program icon, select Update, and go to Settings.
Or select Apps in the iPad settings, find the program you need, and choose Update.
Update your iPad system
Sometimes an outdated iPadOS can cause the keyboard not to work correctly. So if you Google: "Why is my iPad keyboard not working", check updates. You can update it and try how the keyboard works. To do this, go to the tablet settings and click the Available software updates menu.
After installing the updates, restart your device and test the keyboard again.
Activate the keyboard on the tablet
If, for some reason, you decide to install and use another keyboard, then you need to activate it before using it. In other cases, you will see "iPad keyboard not connecting". Sometimes this happens automatically after installation. And in other cases, you need to go to the settings, find Keyboard, select the one you downloaded, and activate it.
Once activated, try typing something in any program. If the keyboard is buggy or closes, remove it and use the iPad's default keyboard.
You can also remove it through the settings.
Remove all inactive keyboards
If you have multiple keyboards installed and see the error, try deleting all the keyboards you don't use.
Once uninstalled, you can install them again if needed. To remove extra keyboards:
Go to Settings and find Keyboards there.
Open this menu and select the ones you won't use.
Click on its name and select Delete.
Check the connection to the device
If you choose to use a third-party keyboard, it may work differently from the built-in iPad. Therefore, if you need to fix your iPad keyboard, the first check is whether Bluetooth is connected.
Check all connections and try to print in one of the programs.
Make sure there is no conflict
If you have connected an external keyboard and see that keyboard not working on the iPad, deactivate the screen keyboard and vice versa.
If you don't, they may conflict and misbehave, blocking each other.
When you want to enable the on-screen keyboard, you must touch the keyboard icon at the bottom of the screen and press Show Keyboard.
The easiest way to disable an external keyboard is to deactivate Bluetooth. To do this, go to the connections in the settings, find the keyboard's name, and click Forget device.
Check compatibility
Not all examples of keyboards work with all iPad models. Therefore, it is better to check their compatibility before buying and installing them. But if you just decide to connect such a keyboard, and it does not work, there may be compatibility issues.
This rule works for both external and on-screen keyboards. However, the on-screen keyboard may also not be compatible with your iPad. In this case, removing it and using something else is better. Write to the developers and wait for updates.
Check your internet connection if you see iPad keyboard issues
The keyboard may not work correctly due to an unstable internet connection. You can try connecting to a different network to avoid this problem and check if the keyboard works.
Try to restore the settings
More serious decisions will require more time from you. So one way is to reset the tablet to factory settings. Such an action may result in some loss of information, so before proceeding to this step, save all the documents. You can do this on iCloud or your computer.
Go to settings and find General.
Click on the Erase All Content and Settings buttons.
Set up your iPad and try to see if the keyboard works.
If the Apple keyboard iPad is not working, try the next step.
Use iTunes
You can restore your iPad through iTunes. To do this:
Sign in to iTunes.
Find the iPad icon there and click on it.
Find the Restore iPad button and click on it.
After updating the device, you must set up your tablet again because all previous settings and data will be deleted.
Contact a specialist for iPad keyboard troubleshooting
If you have tried all the previous methods, but they don't help, it may be worth contacting the wizard. You can take your iPad to a service center. Or you can write to Howly experts, ready to advise you any day, 24/7.
Write about your problem in detail; our experts will help you quickly find a solution.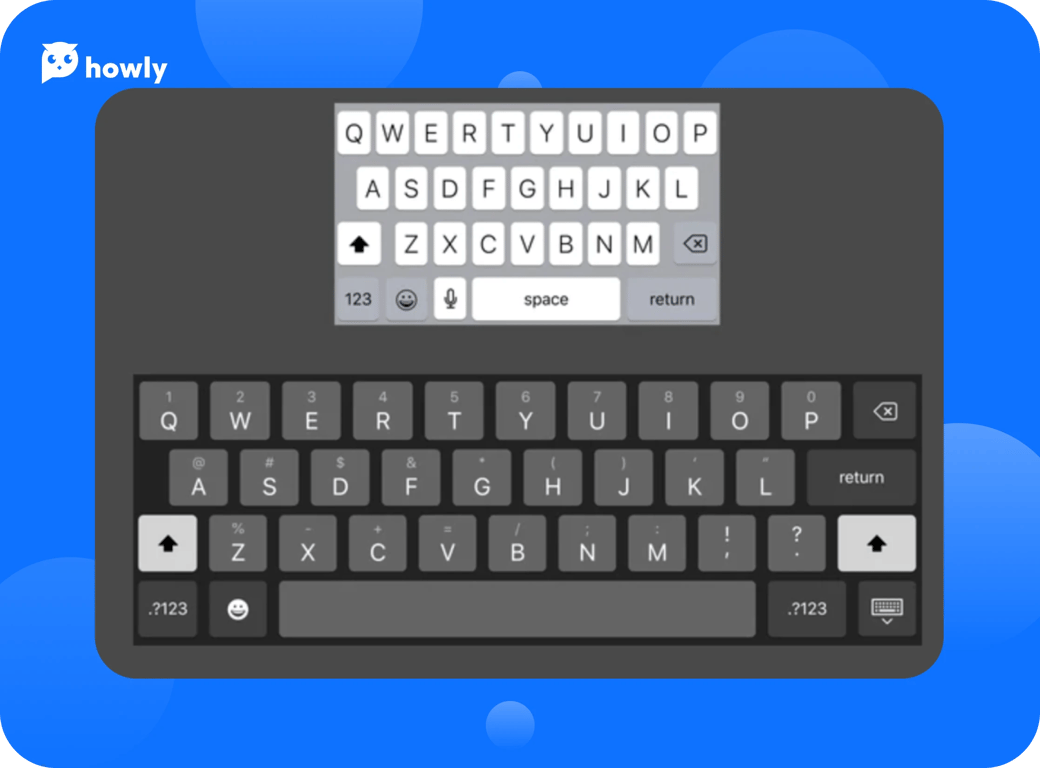 F.A.Q.
What to do if the iPad keyboard is broken?
Yes, you can. You can reload the program that the keyboard did not work with or reload the keyboard itself. Go to settings, find the keyboard, and click Reset to do this.
Why is the Apple iPad PRO keyboard not working?
There can be many reasons for this - an incorrectly installed program, a conflict between the external and on-screen keyboard, or an error in the iPad. If you want to find and fix the problem quickly, write to our Howly specialists. They will help you around the clock. You will need to describe the problem you have and follow the specialist's instructions.
How to fix the keyboard on iPad?
You can update apps and iPadOs, and restart your device or keyboard. To understand which method is suitable, you need to understand the reason for the non-working keyboard.
You can follow the instructions in this article to get your keyboard back up and running quickly.
iPad keyboard issues: final words
The keyboard is a necessary attribute not only for a computer but also for a tablet. Unfortunately, sometimes this doesn't work correctly. There can be many reasons for this: incompatibility of the device with the keyboard, the need for updates, program errors, and more. Therefore, before applying any emergency measures, you should first discover why the error occurs. And then you need to find a way to fix the problem.
We have described the most common keyboard problems and how to solve them. Try one by one until you find what works for you. If you're afraid of breaking something or don't have time to sort through each method, contact Howly specialists. They will quickly troubleshoot remotely and help you get your keyboard working.