Apple Pencil is an indispensable assistant for those who often and productively work with the iPad. Artists, writers, journalists, marketers, stylists, and experts in various fields cannot do without it. If you know how to handle this device correctly and know all the tips, you can optimize your work and make it better and faster. What is its value, how can it help in your work, and what Apple Pencil hacks are there? Let's find out now. The Howly team has prepared a great article on hacks and tips to help you use your devices more effectively and simplify your daily routine.
The main thing that users choose Apple Pencil is the ease of use, comfort, and new features. With the Apple Pencil you can do new functions on your iPad: write notes by hand and then transform them into printed text, and edit your notes as if they were on plain paper with a regular pencil. And for artists, there are a huge number of new features: shading, shadowing, ruler drawing, and fine lines. All this helps to make the drawing professional and authentic. There are two generations of pencils: the first and the second. You should choose based on their compatibility with your iPad.
What is Apple Pencil?
It is a small device resembling a regular ballpoint pen in shape and size, which has a special tip. This tip is used to touch the touch surface of the screen to control or draw. The mechanism in the stylus reads the touch with accuracy and minimal delay, so it can be used like a normal pencil. The first generation of the Modern Pencil was introduced back in November 2015, and a few years later, Apple presented the second, improved generation. Before you buy one of them, you should look at the compatibility of the devices. You should choose based on the generation of your iPad. For more information about the two generations, look below.
You can use the stylus depending on what you need. Most often, the Smart Pencil is chosen for drawing unique sketches and authors' paintings. Therefore, digital artists and designers must have this device in their arsenal. The interesting Apple Pen tip is that the stylus supports touching through a sheet of paper. This allows you to redraw a drawing from paper to iPad with a smart pencil.
It is also very convenient to use the stylus to write texts. You can use the tablet's screen like a piece of paper and the smart pen like a regular pencil. So writers, poets, and journalists who are used to writing on sheets of paper may not give up their habit and get an electronic text. Another cool tip for Apple Pencil to work with is that it's easy to draw charts and graphs. That's why economists, accountants, marketers, and technicians use this handy device in their work.
Basics to know about Apple Pen
What are the generations of Apple Pencil?
Before you buy the Pencil, you need to find out about your iPad's compatibility. It's important that the device of the generation you choose is compatible with the iPad model. In total, Apple has two generations of pencils: the first and the second. The last generation is considered more advanced and practical. Apple Pencil 1 is made in a rounded format, while Apple Pencil 2 includes a more comfortable flat shape. Also, the difference between the devices is in the charging process. To charge the first-generation device, you need to plug it into the Lightning port of the iPad. And the second generation plugs into the right side of the iPad for charging. Users note that it is more convenient to use the second generation because of the practical shape, convenient charging, and technical features.
Charge efficiently
Apple officially notifies that a fully charged stylus can work for about 12 hours. Full charging time is about 50 minutes, but the device supports a mode where the first 15 seconds of charging the stylus are enough for 30 minutes of work. Fully charging will take about 45-50 minutes.
Find a lost Apple Pencil
Don't panic if you can't find your Smart Pencil. The company took care of this in advance and thought about the possibility of users losing their pencils. There is one useful iPad pen tip that will help you find your lost device.
To find your lost device, use your iPad. Check to see if the Pencil appears in the list of connected devices. To do this, go to Settings, then to the Bluetooth tab, and click on My Devices. If you see the Pencil in the list of connected devices, it means that it is very close to the tablet, literally 50 meters away. Look around and try to find the lost device. You can use this Apple Pencil 2 tip to find other lost Apple devices, such as AirPods.
How do I see the remaining battery power?
Another of the many cool Apple Pen tips allows you to quickly and easily see the remaining charge of the device on your iPad. You can find the charge in the "Today View" section of the home screen. It displays the remaining charge of your tablet and any accessories attached to your device. If you can't find where the charge is displayed, you may not have the necessary widget. Then you need to install the "Battery" widget to always be able to see the charge of the connected devices.
If, even after installing the necessary widget, you can't find the Apple Pencil charge, then we recommend re-synchronizing the two devices with each other. If the problem is still not solved, or you have other problems with Apple Pencil, contact the technical specialists. You can go to your nearest service center or contact a technician online. For example, Howly's team of specialists can help solve your difficulties online. Simply describe what's bothering you, and the technicians will give you detailed instructions to solve the problem.
Apple Pencil tips and tricks for drawing and designing
Create perfect lines
One of the best Apple Pencil tips is that you can create perfectly straight lines when ripping. When you create lines, circles, triangles, squares, rectangles, arrows, and other geometric shapes, you hold your finger down for a split second at the very end of the drawing. The figure will be aligned automatically. The Apple Pencil tip appeared in iOS 14 and works on all supported gadgets.
Use the digital ruler
You can use a ruler when drawing. Not an ordinary one but a virtual one. This is one of the coolest and most useful pencil tricks for designers and artists. Select the ruler from the toolbar and move it to the desired location on the screen. Now, when your pencil touches the ruler, you can only draw a straight line strictly along the ruler. That way, you can draw under the ruler like you would on regular paper.
Create perfect shadows in your drawings
With one of the tips for Apple Pencil, you can create the perfect shadow by changing the pressure. It works very, very simply. For example, you've selected any of the drawing tools available. You can adjust the thickness of the line yourself through the force of the pressure. If you press hard, the line will be thick; if you don't press hard, the line will be thin. If you touch the screen lightly with the tip, you'll get a light hatch.
Transfer the drawing from the paper to the tablet
Not all artists know about this tip for Apple Pencil. But it is a very useful and cool Apple Pencil tip for drawing for those who like to draw on paper. With your Apple Pencil, you can transfer the drawing you've drawn on paper to your tablet. And you don't need any additional apps to do this. Just put the drawing on the paper on your tablet screen and redraw it with a Pencil.
Best Apple Pencil tricks for everyday use
Make a handwritten text into a printed one
You can easily make text that you wrote by hand into printable text. To do this, open your notes and select the tool with the letter "A". Now use the Apple Pencil to write the text you want, and the iPad will automatically convert it to printable text. This Apple Pencil 2 tip is very liked by writers and journalists who take notes and transform them into digital text.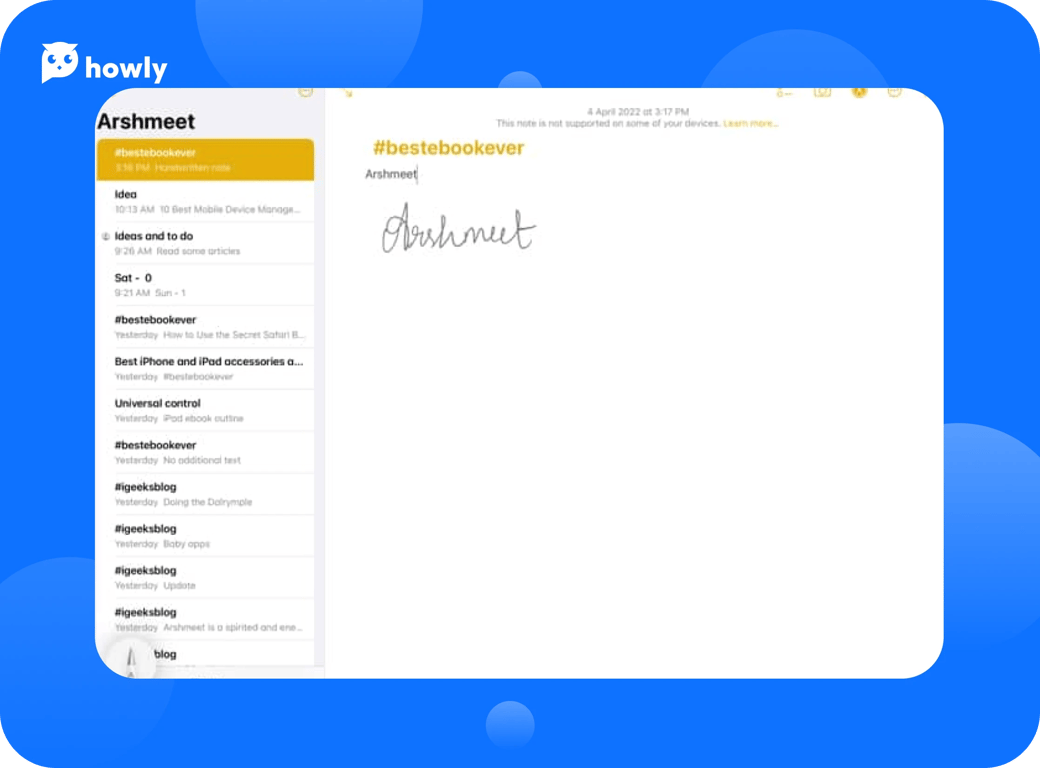 Control your tablet with handwritten commands
If you regularly use a tablet but are not used to the on-screen keyboard, then take note of one of the iPad pencil tips. You can manually write commands for the iPad, and it will recognize them and execute the given command. This makes it very easy to work because you can use handwriting to open the desired setting, do a search on the Internet, and write a message.
Work with text simply and effectively
Do you do a lot of word processing on your iPad? Then you need to know these best Apple Pencil tips for working with text in notes. There are some simple commands that will help you quickly format the text to your liking:
Circle a word to highlight it.
Cross out words or letters to delete them.
Tap and hold the stylus anywhere to create a space between words.
To remove the space between words, draw a vertical line sharply.
Leave your personal signature in one click
Apple has made sure that you can sign any document with just a few clicks. To do this, you need to open the desired document and select the Signature function. Now you can move your signature to the desired location and change the size. This cool and new tip for Apple Pencil is available for both generations of pencils. Now there is no need to look for additional programs to sign a document; everything can be done with a few clicks and Pencil.
Get access to your notes in just a few clicks
This is one of the cool Pencil tricks that makes it easy to use the iPad every day. Touch the tip of the pencil lightly a few times on the tablet's screen when it's off. You'll see your notes right away. It's a great trick if you need to write something down quickly, like a new idea or urgent information.
Cool things to do with Apple Pencil
Useful Apple Pencil 2 tip
If you own a second-generation Pencil, then this hack will make your life easier. The new generation of smart pencils has a handy touch button that you can customize to your liking. To do this, go to Settings, then go to Apple Pencil, and here choose which command the touch button will be responsible for. For example, you can use it to turn on the eraser. It's very handy when you're drawing.
Take a screenshot with this Apple Pencil tip
Swipe the stylus from the corner of the screen to the center to take a screenshot. Note that in the left corner, the finished screenshot will open in a small window. By clicking on it, you can immediately edit it to your liking: resize it, add underscores, and sketch unnecessary details.
Cool lifehack for left-handed
If you are left-handed, you probably have difficulty using Apple Pencil. In fact, Apple has thought of this point as well. You can adjust the functions yourself so that they are displayed comfortably on your left hand. To do this, go to the settings and then select Pencil Gestures. Here you will find the ability to choose right and left swipe. This is one of the useful and convenient Apple Pencil 2 tips that make life easier and takes into account the peculiarities of each person.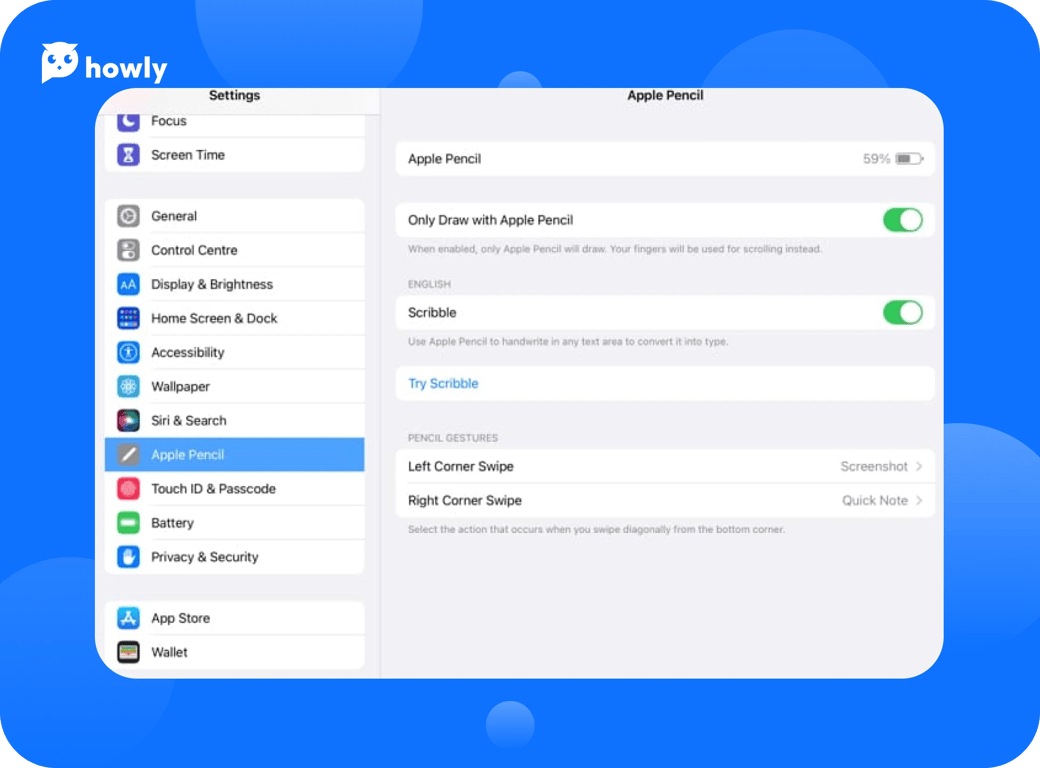 Apple Pencil 2 replacement tip — useful lifehack
Not all users know that the tip of a smart pencil needs to be changed. If you have a worn Apple Pencil tip, it will have a negative effect on your drawing and daily work. How do you know when it's time to change the tip? On average, the tip should be replaced after six months of active use. If you feel rough when drawing or using a pencil, it should be replaced.
F.A.Q.
How long do Apple Pencil tips last?
The life of the tip is individual and depends on how often you use it and for what functions. For example, if you regularly draw with the Smart Pencil, it will wear out faster than if you use it occasionally to take notes. On average, you should replace the tip every 6 months.
How to protect Apple Pencil tip?
For your tip to last much longer, you need to adhere to the storage rules. For example, do not put too much pressure on the pencil when using it to avoid damaging the tip. You should not leave the pencil anywhere; it is better to keep it in a safe place. Keep the pencil away from animals that may chew the tip.
How to change Apple Pencil tip?
If your tip is worn out, you can easily replace it with a new one. You do this by turning the worn tip counterclockwise and removing it. Then replace it with the new one by turning it clockwise until it locks firmly in place. Do not over-tighten, but make sure that the tip is securely fastened. Check if the new tip works on your iPad, and you're all set!
Conclusion
Apple Pencil is a handy gadget that makes it easy to use your iPad and helps with many functions. For example, thanks to the smart pencil, you can create professional drawings, and draw shadows, fine lines, and perfectly straight shapes. The pencil is also indispensable for regular work with texts because it helps you highlight the necessary words, underline phrases, and cross out unnecessary things. In fact, Apple Pencil will be useful to anyone who uses an iPad. After all, there are a lot of useful things and hacks that help in the use of the device. In this article, you will find all the coolest and most useful things to do with Apple Pencil. Save this article so that you always have a list of useful Apple Pencil smart hacks.