With a few clicks, you no longer have to confirm your actions.
Before we start
Save your time and let professionals resolve your issue in minutes!
Want to start solving your problem immediately? Experienced Howly troubleshooters can fix your issue ASAP. They're already waiting for you in the chat!
The benefits you'll get while troubleshooting your issue with Howly experts:
Qualified help with laptops HDD

Quick advice right in your device 24/7/365

Expert reply within 60 seconds

Clear step-by-step guidance

Limitless number of follow-up questions

Understanding and empathetic help till your laptop HDD issue is fully resolved

All answers you need in one place
What is account control in Windows 10, and how it works
User Account Control, or UAC, is a built-in component of Windows to protect against changes that could potentially harm your computer. When a user or program attempts to tamper with system files and settings, UAC notifies you and requires you to confirm the action.
There are four levels of control. When the hardest one is enabled, notifications will be displayed when users and programs change parameters. The second level provides messages only when programs try to make changes. The third level also implies tracking the actions of utilities, but without darkening the screen. And the fourth level is a complete deactivation of the function.
For security reasons, the second level of account control is enabled by default. It can be reconfigured or disabled altogether if desired.
What happens if you disable account control in Windows 10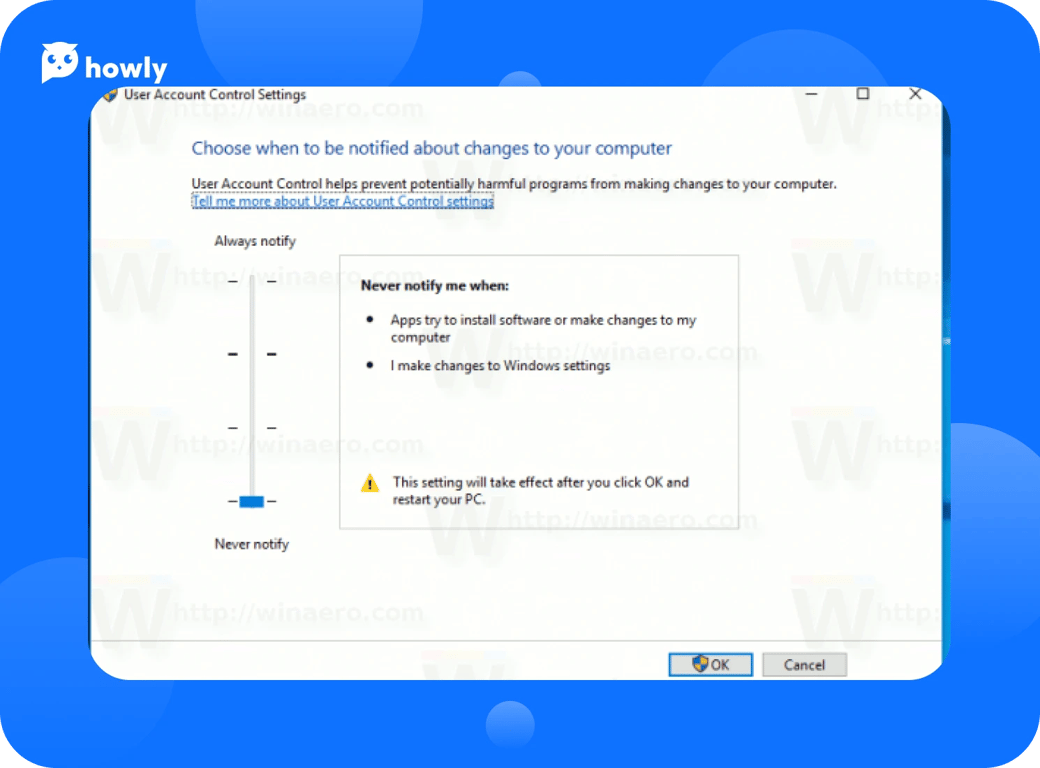 Once UAC is deactivated, you will no longer need to allow actions that require administrator rights. Accordingly, notifications about this will no longer be displayed. However, owners of standard user accounts — if they have them on the computer — will not be able to make any changes that require administrator rights.
So you should understand that after that, potential attackers will be able to adjust the system settings on the PC.
How to disable account control in Windows 10 via Control Panel
The easiest and most obvious way is available both in Windows 10 and any other OS version.
Start typing "control" in the search box and select "Change account control settings" from the prompts.
Move the slider to the bottom position, press OK, and then Yes to confirm the action.
How to disable account control in Windows 10 via the command line
Another option works not only in Windows 10 but also in other OS versions.
Type cmd in the search box and click "Run as administrator."
Copy and paste into the opened window the command reg ADD ADD HKLM\SOFTWARE\Microsoft\Windows\CurrentVersion\Policies\System /v EnableLUA /t REG_DWORD /d 0 /f.
How to disable account control in Windows 10 via Local Group Policy Editor
If you have Windows 10 Pro or Enterprise, another option is available to you.
Press Win + R to open the Run dialog box, type gpedit.msc and click OK.
Use the side menu to go to "Computer Configuration" → "Windows Configuration" → "Security Settings" → "Local Policies" → "Security Settings."
Look for the "Account Control: All Administrators Working in Administrator Approval Mode" line in the list. Then double-click it, select Disabled, and click OK.