When it's necessary to fix corrupted files in Windows 10, the process must be safe, easy, and quick. In this case, advanced repair tools come in handy. Scanning, diagnostics, and other operations are crucial to be accurate and error-free to eliminate the mess. So, is the problem too challenging to meet? Not at all if you read this post. First, the integrated tools have enough potential to allow users to address the issues quickly and painlessly. However, if on-board tools fail, it's better to activate Safe Mode and run identical commands. Besides, you can use quality third-party software to cope with errors and fix corrupted Windows 10. It deals with virtual "assistants" like Restoro PC Repair Tool, EaseUS Data Recovery Wizard, Stellar Phoenix Video Repair Tool, and others.
What Does the Corrupted File Mean?
If you find corrupt files in Windows 10, it means that those files are broken and cannot perform properly. From documents to programs, all types of files are prone to damage. Sometimes, there is nothing to worry about since a typical restart might be enough to forget about the problem. Still, unpleasant consequences are more than probable.
The point is that every computer file has its unique content and mission. Everything is okay when files are well-coordinated and successfully perform tasks. Yet, if a file faces improper data or the right info gets into the wrong location, the operating system experiences so-called file corruption. As a result, a damaged program or document is impossible to open or read.
Why Do Corrupted Files Appear?
The computer OS cannot work flawlessly without system files. Hence, when the latter gets ruined, it stops performing correctly and completing given tasks. So, such files endured corruption. Of course, many apps and problems often suffer from damaged files, making people remove, replace, or reload them. However, things are a lot harder when dealing with the operating system. Therefore, before revealing how to repair corrupted files in Windows 10, understanding the causes is important. Certainly, the reasons might be different. Still, some issues are most common.
Malicious software can corrupt your system files
For example, malicious software often becomes unwitting culprits of file corruption. As a rule, malware's primary mission is to steal data rather than crash systems. However, many viruses intentionally corrupt files in Windows 10. Hence, you should find the virus and choose the right way to remove it from your computer system to prevent crashes. In addition, a modern, workable anti-virus software helps a lot, protecting your files from cyber-scams.
Electric outages are not only annoying
Of course, they will definitely wrack your nerves when interrupting the Internet connection, but worse things can happen. In fact, power outages may affect your hard disc and lead to corrupted files in the operating system. How to avoid trouble? For this purpose, a quality uninterruptible power supply (UPS) will come in handy. It safeguards your device and lets it run when power fails. So, consider choosing top products with enormous power, surge protection, and appropriate voltage rate.
Serious computer failures like system crashes make programs abort
Such a problem makes Windows 10 corrupted because of software or hardware issues. Hence, users should consider leaving enough memory available, no overheating, and using the disk defragmentation utility. Of course, it's crucial to restrict malicious software from access to your computer.
Update failed errors should be fixed
It is another frequently met reason for corrupted Windows 10. It may happen because of several simultaneous updates, limited space on the hard drive, and conflicts with drives. Hence, taking urgent measures is crucial to protect your system against corrupted system files. To that end, you may reset your laptop, check it for hardware conflict, or use Windows Update Troubleshooter Tool.
Hardware issues start with incorrect reading and writing data
In this case, Windows corrupted files are inevitable. Accurate troubleshooting is necessary to clarify the reason and fix the hardware as soon as possible.
Generally, the best way to avoid problems is to keep your computer system in order. So, proper maintenance and on-time updates will help.
How to See If Files Are Damaged: Red Flags
As a rule, the Windows system, corrupted by power outages, viruses, or anything else, starts producing mistakes and failures. For example, you cannot boot the commuter or launch a specific application. Then, your Word documents cannot be opened. Besides, the information may disappear after Windows updates, hardware issues begin, or the entire system hangs.
How to Find Broken Files in Windows 10
Now, let's see how to find corrupted files on Windows 10. Actually, all you need is to make three simple steps:
Right-click the Start option and choose Command Prompt (Admin).
Wait for Command Prompt to appear to type in: sfc /scannow.
Don't close the window during scanning (the process takes from 20 to 30 minutes, depending on hardware and configuration).
If you need more, here is the in-depth instruction on how to check for corrupt files in Windows 10 via running System File Checker (SFC) as an Admin:
Use your desktop device to press Windows + X.
Find Command Prompt (Admin) in the menu.
Choose the "Yes" option on the User Account Control.
Type SFC/scannow and pick Enter.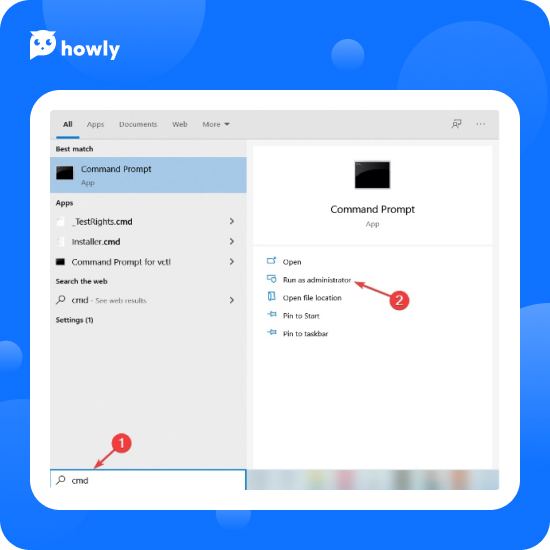 In this way, the tool verifies and fixes corrupted Windows files if necessary. When the checker handles the process and completes all tasks, you should restart your laptop or PC.
Still, another way exists to fix corrupt files Windows 10 command prompt. It deals with the Windows recovery media, and your steps will look as follows:
Use the official Microsoft tool to create a Windows installation disk.
Attach the USB installation disk to the desktop device.
Switch on the PC/laptop and press the F12 shortcut key to hit the One Time Boot Menu.
Pick a USB drive from the given options and press Enter to make your computer load via USB installation disk.
Let's continue by choosing an appropriate language and clicking the Next option.
Choose Repair your Computer to fix corrupt system files.
Go to Troubleshoot.
Go to Advanced Options.
Now, you will see the list of prompts. The sfc /scannow /offbootdir=c: /offwindir=c:windows prompt is right you have to choose and then press Enter. Once everything is done, your computer restart is required.
This method is simple and reliable. It is easy to understand and put into practice for even newbies. Besides, the tool is extremely convenient because it's possible to check corrupted files in Windows 10 and restore them in one application. The only thing to remember is to have administrative privileges to launch and correctly execute this tool's potential.
Other Ways to Restore Damaged Computer System Files
If you need to check corrupted files in Windows 10 and restore them, you will find enough third-party professional tools on the Web. For example, Outbyte PC Repair software is one of them. This application removes digital junk and repairs broken files. In addition, it works in a dedicated optimization mode to enhance your device's overall performance.
EaseUS Data Recovery Wizard is another reasonable solution that allows easy fixing and restoration of lost and damaged documents, photos, videos, and other files.
At the same time, some third-party tools are designed to fix corrupted system files in Windows 10 and complete specific tasks. For example, the Stellar Phoenix Video Repair tool is advanced software to restore compromised QuickTime player's video files. It is remarkable for extreme efficiency when coping with numerous heavily damaged files at a time.
How to Prevent Problems with System Files?
If your Windows works properly, there is no need to ask how to fix the corrupted OS Windows 10 and bother with diagnostics, repair, and restoration. Fortunately, several reliable ways are open to keep the operating system in order and prevent any problems. Here are simple methods to consider and realize:
It would be great if you duplicate your data's copy repair system files hassle-free if data losses happen.
Do your best to prevent your device from virus infection and get rid of corrupted files from Windows 10. For this purpose, you should install verified protection and run a virus scan regularly to identify problems before they inflict serious damage.
Shut down your device correctly. It means using the proper procedure instead of ripping the cord out of the wall.
Take care of your hard drive on time. A troublesome or cluttered hard drive will fail to store files. However, it will succeed in damaging them. You should periodically launch the Windows CHKDSK utility to recover your drive's damaged areas.
Alongside basic maintenance, using dedicated cleanup applications is highly recommended. They help throw away trash and support your device's efficiency, which in turn prevents files from being broken and eliminates the need to fix corrupt Windows 10.
F.A.Q.
Is a corrupted file a virus?
Common software problems, such as program execution errors and corrupted files, can create symptoms that appear to be virus-related, so it's important to distinguish between virus symptoms and those that come from corrupted system files.
What happens if a file is corrupted?
A data or program file that has been altered accidentally by hardware or software failure or on purpose by an attacker. Because the bits are rearranged, a corrupted file is either unreadable to the hardware or, if readable, indecipherable to the software.
Why do files get corrupted on USB?
USB Flash Drives can be corrupted by unsafe ejection, physical damage, or sometimes viruses. Take your flash drive to a professional for physical damage repair or data recovery. Corrupted drives can usually be fixed by reformatting the drive.
Summing up the Review
As you see, you can easily fix corrupted files from Windows 10 using inline or third-party tools or applications. At the same time, you've already understood that it's better to be proactive and prevent the problem rather than waste time fixing the mess. The reason is obvious. Inaccessible or unreadable files make performing your job and other activities impossible, resulting in time and money losses. So, there is no need to wait for the world begins to turn. Considering simple tips and guides, you'll be free from any glitches and enjoy your Windows' proper performance to work and have fun.