What do you know about computer memory leaks? Sounds like something complicated and incomprehensible. Or perhaps you already know what it is. In any case, today, we will explain the main essence. Every time you buy a phone or computer, one of the essential criteria is the amount of memory. After all, no one likes to find what you can delete on the device to download another important program. However, sometimes the fact that the memory is over is not your fault. There was a so-called leak. Therefore, today we will tell you in more detail what it is and how to stop memory leaks. Be sure to apply the tips that you learn in practice, or you can also contact Howly experts via chat for help.
Before we start
Save your time and let professionals resolve your issue in minutes!
Want to start solving your problem immediately? Experienced Howly troubleshooters can fix your issue ASAP. They're already waiting for you in the chat!
The benefits you'll get while troubleshooting your issue with Howly experts:
Qualified help with laptops HDD

Quick advice right in your device 24/7/365

Expert reply within 60 seconds

Clear step-by-step guidance

Limitless number of follow-up questions

Understanding and empathetic help till your laptop HDD issue is fully resolved

All answers you need in one place
What is Windows memory leak?
Your computer uses RAM as a special temporary place to access and store any kind of data. The operating system needs to allocate memory when software requests RAM. Once the software does not require this space, it can be freed up and used by other programs or system processes. The ability to move it between different techniques keeps your system running smoothly. If the software refuses to release it, malfunctions may occur. The problem gets worse as apps keep asking for more and more memory until your computer begins to work appropriately.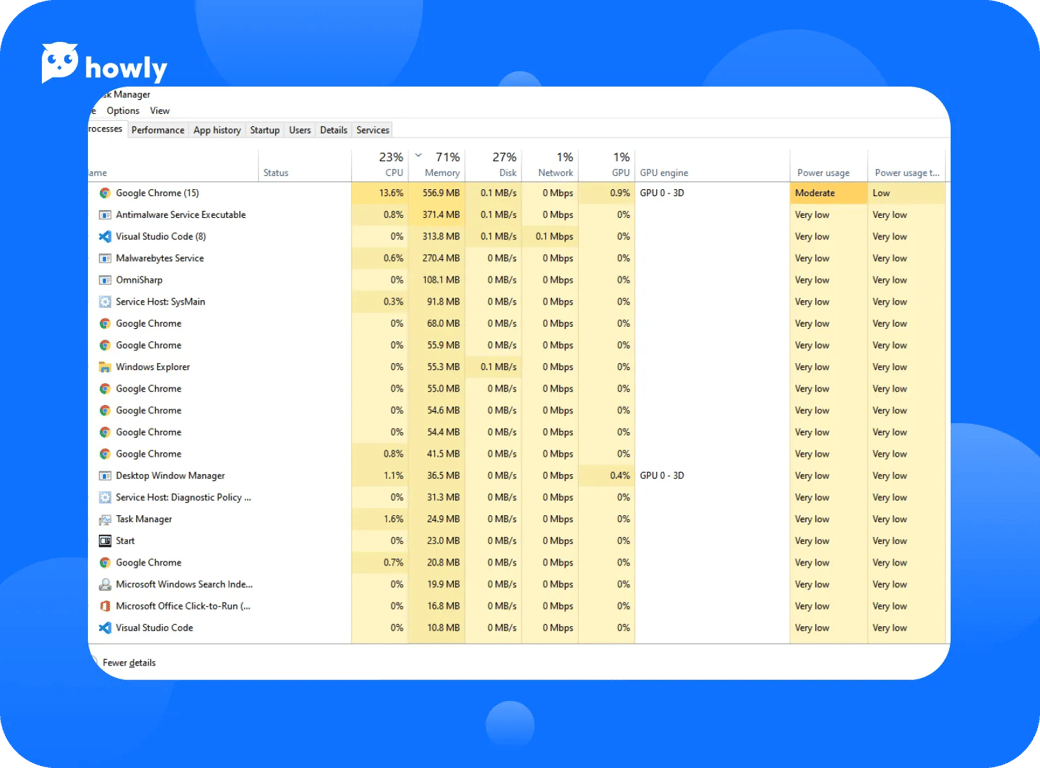 So it is called a memory leak issue because it manifests itself as a constantly disappearing pool of RAM. It can affect various applications – browsers, games, and elements of operating systems. It often occurs on Windows, but it can happen on macOS too. Even more often this problem appears on mobile phones, but today we will discuss computers.
How to fix memory leak: Windows 10 or More Earlier Versions
We want to focus your attention on solving the problem on Windows 10 because, according to statistics, it is the operating system version that most computer users have. However, consider the resolution paths that will work with earlier models. So if you have Windows 7 or 8, a piece of information on how to find a memory leak on Windows 10 will also be helpful to you.
Restart your computer or laptop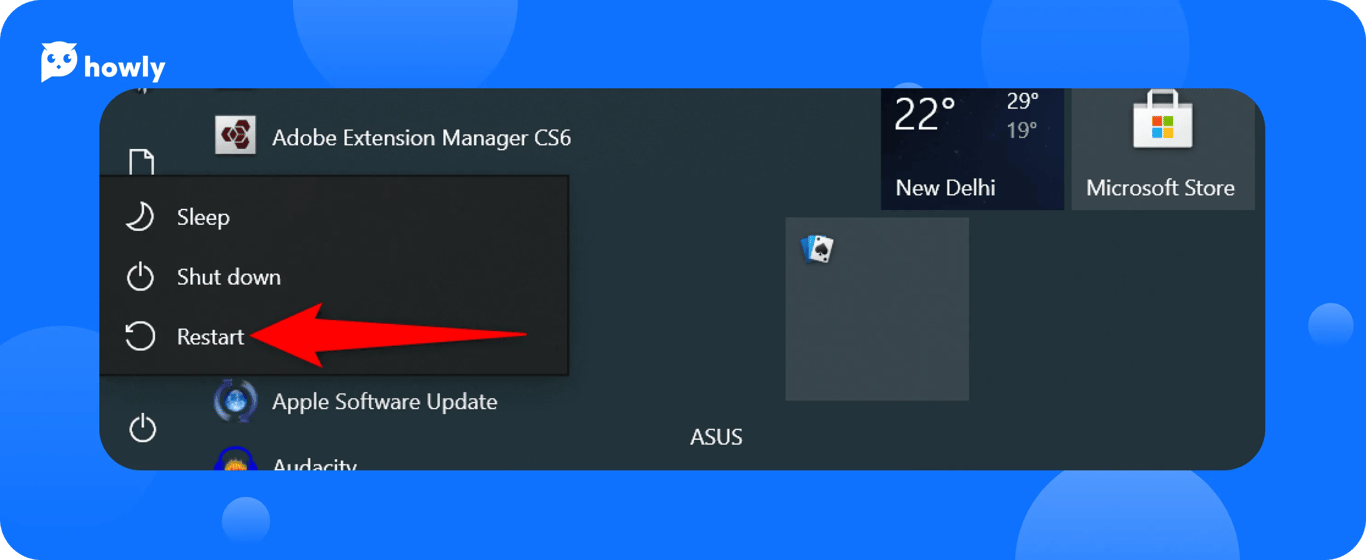 It recommends restarting your computer to try to solve the problem. If the problem is more serious, it will not solve it completely. However, it is a great temporary solution while you are looking for a longer-term way to fix the problem. We are sure that you know how to do it, but everyone is obliged to repeat the algorithm of actions. From the Start menu, select Restart. And your computer will automatically turn off and on. If you have a laptop, the steps are the same. However, many users close the lid when they reboot it. Do not do this under any circumstances. It may cause additional problems not only with memory leaks in Windows 10. In the best case, such an action will only turn off the laptop. At worst, you won't be able to re-initiate restart or restart the system at all. However, when you already have a problem, you should not take risks and create new ones, like a Windows system failure. A similar message about closing the lid you can see when a system update occurs.
Find Windows 10 memory leak
Resource Monitor is an essential built-in tool. It gives you a clearer view of how resources of your computer are managed. If you suspect that a program or process is not freeing up your free memory, this tool is an excellent place to check it. It has the same steps for all three versions of Windows – 7,8, and 10.
Press Windows + R on your keyboard.
Type Resmon.
After opening a new PC Window, choose the Startup feature.
Select the Memory tab, and after pressing the Sending tab, you will change the order of the list.
Resource your Monitor for Windows.
Track blue bar with applications running with programs you normally use. It helps to find out what app uses more memory and analyze the results. Perhaps, it is better to close those that you don't use all the time.
Use diagnostic tools to fix RAM leak
Another helpful tool to fix the memory leak that you may not have known about before is the Windows Memory Diagnostic. It usually works automatically, but it can also be started manually by following a simple algorithm of scan actions.
Click Start, and you will see a search box.
Enter the tool you are looking for in the column and select it.
Then select the column as shown in the picture below.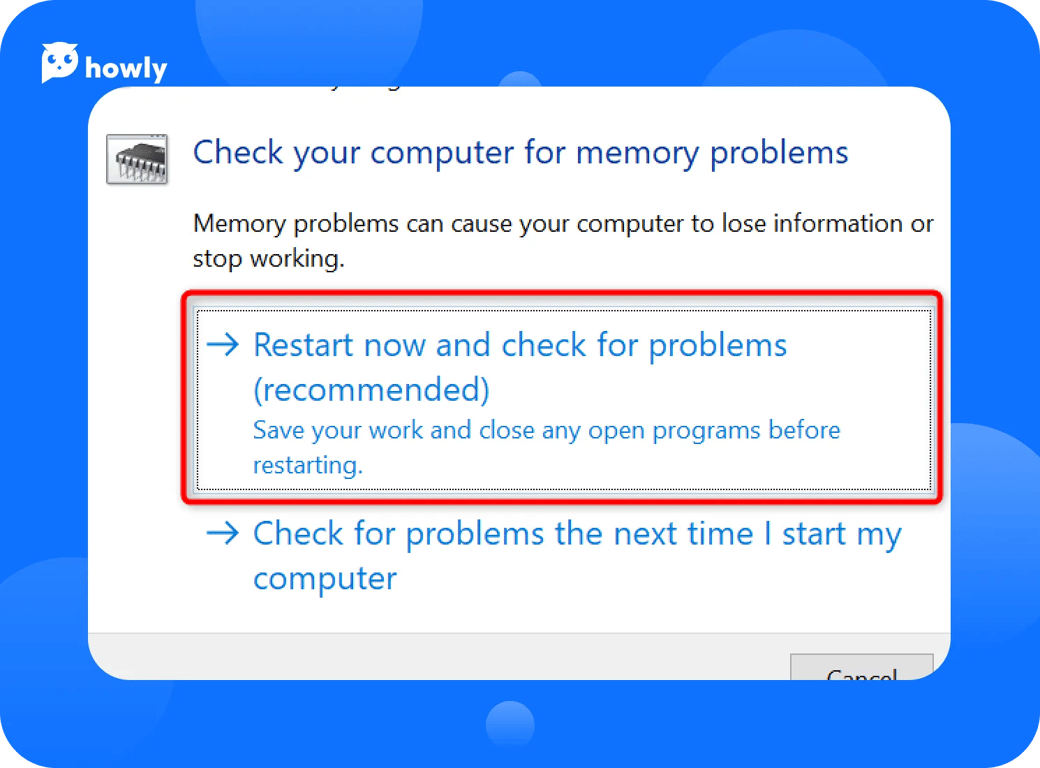 After the reboot, your computer will fix broken files and applications.
If the problem has become more frequent, then you may need to look for a longer-term solution to the problem.
Optimize windows PC for best performance
It is also a popular way of memory leak fixing. We also advise you to periodically perform such optimizations to prevent even this problem from occurring. The Howly experts say that it helps 75% of the time.
Right-click on your Computer, then click on the Properties button.
Go to Advanced System Settings.
There go to the System properties – Settings.
You will see the exact phrase "Adjust for best performance". Choose it and confirm your action.
Restart your computer.
It can not only solve the problem but also speed up the process of the computer. It's not for nothing that this step is called optimization.
Driver updates fixes leak Windows feature
Outdated drivers can lead to memory leaks. First of all, you should check the graphics, sound, and network drivers. They are the leading causes of this problem. The most obvious solution, in this case, is to update the drivers through Device Manager.
Select Start and type devicemng.
Open Device Manager.
Update all yellow drivers.
Follow the instructions on the screen, and the driver will be installed on your computer if available.
Remove malware
Malware can also be the cause of this problem. Therefore, if your computer is infected, you need to clean it off these unwanted guests immediately. If you have an antivirus program, just run it and see if it finds any viruses that need to be removed. Or you can do it with Windows Defender. However, we still advise you to purchase good licensed antivirus software that will help you be 99% safe and fix memory leaks.
Empty your PC memory with RaMMap
If RaMMap can't handle it automatically, you can set it to clean up manually. We also recommend that you do this periodically to prevent this problem from occurring in the future. Memory leak fixes are possible when doing the following:
You need to go to the RaMMap application file. It is a special tool that allows the system to show how the RAM is distributed on the computer. If you have not used it before, you can download it from the official Microsoft website and install it in a few clicks. Just google "Download RaMMap." Or ask the Howly experts for assistance.
Select Run as administrator; otherwise, you won't be able to run the tool properly.
Select Empty – Empty Standby List.
After following these simple steps, your computer should run much better. If that didn't help, follow the steps below for better optimization.
Defrag your PC HardWare
Defragmenting your hard drive is valuable, so make it a habit. In addition to optimization, it can also bring additional benefits, including better memory management. If you don't know how to do this, follow these simple steps:
Open the current system hard drive (usually drive C).
Select Tools and confirm optimization.
Select the right drive.
Click Analyze.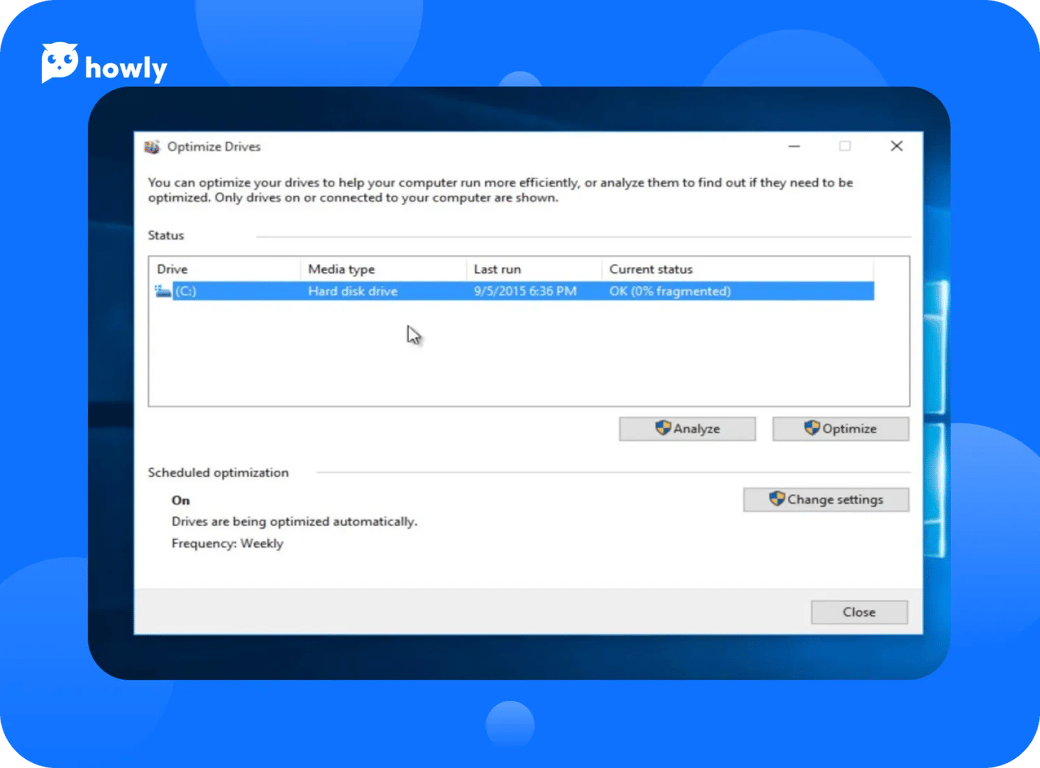 After the process is completed, do not forget to restart your computer. If this step did not help, let's understand further how to fix a PC memory leak.
Turn off the auto running programs on Startup
If a program causing a memory leak is started at startup, you need to disable it automatically. If the task manager has already shown you which program performs PC memory leak, it is an action one step. But if you do not know how to manage programs, below is a small instruction:
First you need to do is open the task manager.
The second step is to find and open the "Startup" tab.
Here you will be able to choose and disable programs. Quick tip: Disable all the programs you rarely use.
Confirm your action.
Now the next time you start the computer, the problem should no longer arise if the reason was precisely this.
Clear PageFile at Shutdown
PageFile is a file created and used by Windows to manage memory usage, and if you want to delete it, you need to follow some special steps. An active process has a possible memory leak. So be aware that this can significantly delay your shutdown or restart as Windows basically overwrites the swap file from 0 to clear it. There are many different ways. Let's look at the simplest one:
Firstly, you need to run Regedit from the Start Menu. Then choose the HKEY_LOCAL_MACHINE\ command.
Next step is to choose Manager\Memory Management. Here you will be able to find and click on REG_DWORD.
Restart your computer.
Superfetch memory leak
This process allows the system to manage the RAM, reduce the download time and increase its efficiency. We do not recommend disabling this tool forever, just finding out whether it slows down.
In the search bar, enter Services.msk.
Find a process with the desired name and select View its properties.
Disable the tool.
Restart the computer.
If the problem persists, turn on this tool back and try to fix the memory leak with another option.
Disable Runtime Broker
It is a system process that manages application permissions on your computer among programs. It also includes your own programs and is installed from the Store. If you are using a lot of RAM and your computer is running slowly, this program may be causing the problem. So how to tell if you have a memory leak? You need to press a combination of three keys: Esc, Shift, and Ctrl. Then you can check the Processes tab to see how much memory is being used by the runtime agent. To prevent the runtime agent from using a massive amount of memory, select the runtime agent, then End, and restart the computer.
Inactivate Windows tips and tricks
Was your PC memory leak fixed? If it was not, we have one more solution to repair the damage. Disable Tips and Tricks. Indeed, they are accommodating to new users. And it shows how to use the system and some additional useful options. However, it cannot be enjoyable for more experienced users. But besides this issue, it can also take up a lot of memory. In case you don't know how to disable it, follow these easy instructions:
Go to Start Menu. Here you need to find and choose the Settings app.
The second step is click on System. Here you will find and need to select Notifications & Actions tab.
In this Tab you will find Tips, tricks…and can disable them.
After doing this, you may free up some RAM on your PC.
Disable programs running on Startup
Here's another way to help you fix memory leak Windows 10. You need to reduce the load on the system by disabling programs. This will help save more free memory space and speed up your laptop or PC:
To start, go to Task Manager.In the horizontal menu that opens, select Startup.
You will see a list of all running applications. In the bottom right corner, click on the Disable button. If necessary, you can then run the desired applications.
Close the window and check if the device's performance has increased and the amount of processor memory has increased.
Close the problematic app to resolve the Windows 10 memory leak issue
If the previous tips did not help you, you can try this way. This is one of the most effective options to memory leak fix Windows 10. This method is not difficult to perform, just follow the step-by-step instructions from our experts:
First, close all open windows. Now press the CTRL + Shift + Esc combination.
A window with a horizontal menu will open in front of you. You need to stay in the Processes tab.
You have a list of applications that interact with the memory of your device.
In the bottom right corner you will be able to see the EndTasks button, which allows you to stop the applications and fix the memory.
Disable startup programs
There is another way to disable Startup programs and to fix a Windows 10 memory leak. This way is very simple and allows you to manually configure which programs to leave activated and which need to be deactivated. Here are the instructions for you:
Click on the Windows icon, and then click on the gear icon.
Once in the settings, use the search tool. Enter Sturtup Apps in the search box and open the panel.
There's a list of activated apps in front of you, and shutdown toggle switches on the right. You can choose which apps you want to disable and which ones can still work.
Disable SysMain on Windows 10
This is another tool to work with memory leak windows. You may find it difficult at first, but if you follow the step-by-step instructions, you will be very easy to use.
First, you need to go to the main menu of Windows and go to Settings.
Now you need to enter the Command Prompt from the administrator position.
Use the search function to type in the Sc stop SysMain command. Now you need to re-enter this command: Scconfig "SysMain" start=disabled. Press enter and you're done!
How to find a memory leak on Windows 7 and 10?
If you notice that the system is slowing down, you probably have a problem with the ram leak Windows 10. But to be sure, you need to check it. After all, if you don't see that your memory is full in time, your computer system could be damaged. So here are instructions from our experts to help you easily check your device's memory and see if it's full. Instructions are different for different versions of Windows software. So you need to choose the correct instructions for your version.
How to find a memory leak Windows 10
If you are using version 10 of Windows, you need to follow these steps:
On your laptop or computer, press the Win and R key combination.
A dialog box will open in front of you. Here you should enter Resmon and press the enter button.
In front of you will open a window in which you need to select memory leak from the available tabs. Here you can see how full the RAM of your device is.
How to find a memory leak Windows 7
If you are using older versions of Windows, like 7, you should do these steps:
First, you need to click on the Start button and then go to the All Programs menu.
In the program menu, select the Accessories tab and then select System Tools.
This will open the Resource monitor, where you can find Leak Memory. Check to see if your memory is full and fix memory leak Windows 7 if necessary.
F.A.Q.
Are memory leaks hard to fix?
Memory leaks are hard to track down and can be difficult problems to solve. Especially if you have a complex application in a parallel cluster or a large application that's using large amounts of heap.
Are memory leaks permanent?
Physical or permanent damage does not happen from memory leaks. Memory leaks are strictly a software issue, causing performance to slow down among applications within a given system. It should be noted a program taking up a lot of RAM space is not an indicator that memory is leaking
Why is my CPU usage at 100%?
If the CPU usage is around 100%, this means that your computer is trying to do more work than it has the capacity for. This is usually OK, but it means that programs may slow down a little. Computers tend to use close to 100% of the CPU when they are doing computationally-intensive things like running games.
Conclusion
Microsoft fights back against Windows memory leaks all the time. However, this is still not enough to stop users from trying to solve the problem on their own. If something doesn't work out for you or some action makes you doubt yourself, you can always turn to reliable specialists for an online consultation. Our Howly team employs only certified experts with many years of experience, and they are ready to help you 24/7. Your PC problems should be fixed by professionals.