Windows OS comes with many built-in tools to improve the performance of your device, and SFC (System File Checker) utility is among them. This helpful program gives you an opportunity to scan all PC files, even those stored deep on your computer, detect their corrupted or buggy versions, and replace or restore them for the normal functioning of your PC or laptop. If you've never done anything like this before and don't know how to scan Windows for system bugs, we're here to make things easier for you. We'll explain why you might need the SFC utility and how to use it.
Before we start
Save your time and let professionals resolve your issue in minutes!
Want to start solving your problem immediately? Experienced Howly troubleshooters can fix your issue ASAP. They're already waiting for you in the chat!
The benefits you'll get while troubleshooting your issue with Howly experts:
Qualified help with laptops HDD

Quick advice right in your device 24/7/365

Expert reply within 60 seconds

Clear step-by-step guidance

Limitless number of follow-up questions

Understanding and empathetic help till your laptop HDD issue is fully resolved

All answers you need in one place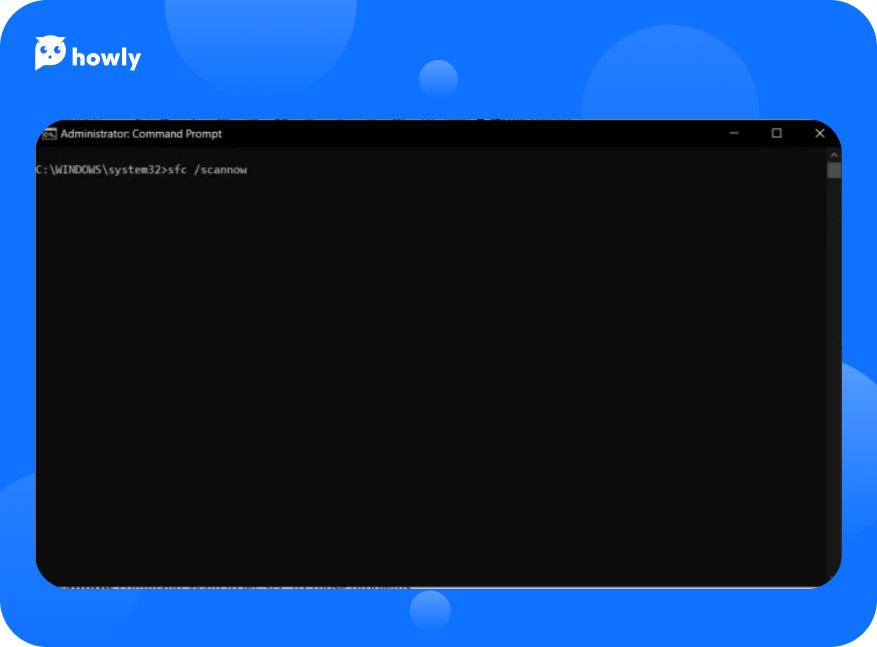 When to run the SFC scan
Despite the fact that SFC is used for quick repair of Windows files, some users still don't understand when to run the program. In general, System File Checker is the easiest and fastest way to assess the integrity of your machine, detect updates and installation glitches, and change or replace missing or buggy files. So, feel free to use SFC scan Windows 10 whenever:
Blue screen of death appears;
Your PC reacts slowly;
Programs work incorrectly and crash;
Peripherals can't connect;
Games won't install/run;
Windows system freezes;
You have problems updating Windows;
Frequent issues with the network;
Certain PC/laptop features refuse to work or work incorrectly.
How to run SFC on Windows 10
The SFC tool functions well on different versions of Windows, including 7, 8, 8.1, 10, and 11. No matter what operating system you have, you should keep it up to date for smooth performance. So, let's consider how to run the SFC scan on your Windows 10 OS.
To access the SFC program, a user needs to enter Command Prompt (necessarily as an admin). You can use the tool as soon as the system boots. To do this, right-click on the Start menu or hold the Windows+X buttons simultaneously, view the list of available system tabs, and select Command Prompt (be sure to open it as admin).
Enter the text "sfc /scannow" in the black window that opens. This is a simple command to start a basic system scan.
Don't close the window until the scan is finished. The checking process may take a couple of minutes, so arm yourself with patience. In the meantime, you can use your computer for other purposes since the system scan doesn't put much load on your processor and other PC resources.
When the Windows 10 SFC finishes scanning your files, you will see one of these check reports:
Windows Resource Protection didn't spot any violations of file integrity: this inscription indicates that even if some of the files are missing or buggy, there's no need to perform any additional steps.
Windows Resource Protection can't perform the operation: to deal with the problem, run a check in safe mode. Keep reading for instructions.
Windows Resource Protection found buggy files and fixed them successfully: you can find detailed information about the fixed files in CBS.Log.
Windows Resource Protection detected buggy files but couldn't repair some of them: the only way to handle the problem is to fix the files manually.
How to restore a corrupted file manually
First of all, you need to spot a buggy, corrupted, or changed file the SFC Windows 10 utility was unable to fix and then replace it with its quality copy. You can get a good copy of the desired file from another computer with the same Windows OS version.
And so, run the Command Prompt and enter the findstr /c:"[SR]" %windir%LogsCBSCBS.log >"%userprofile%Desktopsfc.txt" command, which will add to your desktop the sfc.txt document with a list of unrepaired files. Determine the file you need to replace and do the following:
Enter the command takeown /f PathAndName in the command prompt, where "PathAndName" is the path and name of your buggy file.
Enter the command icacls PathAndName /grant administrators:F where PathAndName is the path and name of your file. For example, icacls C:WindowsSystemSpeechspeech-synthesis.xsd /grant administrators:F.
Enter the command copy Good_File Final_Destination, where Good_File is the path and name of the good copy of the file, and Final_Destination is the path and name of the old file you want to replace. Hit Enter.
How to perform a quick SFC scannow check in Windows safe mode
To scan your files in safe mode, find the search box in the start menu and type "change advanced startup options". Access the tool and click on the Restart Now button. When you see the blue screen, perform these operations step by step:
Tap on the Troubleshoot option.
Move on to Advanced Options.
Find Command Prompt and click on it.
Enter your password and user ID, and you'll access the Command Prompt.
Use the scannow command as shown in the instructions above.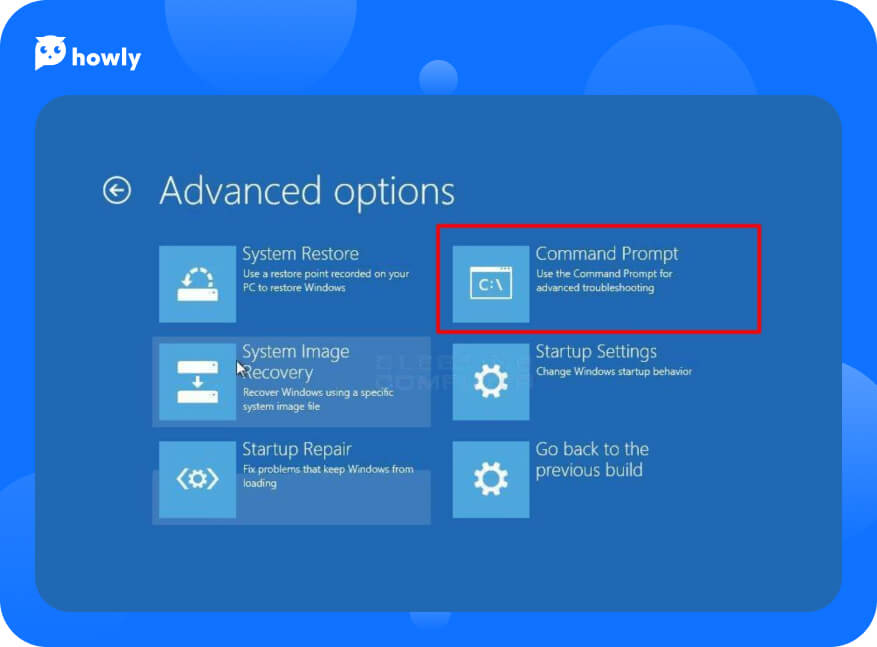 How to run sfc /scannow on different drives
You can use SFC/scannow to scan and fix non-system files on different drives, for example, SD cards, D: or E: disks, a portable HDD, and others. To run files check on such drives, just change the command a bit, as shown below. The rest of the procedure remains the same.
sfc /scannow/offbootdir = drive name: /offwindir = drive name: windows
Don't forget to change the "drive name" with the appropriate name of your drive.
Additional options for checking files with SFC
It happens that the standard system file check isn't suitable for your particular case. Luckily, SFC features other options on how you can launch the program. The list looks like this:
sfc /verifyonly – is used just to verify system files without fixing them;
sfc /scanfile=File_Path – is used to check and fix only one Windows file;
sfc /verifyfile=File_Path – is used just to scan a file without fixing it;
sfc /scannow /offwindir=File_Path – is used to scan files not in the current version of Windows (but, for example, on another hard disk).
Is it worth using the SFC utility?
SFC utility can help you repair a lot of system errors by detecting and restoring corrupted files. Even if the utility doesn't find any problematic files, it will let you know that the problem lies somewhere else, so you can try other troubleshooting methods to fix your device. We've told you how to run SFC in Windows 10 in different ways, so the provided instructions will help you scan the system easily and quickly. It's definitely worth using the SFC utility if you want to keep your computer running smoothly!