You feel that your PC starts running slow, and you find the PC-Doctor Module tool. Why does it use so many system resources? What is PC Doctor Module: real app or malware?
Before we start
Save your time and let professionals resolve your issue in minutes!
Want to start solving your problem immediately? Experienced Howly troubleshooters can fix your issue ASAP. They're already waiting for you in the chat!
The benefits you'll get while troubleshooting your issue with Howly experts:
Qualified help with laptops HDD

Quick advice right in your device 24/7/365

Expert reply within 60 seconds

Clear step-by-step guidance

Limitless number of follow-up questions

Understanding and empathetic help till your laptop HDD issue is fully resolved

All answers you need in one place
The eligible Computer Doctor is one of the apps from the preinstalled diagnosis pack on Dell laptops. It's not a virus – just a system scanner that helps find issues in the system. But some apps try to mimic the PC Doctor, while in reality, they are ad malware.
Check out the troubleshooting guide on how to solve high CPU on the PC Doctor Module in 10-15 minutes.
What is a PC Doctor for Windows?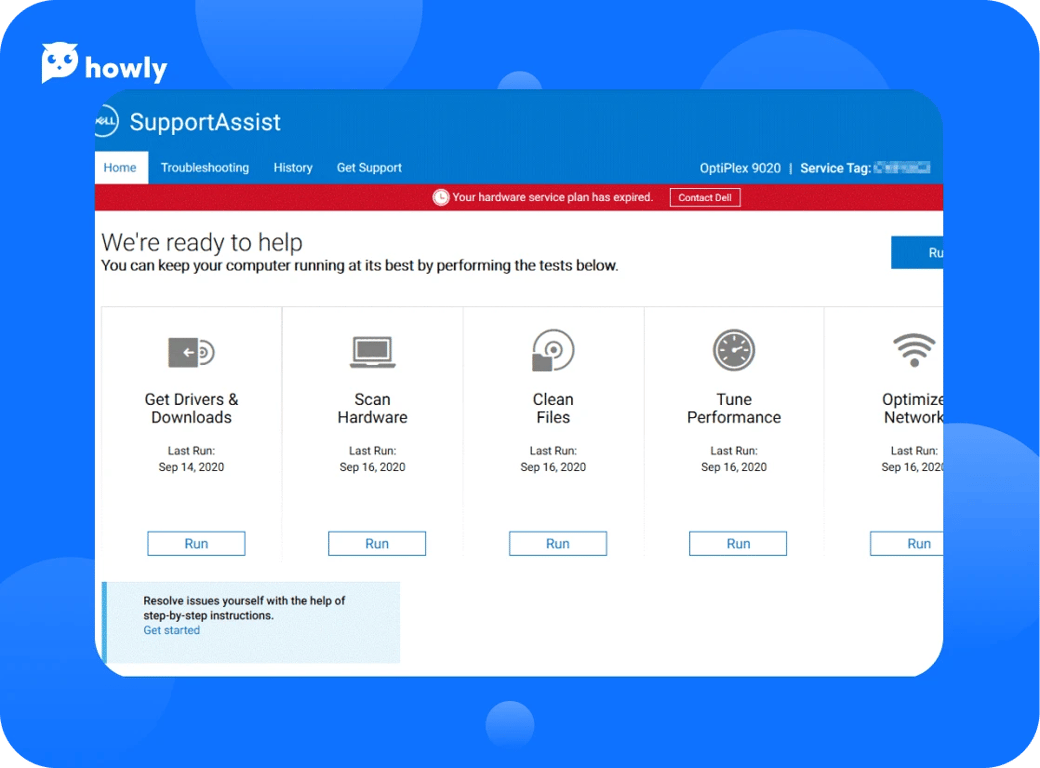 It's part of the Dell SupportAssist tool that is preinstalled on most models of Dell laptops. This tool sends you personalized recommendations that help you optimize the computer. You can remove programs and update some system parts directly from this app.
Dell PC-Doctor detects the issues and notifies you when it finds the problem. Moreover, this app offers you a suitable solution and access to Dell Support agents.
PC Doctor Dell Support regularly runs system scans. By default, it scans the hardware and software once a month. The app checks everything simultaneously, causing spikes in the CPU. What to do? Disable the automatic scans — it will solve the problem. Or you can set those scans at different dates and times. It will lower the PC-Doctor Module's high CPU levels too.
Is PC Doctor a virus or malware?
Original Dell PC Doctor Module is an ordinary scanner app. But some malware tries to copy the look of this app. Check the installation address to find the truth. Follow the next path:
Run Task Manager. There are two ways to do it. Right-click on the Windows icon and find the Task line. Or you can type Task in the search bar near Windows.
Go to the Processes.
Select the PC Doctor.
Right-click on it. Choose the Go to details.
Pick an Open location.
If you see this following path:
C:\Program Files\Dell\SupportAssistAgent\PCDr\SupportAssist\7.1.1234.56 (version of the app installed on your computer)
you don't need to worry. It's the genuine PC Doctor Dell SupportAssist. Turn off the automatic scan and run it manually, lowering CPU usage.
If the path looks different, delete the app as soon as possible. It's a malware tool that tries to look like an app. Just remove the Dell SupportAssist Agent virus from your computer. If it has installed other apps on your laptop, delete them too. They are malware. Uninstall Dell SupportAssist as soon as possible.
How did this software get on my computer?
You can find out many forum threads asking about the legitimacy of a PC Doctor Dell SupportAssist API. That's the question many Dell users ask themselves when they see an icon of this tool.
This app is available only for Dell laptops. You can download it from the Dell website only for suitable laptop models. But downloading the Pc Doctor USB solution offers from third-party web resources can be a scam.
Dell Support Assist Agent virus often gets on your computer when you download other apps that promise to optimize computer performance. But as you guessed, it only makes it all worse. Fake Dell SupportAssist removal tool runs ads that will display in your browser even if you have an ad blocker on your PC. Some of those ads may lead you to scam websites. Those websites may steal your data or use your PC resources for mining. So it's better to remove the fake tool once you detect it.
Here are some symptoms that help you understand that you have the scam version of the PC Doctor app:
You see ad banners on most websites.
Pages switch the text to the hyperlink.
You have dozens of browser pop-ups daily.
You have other unwanted freshly installed apps on your PC.
If you have at least 1 or 2 symptoms from this list, uninstall Dell SupportAssist immediately. It will save your PC from possible harm. From now on, carefully check which apps you choose to download.
Troubleshooting the PC Doctor Dell SupportAssist high CPU usage
An eligible app from Dell runs a lot of tests simultaneously. So, it's usually to see a 100 CPU usage. Doing basic tasks such as typing in a text editor or browsing the web becomes uncomfortable. There are two ways to troubleshoot the app to consume less CPU in the working process. You can try any method you want: they both work well and turn off the automatic tests.
Through the SupportAssist
It's the easiest way to optimize this app. You need to open the Dell app and turn off the auto-scans of the system. Use this instruction:
Open Dell SupportAssist. You can find it in the list of your apps on the Windows menu. Also, you can quickly call it by typing "Support Assist" in the search bar near the Windows icon.
Go to Scheduled Scans.
Pick the gear icon.
Turn off Automatic scans.
From now and then, you'll need to start scans manually. Your Dell laptop will not launch the Computer Dr automatically. If you want to scan your system, open the AlsoPC Doctor app and run a manual scan.
You can change the schedule and number of tests done simultaneously or get a different plan for every test. Open the app, go to the Settings tab, and set an appropriate timing for scan and optimization. Put at least 2-3 hour gaps between the scans, so your PC will have enough time to cool down.
Through the Services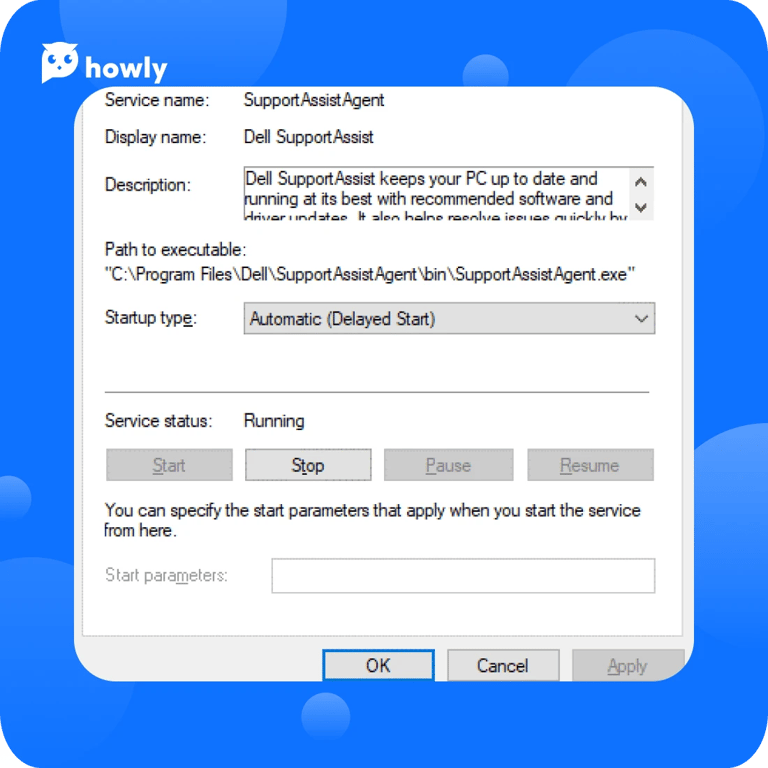 Here is another way you can change the app's settings. Follow the next steps:
Press the Win+R buttons. This action will open the Run app.
Type services.msc and confirm it.
When you are in the Windows Services, find a SupportAssistAgent line.
Double-click on it.
Go to the General tab.
Find a Startup type. Switch it to Automatic (delayed).
It will shut down the tool and prescheduled scans too. Why do we recommend doing it? When you open this app, it runs the scheduled scans. So you should change the scan plan so that tests don't overlap.
How to remove the PC Doctor from the computer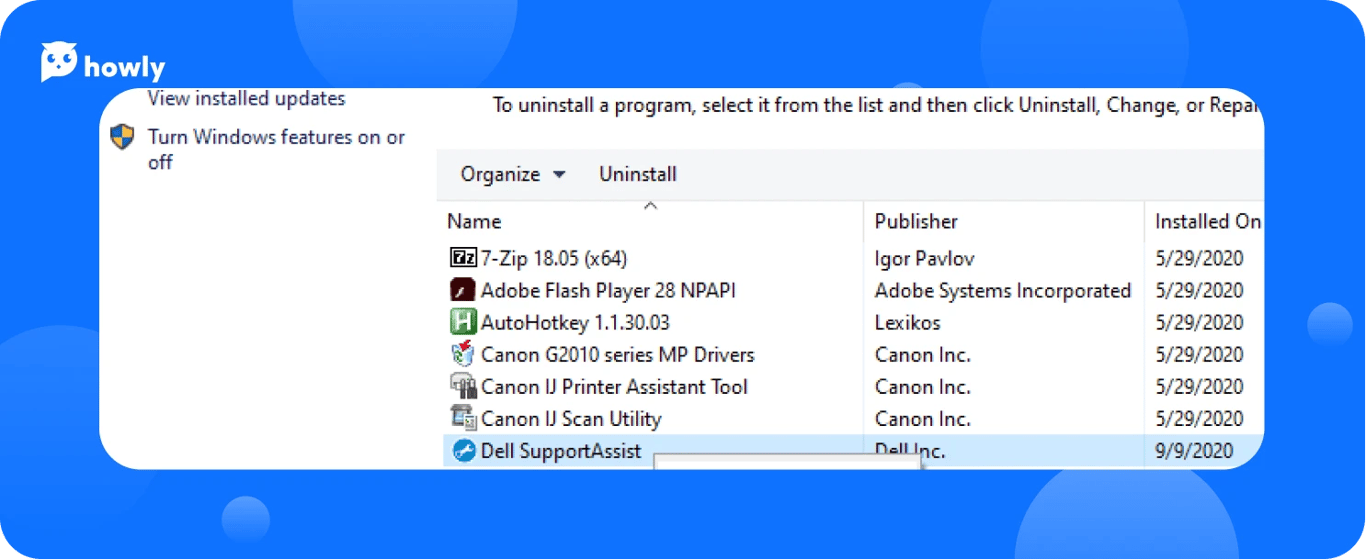 Dell Support team asks users to keep the PC Doctor app on the computer. It will be easier for them to help if you face software or hardware problems. So many users may start to ask themselves if Dell Support Assist is necessary or not.
It's not required, so you can delete the app and install it again when you need it. There are a few ways to remove a PC Doctor from a Windows laptop. Here is how you can do this:
Go to Settings.
Find Apps.
Select the PC Doctor Toolbox.
Click on the Uninstall option.
There is also an alternative way to delete PC Doctor Dell Support. It will work on most laptops with OS Windows 8.1 and later. Follow the next instructions:
Right-click on the Windows icon or press the Win+X combo. It will open the short Windows menu.
Find Apps and Features.
Look for Dell SupportAssist.
Click on the Uninstall button.
Note that an infection that pretends to be Dell Support Assist will have a slightly different name. Sort apps by the date and delete the latest installed apps. After this, scan your computer with an antivirus or Microsoft Defender to make sure you are removing the malware.
F.A.Q.
Why is my Dell Support Assist not working?
Check if it's a genuine PC-Doctor. If you find out that it's not a part of Dell SupportAssist, delete it as soon as possible. It's a crypto-mining scam. But if it's the genuine app from Dell, change its settings to run fewer scans simultaneously.
Do I need Pc-Doctor Dell SupportAssist API on my PC?
No, you can delete this app anytime. It's just a tool that saves you time in updating the system and removing system bugs. You can use any other tool with similar functionality.
How to install PC Doctor if I don't have it on my laptop?
Be highly attentive when trying to install PC Doctor on your PC. There are a lot of deceptive programs, and it's really hard to distinguish them from the original tool. So download the program only from the official PC Doctor website.
Final Thoughts
When you see that the PC Doctor uses a lot of CPU, the only question that you have in mind is, "What is PC Doctor's communications manager? The next - is, "How to troubleshoot or delete it?"
We understand this situation and advise you to check the app's location to find out whether you're dealing with an official app or malware software. If it's the official Dell app, you can troubleshoot or delete it from your laptop. After that, you will need to run all the system scans manually. Deleting the app will remove it from the PC. The decision is up to you.
But if the path is different or you've got a lot of ad banners and pop-ups recently — it's the scam app that tries to look like a real one. Consider deleting it as soon as possible.
And if you still need some help distinguishing a genuine app from a computer virus, Howly experts are always online to consult you!