Even though Disney Plus is among the most widely used content providers, it isn't always reliable. Nothing is more annoying than trying to use your account but being unable to do so due to regular Disney Plus issues and problems.
Before we start
Save your time and let professionals resolve your issue in minutes!
Want to start solving your problem immediately? Experienced Howly troubleshooters can fix your issue ASAP. They're already waiting for you in the chat!
The benefits you'll get while troubleshooting your issue with Howly experts:
Qualified help with laptops HDD

Quick advice right in your device 24/7/365

Expert reply within 60 seconds

Clear step-by-step guidance

Limitless number of follow-up questions

Understanding and empathetic help till your laptop HDD issue is fully resolved

All answers you need in one place
This article will outline all the options available to fix any issues you may be having with Disney streaming on any of your devices.
Leave and open Disney Plus again
Leaving and restarting the app should be your first course of action. If you're using a PC, you can close the page and open it again. Additionally, you might want to try exiting and re-entering the app. Some people even remove the program and reinstall it. All of these methods usually repair any troubles you may face.
Examine Disney Plus servers
If you can't connect to Disney Plus due to their servers being unavailable, there isn't much you can do but wait until the team has everything fixed.
However, there is a chance that Disney Plus isn't working for you because the service is down, even though this is not very typical. You should confirm this before experimenting with settings and performing troubleshooting. Disney servers should nearly always be available, but it's still important to check to make sure. You can visit its network homepage at DownDetector to check what it currently reports. This application monitors the status of websites and services. It notifies you if Disney or any other service is down based on data from other customers. Even a live outage chart is available to check for local problems.
Check to see if your device is supported
Online reports appear to concur that specific gadgets are preferred by Disney over others. Disney Plus may not be compatible with a particular product for a variety of reasons, but for many customers, temporarily moving to a different device seems to work.
Deactivate your VPN
Do not forget that geo-restricted websites detect VPN connections and frequently block customers when they discover an active VPN provider. This is exactly how VPN may lead to Disney Plus connection issues. If you're using a VPN, ensure that you turn it off before trying Disney Plus once more.
Examine and restart your web networking
If Disney Plus isn't working, it can be because of bad Internet access. See if you can test other Internet-required applications to see whether they function. You might also switch to a different device or even discover that Disney isn't the real issue.
Additionally, verify whether Internet access and Silent Mode are switched on or off, and confirm that the router is working properly as well. The router typically has a dedicated button for resetting, but disconnecting and replugging the device also fixes the issue.
If you use mobile Internet, you should check to see if your network system is turned on:
Launch the Settings application.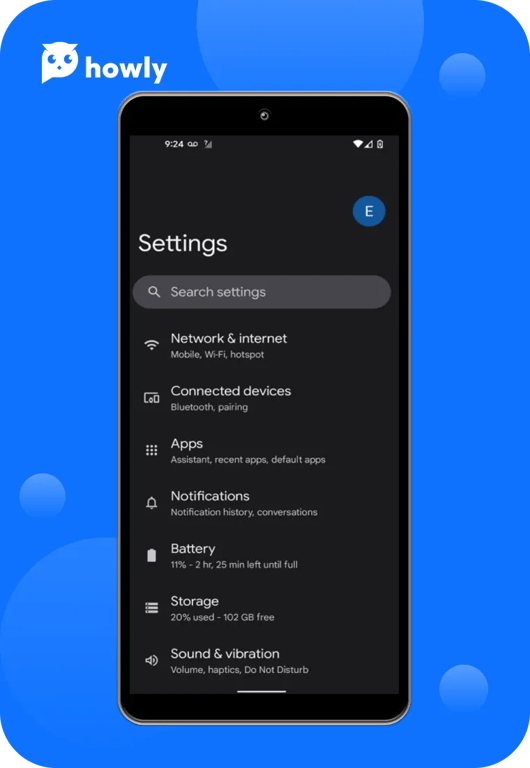 Choose Internet & Network.
Under SIMs, choose your SIM.
Enable mobile data on your device.
Turn Roaming On if you are outside your state or network's availability (this can result in further fees).
Fix typical Disney Plus error codes
There are a number of error codes that you could experience, and most have to do with streaming permissions. Let's take a look at the most popular of them:
Disney + error code 83
What is Error code 83 on Disney Plus? It appears to be the biggest common problem affecting subscribers, which represents a device compatibility issue. When you try to access Disney Plus on a particular device, you may run into glitches. Follow these steps in order to fix it:
Switching your smartphone on and off is the first thing to do. Even though that advice has seen better days, you never know when a quick power cycle will solve all of your technological difficulties.
Next, ensure your device is matched with the service.
See if the hardware of the device you're using is up-to-date. The majority of new devices shouldn't be impacted by this, but if your smartphone is running an exceptionally outdated version, Disney Plus may not accept it. Therefore, before trying to start the program again, check if your device is updated to the most recent version. There will probably be a small indicator if a firmware update is available for installation or download.
If everything else fails, simply log into some other gadget. As unpleasant as that may sound, it should have a different response because an issue with device compliance like Error 83 says the program is having a problem with the specific device you're using.
Disney+ Error 42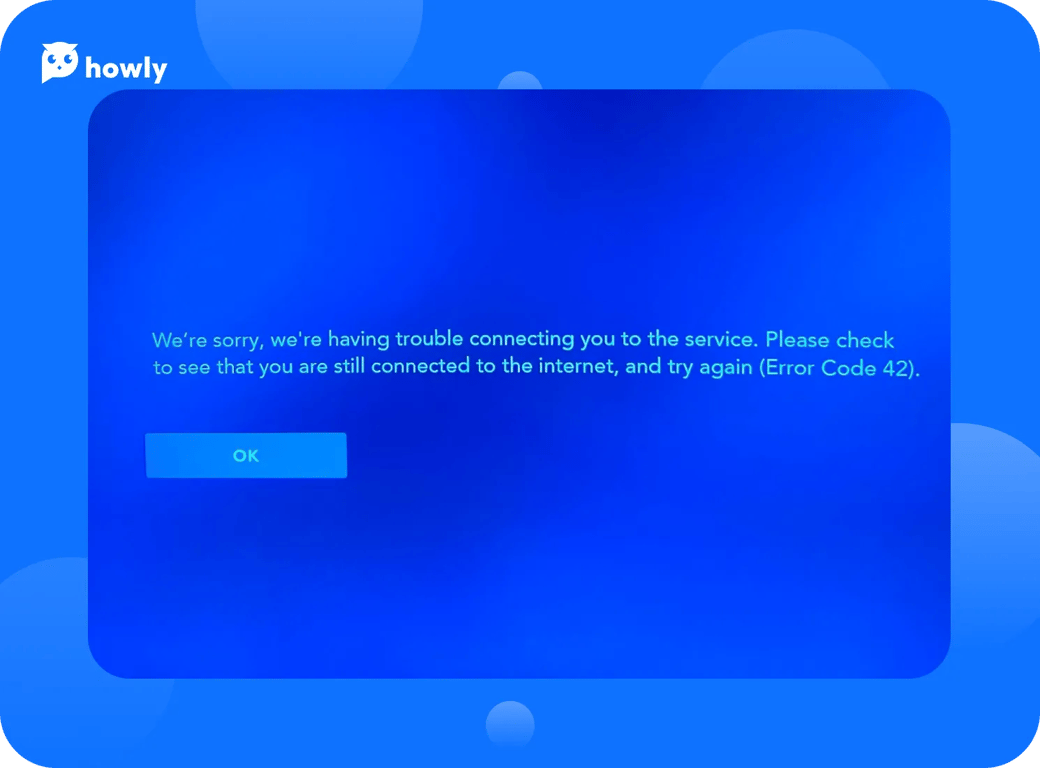 Error 42 is another distinctive error suggesting that Disney Plus connection timed out.
It basically indicates connection difficulties with your Disney service. Both your Internet service or Disney's server failure could be at fault.
If you can't open Disney Plus, it's likely that they are having trouble keeping up with the demand of everybody watching at once. Sadly, there is no instant fix except to wait this out. This kind of issue generally arises during periods of high usage.
We are confident Disney Plus glitches won't be an issue forever. Disney has been expanding its servers, but this may take a while.
The second option is that Disney Plus won't load because of your Internet access. This is crucial if you're attempting to stream in 4K (that has higher bandwidth and data than a regular or premium-quality stream).
If so, kudos to you, because there are several repair techniques for a poor Internet connection.
Here are a few simple tips:
Test the speed of the Internet (at least 5 Mbps should be sufficient for streaming).
If you've saved your passcode, sign out of Disney and log in once more on all of your gadgets.
Reload your modem by turning off the power source and returning it to power after five minutes.
Take into account removing bandwidth-intensive gadgets from your household Wi-Fi (e.g., video game console table).
Enter the DNS settings for OpenDNS, Cloudflare, or Google in your Wi-Fi router's setup.
Disney+ Error 73
Error code 73 usually arises because of problems with accessibility and location. Even those who are streaming Disney+ in territories where it is already accessible appear to be affected by this.
It's crucial to remember that this error code may be tied to an issue with content availableness, and the handiness of content changes by region.
If you see the code Error 73, the number one thing you should do is restart your router if you're on a local network, toggle flight mode on and off repeatedly if you're on a smartphone, and refresh your net connection.
Disney+ Error 24 and 43
Errors 24 and 43 are two connected codes that are a problem for all of us. What should you do if you're having registration failure or Disney Plus connection issues?
Verify your Internet service first.
Disney+ should be logged out and re-logged in if troubleshooting doesn't fix the issue.
Check your payment details if that doesn't work.
Disney+ Error 39
Since Error 39 is about gadget compatibility, make sure you are running the Disney+ app on a gadget that is compatible. Restart your device after quitting the Disney+ app, and it should work!
There is one more simple fix that is worth addressing if your Disney Plus is not working: switch out your HDMI cable or double-check that it is plugged into both ports securely.
Other error codes that may appear
Error 4 - Billing issue -Verify that the card is not expired and that it is not from a region where Disney+ is not available.
Error 9 - Login or payment issue - Verify the billing information and login information.
Error 11- Access to the data - Reset your wireless connection, disconnect your VPN, or check for available content.
Error 13 - Device restrictions have been met - Change your password, log out of Disney+ on the platforms you use the least, and delete any unneeded downloads.
Error 22, 35, or 36 - Banned videos - Ensure content accessibility, turn off your VPN, change your location, or log out of children mode.
Error 25 - Inside error - Reload the Disney+ website player, sign in and out once more, or get in touch with customer help.
Error 30 - Issue with device identification - Verify the compatibility of the gadget, log out, and then re-log in on the affected device.
Error 31- Geographical issue - Change your location settings, enable location tracking (as described above), and turn off your VPN.
Error 32 or 87 - Disney Plus login on device failed - Change your password, check your payments and billing information, and log out and back in.
Error 38 - Clock settings - Verify that your device's time preferences are tuned to automatic or world clock time.
Error 41- Issue with traffic congestion - While everyone is eager to see a new, prime-time show, patience is essential.
Error 76 -Issue with server overflow -Reload the router, restart the app, sign out and back in, and stay a bit more.
Error 86 -Account ban and terms of service misdemeanor - Verify that the account owner is older than 18, turn off your VPN, modify your localization, and get in touch with customer help.
Ensure that Disney Plus is accessible where you are
Unfortunately, Disney Plus won't load everywhere! It restricts access to Internet depending on your emplacement and only streams shown in supported regions. If you want to watch a movie while traveling to a country that doesn't recognize it, Disney is most likely not for you.
Check out the section on Disney Plus with all the approved countries. Waiting till you're back in a recognized country would be the best course of action.
Find out if a network administrator is cutting Disney Plus
Are you connecting to a public network or just someone's Wi-Fi? This might be why Disney Plus glitches. Network restrictions on particular content types can occasionally be found. For instance, it's typical for libraries and schools to prohibit streaming sites. Or perhaps the network manager has parental controls in place to prevent the kids from wasting too much time viewing Disney movies.
Ask the network manager whether there are any such limitations. If so, the only option is to talk about their potential to remove these limitations. Alternatively, if you're using a phone, turn to data traffic.
Upgrade your Disney Plus membership
Although using slightly older versions of a program rarely results in Disney Plus glitches, it can occasionally cause problems. In particular, if there are more significant changes that involve server-side adjustments, check the app for updates. Update your software if you're using a computer to access it. Checking to see if your hardware has received any upgrades is also another solution.
Check for updates in the Disney Plus app:
Launch the Google Play Store.
Tap the icon for your account.
Choose Manage Applications & Device.
Select Available Updates.
See if there is a Disney Plus upgrade ready. If so, select Update by tapping on the icon beside it.
As an alternative, you can select Update All to upgrade all of your programs.
Erase the cache
Although data can get damaged, the cache is typically a positive thing, especially as it develops. Cleaning the app's cache occasionally is a good idea. It could also be worthwhile to delete the app data while you're there, as this will clear out all the setup and account information. After that, you'll need to sign over to Disney Plus.
If you have an Android device:
Launch the Settings app.
Enter Apps.
Under See All Apps, search for Disney Plus.
Go to Storage and Cache.
Move to Clear Cache.
For a fresh start, you can likewise click on Clear Storage.
If using Chrome for Windows:
Access Chrome.
In the upper right, select the mark of three dots.
Enter Settings.
In the left array, pick Privacy and Security.
Go for Clear Browsing Data.
To find what to erase, check the appropriate boxes.
In the Time range, pick All time.
Press Clear data.
Videos that slurp and pause
When you're attempting to watch a film or a show, but Disney Plus won't load, it might be infuriating. You'll probably want to get this corrected, especially if you know that your connection is working perfectly anywhere besides on Disney+. Slowing down and stuttering when watching movies is not a good way to have fun.
First, you should do a Computer network speed checkup using Ookla's Speedtest website or an appropriate substitute if your video is stuttering or buffering.
Based on the results of the speed test, you might conclude that Disney+ is the issue, especially if your connection works just fine for other services.
Change your password
You might need to update your Disney+ passcode at a certain point. This is how to do this.
Access DisneyPlus.com or launch the Disney+ application.
Find the account icon in the underside bar. Drag your cursor to your account in the upper right corner of the website.
Check the Account.
Choose Change Password.
Write in your active password.
Set a new password.
When finished, select Save.
If using an application, Apple TV, PS5, or another device, the procedure is essentially the same. An email verifying the modification will be sent to you.
Lower the Stream Quality
How to Change the Video Quality (Desktop)
Drag your mouse pointer onto the profile icon on Disney+ in your tab.
Select App Settings.
Select the preferred choice:
® Automated (broadcasts in the best possible quality, near to 4K UHD)
® Medium (fewer data is used, and broadcasts are HD quality)
® Data Backup (broadcasts at SD quality and uses the lowest amount of data)
Press Save.
How to Change the Video Quality (Mobile):
Open Disney+, then find your profile from the lower-right menu.
Go to Settings.
Select Wi-Fi Data Usage or Cellular Data Usage beneath Video Playback.
If you wish to broadcast in HD, select Automatic; if you would like to watch in SD, select Save Data.
Run Malwarebytes
There is a chance of Disney Plus app not loading due to viruses and spyware. It may not function properly since bugs eat up a lot of your memory space.
Install Malwarebytes on your computer and perform a complete system scan to resolve this. After searching your entire storage for contaminated files, the utility will automatically delete them.
Contact Disney Plus about your problem
Still baffled as to why won't Disney Plus load? Perhaps you should report your issue to their client care. Use the support section of the streaming service if you need more assistance. There are also additional options to talk by phone or chat with an agent.
Conclusion
Disney Plus issues are typically caused by VPN problems, so always use a high-end VPN with reliable servers. You may sometimes experience Disney Plus not connecting to your gadget because is still in its early days, and these difficulties are common. Nevertheless, it is making an effort to address the minor issues as it signs up hundreds of new people daily.