So, you decide to watch your favorite show, but your Firestick keeps rebooting. Eventually, it annoys you to the point that you want to eliminate this bug for good. Usually, it's happening due to a glitch, so you can fix it at home. Just stick to the guidelines from Howly experts.
Before we start
Save your time and let skilled professionals in Fire TV troubleshooting resolve your difficulty in minutes!
Instead of dedicating excessive time and energy to tackle numerous challenges, why not seek assistance from experienced professionals? Engage in a conversation with Howly experts and receive immediate support. They are available 24/7 to answer your questions about Firestick.
The pros you'll get repairing your Firestick problem with Howly experts:
Expert help with Fire TV glitches

Quick advice right in your device 24/7/365

Expert reply within 60 seconds

Clear step-by-step guidance

Limitless number of follow-up questions

Patient and understanding help till your Firestick concern is fully resolved

All answers you need in one place
8 efficient ways to troubleshoot Firestick that keeps restarting
Fix your software to eliminate the Firestick restart loop. Firstly, delete all temporary files by a hard restart: it removes temporary files both on TV and Firestick. Test the media player with another device: it can be a TV or computer monitor. Use different HDMI and USB: maybe your current option is not compatible with Firestick.
Change the remote batteries. You should do this every 4-7 months, but weak batteries can shorten this period to 2-3 months. Perform a factory reset. It's the most severe software troubleshooting measure. If nothing helps, you are facing some major hardware problems. If you are confident in your repair skills, contact Howly experts for additional measures. If you are not sure about them, visit the nearest service center.
Restart your Fire TV Stick and TV
Yes, we know that your media system is constantly rebooting. But we recommend you do this on your terms. This action helps you to remove temporary files. Some of them may be corrupted, leading to the situation where your Fire TV keeps restarting. Here is your short guide:
Shut down the TV.
Unplug Firestick from the monitor and TV from the power socket.
Wait for 2-3 minutes and plug everything back.
Turn on the TV.
Beware that your media player may work slightly slower than before in the next 2-3 working sessions. When the system doesn't have temporary files, it needs to load every page from scratch. Temporary files speed up this process by storing parts of the page right in the system.
Test the Fire TV stick on another device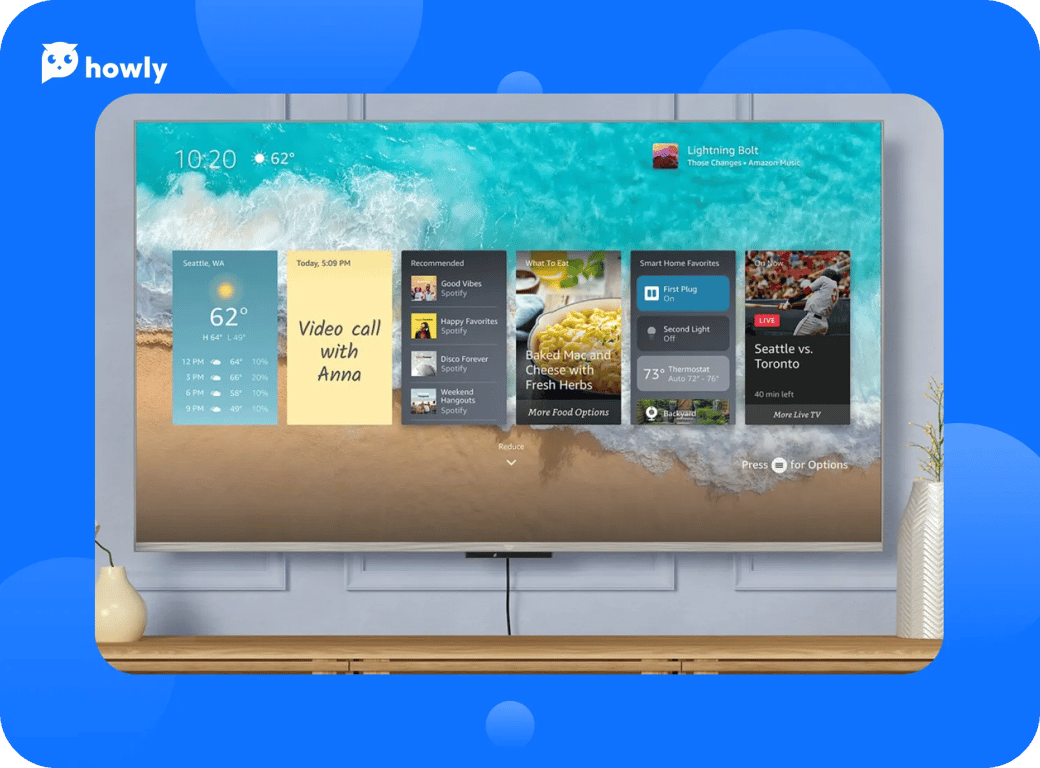 Driver inconsistency is another common reason for the situations where your Fire TV keeps restarting. If your TV previously worked with Firestick but for some reason, start glitching, test your media player with another TV. You can even test it with a computer monitor with a free HDMI port.
If the problem goes away, the source hides in the incompatibility. Your task is to find what may cause it: drivers, device conflict, or other issues. But if the problem stays even with other TV, there is something with the Fire TV.
Try a different HDMI
If Fire perfectly works with other devices yet keeps glitching on your main TV, drill down into the compatibility issues. Fire TV needs HDMI 2.1 compatibility to work as intended. If you have a relatively old TV that supports just classic HDMI 1.0 (works with HD content), it could be the reason why Firestick keeps turning off.
Connect Fire to the most modern HDMI port on the TV. Even 1.4a may be enough. It's not perfect, but in most cases, it's enough to stop glitches.
Ensure Fire TV has up-to-date software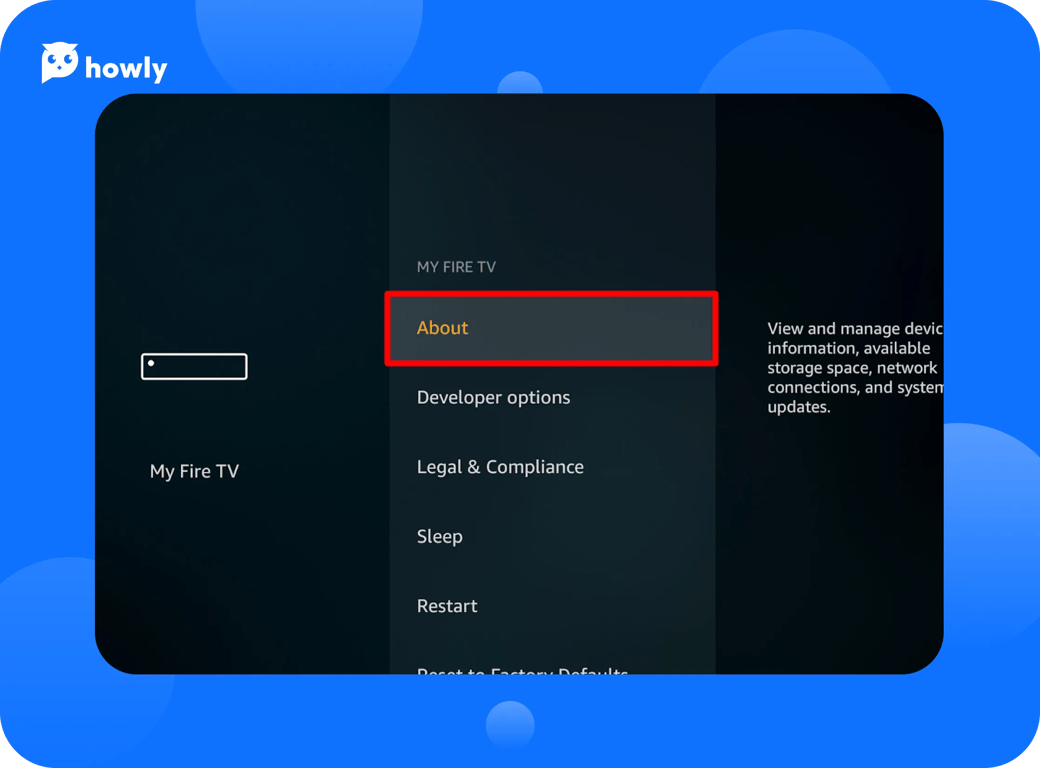 Once you tested the Firestick for minor inconsistencies, it is time to check the software. Here is how you can update your system:
Open the Fire main screen and go to Settings.
Launch My Fire → About.
If you see the Install Update button, choose it. Wait for 5-15 minutes until the system installs the software.
If there is no button, you have the latest software version on your Fire TV.
Use the proprietary USB cable
Fire TV comes with a 15 feet long USB cable which may not suit some interiors. So, many people change it to the option which fits their household. And sometimes this new cable doesn't have enough technical specifications to fit the Fire TV content. It could be the reason why Firestick keeps updating and restarting.
Try this way to connect your media system to the TV: connect Firestick to the proprietary USB cable, and connect that cord to the most modern USB port that you have. This action may help you to fix the situation where your Firestick is stuck in the boot loop due to outdated HDMI or USB.
Change remote batteries
The Firestick remote operates on AAA batteries. Usually, they last for 4-6 months, but sometimes they can lose their energy even faster. In situations like this, you may try to press harder on the keys to change channels. It's the worst you can do in this situation.
Not only is it useless to fix the issue, but it can break your media player even more. So you may get stuck in situations where the Firestick is turned on and off. We recommend you simply change the batteries to the new ones.
Perform a factory reset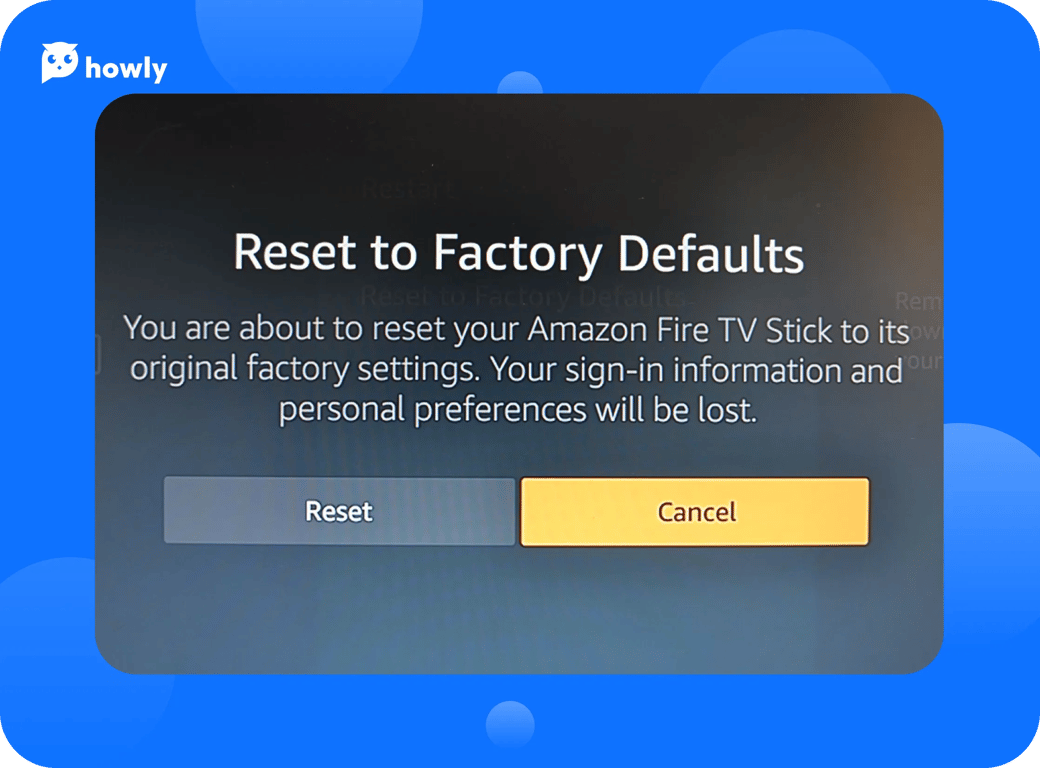 It's the most severe software measure that can troubleshoot situations when a Fire TV stick keeps restarting no matter what. This action removes all personal files and settings from the system, eliminating the possibility of software bugs.
Make sure that you remember your credentials to the streaming services. Otherwise, you just will lose access to them. Here is your short, yet effective guide to troubleshooting this situation:
Open the main screen and go to Settings → My Fire → Reset to Factory → Reset.
Wait 10-20 minutes until the system reboots to its default state.
You can update your Fire TV version to the recent version on settings. But we strongly recommend you initially test Firestick on its default state. That way you can see if the problem hides in software or hardware.
The Firestick is faulty
If none of those actions have helped you, your media system most likely has some hardware failure. So this is the reason why Amazon Fire Stick keeps restarting. Critically evaluate your situation. If you are sure that you can fix the hardware malfunction on your own, contact Howly to get additional troubleshooters. If you are unsure about your repairman skills, visit the nearest service station.
F.A.Q.
Why does my Firestick keep restarting?
It's mostly incompatibility or software issues. Check ports, restart Firestick and TV, change the batteries, and perform the factory reset. If nothing helps, it's a hardware malfunction.
Why does my Firestick keep rebooting?
It's mostly software or incompatibility problems. If your TV and Firestick previously worked well, reconnect the media player to another HDMI or use another USB cable. Change the batteries in the remote. Try software troubleshooting: remove temporary files with a hard restart or all files with a factory reset.
How do I stop my Firestick from turning off?
Check ports and connect Firestick to the HDMI or use a proprietary USB. Remove software glitches by hard reset and factory resetting.
Conclusion
You have eight proven solutions to troubleshoot Firestick reboot loops. Firstly, deep restart the player and TV. Try to test the Fire TV with other devices: TV or monitor. Connect Firestick to another HDMI or USB port. Change the batteries in the remote to a more powerful option. Order a new remote if your current has broken keys.
If nothing helps, perform a factory reset to clean up your system to the default state. But even if this action didn't help you, it's mostly a severe hardware malfunction. If Firestick is under warranty, contact Amazon. If it's not, visit the nearest service center or fix the physical damage on your own.