Two of the biggest music platform players are Apple Music and Amazon Music. Both services offer a convenient method to keep up with their favorite music or podcasts on demand. However, with their unique features and pricing plans, it can be difficult to determine which one is the best fit for you. In this theme paper, we will analyze Apple Music versus Amazon Music, discussing their similarities and differences, so you can figure out which one to choose for your music streaming needs.
Before we start
Save your time and let professionals resolve your issue in minutes!
Want to start solving your problem immediately? Experienced Howly troubleshooters can fix your issue ASAP. They're already waiting for you in the chat!
The benefits you'll get while troubleshooting your issue with Howly experts:
Qualified help with laptops HDD

Quick advice right in your device 24/7/365

Expert reply within 60 seconds

Clear step-by-step guidance

Limitless number of follow-up questions

Understanding and empathetic help till your laptop HDD issue is fully resolved

All answers you need in one place
Why is it important?
Understanding the distinctions between Apple Music and Prime Music is important because this way individuals can be assisted in selecting the music streaming platform that aligns with their requirements and inclinations. By understanding the features and benefits of each service, people should decide which one to subscribe to based on factors such as the music catalog, pricing, user interface, audio quality, and compatibility with different devices.
For example, if you are an avid Apple user and already have other Apple creations, for instance, an iPhone, or MacBook, then Apple Music may be the most convenient option for you. If you're a regular Amazon shopper and have an Amazon Prime subscription, you might find Amazon Music to be a better fit. This is because, as part of your membership, they offer additional perks such as voice control through Alexa and discounted rates.
Furthermore, understanding the contrasts between Apple Music and Amazon Music can help people keep their money by dodging excessive subscriptions or switching to a service that better meets their needs. By comprehending the differences between the two, individuals can make an informed choice about their preferred service.
Amazon Music vs iTunes: free versions
When it comes to free trials, there are some notable differences between Amazon vs Apple Music.
iTunes presents one of the most extended free trial lengths, spanning three months. Throughout this trial, users can enjoy full access to the vast Apple Music library and all its features.
Amazon presents a 30-day trial for Music Unlimited service that provides over 70 mln audio suggestions and carefully crafted playlists. Nevertheless, members can access a limited music collection as a complimentary component of their subscription without requiring a distinct trial.
Overall, with Apple Music, you can enjoy an extended free trial period and have full access to all its features, while Amazon Music presents a shorter free trial period for its Music Unlimited service, but with the added benefit of a free audio library for Prime fellows.
Apple vs Amazon Music: paid versions
When it comes to subscriptions and plans, there are some key differences between iTunes and Amazon Music.
Apple delivers a sole subscription option, priced at $9.99 monthly for a personal account and $14.99 every month for a compound family account, accommodating up to six individuals to share the subscription. Moreover, a student plan is accessible at a monthly cost of $4.99. Furthermore, new subscribers can avail themselves of a three-month period of the free trial.
In terms of subscription options, they differ. Apple Music offers a single subscription with a trial period, while Amazon Music has several subscription plans available. The most common one is called Amazon Music Unlimited ($9.99 monthly for one and $14.99 monthly for a shared account). Moreover, they can get a free version of the service, but with a limited music library and advertisements.
Prime Music vs Apple Music: catalog
When it comes to theme catalogs, Amazon Prime Music vs Apple Music provides an extensive selection of music encompassing various genres and bands. Despite some similarities, there are notable distinctions between them when talking about the quantity and exclusivity of their song collections.
Apple Music prides itself on a vast collection of more than 75 million songs featuring exclusive releases and collaborations with renowned musicians. Unlike other options, Amazon gives access to a vast library of over 70 million audio, including exclusive releases.
Amazon is a standout among others because of its exceptional feature of offering a vast array of tracks, which is good for those who prioritize superior sound quality. Although Apple's service is truly of high quality, Amazon Music's comprehensive collection feels way more significant.
In terms of music selection, both services have an extensive library, but Apple Music could be the preferable option for individuals seeking exclusive releases and collaborations with top creators. Amazon's selection of high-definition tracks may be more attractive if you're searching for top-of-the-line audio quality.
Amazon Music Unlimited vs Apple Music: offline access
Both Apple Music and Amazon Music allow people to download the audio for permanent offline access, which means you can enjoy your favorite songs and playlists even with no WiFi whatsoever. However, there are some differences between the two services when it comes to it.
As long as they have an active subscription, Apple users may download songs and playlists onto their devices This content can be accessed through the "Library" in the application, and everybody can easily toggle between offline and online listening modes. Apple Music also authorizes users to download content on up to 10 devices, but only a maximum of 5 devices can be used for offline playback at any given time.
Likewise, Amazon does the same, but the maximum number of devices that can be utilized for offline playback is contingent on the subscription plan. Subscribed individuals have the ability to download music onto a maximum of four devices to enjoy offline, whereas others are restricted to downloading on only one device at a given moment. Additionally, it also gives users a chance to choose the quality of downloaded music, which can affect the amount of storage space used.
In outline, both Apple Music vs Amazon Music Unlimited present offline listening capabilities, but the number of devices and quality options differ depending on the subscription plan.
Amazon Music vs Apple Music: the quality of sound
Both Apple Music and Amazon Music are forerunners in this area. However, there are some differences in the specific options and technologies used by the two platforms.
Apple users can stream audio at high-quality 256kbps through the use of the AAC codec. It maintains the same audio quality as the original recordings.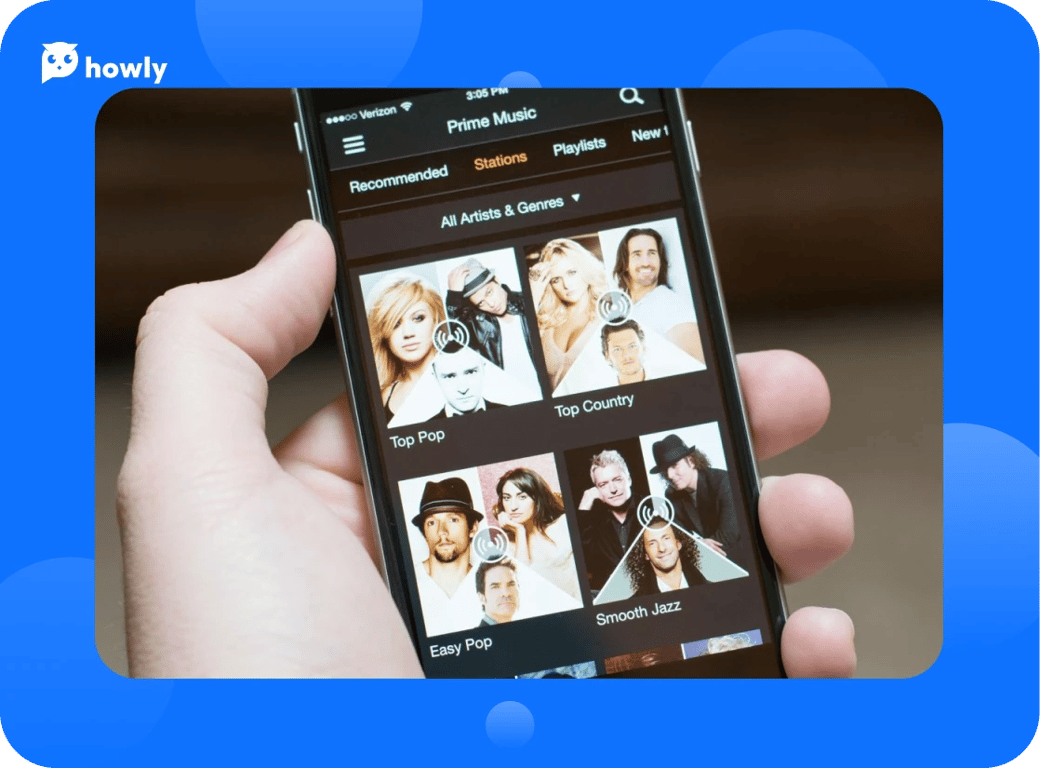 Amazon provides its users with two choices for audio streaming. The initial option is to use the MP3 codec at 320kbps. The second choice is the high-resolution audio streaming feature that delivers exceptional audio quality. However, this feature is exclusive to subscribers of the premium subscription plan called Amazon Music HD.
Ultimately, the choice between the two services depends on your specific needs and preferences for sound quality.
Apple Music or Amazon Unlimited: immersive sound
Both of them have features that deliver an engaging listening experience, but there are some distinctions between the two.
Apple produces a three-dimensional auditory sensation. Accessing this format on Apple Music comes at no extra charge to subscribers, and the library continues to expand with a growing number of tracks being added.
On the contrary, Amazon Music delivers a noticeably higher sound quality compared to standard streaming services. However, it is not explicitly designed to offer something like Spatial Audio.
Now, it is limited to select Apple gadgets, whereas Ultra HD is compatible with a variety of devices, both mobile and stationery.
In general, Apple Music and Amazon Music offer audio options of superior quality. Regardless, Apple's Spatial Audio is tailored for an immersive audio encounter, whereas Amazon's Ultra HD has superior quality but isn't exclusively created for an immersive experience.
Apple Music vs Amazon Music: UI or design
When it comes to this, both Apple Music and Amazon Music have their own unique styles and features.
Apple Music has a sleek and minimalist design that is consistent across all appliances, including iOS, macOS, and Android. The platform presents a bottom tab bar comprising five principal categories: Library, For You, Browse, Radio, and Search. The first section allows users to retrieve their personal music library as well as any downloaded music. In the For You category, users receive personalized suggestions, while the Browse section features hand-picked playlists and recently released tracks. The Radio category provides live radio stations and hand-picked playlists, while the Search section enables users to effortlessly locate any desired audio or collection.
On the other hand, Amazon Music has a more visually busy UI, with a variety of features and sections displayed on the main screen. The service's main sections include Home, My Music, Browse, Stations, and Alexa. The Home section provides personalized playlists based on their listening history, whereas the My Music section allows users to explore their personal music collection and downloaded tracks. In the Browse section, you can explore a selection of hand-picked playlists and recently released music. The Stations section provides pre-made radio stations as well as personalized ones, which are generated by analyzing the listening history of the user. Additionally, in the Alexa section, users can use voice commands to manage their music playback.
Overall, both music platforms maintain user-friendly interfaces with their own unique features and designs. Ultimately, a user's personal preference determines which option they find more appealing and easier to use.
Application forms
When it comes to mobile, desktop, and web applications, there are some fundamental discrepancies between Apple Music and Amazon Music. Here are some of the main distinctions:
Mobile applications:
Apple Music boasts a user-friendly interface that is intuitive to navigate.
Amazon Music provides users with access to a limited number of songs and playlists at no cost, whereas an Apple Music subscription is necessary to access any content.
Desktop applications:
Apple is functional on macOS and Windows, while Amazon Music is available on macOS, Windows, and Linux.
Apple Music has a more streamlined and elegant interface, with features like synchronized lyrics and an easy-to-use search function.
Amazon Music has a more cluttered interface but offers users the ability to upload their own music and access it from any device.
Web applications:
Apple does not currently have a web app, while Amazon Music has a web application that authorizes everybody to get to their audio library from any browser.
Amazon's web app has a basic interface and limited features, while Apple Music's lack of a web app means users must go for a desktop or mobile version to access the service.
Overall, while Apple Music and Amazon Music deliver similar features across the three discussed versions of their applications, their interfaces and additional features differ in significant ways. Choosing between the two largely depends on personal preference and which features are most important to the individual user.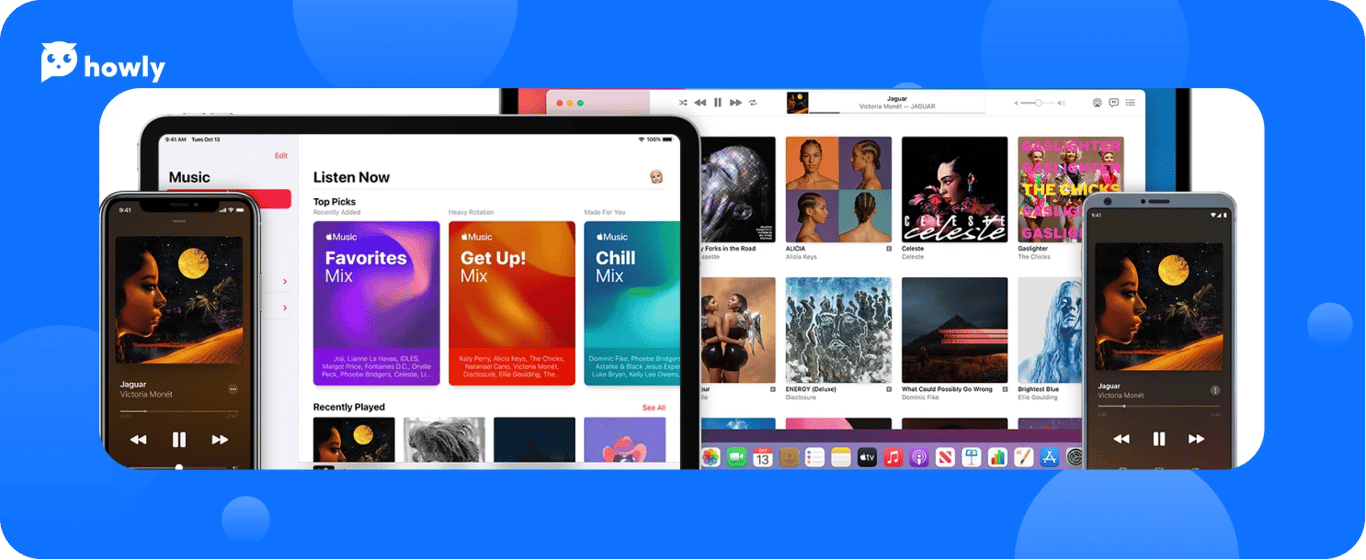 Listening in the car
Both offer the chance to listen to music while driving in your car through their respective mobile apps. However, there are some differences between the two services when it comes to listening in the car.
Apple Music combines with Apple's CarPlay, which allows you to control your music and other features on your car's dashboard display, using your voice or touch. CarPlay is available in many newer car models and aftermarket systems, making it a convenient option for iTunes users.
Amazon, on the other hand, can be streamed via Bluetooth or auxiliary input in your car. Additionally, Amazon Music has a feature called "Auto Mode," which provides larger text and buttons that are easier to use while driving.
Both services also offer offline playback to get songs to your device before leaving home, so you can listen to your favorites without worrying about cellular data usage or connectivity issues while driving.
Ultimately, which service is better for listening in the car depends on your personal preferences and the type of car you have. If you have an Apple CarPlay-compatible vehicle, Apple Music may be the better choice. However, if you prefer a simpler interface while driving or have an older car, Amazon Music's "Auto Mode" may be a more convenient option.
F.A.Q.
Can I upload my own music to Apple Music or Amazon Music?
Apple Music lacks the capability to upload personal music, whereas Amazon Music provides users with the option to do so.
Which one offers better exclusive content?
This varies over time, but Apple Music is known for having exclusive content, such as live concerts and interviews with artists.
Conclusion
To summarize, both Apple Music and Amazon Music suggest a significantly pleasant way to access multiple individual songs and playlists on demand, with unique features and pricing plans to suit different needs. Although Apple Music may have a simpler and more user-friendly interface, Amazon provides users with the option to upload their own music library and access it easily from any device. Ultimately, the decision between the two services boils down to individual inclination and the features that hold the highest significance for the user.
If you need further assistance in figuring out whether you prefer Apple Music or Amazon Music, or have any other questions in regard to similar widely known platforms, don't hesitate to reach out to the Howly team. Our experts are always available to provide guidance and support in finding the best solution for your needs.