You may need to set a PIN code for your Amazon account. It will help keep your account secure. The Howly team has prepared a helpful guide with everything you need to know about PIN. Here you'll learn why you need a PIN, how to create it, how to change it, and what to do if you forgot Prime Video PIN.
Before we start
Save your time and let professionals resolve your issue in minutes!
Want to start solving your problem immediately? Experienced Howly troubleshooters can fix your issue ASAP. They're already waiting for you in the chat!
The benefits you'll get while troubleshooting your issue with Howly experts:
Qualified help with laptops HDD

Quick advice right in your device 24/7/365

Expert reply within 60 seconds

Clear step-by-step guidance

Limitless number of follow-up questions

Understanding and empathetic help till your laptop HDD issue is fully resolved

All answers you need in one place
What is my Prime Video PIN
You can set a Pin for your account. This is an additional method of protecting your account. This way you can protect your account — with each purchase, you will need to enter a PIN. Another benefit of using a PIN is the ability to keep children away from unwanted content. When you set up a PIN code, children will not be able to access content that could hurt them. In simple words, a Prime Video Pin Number is necessary when you are not the only one using the account and can share it with someone else.
How to find my Prime Video PIN
You can view your PIN using your smartphone or desktop. Here are simple search instructions for your devices:
To view your Pin from your PC, go to Settings. In the menu that appears, scroll to the Prime Video PIN tab and click on it.
From your smartphone, go to the official application and go to the account settings. There, find the Parental Controls tab and click on it. Here you can find the tab with the Pin Code.
How to set up a Prime PIN
You can set up your PIN code yourself in your account. Use a device that is convenient for you: your PC or smartphone (or tablet). Here are step-by-step instructions for each device option.
Using a smartphone
The first thing you need to do is to install the official app and sign in to your account.
Go to your account settings. Here you will find the Parent Controls tab and click on it.
Go to Change Prime Video PIN. This is where you can enter the PIN for the first time or change it.
Using a PC
Start by opening a convenient browser on your laptop or PC. Go to the official site and log in.
Now go to Settings and click on the Account & Settings tab.
You will see a horizontal menu. On the third position, you will find Parental Controls. Go to this tab.
In the field that opens, enter the new PIN. You will then be able to select the options for which this pin will be used.
Remember to save and confirm the action. And you're all set!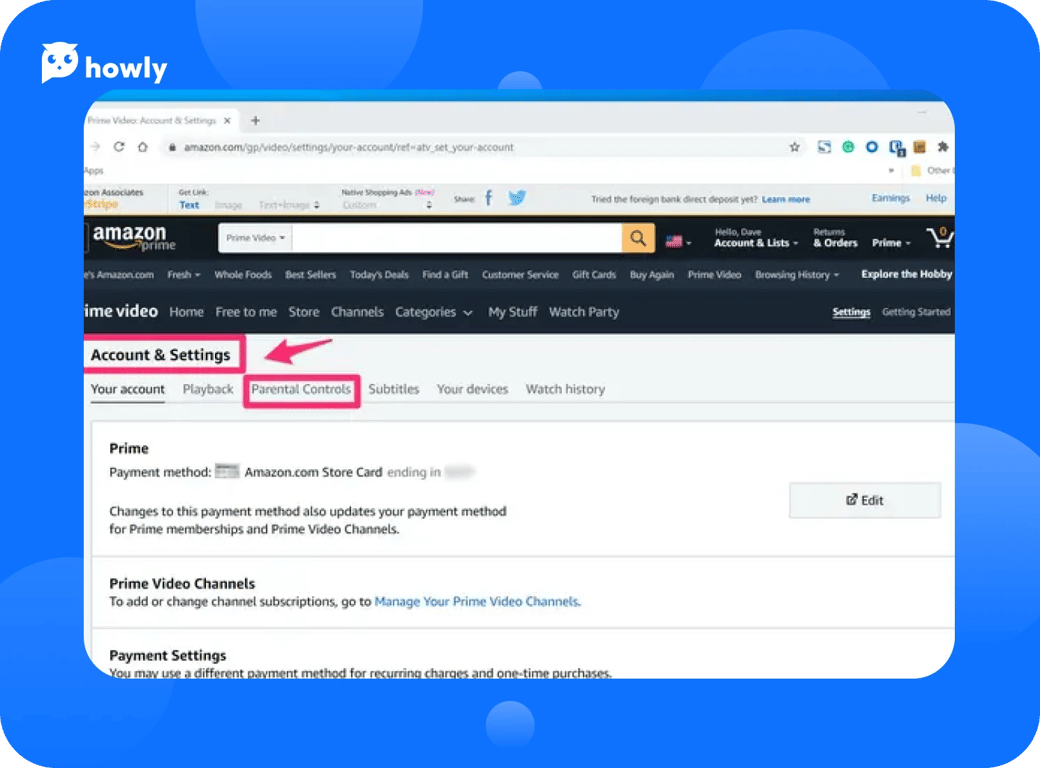 How to do Prime video PIN reset
If you want to reset your PIN, it is very easy to do so. Here are handy instructions:
On your smartphone or PC, log in to your account in the app or on the Amazon Prime website. Now open the Settings tab.
Find the Parental Control tab and open it. Now you see the PIN tab, and on the side click on Change.
Now you have to enter the old PIN and then the new one. At the end click save and close the tab. Done!
F.A.Q.
What if I forgot Prime Video PIN?
Don`t panic if you forget your PIN. In the settings, you can select the "Forgot PIN" option. You will need to enter your password to confirm your identity. You can then enter a new PIN and save it. That`s all!
How to change Prime Video PIN?
You can change your password in your personal cabinet. To do this, in the settings, find the tab dedicated to the PIN code. Here you can select the Change tab and change your previous PIN to a new one.
Conclusion
Now you know all about PINs on Amazon. The article has information about why you need it, how to set it up, and how to do an Amazon Prime PIN reset. Here you will find universal instructions for PCs and smartphones. If you need to set the Pin or change it, use our tips to do it! Don't forget to save the guide so you always have the necessary instructions at your fingertips.