When you design documents, you sometimes need to change not only the size and appearance of the text but also its direction. This can be done by different methods, depending on the situation. Here are the most straightforward and convenient options.
Before we start
Save your time and let professionals resolve your issue in minutes!
Want to start solving your problem immediately? Experienced Howly troubleshooters can fix your issue ASAP. They're already waiting for you in the chat!
The benefits you'll get while troubleshooting your issue with Howly experts:
Qualified help with laptops HDD

Quick advice right in your device 24/7/365

Expert reply within 60 seconds

Clear step-by-step guidance

Limitless number of follow-up questions

Understanding and empathetic help till your laptop HDD issue is fully resolved

All answers you need in one place
1. How to flip text in Word by changing the orientation
If you have to place text on your page vertically after printing, then the easiest thing to do is to change the orientation of the document. You can do this both for all pages and for individual pages.
Go to the Layout tab and click the Orientation menu.
Select the "Landscape" option, and the text will be placed along the long side of the sheet.
2. How to flip text in Word in a table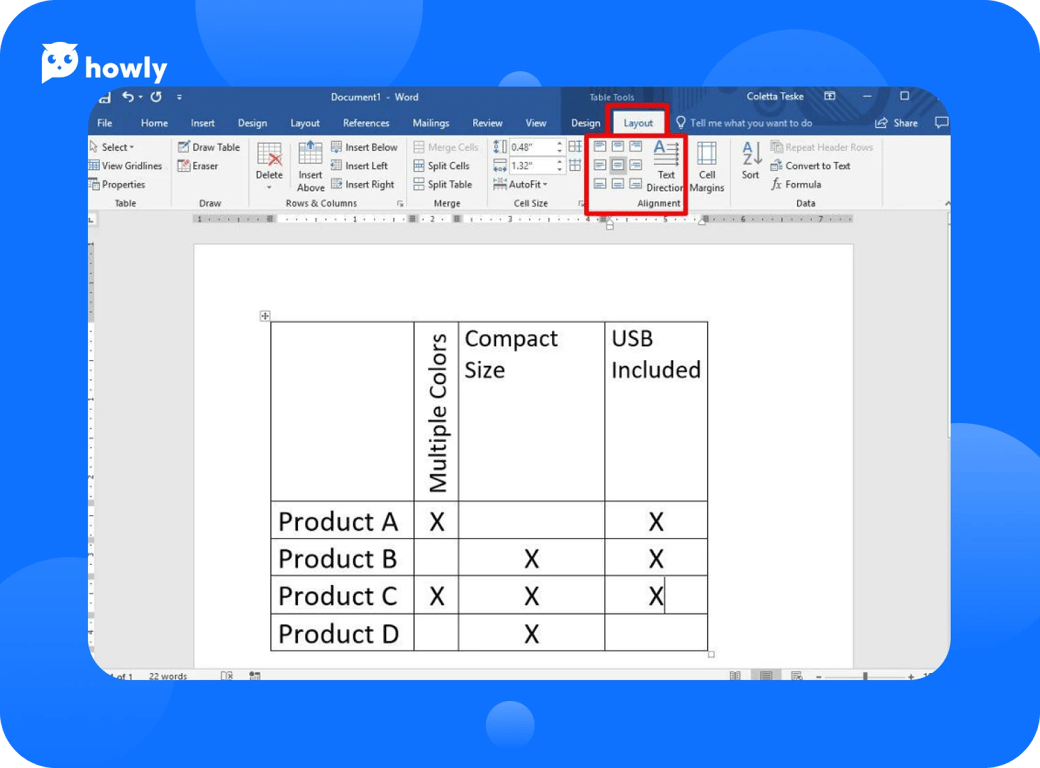 When you lack space in your table, shortening words or completing some other tricks is rarely a good option. Instead, you can simply place the text vertically.
Select the cells where you want to flip the text, right-click and choose Text Direction from the menu.
Specify which way to rotate the text and click OK. The table will become much more compact.
3. How to flip text in Word over captions
In cases where you need to invert a separate line of text, for example, a headline in an ad, it's convenient to use the "Shapes" feature. To use it, add an appropriate phrase to the caption.
Open the "Insert" tab, choose "Shapes" → "Inscription".
Type or paste the desired text, and then grab the circular arrow and rotate the inscription. This can be done at any desired angle.
4. How to flip text in Word by rotating shapes
Another option for flipping text is to use shape effects. This way you can easily rotate the phrase by a given angle, as well as apply various effects like reflections and others.
Create the inscription as described in the previous paragraph ("Insert" → "Shapes" → "Inscription").
Switch to the "Shape Format" tab that appears, and then go to "Effects" → "Rotate Shape" → "Rotate Shape Options...".
Open the Rotate Shape item and specify any value in degrees. For example, 180° on the Z axis to make the text appear upside down.
Additionally, here you can set the glow or reflection effects in the corresponding items.