There are many reasons why a Windows PC can work slowly. And one of them is a large number of applications on the autorun list. They strike on two fronts at once: by increasing the time it takes for your computer to start up for the first time and, worse, consuming memory and other resources.
Before we start
Save your time and let professionals resolve your issue in minutes!
Want to start solving your problem immediately? Experienced Howly troubleshooters can fix your issue ASAP. They're already waiting for you in the chat!
The benefits you'll get while troubleshooting your issue with Howly experts:
Qualified help with laptops HDD

Quick advice right in your device 24/7/365

Expert reply within 60 seconds

Clear step-by-step guidance

Limitless number of follow-up questions

Understanding and empathetic help till your laptop HDD issue is fully resolved

All answers you need in one place
The solution to this problem is quite simple — carefully examine all the applications in the autorun list and disable those that you don't need right after starting your PC. There are different ways to do it; we will consider the three most popular ones.
1. How to configure Windows 10 autorun via Task Manager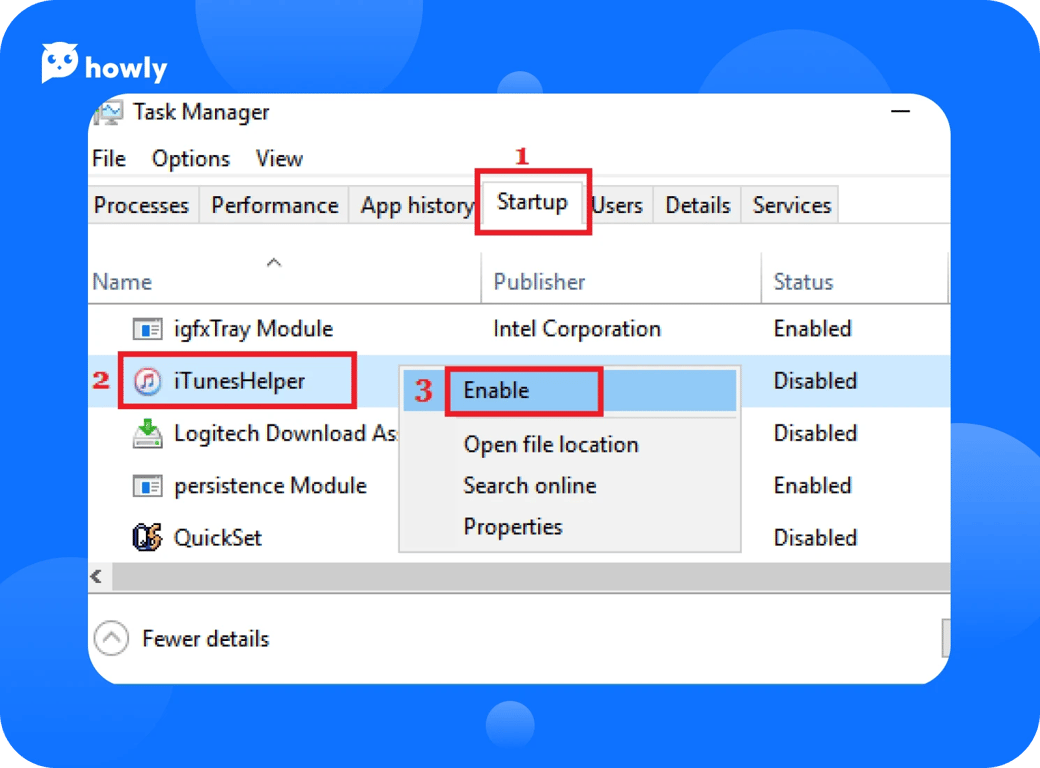 In addition to resource monitoring, the system utility has many other functions, including autorun management. Launch Task Manager with Ctrl + Shift + Esc. Or right-click on the Start menu and select the desired item from the list.
Switch to the "Autorun" tab and browse through the applications and processes collected there. Select the item in the list to disable unnecessary ones, and click the "Disable" button in the lower right corner. The "Effect on startup" column, which shows how much resources the program consumes on startup, will also help you decide.
2. How to configure the Windows 10 autoloader via the Settings menu
Open the Start Menu → Preferences (the gear icon) and select "Applications." Switch to "Autorun" in the side menu and go through the autorun list.
Move the toggle switches of all applications and processes that you don't need right after turning on your computer to the "Off" position. There will also be tooltips below the toggle to indicate how many resources are being consumed.
3. How to set up Windows 10 autoloading via application settings
If you know exactly which program overloads your computer at startup, you can disable autoloading directly in its settings. As a rule, this option is present in all applications.
Open the desired program and go to the settings. Look for "Run with Windows," "Load at system startup," or any other program with a similar name. Disable autoloading by unchecking or turning off the rocker switch.