Ticketmaster is the biggest ticket sales app on the US market. It has web, iOS, and Android versions. But sometimes, you just can't sign into the Ticketmaster app without any obvious reasons. That means you face some minor software bugs. Use this guide from Howly experts and fix Ticketmaster login issues in 10-15 minutes.
Before we start
Save your time and let professionals resolve your issue in minutes!
Want to start solving your problem immediately? Experienced Howly troubleshooters can fix your issue ASAP. They're already waiting for you in the chat!
The benefits you'll get while troubleshooting your issue with Howly experts:
Qualified help with laptops HDD

Quick advice right in your device 24/7/365

Expert reply within 60 seconds

Clear step-by-step guidance

Limitless number of follow-up questions

Understanding and empathetic help till your laptop HDD issue is fully resolved

All answers you need in one place
Why is the Ticketmaster app not working?
There are 7 reasons why you may see the Ticketmaster login error. Most of them are system-related and easily fixable. We'll explore them further in the article, giving you detailed guidelines on what to do when Ticketmaster authentication is not working.
Hardware problems with Ticketmaster are extremely rare and occur only on very old devices (made before 2013). This app currently doesn't support old phones. So, if you have an "oldie", you need to change it to a more modern device. That's why you can't access Ticketmaster. But in other cases, you can solve this issue at home.
Is the Ticketmaster App down?
Firstly, figure out if there is a problem only with your devices. It can be sort of a more global problem. Open the DownDetector, UpdownRadar, or similar service to check the server status. If those services show that Ticketmaster works just fine, the issue source hides in your device.
How to Fix the situation when Ticketmaster App Not Working: 7 efficient ways to solve a Ticketmaster app login error
Use this complete guide on how to solve this software-based issue. Check your connection: maybe the Ticketmaster app just can't connect to the servers. Restart your phone and check the time settings. This app is extra-sensitive to the time and date settings, so they need to be correct.
If this didn't help, remove the cache. Re-login into your profile. Update the Ticketmaster and the device to the latest versions. If nothing helps, contact Ticketmaster representatives, providing them with screenshots, current app, and system versions.
1. Check your internet connection
It needs to be stable and have a good speed. If you use mobile internet, check that you use 4G (LTE). Most of the time, if you can't log into the Ticketmaster app, your network is slow.
Check your connection speed with Speed Test or a similar app. It should be 10 Mbps or higher. It may be a reason for the Ticketmaster app's "Sorry, unable to connect" memo. Connect to the Wi-Fi or ask someone to create a hotspot on their phone. Check the app with fast and stable internet.
2. Restart the phone
The easiest way to solve the Ticketmaster login problems is to restart the phone. If you browse it via computer, restart it too.
This easy action deletes minor bugs that don't allow the system to work correctly. If Ticketmaster is not working on your iPhone, follow this instruction:
Hold the Power button until you witness the "Slide to Power off".
Swipe to the right.
Wait for 1-2 minutes.
Then, hold the Power button for 10-15 seconds.
The restart process on Android varies. If you see that the Ticketmaster app is not working on Android, stick to the next instruction:
Hold the Power button until you see the 3 options: "Sleep", "Turn Down", and "Restart".
Choose "Restart".
After your phone boots up, open the app. If you still can't log in to the Ticketmaster app, try the next steps from our guidelines.
3. Check time settings
Check that your device has the correct time and date settings. If they are not synced with the real one, you get the Ticketmaster app login error. This often happens when you travel to a different time zone, and your phone forgets to switch the time setting before you open the app in a new location. So this is the reason why the Ticketmaster app is not working on Android or iOS.
4. Clear the Ticketmaster app's cache
When the application is working, it produces temporary files. Some of them may get corrupted, causing various glitches. And one of them is that you can't access the Ticketmaster account.
Here is how you can clear the Ticketmaster cache on Android.
Run the Settings;
Open Application manager;
Choose the Ticketmaster app;
Select "Clear Cache".
After 5-10 seconds, you will have no cache files left. This should solve the Ticketmaster's login error.
Unfortunately, Apple devices don't have this option. The only option to remove the cache is to delete the app and reinstall it.
5. Log out & log in
Sometimes, app glitches may be caused by inconveniences in the service. The easiest way to solve it is to simply log in. If you are browsing from a PC, hover your mouse to the top-right corner and choose My Account → Sign Out. On mobile applications, tap on the three stacked lines, and pick My Account → Sign Out.
After this, log in with any account. It can be your current profile or you may create a completely new account.
6. Check if your device and app are compatible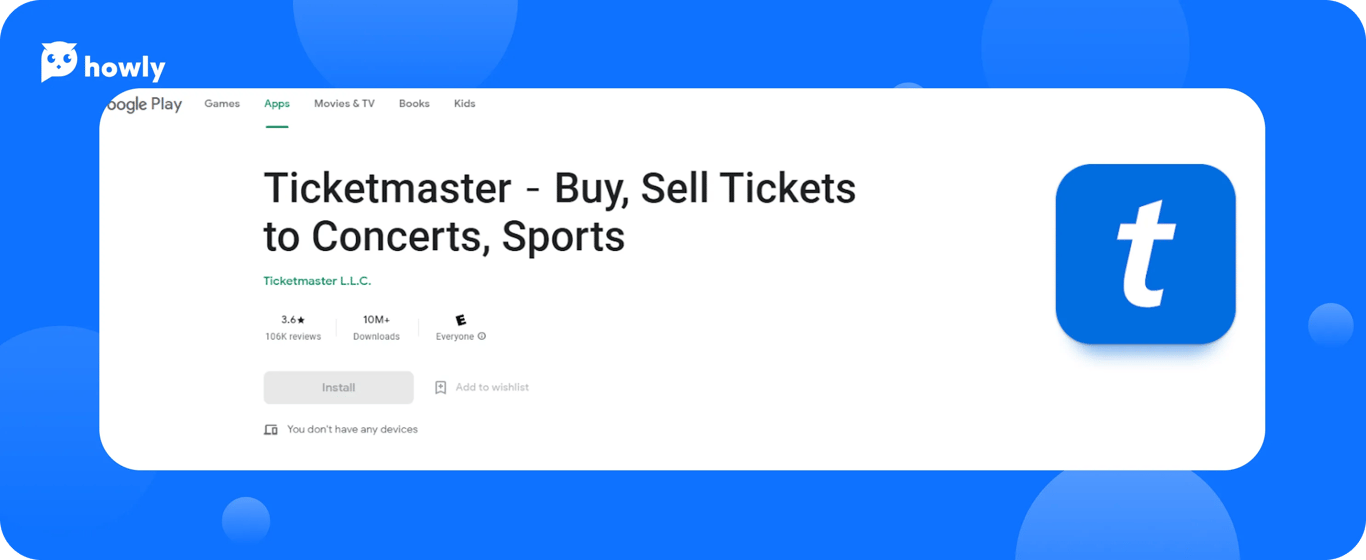 Go to the Ticketmaster page on App Store or Google Play and check if your phone fits the basic requirements of this app. If you have an old phone or account linked to some countries abroad, it could be a reason why the Ticketmaster app is not working on Android or iOS.
Unfortunately, Ticketmaster has strict geo policies. Thus, when you bought the phone on an abroad trip and linked your account region to an inaccessible region, you can't launch the app even when you get back to the USA. It can be a reason why Ticketmaster doesn't work on the iPhone. Change the store region to USA. This way you'll bring back access to the Ticketmaster.
If your phone doesn't have the necessary hardware, you need to change the device to fix the "can't sign into the Ticketmaster app" issue.
7. Update the Ticketmaster app
Maybe you are currently using the outdated app while it already has issued a new version suitable for you. It leads to software conflict, which may be the reason why the Ticketmaster app is not working on your device. Update the app. Here is how you can do it on the iPhone:
Go to the AppStore.
Type there Ticketmaster.
Open the page of the app. If you see a cloud with an arrow there, click on it. It will update the app.
Updating process on Android looks quite similar:
Open the PlayMarket.
Write Ticketmaster.
Open the page of the app. If you see the "Update" button, tap on it.
Try to open Ticketmaster again.
Now it should work as prescribed. If you still see a Ticketmaster app login error, try changing your phone settings.
8. Update the OS
Another common issue that may affect your phone is the fact that you can't sign into the Ticketmaster app. Check the operating system of your phone. When it works on outdated software, there may be conflicts with installed apps. Follow the next instructions to update your iPhone:
Connect the phone to the WiFi.
Open the Settings.
Select the General.
Choose the Software Update.
Tap on the Download.
Wait until the phone installs a new version of the iOS.
Updating on Android devices may be different. It depends on the manufacturer. But it's still achievable to fix a not working Ticketmaster app on Android. In most cases, your instruction will look similar to this:
Go to Settings.
Swipe down to the System.
Tap on the Update.
Choose the Update option.
If you don't have this option, that means that your phone software is up-to-date. You have a different reason why the Ticketmaster app is not working on Android.
9. Contact Ticketmaster customer service
If none of the previous actions didn't help you reach Ticketmaster representatives and tell them that you can't log into Ticketmaster. Provide them info about the app and device version, what methods you tried, and personal info to verify your identity.
You can submit a help request on their website, write an email at customer_support@ticketmaster.com, or call a hotline at (800) 653-8000. But beware that it may take a lot of time. So if you can't sign in to the Ticketmaster app, try to open it on another device. If you can, borrow the phone of your friend and type your login and password there.
Their working times are 9 am - 12 am ET (New York and Boston time). You will hear the interactive answering machine. Answer to it "no" and "something else". Wait for 2-7 minutes, and you will be connected to the customer service agent.
Why can't I log in to the Ticketmaster app?
It's a common situation when Ticketmaster is unable to log in on your phone, but it works just fine on other devices. It means that there is something wrong with your phone on the software level. You can try removing settings or doing a factory reset. But they are severe measures, so we recommend you try less harsh options to solve the situation when your Ticketmaster app login is not working.
Conclusion
If you see a Ticketmaster login error every time you're trying to log in to the app, it's mostly the software issue. Check the internet. Restart the phone, and check its settings and compatibility.  If it does not fit basic software or hardware requirements, you see a Ticketmaster login error. Update the app and the device to the most recent versions. If this doesn't help, reach Ticketmaster customer support.
If you don't have the time to wait for a Ticketmaster support answer, contact the Howly team. We will gladly help you with any tech question: from Ticketmaster invalid operations to the problems with your phone, PC, and even the water heater.