Use Microsoft Teams for video conferencing; you will not regret it. While many other online communication tools are very restricted in their features, Microsoft Teams is a vast collaboration platform. It includes many processes, from video conferencing to file sharing.
Before we start
Save your time and let professionals resolve your issue in minutes!
Want to start solving your problem immediately? Experienced Howly troubleshooters can fix your issue ASAP. They're already waiting for you in the chat!
The benefits you'll get while troubleshooting your issue with Howly experts:
Qualified help with laptops HDD

Quick advice right in your device 24/7/365

Expert reply within 60 seconds

Clear step-by-step guidance

Limitless number of follow-up questions

Understanding and empathetic help till your laptop HDD issue is fully resolved

All answers you need in one place
You can easily share your ideas and then put them in online documents in the browser. The functionality covers the main needs and requirements for teams to cooperate fruitfully.
Howly hosts paramount tech specialists. They are ready to guide you through the entire process of setting up your virtual office and teamwork. You'll learn to use the best technical solutions for your business and home with us. If you have questions or requests, contact our 24/7 contact center, and we will gladly help.
And now, let's get down to how to use Microsoft Teams for your best.
Exploring the Microsoft Teams interface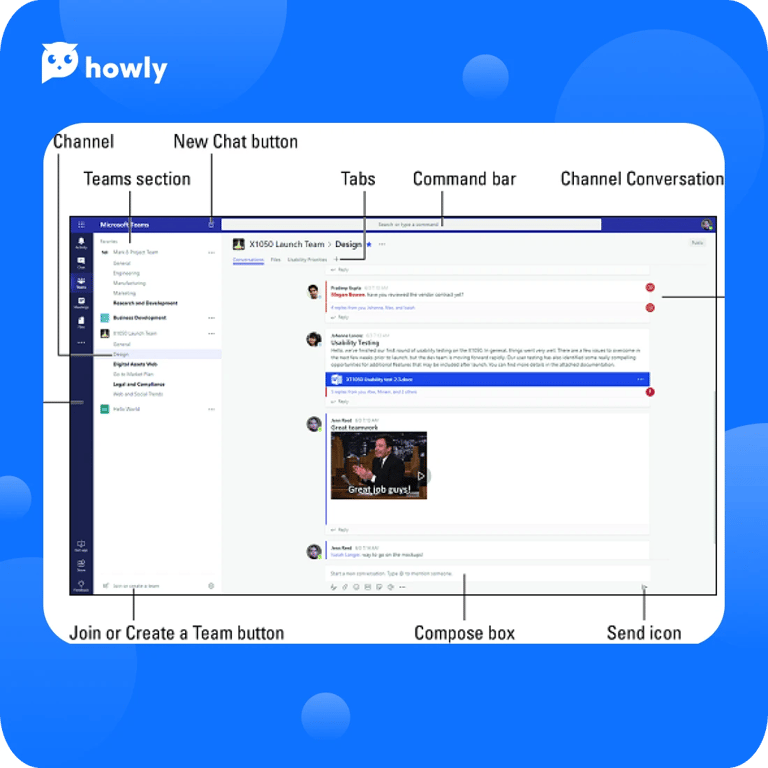 The best thing is to start using MS Teams while exploring the interface. When you open the desktop app, you see a screen like this. There are multiple bars you should know before starting. It may require learning new notions as well. We recommend starting from left to right.
The App bar navigates you through the application, comprising notifications, chats, teams, meeting calendars, OneDrive files, call history, and channels with your teams. Also, a store offers new apps and services from Microsoft to integrate into Teams and your workflow.
The teams' section represents the list of all your teams. You can manage the chats and contacts from here to start a conversation or call. In contrast, the Channel space is a section within a team to communicate specific topics. Such conversations have visual markers to coordinate information, like the possibility to mention or tag the recipient or display the message status.
Tabs help to switch between multiple Teams pages. Each page includes conversations and shared files. The button + allows the creation of shortcuts for better accessibility of meaningful content.
The process is simple and intuitive. Start a message in Compose box, use various formats, and press Send. That's that easy. So how does Microsoft Teams work? Let's jump right in.
Setting up Microsoft Teams
Before you proceed to chatting and talking to your collaborators, a bit of preparation work is needed. Read this comprehensive MS Teams tutorial not to worry about your team performance again.
How to install Microsoft Teams
Go after this tutorial to know how MS Teams works:
Get the installation kit from the Microsoft Teams website.
After the launch, fill in your Microsoft or corporate email address and hit Next. If you don't have a preregistered one, pick the Create one option.
Next, follow the instructions through the registration process. After completed and verified, restart the application.
That's all. The app is ready for usage on your device.
How to log in to Microsoft Teams
The authorization process is quite plain:
Move to the app. On Windows, you may use a Windows menu button. On Mac, find Microsoft Teams in the Applications bar.
Authorize with your username and password.
You're in the app. You need to start your team and channel to proceed using Microsoft Teams.
How to pick a team
A team and a channel are different. Channels are conversations united with some topic. While a team is a group of people including their conversations, files, and so on necessary for proliferous work.
Start your first team channel by pressing the Teams to sign on the bar on the left. Start a new team, as we describe below in a separate section of our MS Teams tutorial.
Creating teams and channels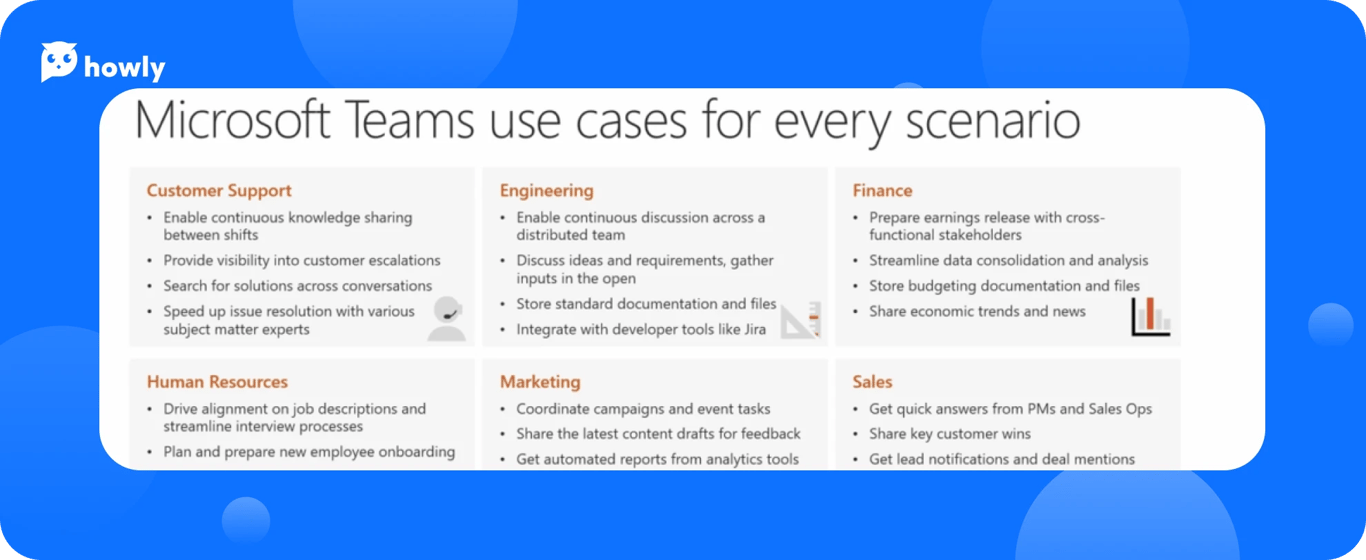 Microsoft Teams is a powerful tool for collaborative work. It is designed for various teams and organizations. It helps large corporations and small startups take advantage of it similarly. So let's take a closer look at the team management process.
Create a team
Follow these MS Teams instructions to create a team:
Hit the Teams sign in the app bar on the left.
Then hit Join/Create a team. This option appears at the bottom.
Pick Build a team from scratch, deciding whether it will be a private or a public group.
Fill in the details according to the questionnaire.
Confirm with the Create button.
Create a team from an existing team
If you seek to form a new team, do as in this brief MS Team tutorial:
Hit the Teams button in the app bar on the left.
Then hit Join/Create a team. This choice appears at the bottom.
Move to the option Create from and select the team to choose from the list. Pick the team you need.
Add asked details if necessary.
Confirm with the Create button.
Join a team
If you need to join the existing team, follow these Microsoft Teams instructions:
Hit the Teams button in the app bar on the left.
Then press Join/Create a team. This choice appears at the bottom.
Search for a specific team name.
When you find your target team, hit Join team.
Join a team with a code
Sometimes you'll need special codes to join a team. It happens when you need to access to a private team. Use these instructions to use Teams meetings to their full capacity:
Hit the Teams button in the app bar on the left.
Then press Join/Create a team. This choice appears at the bottom. Select Join a team with a code.
Insert the code and confirm.
Add a team picture for personalization
Teams with pictures are much cozier than usual groups. Pictures add sympathy and character, that's how Microsoft Teams works. Fully comfortable media. Follow this guide to join it and add logos:
Next to the name of the team, find a More options sign.
Pick Manage team and move to Settings.
Choose a picture to download.
Add a member to a team
It's convenient to add team members because MS Teams has all the needed functionality for it. If you don't know how to use MS Teams' advanced settings
Next to the name of the team, find a More options sign.
Choose a member to add.
The member will join the group.
Manage your team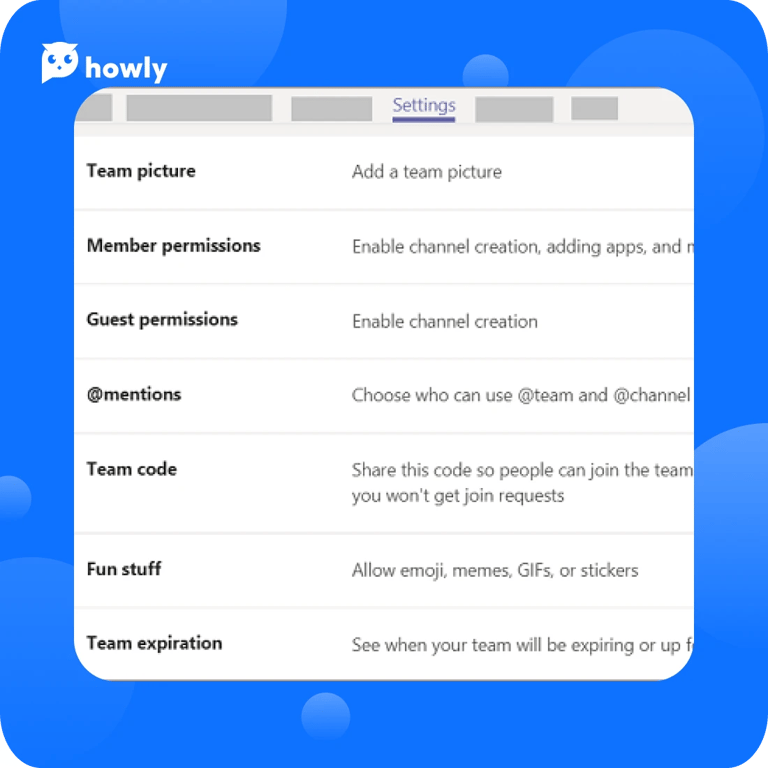 Teams configure a bulk of settings. You can alter permissions, and referrals, allow emojis and GIFs, etc. This eases communication and makes it pleasing and comfortable for all sides. To go for settings, do as follows:
Next to the name of the team, find a More options sign.
Pick Manage team and move to Settings.
Go to the permission you want to alter and change it.
Set up your MS Teams mobile app
One more advantage of MS Teams is the possibility to run it on the go, including iOS and Android devices. It's free to download; you can do it like this:
Move to the App Store or Google Play Store to find your version and install it.
Press Get to start downloading.
When the app is installed, authorize it as you do with your desktop app.
Here you can start video conferencing. Have nice chats!
How to use Microsoft Teams video call
Microsoft Teams transforms video conferences into a simple and effective experience. Learn how to start your online session
If you use a desktop version:
Move to the app, and open the team or channel you want to speak with.
Hit the camera icon, and follow with the Meet now button if you want to start immediately.
The toolbar appears with settings. You can switch on your camera and microphone or display the screen or presentation you might prepare.
If you use a mobile version:
Move to the app and start a chat.
Tap the Video call function to start video streaming.
Manage the setting of the call.
You may now easily have online meetings and conversations with your team members.
How to schedule meetings
If you know how to use Teams' scheduling, your meeting planning will be more convenient, as MS Teams gives time to prepare and notifies the members about the start. There is a bunch of settings you need to know about scheduled meetings. Do the following.
Move to the apps bar and hit Meetings.
Click Schedule a meeting.
A new window will appear. Insert the Meeting Title, Location, Dates, Duration, Channel, and other details you think it's relevant to specify. Choose which details about the meeting will be seen when it's announced on the channel.
The Schedule Assistant shows whether the participant is free at the time of the planned meeting.
Hit the Schedule a meeting button to confirm.
The meeting is planned, and the information about it will appear in the Meeting section and calendars.
F.A.Q.
How do I use Microsoft Teams for coworking?
Microsoft Teams is a collaboration platform through group video conferences, file sharing, etc. You may use it to communicate with team members, organize meetings, and collaborate on files. It's an excellent tool for teams operating remotely or in several offices.
How can I create a Microsoft Teams team?
You must have a Microsoft account. Clicking on the Teams icon. Next, hit Join or create a team. You may construct a team from scratch or a channel. Invite members and proceed to work.
How to use the Teams app on my mobiles, and where can I get it?
Microsoft Teams is available on mobile devices as well. Download MS Teams from your app store. Remember, you will need a Microsoft account for logging in. Alternatively, you may create it if you do not already have such an account.
Resolution
Microsoft Teams provides a wide range of tools for teams to successfully communicate and collaborate. Teams may help you boost communication and simplify your workflow, especially if you work remotely. It's truly worth getting started with Microsoft Teams.
To get the most out of Microsoft Teams, make use of its capabilities and personalize it to meet the needs of your team. This may entail building channels, scheduling meetings, and so on to improve cooperation.
Howly tech team has a prowess in Microsoft Teams, so if you need a deeper understanding, we can help you to build processes in your office and within your team. Contact us to help your team operate more efficiently and reach your objectives faster.