85% of all offline and online stores in the USA accept Apple Pay, and the number is rising. Since 2015, when Apple Wallet originally debuted, the features have been limited. It coped with tickets, coupons, and so on. Nowadays, Apple Wallet functionality is far more enriched.
Before we start
Save your time and let professionals resolve your issue in minutes!
Want to start solving your problem immediately? Experienced Howly troubleshooters can fix your issue ASAP. They're already waiting for you in the chat!
The benefits you'll get while troubleshooting your issue with Howly experts:
Qualified help with laptops HDD

Quick advice right in your device 24/7/365

Expert reply within 60 seconds

Clear step-by-step guidance

Limitless number of follow-up questions

Understanding and empathetic help till your laptop HDD issue is fully resolved

All answers you need in one place
The Wallet app has digital copies of credit and other bank cards, some IDs, and even digital keys for your smart home and car. Moreover, you may even add your medical records there, like COVID-19 immunization cards and car insurance policies.
The best thing about Apple Wallet is its simplicity and security. The data is highly protected. At the same time, users adore Apple Wallet for its enhanced user experience.
Howly tech specialists prepared this article for those who want to join those who can't live without Apple Wallet. Comment on this article below, or contact us 24/7 with technical questions or needs. So let's get down to how to use Wallet on iPhone.
How to set up Apple Wallet
To get Apple Pay, first launch Wallet on a compatible Apple smartphone. Go to Settings on your iPhone and enable Apple Pay. Alternatively, you can do this in the Wallet app.
That's it; now you know how to open Wallet on iPhone.
How to access the Wallet app instantly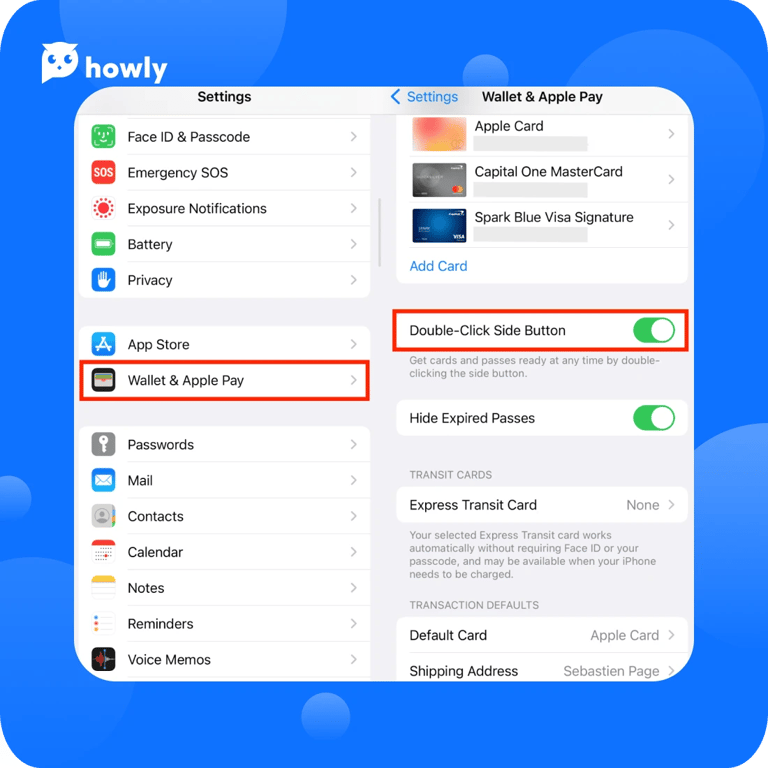 You can get an instant connection to your Apple Wallet with two clicks on the side button. If the validation by Touch or Face ID fails, the phone will lock the access. Follow the instructions for setting up.
Go to Settings on your iPhone.
Open Wallet & Apple Pay.
Enable the Double-Click Side Button switch.
The Wallet will appear, and you can use an added credit or debit card for purchases. Remember, the transactions request the verification with Touch or Face ID, whichever is supported.
How to add card to Wallet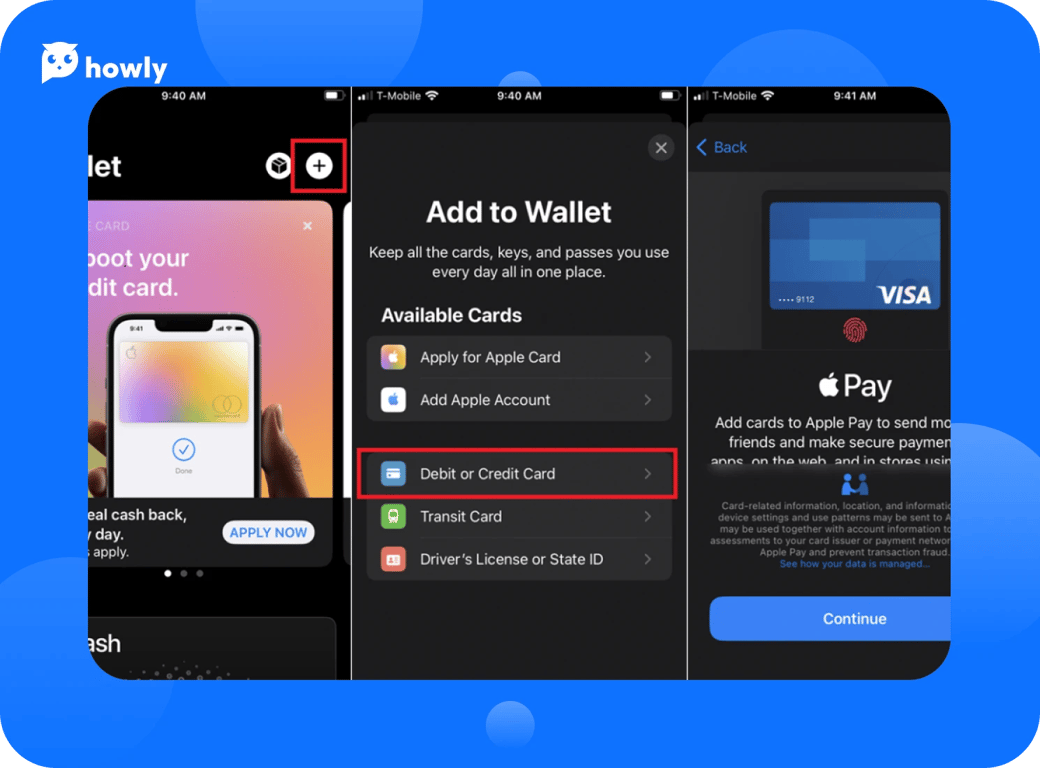 Setting bank cards is straightforward. You only need to do as follows:
Go to the Wallet app.
At the corner of the screen, click the "+" button.
Push the  Debit or Credit Card option.
Scan the details of your card or input the data. Verify them.
Agree on the Terms and Conditions.
Select your default card.
But remember, not every card goes along with Apple Pay. Advise your bank if it's not a major bank or payment system.
F.A.Q.
What kinds of cards can be set up in Apple Wallet?
Tickets, bank cards, tickets, etc. It depends on your location and the accessibility in your area. Specific public transportation systems, for example, may not be compatible with Apple Wallet, and some store cards may not have a digital version.
How can I add a card to Apple Wallet?
Scan the card information using the built-in camera, or manually enter the card data. Launch the app, touch the "+" button, and then do as it's told in the app.
Is Apple Wallet safe to use?
Apple Wallet keeps your personal and financial information safe. The data in the app is encrypted and securely stored on your device. Furthermore, before a transaction completed, Apple Wallet needs identification, which helps prevent illegal use.
Resolution
Apple Wallet is a simple and secure method to manage payment cards, tickets, and other vital information on your iPhone or Apple Watch, as Apple Pay Wallet setup is very easy.
You can buy things, access information, and gain loyalty benefits and discounts with just a few clicks. You can simplify your digital life using Apple Wallet and eliminate the need for physical cards and paper tickets.
Furthermore, with its enhanced security, like encrypting and additional validation, your personal and financial data is secure.
If we haven't convinced you, contact our tech team. We will answer your questions and concerns about current payment methods.