Today we talk about a practical and safe method to pay for everything needed both on- and offline. With this service, users might pay for goods rather quickly and relatively easily using their cards. This text provides detailed instructions on the various approaches to using Apple Pay, starting with setting up the service to executing transactions. The article will also provide tips on how to intensify the protection level of this system when finalizing payments. Readers will gain a better understanding of the characteristics and advantages of this service that make it an appealing expense option for both consumers and merchants.
Before we start
Save your time and let professionals resolve your issue in minutes!
Want to start solving your problem immediately? Experienced Howly troubleshooters can fix your issue ASAP. They're already waiting for you in the chat!
The benefits you'll get while troubleshooting your issue with Howly experts:
Qualified help with laptops HDD

Quick advice right in your device 24/7/365

Expert reply within 60 seconds

Clear step-by-step guidance

Limitless number of follow-up questions

Understanding and empathetic help till your laptop HDD issue is fully resolved

All answers you need in one place
What are the positive aspects of using Apple Pay online?
This protected expense system is fast, easy, and convenient, making it a distinguished alternative for those who prefer to settle all their expenses fast.
To talk about benefits, one of the biggest ones here is the convenience it offers. With Apple Pay, consumers may perform transactions rather quickly and securely without having to manually enter their information every single time. This makes it ideal for those who want to settle their payments fast without having to worry about typing their info every time. Furthermore, Apple Pay can be used online, in live offline stores, and apps, making it a versatile payment system.
Another benefit of using this service is the safety and level of encryption it offers. Apple Pay uses progressive security elements to guarantee that everything is protected. Moreover, it also provides its customers with the ability to view their purchase history, which can assist them to stay in touch with their financial habits. Finally, this company also gives them the chance to set up spending limits to help them manage their finances.
Overall, Apple Pay is an excellent payment system that provides its users with convenience, security, and the ability to manage their finances. With this service, consumers can make payments quickly and securely in stores, on websites, and in apps. Apart from that, it offers users the ability to view their financial history, and determine spending limitations, to ensure their payments are secure.
What are the disadvantages of using Apple Pay online payment?
This payment system is accepted in many stores and online, making it a favored selection by multiple buyers. However, there are some flaws to using this method that should be considered before making a purchase.
One of the main disadvantages of using this way of payment is that it is not accepted everywhere. While there are a lot of stores that accept Apple Pay, the world still has some enterprises that do not accept this system of payment. This can be inconvenient for shoppers who have a preference for this service, as they might need to switch to another system.
Another issue with using Apple Pay online and offline is that it can be more expensive than other payment methods. This is because Apple charges a fee for each transaction, which can add up over time. Additionally, some banks might demand additional costs for using it, so it is important to check with your bank before making a purchase.
Overall, it is important to consider the disadvantages before using this service. While it is accepted in many stores and online, it is not accepted everywhere, and it can be more expensive than other payment methods. It is important to do research and compare the costs of different financial strategies before buying anything.
How do I use Apple Pay at a store?
Whether you are shopping on the internet or in regular malls, using this system is quite easy, since it's just a few taps on your device. By connecting a card or two to your automated wallet, you can have your payment information on hand rather quickly and securely, ensuring a fast-paced checkout. With Apple Pay, you can utilize the comfort of contactless transactions while never having to compromise on security. To use it efficiently, follow these steps:
Ensure your machine is connectable to this service.
Add your personal card to your digital wallet.
When executing transactions, look for the logo or a special symbol of this type of payment.
Choose this service as your preferred financial method.
Utilize your device to verify the transaction with Face ID, Touch ID, or passcode.
Confirm the payment.
Now let's discuss these in detail.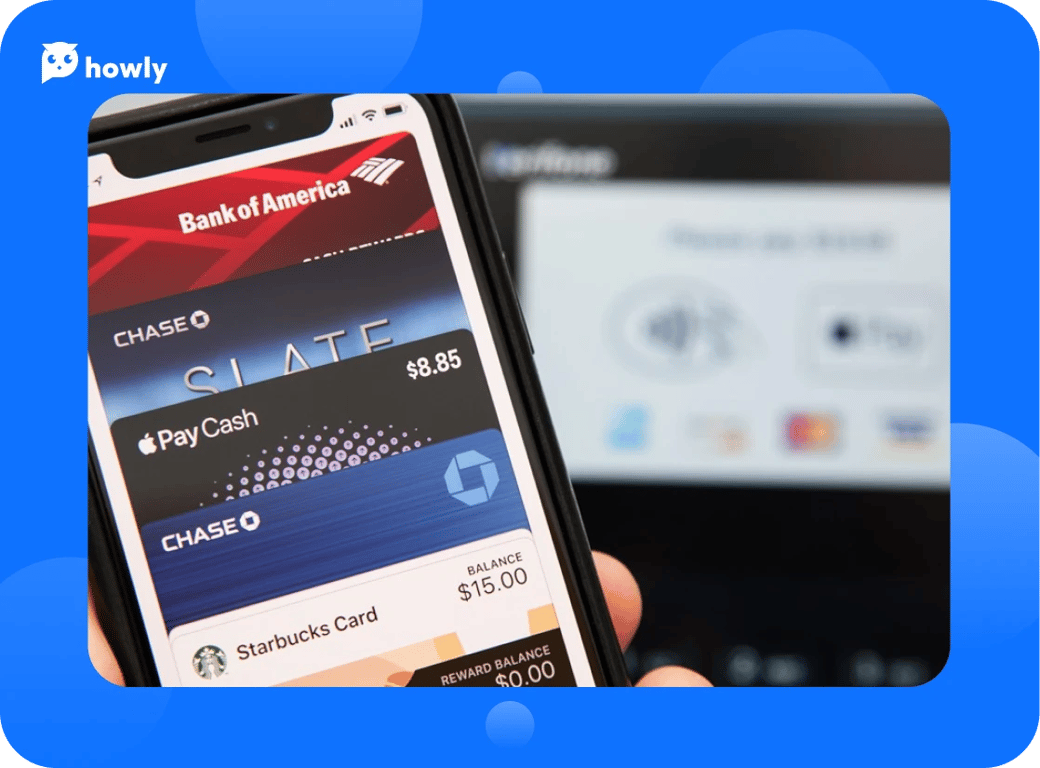 How to ensure your machine is connectable with Apple Pay?
It is important to ensure your device is compatible with this service because it is the most secure and efficient way to make purchases on your Apple device. To determine if it's true in your case, go to the company support website and enter Apple Pay into the search box. The website will provide a list of compatible devices. You may also want to get in contact with your mobile provider to confirm that your specific machine is compatible with it
How to add a card to pay with Apple Pay in stores?
Open the Wallet program.
Pick Add Credit or Debit Card.
Type in the special security code (called the CVV or CVC).
Complete the on-screen steps.
Verify the process with Touch ID or Face ID.
After your card issuer approves this process, press Next.
Your bank usually determines if you can use your card with this service. If so, pick a way to verify your card.
If you don't get sent a verification code, get in touch with your bank or issuer.
After your card has been officially verified, tap Next.
Now you can pay with Apple Pay online or offline.
How to know if Apple Pay works in stores
When making a purchase, search for their special logo or a particular no-contact symbol at the local market checkout. If the merchant supports these types of transactions, you can use your machine to execute the transaction by holding it near the terminal and permitting it with Face ID, Touch ID, or your passcode. You might as well be asked to enter your PIN or signature.
What stores take Apple Pay
To locate shops that accept this system, go to the Wallet app on your device or the Apple Pay application on your eligible Apple device and search for the merchant you want to use. Retailers that cooperate with this system will be marked with an Apple Pay sign or the abovementioned symbol at the checkout. In addition, some websites, apps, and services that accept these transactions can be found on the company website.
Which banks and cards can I use Apple Pay online with?
It works with multiple major personal plastic cards from the leading banks. To find out if your bank or card works with this system, visit the organization's site. You may as well check your card issuer's website or contact customer service to see if they support Apple Pay.
Using Apple Pay on Apple Watch
The advantages of using this transaction system on your Apple Watch are convenience, security, and privacy. You can use Apple cash at stores to make no-contact payments, mall tickets, rewards, and loyalty cards. To make good use of this method on your digital Watch, just double-click the button on the side and hold the display of your watch up to the contactless reader. When the reader recognizes your payment, the watch will vibrate and you should receive a notification that your payment was successful. It's that easy!
F.A.Q.
Is Apple Pay safe enough?
Absolutely! Whenever you pay with Apple Pay online, your expense is covered by a one-of-a-kind security code unique to your device. Plus, this system is generally covered by Touch ID or Face ID, which might be different depending on the type of machine you obtain.
Is there a limit to how much I can pay online with Apple Pay?
Yes. Depending on the card you're using and the store you're purchasing from, card issuer limits, store limits, and network limits may apply. To find out more, contact your card issuer.
Does using Apple Pay cost me anything?
No. This payment system is totally free to use. However, you may be charged a fee by your card issuer, so check with them before you start.
Conclusion
To summarize, Apple Pay is a convenient and easy way to use as the preferred transaction service with your iPhone or other devices. It's free to use and secure enough and can be used at any place that offers a chance for the no-contact expense. As the popularity of this system rises, it's likely to evolve into the go-to expense method for numerous clients. As such, it's worth taking the time to learn how to set up and pay online with Apple Pay. If you are having doubts or questions, text the Howly team to get their assistance.