During the recent pandemic times, Zoom's revenues and popularity became sky-high. The creators regularly deliver new version releases to ensure the robust and secure work of the application. Zoom updates fix bugs and display new features. We strongly recommend running the latest version to receive the highest quality and flawless user experience.
Before we start
Save your time and let professionals resolve your issue in minutes!
Want to start solving your problem immediately? Experienced Howly troubleshooters can fix your issue ASAP. They're already waiting for you in the chat!
The benefits you'll get while troubleshooting your issue with Howly experts:
Qualified help with laptops HDD

Quick advice right in your device 24/7/365

Expert reply within 60 seconds

Clear step-by-step guidance

Limitless number of follow-up questions

Understanding and empathetic help till your laptop HDD issue is fully resolved

All answers you need in one place
Howly is a tech company uniting top-notch experts who can cope with any tech issue. We are working 24/7 to aid you when you need it. Contact us to tackle all tech issues to us. We are here to help.
Update Zoom on desktop
Usually, Zoom notifies users when a new update is needed. Nevertheless, if you missed the message, check your current release to ensure it's the most recent Zoom version.
The first thing to do is to sign in to your account. Press Help and pick the About Zoom option. The menu will show the version of your desktop client. Check whether it's currently in the list of releases on the Zoom website.
Alternatively, you can open your Profile in the desktop version and Check for Updates. If a new version is available for download, the program will automatically install it.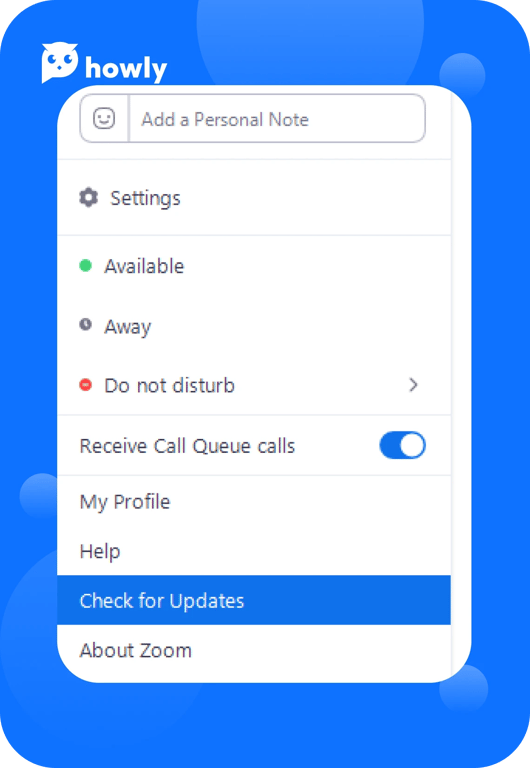 Another way to check for Zoom updates is to access the update menu through the Zoom icon on the bottom of your Windows desktop. Select Check for Updates.
On Mac, go to the Go dropdown menu zoom.us on the desktop's banner. Click Check for updates and enjoy a quick installation if the update is necessary. The app will show you the installation steps to proceed. If you see You are up to date notification, press Done to leave.
Congratulations, you have your Zoom updates.
Automatic updates
Automatic updates do not require you to control the process. It ensures immediate installation as soon as developers release the newest update package.
For Mac, push Zoom.us in your Zoom, then Preferences and General in the sidebar. In the section Zoom Updates, choose the checkbox Automatically keep Zoom desktop client up to date.
To turn on automatic update Zoom on Windows click your profile picture in the Zoom desktop client, then find Settings. Finally, enable Automatically keep Zoom up to date.
Reinstalling the Zoom app
From time to time, Zoom may fail to update. If it happens, try to reinstall the desktop client.
Do this if you use Mac:
Open the Zoom menu and Uninstall Zoom.
Empty your bin.
Restart your computer.
Find the Zoom desktop version from the Zoom Download Center and install it as usual.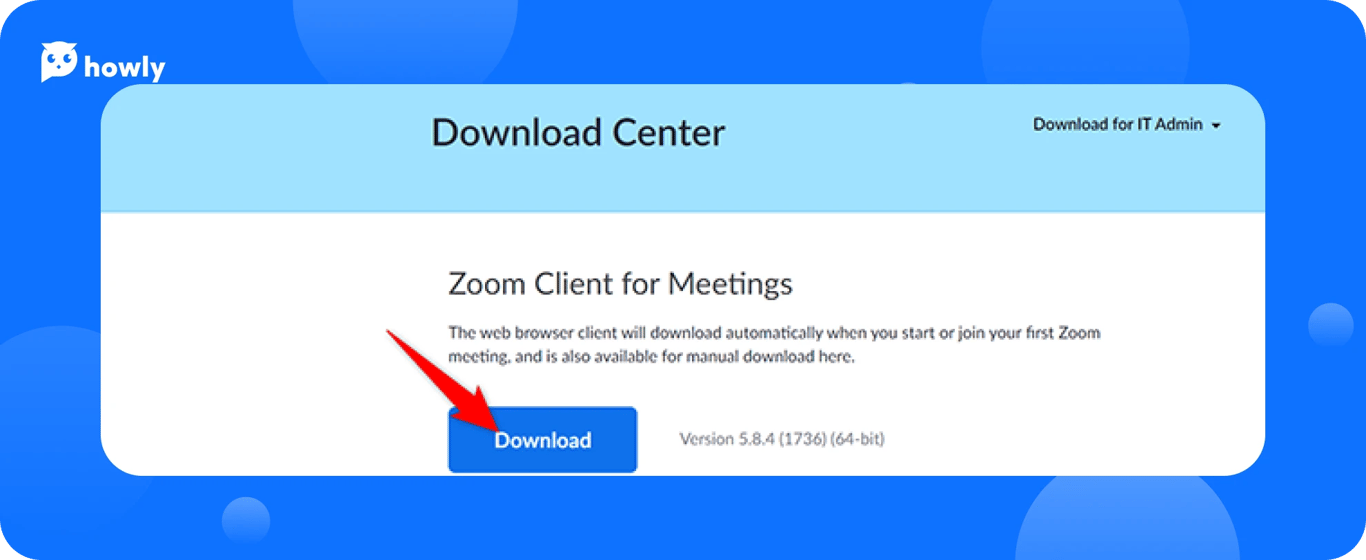 For Windows, the procedure is pretty much the same.
Click the Control Panel and Uninstall Zoom (or via Programs and Features).
After uninstalling, download the installation package from Zoom Download Center.
Follow the instructions to complete the installation.
Restart your device.
Mobile devices
Zoom update is slightly different depending on the OS of your phone. Follow the guide below to update your Zoom.
iOS devices
Go to the App Store.
For iOS from 13 to 15, tap your profile icon. For older versions, find Updates at the bottom.
Find Update. Your phone will do the rest.
Android devices
Open Google Play's My apps & games menu.
Press Update on the app.
F.A.Q.
How do I know whether I need to look for updates?
Go to your profile image in the program and pick Check for Updates. There you will find the information about the installation.
What if I do not update the apps?
You may miss out on new features and security patches. Furthermore, obsolete versions of Zoom may include vulnerabilities, putting your personal information at risk.
Is it possible to update Zoom on my smartphone?
You may upgrade Zoom via the App Store or the Google Play Store. Find and install updates from there.
Resolution
Now you learned how to update Zoom. It is critical to keep Zoom updated, as it ensures the stable and secure work of the application. Moreover, you may access the most recent features. This article described how to upgrade your Zoom quickly and simply for any device. Now you can stay connected with your colleagues, friends, and family.
If you have any problems with Zoom, do not hesitate to contact our tech team.