Lenovo Yoga is famous for its touch screen, so you can use it even as a tablet. This display allows users to sign documents, navigate apps, and play mobile games. But sometimes, it can create discomfort – for example, when you are working with 3D graphics or playing games that were made for a more ordinary PC. So you start to search for how to disable this feature.
Before we start
Save your time and let professionals resolve your issue in minutes!
Want to start solving your problem immediately? Experienced Howly troubleshooters can fix your issue ASAP. They're already waiting for you in the chat!
The benefits you'll get while troubleshooting your issue with Howly experts:
Qualified help with laptops HDD

Quick advice right in your device 24/7/365

Expert reply within 60 seconds

Clear step-by-step guidance

Limitless number of follow-up questions

Understanding and empathetic help till your laptop HDD issue is fully resolved

All answers you need in one place
Instructions may vary depending on the system. That's why we've gathered short guides on every system version that supports a touch screen interface. Stick to these instructions – and everything will go smoothly.
Turn off the touch screen of the Lenovo Yoga laptops on Windows 8, 10, and 11
These versions of Windows OS have similar settings and interfaces, so you can stick to this instruction no matter what version of this system you have. First of all, open the device manager. You can do this in one of the following ways:
Right-click on the Windows logo at the bottom of the screen:
Press the Win + X keyboard combo.
After you open the manager in the new window, stick to this instruction:
Find the Human Interface Devices (or HID).
Unroll the HID touch screen. Tap or click on it to open the sub-menu.
Go to the Driver tab.
Select "Disable device".
As you can see, it's kind of easy to turn off your touch screen. If you want to enable the touch interface, run the same guide but select "Enable".
If you have a few HID devices, but none of them is called a "touch screen", try this instruction one by one for all of them until you find the one that is responsible for the display. Usually, it's the first or second option.
The main problem with disabling drivers is that sometimes they can shut down the touchpad. So it would be better to have a mouse at hand. Restart the computer, go to the Device manager, and find the Synaptics HID Device. Turn Synaptics HID on if it's disabled. It will fix the touchpad issue. If not – look for other HID devices and turn them on.
Disable the touch interface on Windows 7
Windows 7 is a timeless classic that still has its fans. Thousands of users still prefer this system and install it even on modern computers. If you are one of them, we have a short guide on how to disable the touch screen in this situation:
Open Control Panel.
Tap or click on Pen and Touch.
Open the Touch tab.
Find a "Use finger as an input" and unselect it.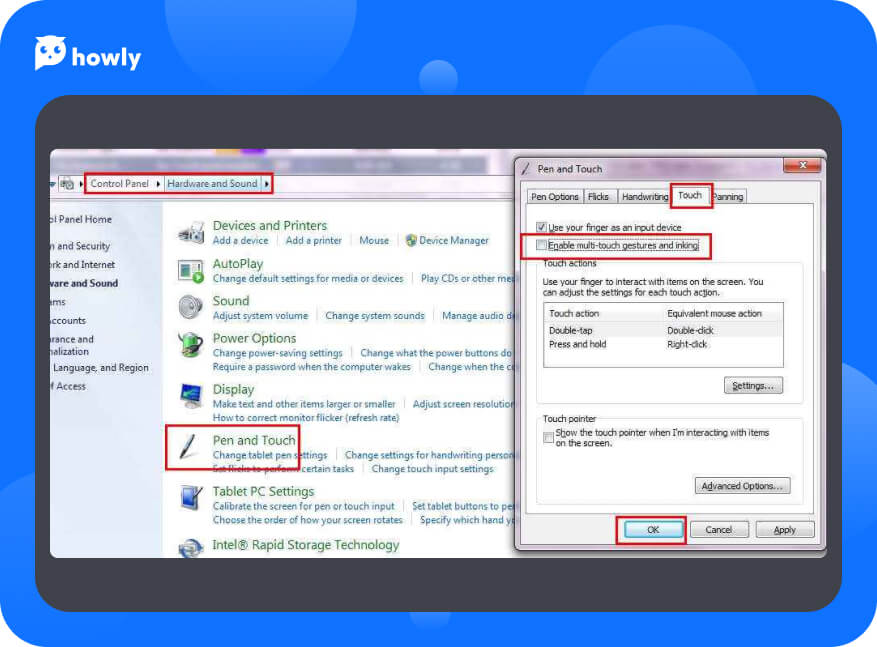 Repeat these steps if you want to enable this function, but check the "Use finger…" option. From this moment, you will be able to use the touch interface again.
Disable the touch screen on ChromeOS Lenovo Yoga
Some users don't want to use Windows on their laptops, and that's OK. We got the instruction for them too. Stick to this guide:
Open Chrome browser and paste the next info into the bar: chrome://flags/#ash-debug-shortcuts
Look for Debugging keyboard shortcuts and select Enable.
Click on the Restart (or Relaunch). It will restart the system with new changes.
After the system restarts, use this combo Ctrl+Shift+T. Chromebooks use the Search physical key, but if you install ChromeOS on a regular laptop, the Ctrl key substitutes Search in combinations.
Switch the toggle.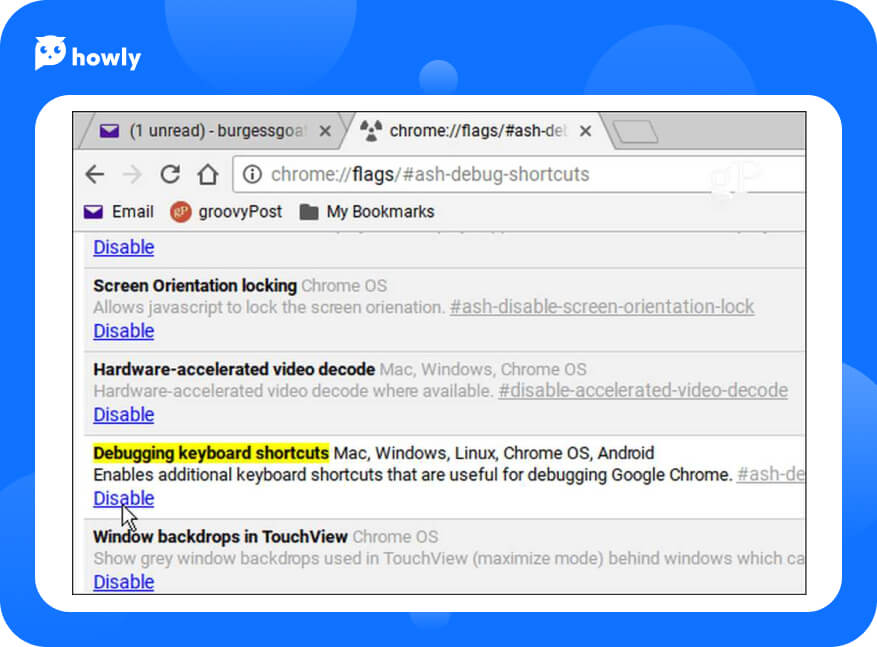 As you see, even ChromeOS has its own ways to temporarily disable the touch screen.
Summing up
If you want to disable the touch interface on your Lenovo Yoga laptop, go to the Device Manager and find a Human Interface Devices — it's a type of built-in device that reacts to commands made by humans.
In most laptops, they are the same: touchpad, system controller, and consumer controller. But devices with the touch screen have one additional device, often called Human Interface Device Touch Screen. Find it and disable it in the settings.
If you want to turn the screen on, you will need to go back to the manager and turn on HID Touch Screen. It won't enable without your permission.
Sometimes the system refuses to turn off the touch screen on a Lenovo Yoga laptop. In this case, restart the PC and try the same steps in the settings again. If this doesn't help, it could be a severe hardware issue. Consider visiting the service center or writing to Howly experts, so we can help find the source of the problem.
Feel free to ask any questions about tech! Out experts that are available 24/7!