Selling on Amazon is one of the easiest ways to start a small company in many countries. However, to make a real profit on this platform, you need to do extensive research and a lot of paperwork. Especially if you are selling high-margin goods, such as jewelry or cosmetics. And that's why you may get to the "Approval Needed" Amazon page.
Before we start
Save your time and let professionals resolve your issue in minutes!
Want to start solving your problem immediately? Experienced Howly troubleshooters can fix your issue ASAP. They're already waiting for you in the chat!
The benefits you'll get while troubleshooting your issue with Howly experts:
Qualified help with laptops HDD

Quick advice right in your device 24/7/365

Expert reply within 60 seconds

Clear step-by-step guidance

Limitless number of follow-up questions

Understanding and empathetic help till your laptop HDD issue is fully resolved

All answers you need in one place
We recently found out that there is no complete troubleshooting guide on solving Amazon's "Approval Needed" issue. Even the Amazon support team still hasn't gathered all the information in one place. But Howly is here to help online sellers! So read our fullest guide and get permission to sell your products legally!
Why Does Amazon Say "Order Approval Needed"? Benefits of Approval Policies
The marketplace uses this method of checking sellers to ensure that they are real, not scammers. Approval helps track every purchase and encourages merchants and buyers to have adequate purchasing manners. So, when you ask, "What does "Approval needed" mean on Amazon?", we can tell you that is their way to make the selling process clear for all parties. These policies help to add more control and visibility to all processes. Here is a small list of what they can do:
You, as a seller, can track all your orders.
You can receive and send notifications. For example, if you haven't answered the buyer for 3 days, the Amazon team will send you a reminder. But if you are quiet for 7 days, the marketplace will cancel the order.
You could approve a few orders at the same time.
You can edit an order. It will help to adapt to changing needs of customers.
You could add personal comments to the order.
Note that subgroups may have their own rules of approval.
Restricted products on Amazon
Before you apply for approval, you should search if your product falls into one of the "restricted" categories. There are many niches with a very high marginality which level of profitability attracts a lot of scammers. So the marketplace needs to ensure that all sellers in these categories are real and qualified. And that's the reason why Amazon`s "Order approval needed" message appears  — the Amazon team just wants to make sure that you are a real seller. Be aware of that if you're going to sell products in these categories:
Collectibles (coins, sports, toys);
Services;
Music & DVD;
Fine Art;
Jewelry;
Made in Italy;
Streaming Media Players;
Automotive & Powersports;
Alcohol, etc.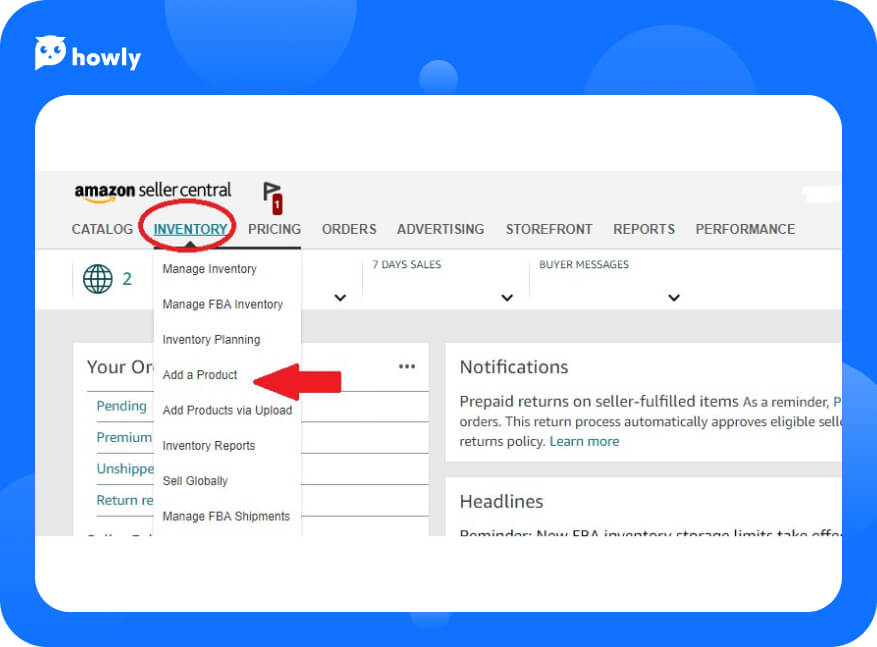 The "restricted list" changes from time to time. You can find the most relevant list of the "Approval needed" Amazon.com products at the SellerCentral. Differences between restricted categories, brands, and products are the following:
Categories — classes of high-margin goods.
Brands — brands that made a restriction for third-party sellers to sell their goods on Amazon.
Products — products that need prior approval. They include toys, feminine hygiene, or something that requires additional confirmation of its safety.
If you need to see in which categories you have already been approved, do next:
Go to the Seller Central account.
Click "Inventory".
Select "Add a Product".
Then choose the "Selling Application Status".
Amazon approval is not that complicated, but it requires some time to collect documents and apply them online.
How to Prove Amazon You Are a Real Seller: Step-By-Step Guide
It's an easy, but time-consuming procedure: you need to collect and submit the package of the documents, check the "restricted products" in your catalog, and request approval to sale own goods.
Collect suitable documentation about your business. It shows the Amazon team that you have the right to sell restricted products in your own country.
Submit these documents and wait up to 4 business days until the Amazon team reviews your documents.
Request approval and fill out the special application form. Wait for 2-3 business days for the second review.
If you do everything properly, you will get approved as the eligible seller. Let's have a detailed look at all of those steps. Check our instructions below.
1. Check If You Have All Your Required Documents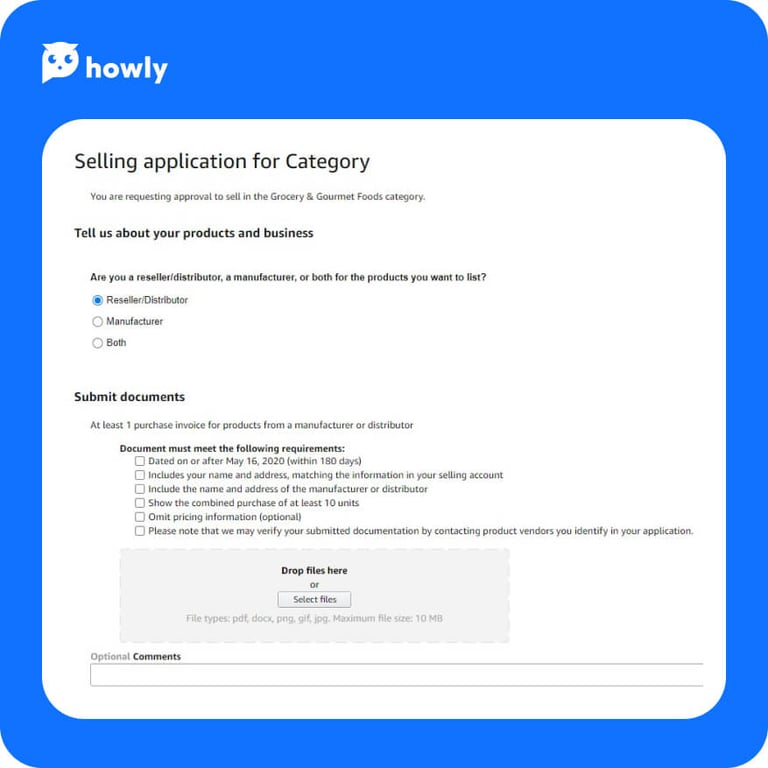 The list of documents may change from one country to another. But in all of them, you will need to present self-identity papers. It can be a national ID, passport, or driver's license. The main requirements for these documents are the following:
Show a whole page. If it's a card — you need to submit both sides of it.
Your documents need to be government-issued.
Also, they need to be in color.
If you submit a multipage document, please merge pages into one big file.
Your records need to include your date of birth and signature.
Additional documents may vary. Amazon may ask for documents about your business if you don't sell goods as an individual. Here are some important notes about additional documents:
The records need to remain intact (you can hide a transition amount).
The title of the firm inside the document should match the title provided in the submitting paper.
The filling project looks like this:
Go to the Seller Identity Verification.
Choose your place of residence in "Select your country". You need to choose a country where you can get all the business papers.
Download the photo of the papers in the "Submit required documents" section.
Write your number in the international format and e-mail address in the "Provide contacts" form.
Click "Submit".
It's better to do all actions for needed Amazon approval on the desktop. Unfortunately, the application process on the mobile version of Amazon has bugs.
If you currently don't have all records, you can fill the submission partially. Click on the "Save Draft" and return to Seller Identity later.
Amazon Seller Central support says that the review procedure can take up to 2 business days. While in reality, you should prepare to wait up to 3-4 days. If all the necessary documents suit Amazon criteria, you will see a "Thank you for your request" message.
2. Log In to Your Amazon Seller Central Account
After filling out documents, you need to demand access to trade your goods on the marketplace. Otherwise, you will still see Amazon saying "Order Approval Needed". Follow the next instruction to get approved by the marketplace team:
Go to the Inventory menu and select Add a product.
Search for the needed goods.
Click on the Listing limitations apply near the item.
Then click on the Request Approval. It will launch the application process.
Be aware: These steps may vary, depending on the country, category, and even the product. There is no "one for all" instruction. Follow the instructions on the screen from Amazon.
Also, there is a chance that your application may be rejected. That's why one of the most popular topics on the seller forums is "Why does my Amazon order need approval, even though I filled all of the documents?" Check the status of your submission. Sometimes the marketplace team leaves notes on how to improve your approval requests. Follow the instruction on how to check your status:
Log to Seller Central Account.
Choose Add Inventory.
Select the Add Product.
Check the Selling Application Status.
In some cases, Amazon rejects your application. That often happens with new sellers. Try to sell some non-restricted goods and apply a few weeks later. This way you can prove to the Amazon team that you are a real and eligible seller. Also, do all needed actions for "Your Amazon.com orders" on your desktop and double-check every cell. Even the smallest inaccuracy in the data may cost you repeated rejection.
3. Go Through the Application Process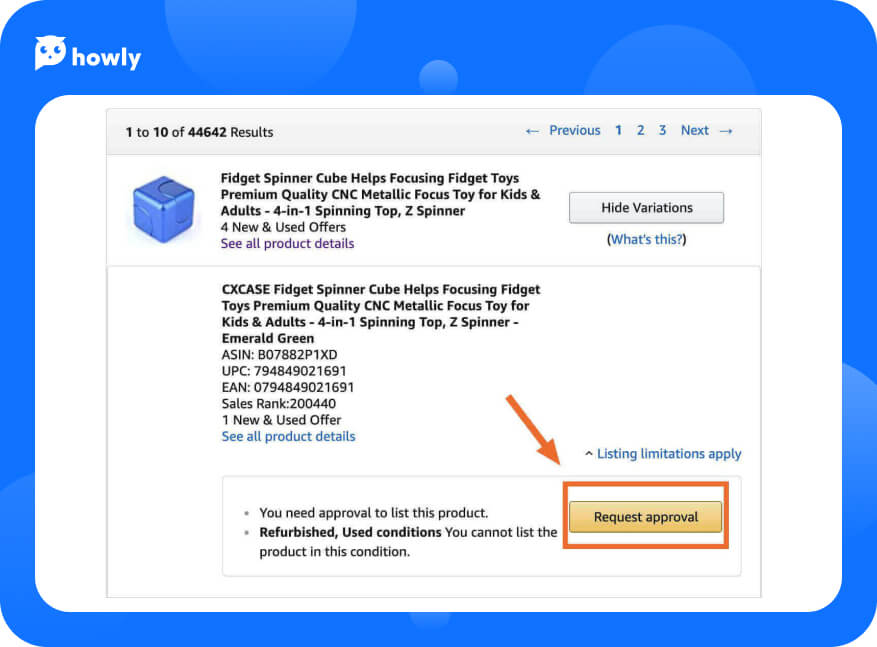 If you need to apply for a product that exists in the catalog, follow the instruction:
Go to Seller Central.
Check Catalog and select Add products.
Find an item that you are going to sell.
Click Listing limitations and apply it to this item.
Then click on the Request Approval.
The application process is long but not hard. After creating an application, you can cancel it as long as it is in Pending status. Follow these steps if you want to cancel your request:
Go to the Amazon WorkDocs site.
Select Apps.
Then click on Approvals and Launch.
Choose approvals that you need to cancel.
Click on the Cancel button.
How to Approve Multiple Orders at Once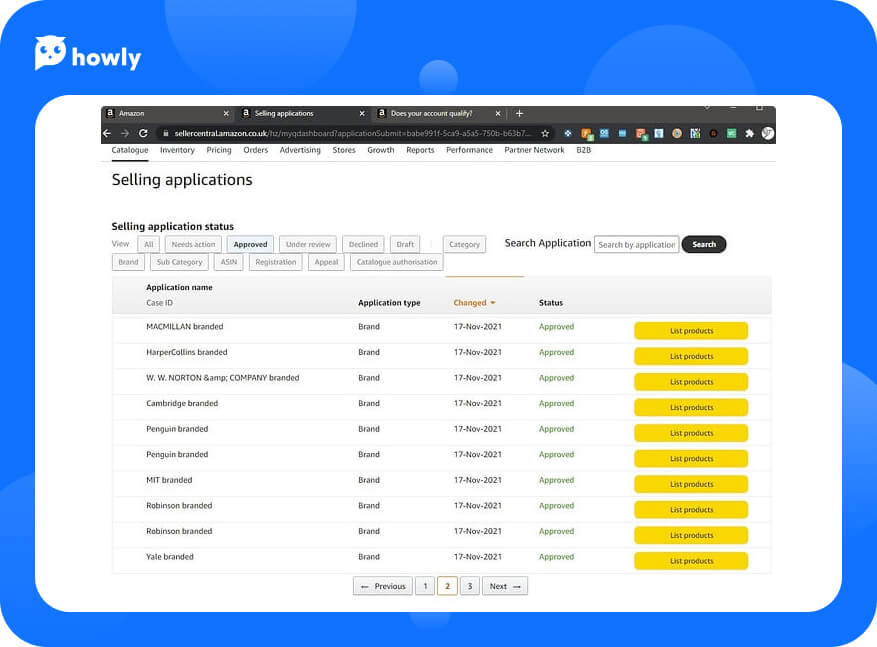 For those who don't need a detailed review of every product, here are instructions for multiple Amazon's "Approval needed" for desktops. It has an easy 3 steps:
Go to Approve Orders.
Find the list of orders.
Click on the checkbox near each one of them and select Approve selected or Reject selected. A few moments later, buyers will have confirmation of your actions.
F.A.Q.
What does Restricted mean on Amazon seller?
A restricted product is a product that Amazon either prohibits selling or requires the seller to obtain permission to sell such a product. Products such as alcohol or products related to gambling are included in the restricted categories.
How do I sell my restricted?
To qualify to sell restricted products, your defect rate should be less than 1%, the pre-fulfillment cancel rate should be less than 2.5%, and the late shipment rate should be less than 4%
How do I register as a restricted brand on Amazon?
There is no way to apply for brand registration. Need to contact Seller Support and ask for your brand to be gated. It may take up to 8 weeks for a response and approval.
Final Thoughts About Solving Amazon's "Order Approval Needed" Issue 
The marketplace team needs to make sure that you are a real seller. The application process takes some time, but it fully justifies the profit you can make as a seller of high-profitable products.
Amazon has more than 220 million monthly buyers from countries around the globe. Instead of struggling and promoting your online shop, you can sell on Amazon and get a profit from the first days of your online-seller career.
All you need is to prove to the Amazon team that you are the eligible seller. Send them the needed documents and check the restricted products which you want to sell in your shop. After that, you need to wait for an answer. In most cases, you will know about approval in 2-4 business days.
The Howly team will gladly help you if you still have any questions! You can ask us anything that you have struggled with, and we will give you an answer in less than 10 minutes.