Right-clicking is one of the most essential gestures on any computer. It opens the context menu allowing you not only to open the file but making different actions with it. In most cases, it's a user-friendly action where you just need to take a mouse and click on the right button.
Before we start
Before we start
Save your time and let qualified experts in laptop fixing resolve your case in minutes!
Trackpad issues are one of the most common laptop problems. Howly experts are here for you ready to show you how to fix the trackpad problems in any part of the day (or even night). Text us to get an immediate answer!
The privileges you'll get troubleshooting your laptop trackpad concern with Howly experts:
Specialized help with computers

Quick advice right in your device 24/7/365

Expert reply within 60 seconds

Clear step-by-step guidance

Limitless number of follow-up questions

Understanding and empathetic help till your laptop issue is fully resolved

All answers you need in one place
But on a MacBook or some Windows trackpads, it can be tricky. That's why we've gathered all guidelines on how to right-click on a laptop with alternative options. Stick to our instructions, and you'll be able to use your device in full force.
Use the dedicated button or button under the trackpad
Many Windows laptops have a dedicated key for this task. In some laptops, it could be mounted into the trackpad.
Sometimes the touchpad right-click is not working due to a clogged separate button. Clean it with a dry brush or microfiber cloth. Don't use any wet subjects. It can lead to short circuits.
Try tapping with 2 or 3 Fingers at once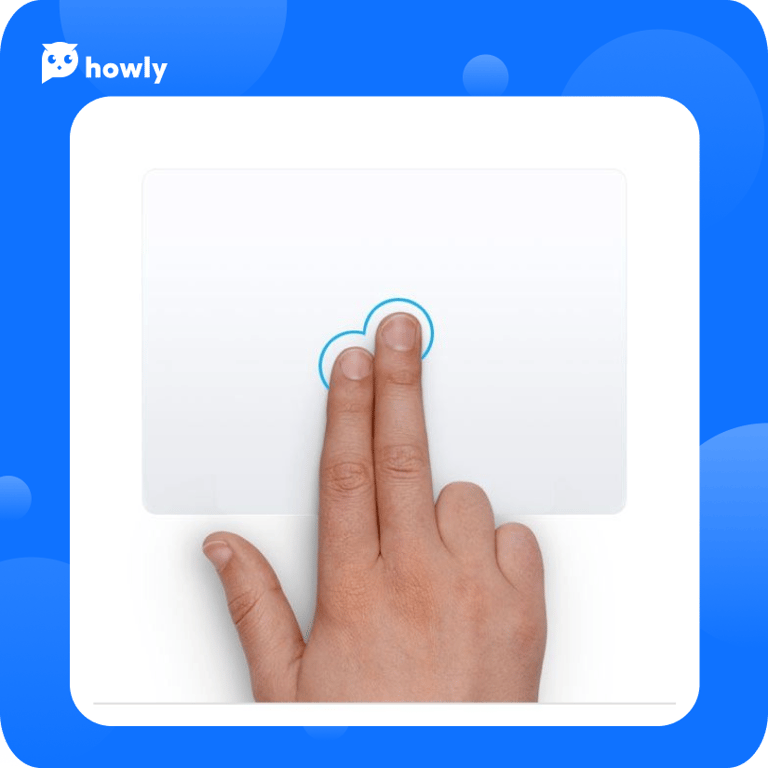 If you own a MacBook, your trackpad right-click looks easy. Simply tap the 2 fingers on the trackpad. You can also change the access gesture on Settings. Here is how you can do it:
Launch the Settings → Trackpad.
Look for the Secondary click and pick the gesture. It can be 2 finger tap, bottom left or right tap. The last option mimics the traditional right-click on the laptop.
Inspect the touchpad settings on the laptop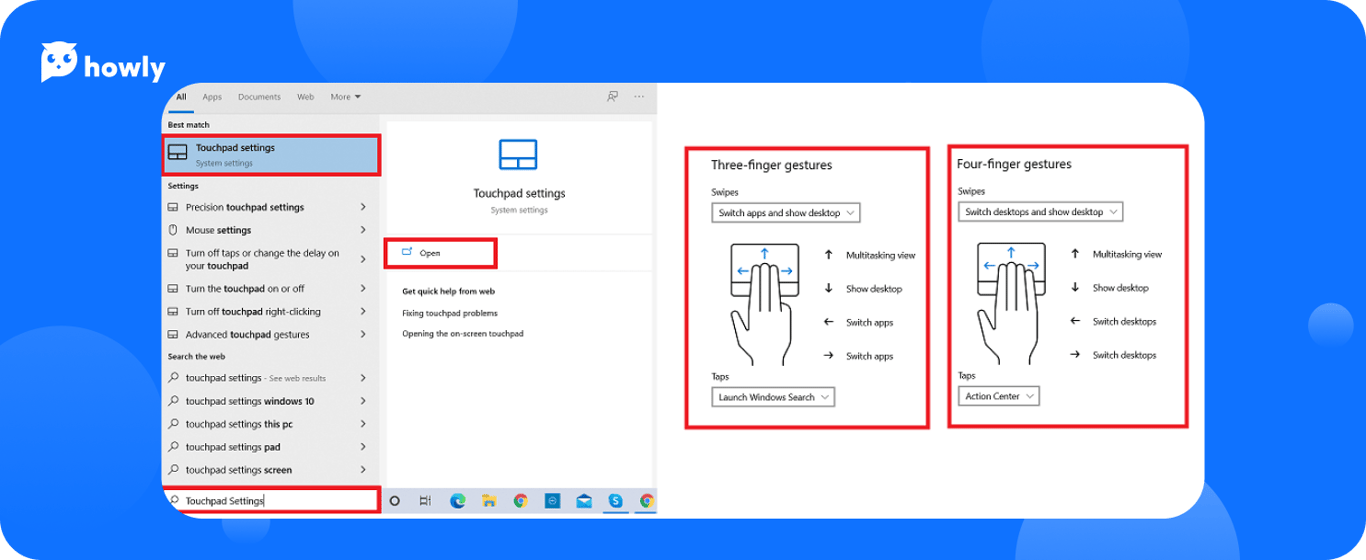 Examine your touchpad settings. Maybe you accidentally turned it off. Use this instruction to enable the alternative right-click on the touchpad on Windows:
Write Touchpad on the search bar in the Windows icon.
Open it to launch touchpad settings.
Set a new gesture that will act the same way as right-click.
MacOS computers have slightly different instructions. Use those guidelines to right-click with the trackpad:
Launch Settings → Trackpad.
Choose Secondary Click and pick the gesture for it.
You can choose between different types of taps. Pick the one which suits your preferences.
Using the keyboard
Try the keyboard to right-click on the laptop. On MacOS you can do this with ease. Hold the Control physical button and tap on the trackpad like in a traditional left click. That's all. As you see, right-clicking on the touchpad it's not as hard as many described it.
On Windows laptops, you need to use another shortcut. But it can be too tricky for many people. Place the cursor near the item you need to right-click and press Shift + F10. If you need to right-click, but your computer doesn't respond to this combination, press the Fn button.
Some laptops have inactivated function keys which you need to activate while using. That's usually how you right-click on HP laptops, Lenovo, and other manufacturers who try to make their keyboards multifunctional. Some laptops also have a Menu button that works the same way as Control on Mac.
FAQ
How can I copy, paste or move text in a document when right-click is not working on a laptop?
Highlight the text and press Ctrl+C to copy and Ctrl+V to paste. To cut, hold Ctrl + X. MacOS users should use the Command button instead of Ctrl.
How do I right-click on a laptop with keys?
If you have a MacBook, press Control when you tap on the trackpad. Many modern Windows laptops have a Menu key that acts the same way. Both Windows and MacOS support the Shift + F10 command.
How do you right-click on a laptop if it doesn't have the right mouse button?
In modern laptops it's mounted, so you should test the device by tapping on the bottom right part of the trackpad. Also, you can set up another gesture that fits your current laptop configuration.
How do you right-click on a trackpad on MacOS?
You can set the Secondary Click gesture on the trackpad menu. Also, you can tap on the trackpad and hold the Control (that one with the arrow on the bottom left corner) key simultaneously.
Conclusion
Right-click is one the most essential features of any computer. It gets uncomfortable when you can't use this basic feature in daily life. But you can use a laptop touchpad without buttons or with other gestures.
Firstly, look for a dedicated key on the trackpad. It is common on Windows laptops. Try to tap the trackpad with 2 or 3 fingers. MacOS uses this gesture to right-click by default. Many Windows laptops use it too. Check trackpad settings and change the gesture to those that suit your situation the most.
Another substitute to right-click on the mouse is keyboard shortcuts. Windows and MacOS devices can run Shift + F10. Some computers have multifunctional F-keys, so you need to hold the Fn button to launch the command. In your case, it will look like this: Shift + Fn + F10.
MacBooks have a Control button to launch the right click. Simultaneously tap on the trackpad and press Control. Some Windows computers have a Menu key that acts the same way as Control in Macs.