If your Medialink router starts glitching, the problem may lie in old drivers. Upgrading to the latest version can solve this problem. However, it's difficult to find a user-friendly guide on how to find and install a Medialink router driver. Howly experts understand your struggles. That's why we create an ultimate troubleshooter for you. Stick to our instructions, and everything will go smoothly!
Before we start
Save your time and let professionals resolve your issue in minutes!
Want to start solving your problem immediately? Experienced Howly troubleshooters can fix your issue ASAP. They're already waiting for you in the chat!
The benefits you'll get while troubleshooting your issue with Howly experts:
Qualified help with laptops HDD

Quick advice right in your device 24/7/365

Expert reply within 60 seconds

Clear step-by-step guidance

Limitless number of follow-up questions

Understanding and empathetic help till your laptop HDD issue is fully resolved

All answers you need in one place
Understanding the issue: why do you get "Firmware failed" memos
Every device in your house has its own software. And the router is no exception from this rule. As time passes, manufacturer releases new software that will suit new requirements. Most often, devices update automatically. But sometimes, the router fails to upgrade its software, even though it can download available drivers.
This leads to a glitch with network crushes, it may catch connectivity problems, etc. To fix this, you should find and install a Medialink router driver. Use only official sources to download new firmware: they are often listed in the manual. Don't use apps that promise to simultaneously install all drivers to the PC and router. Most of them are malware or even scams that steal personal data.
How to find and install a Medialink router driver: a step-by-step guide
The installation process looks slightly different from what you are used to with the PC. The router doesn't have a magic "Update me" button, so you should connect to it and wirelessly load new firmware. The first thing that you need to do is to log in to your router. Stick to this easy manual:
Open any browser and type 192.168.0.1 in the address bar. It's the router address that is used by default by most manufacturers. If you have trouble visiting this page, check the manual. There may be a custom router's IP. Then you should:
Type your username and password in the dialog box. It will open the router's user interface. If you don't remember them, check the contract. In most cases, it was written there.
If this didn't work for you, reset your router to the factory defaults — you can find the guide in the manual. Type the admin as login and password. But if this doesn't work for you, call the ISP (internet service provider).
Once you log in, you can install a Medialink router driver. Follow this easy guide:
Find the model of your router. Usually, it's typed on the sticker located at the bottom of the device.
Open the Mediabridge website. It's the manufacturer of this router, so you have nothing to worry about. Follow the next path: Product → Computer Accessories → Networking.
Find the router that you are using right now and open its page.
Open the Support tab. Find the latest firmware update and download it.
Go back to the router's interface and open the Administrator page. It should have a small edit bot where you can drag files in.
Drag a Medialink router driver to this box and press Start.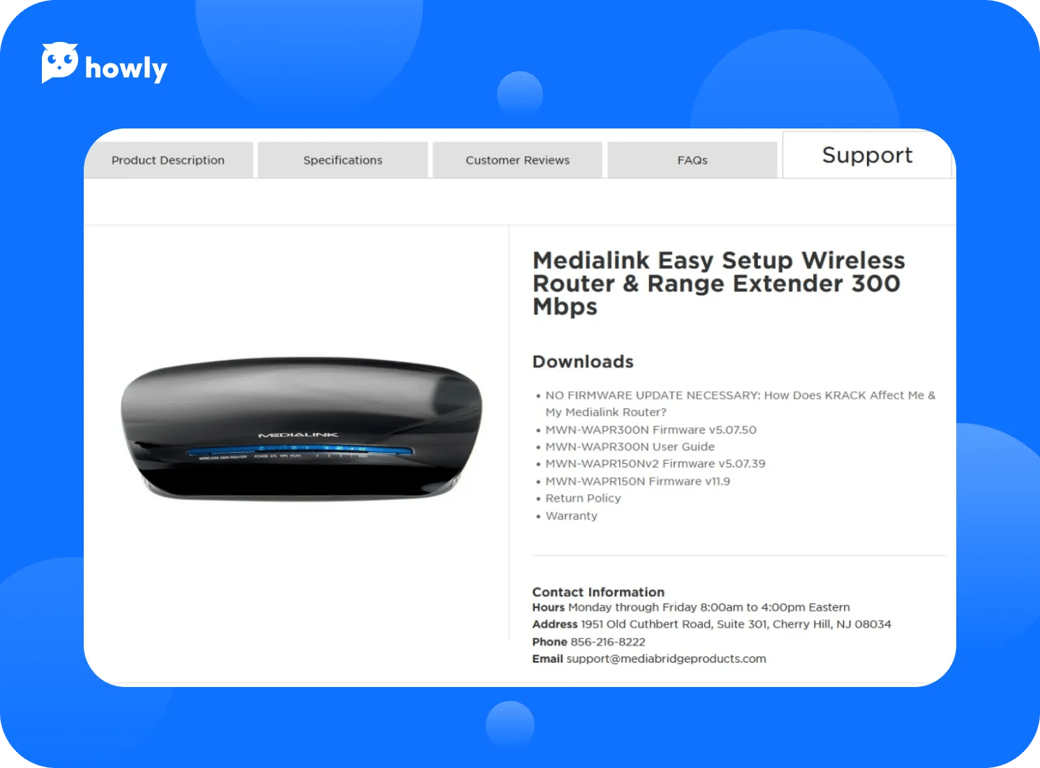 Wait for 3-5 minutes until it loads and installs. After the successful update, the router automatically reboots. Log back to confirm that you have the latest possible driver version.
Conclusion
If you want to find and install a Medialink router driver, log in to your router, where you can access the various settings on the administrator page. After this, find out the model of your router and visit the official Mediabrigde website. Download the latest available firmware and install it via the Administrator page. Wait for 2-5 minutes until the router installs the new driver and reboots. That's it!
Still have questions? Ask Howly experts! We help you to find and install a Medialink router driver using any device! Moreover, we give you custom guidelines that suit your situation, and our experts will be in touch during the whole process.