In fact, Facebook is far from a typical social media resource; it's a powerful tool to promote a business, attract the target audience, and achieve your marketing goals. It may help you advertise and sell your brand, increase people's awareness about your product, and generate leads by launching a campaign via Ad Manager. This is an advantageous way to make your business highly successful. Indeed, once creating a new Facebook ad account, you can analyze the market and segment users by plenty of important criteria, including behaviors, interests, and demographics, which allows you to attract more customers.
Before we start
Save your time and let professionals resolve your issue in minutes!
Want to start solving your problem immediately? Experienced Howly troubleshooters can fix your issue ASAP. They're already waiting for you in the chat!
The benefits you'll get while troubleshooting your issue with Howly experts:
Qualified help with laptops HDD

Quick advice right in your device 24/7/365

Expert reply within 60 seconds

Clear step-by-step guidance

Limitless number of follow-up questions

Understanding and empathetic help till your laptop HDD issue is fully resolved

All answers you need in one place
Willing to advertise your brand on Facebook but don't know how to start? Don't worry; Howly will get you covered! But before we reveal comprehensive guidelines on how to create a new Facebook ad account, you primarily need to set up a profile in Business Manager. So, let's deal with it!
How to make a Business Manager profile
Why may you need Business Manager? What is it? It's a handy tool designed for managing FB business assets, including advertisement accounts, pages, Meta pixel, and profiles in social media. Keep in mind that a new BM account must be associated with your business profile so that you get admin permissions and be able to access all the accounts, assets, and tools and, correspondingly, create a new ad account on Facebook. So, this is how to sign up and associate your business FB page: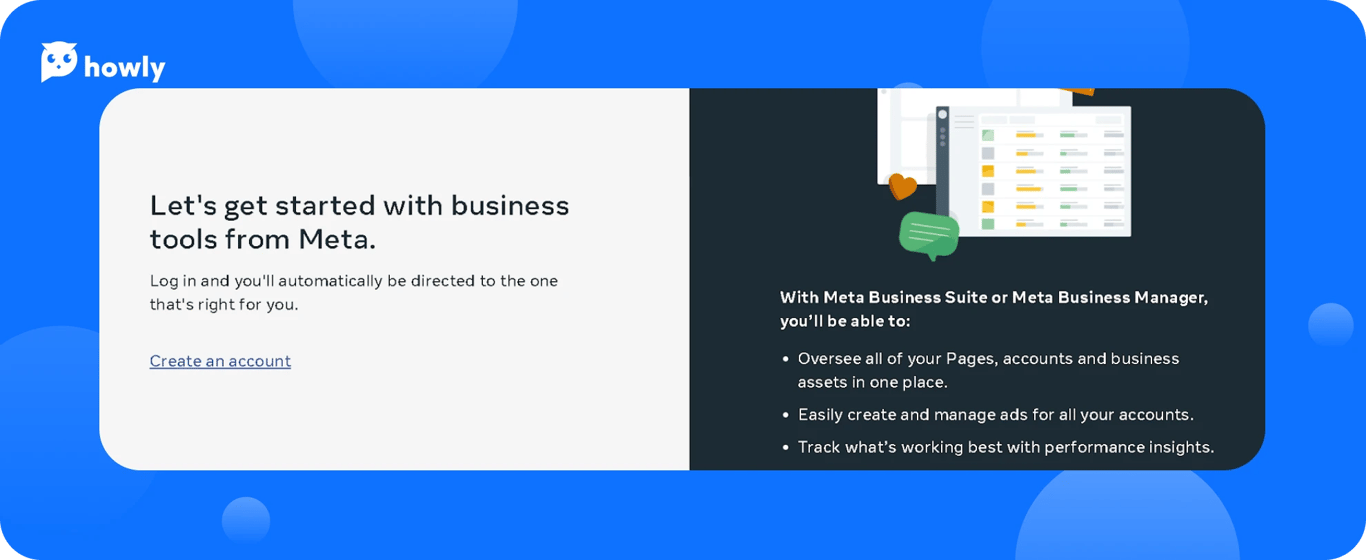 Provide your personal and business details and move on.
Add other business details and hit Submit.
You'll notice a pop-up window informing you that the profile has been created. Check out your mailbox for a verification email and hit Confirm Now.
As soon as you hit the button, you'll be redirected to your new account. The first stage is over! Everything is easy, isn't it? The next steps will help you set up the profile properly.
How to add your FB page to Business Manager with no hassle
There's no way to take advantage of the Business Manager tools without linking your business page. Luckily, the process takes a minute:
Head to the Business Settings section using the gear icon.
Pick Accounts -> open Pages.
Enter the URL of your business FB page and tap Add.
How to create Facebook ad account
As soon as you've set up your profile in Business Manager and linked your company's page, it's time to create an ad account on Facebook. This is where you'll run and manage your advertisements on Instagram and Facebook.
Explore the Business Settings section and tap Ad Accounts (find it under the Accounts tab).
Tap the Add button to access the dropdown menu of available options.
Pick Create a new account. You also have an alternative to add an account to your profile and request access to another ad account.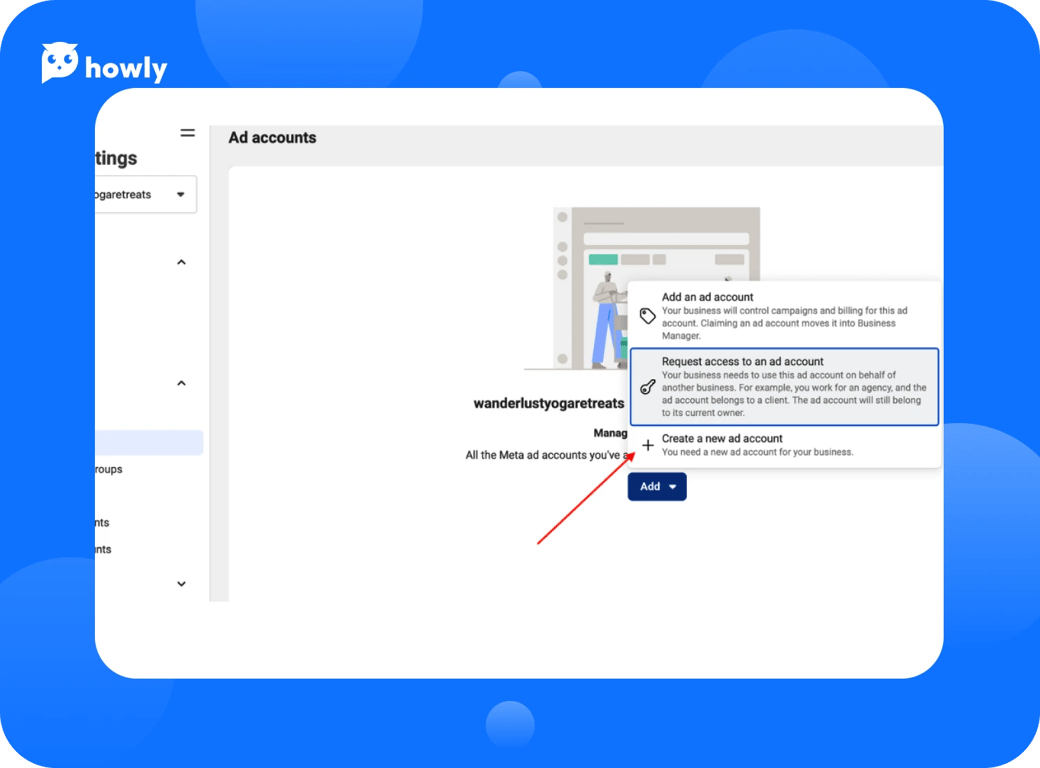 Fill in the info about your new ad account: come up with its name, choose a time zone, and pick the most appropriate payment option and currency. Think twice before picking a time zone and currency, as you won't have the option to change them later.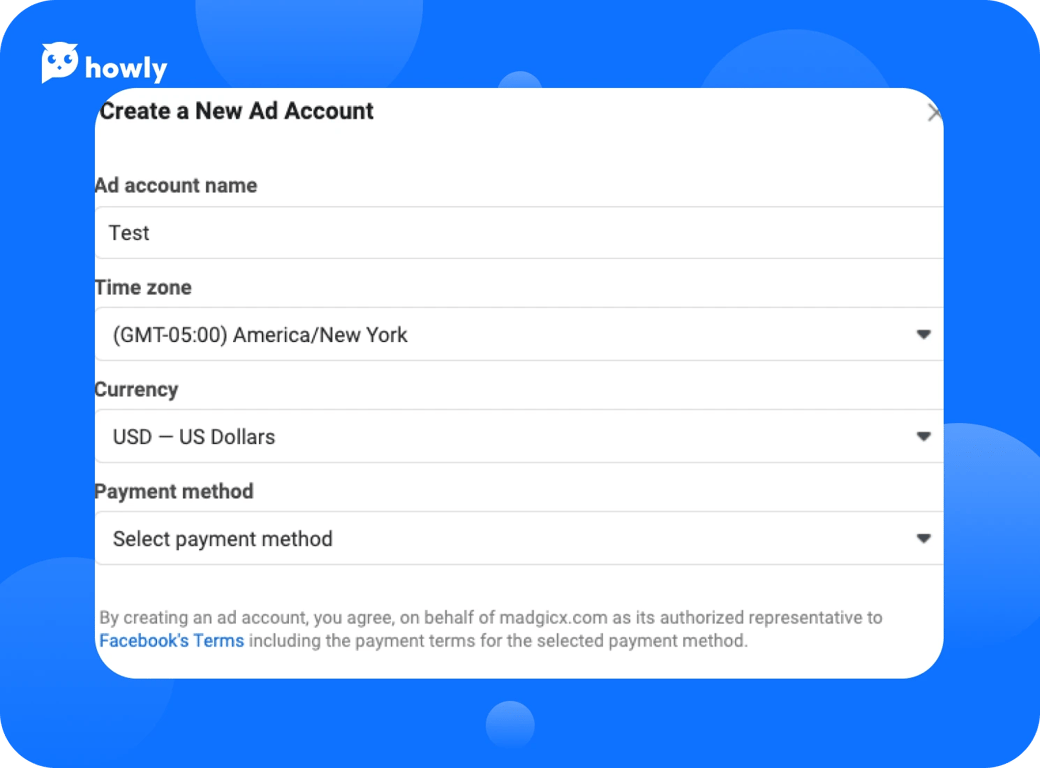 Choose whether you'll use this account for your own or another business and tap Create.
How to add payment options when creating a new ad account on Facebook
If you're eager to create a Facebook ad account, it's important to set it up in the best possible way to make your business campaign successful. Thus, you can add and edit various payment methods, set spending caps, and keep track of the upcoming billing dates. Here's what you need to do:
Move to Ad Account Settings and pick Payment Settings.
Hit the button saying Add Payment Method.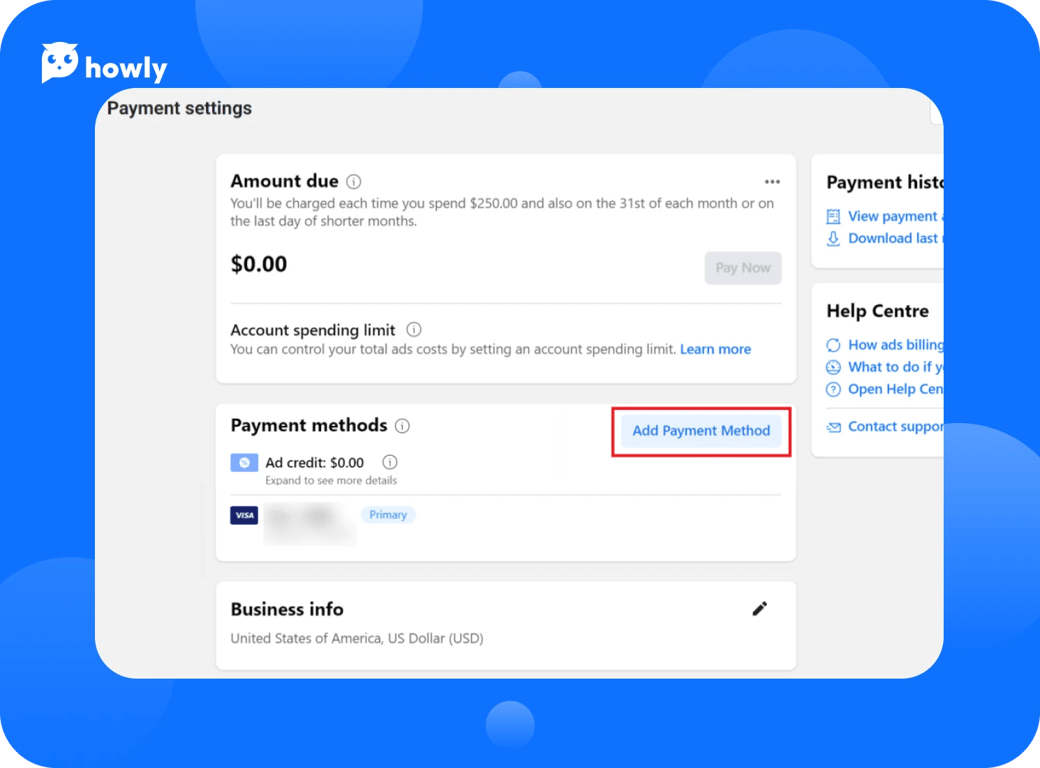 Pick a convenient method: PayPal, your debit or maybe credit card, or other available option.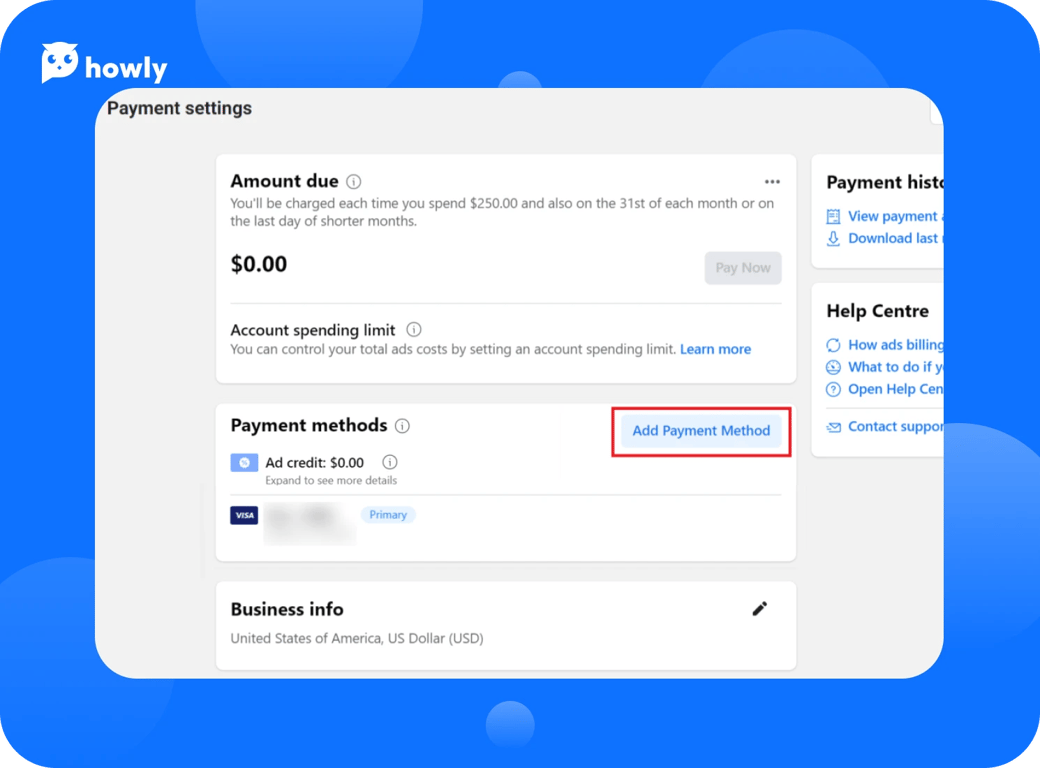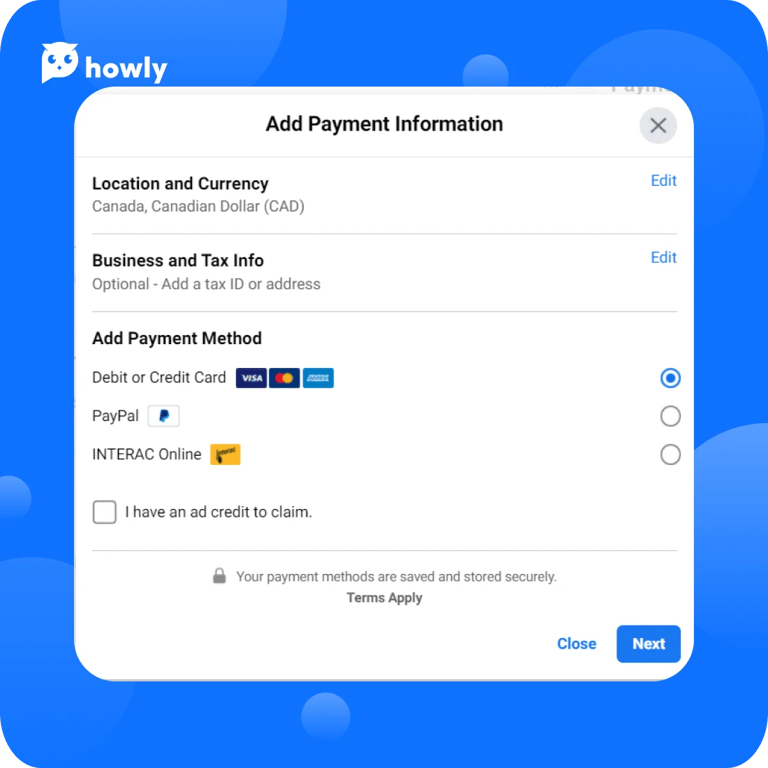 Provide the required banking info.
Hit Next.
F.A.Q.
How to edit payment options in my FB ad account?
Move to the Payment methods through the settings and tap the (...) icon next to the method you're willing to edit. When the pop-up list appears, pick Edit. Make the necessary changes and tap Save.
Can I make an ID on Facebook Ads Manager if I don't associate it with my personal FB page?
You are allowed to access Ad Manager only via the business account linked to your personal FB profile. Therefore, you can't create a FB ad account without your personal page.
How many payment methods should I add to my ad account?
It's better to supplement your FB ad account with at least one extra payment option. The point is that if your primary billing option fails, all your business campaigns will be automatically stopped. And a secondary method saves you the trouble, allowing Facebook to bill it in case something happens with your primary option.
Conclusion
Online marketing brings a lot of benefits if you come up with an effective advertising strategy. But this all starts small with the creation and proper ad account setup. And now you know how to do it smoothly since the algorithm is simple – sign up to Business Manager, attach your business profile, and create a Facebook ads account. The process itself is rarely troublesome. Howly customers usually report problems while setting up their accounts. Keep in mind that our experts will never refuse you help when difficulties arise. We're ready to deal with any of your issues 24/7; just ask your question!