Have an urgent problem with Amazon? Or you are not sure about your order? It's time to contact Amazon customer service by phone, email, site, or another suitable method. We gather seven proven methods of getting Amazon's help with minimum effort.
Before we start
Save your time and let professionals resolve your issue in minutes!
Want to start solving your problem immediately? Experienced Howly troubleshooters can fix your issue ASAP. They're already waiting for you in the chat!
The benefits you'll get while troubleshooting your issue with Howly experts:
Qualified help with laptops HDD

Quick advice right in your device 24/7/365

Expert reply within 60 seconds

Clear step-by-step guidance

Limitless number of follow-up questions

Understanding and empathetic help till your laptop HDD issue is fully resolved

All answers you need in one place
Use Howly's instructions to solve your Amazon-related issues as soon as possible. We sorted them from the fastest to the sluggish option. The first two options are self-served ones: in most cases, you can already find an answer to a similar question in Amazon's database. The other five options are related to the actual contact with support agents.
How to get help on Amazon: 7 useful ways
You have seven ways to get help with your orders on Amazon. They, as a company, prefer automated options. Thus they created a Customer Help page with dozens of guides and an Amazon Forum where users can share how they solve unusual situations.
Another common way is to call Amazon by calling 1-888-280-4331. It may take approximately 15-30 minutes to get an answer. You can write them an email at cs-reply@amazon.com. Contact Amazon.com support by writing on the Live Chat: you can do it both on the web and app versions.
Also, you may tag Amazon on socials or write a message to them. But don't call Amazon customer service on socials: their managers respond with text only. If you want to talk to support, call a hotline. Beware that it may take up to a few days to get an answer from Amazon's social media manager.
Use Customer Help
You can find answers to the most popular questions on the Customer Help page. It contains dozens of useful guides for any occasion. Here is how you can run it:
Open the Amazon Customer hub.
Log into your Amazon.
Choose a section or type a question into Amazon's help library.
Browse the library of theme-related guidelines.
If it's not enough, you could run into the official Amazon Forum where users share their issues publicly.
Amazon Forum
Check Amazon's open forum. It still actively updates, so there is a high chance you will find an answer to your question. Go to the Amazon Forum site and choose a relevant forum. Also, you can just type your question into a search form.
There are thousands of threads there, so you may find a resolution to a similar question. At the same time, you can ask any question at the forum and wait until another person shares their experience or tech agents reply to you.
Call a hotline
It's one of the easiest ways to get a response from the Amazon team. But beware that even with it, you'll still wait for at least 15-20 minutes to contact Amazon US by phone. They prefer automated methods to solve user complaints.
Make sure that your current phone number is connected to your Amazon account. In another case, the customer support team won't be able to identify you. And in this case, the system doesn't connect you with an agent.
Dial the Amazon telephone number 1-888-280-4331 and talk to the voice robot. Describe your issue so the voice program can redirect you to the correct department. Talk with a manager, describing to them your issue.
Talk on the desktop Live Chat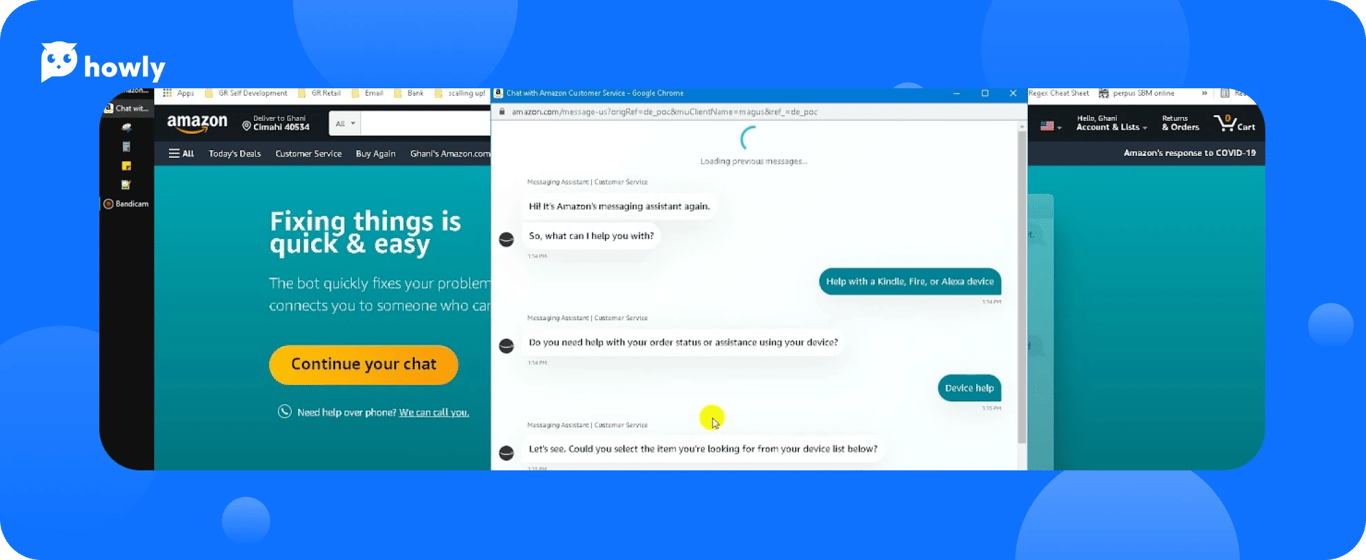 Another way to talk with Amazon customer service is to use online chat. Here is how you can do it:
Open the Help page.
Choose Something else.
Choose I need more help. It redirects you to a chat window where you can describe the issue.
Write "Talk to a representative" multiple times until the Amazon chatbot provides you with two choices: chat now or request a call.
Choose Chat now if you prefer text communication. Pick Request a call to talk to Amazon customer service over the phone.
It's a relatively fast option where you can share screenshots and other information. Use it when you urgently need a consultation from an Amazon representative.
Chat with a Live agent on a mobile application
Try to open the amazon.com live chat to use it on the official Amazon phone app. Use the Amazon Shopping application: it has both Android and iOS versions. Here is how you can do it:
Go to the Amazon application.
Choose the Profile at the bottom part of the page.
Select Your account → Customer Service → Contact us → Something else.
Choose I need more help and type Talk to a representative multiple times.
After this, you can start your online chat with an agent. Tell them more about your issue and provide them with all information that they may ask you.
Write an email
You can find an answer to most of your questions on the Customer Help or Forum. But if it's not your case, write an email to general customer support at cs-reply@Amazon.com. Beware that it may take a while to get a reply.
Message Amazon customer service this way only with non-urgent questions. They will answer you, but it may take days to get a response that way. But it perfectly suits you when you want to save a whole conversation with timing and other logs. If you want a faster answer, try other ways to reach Amazon customer service.
Contact Amazon on social media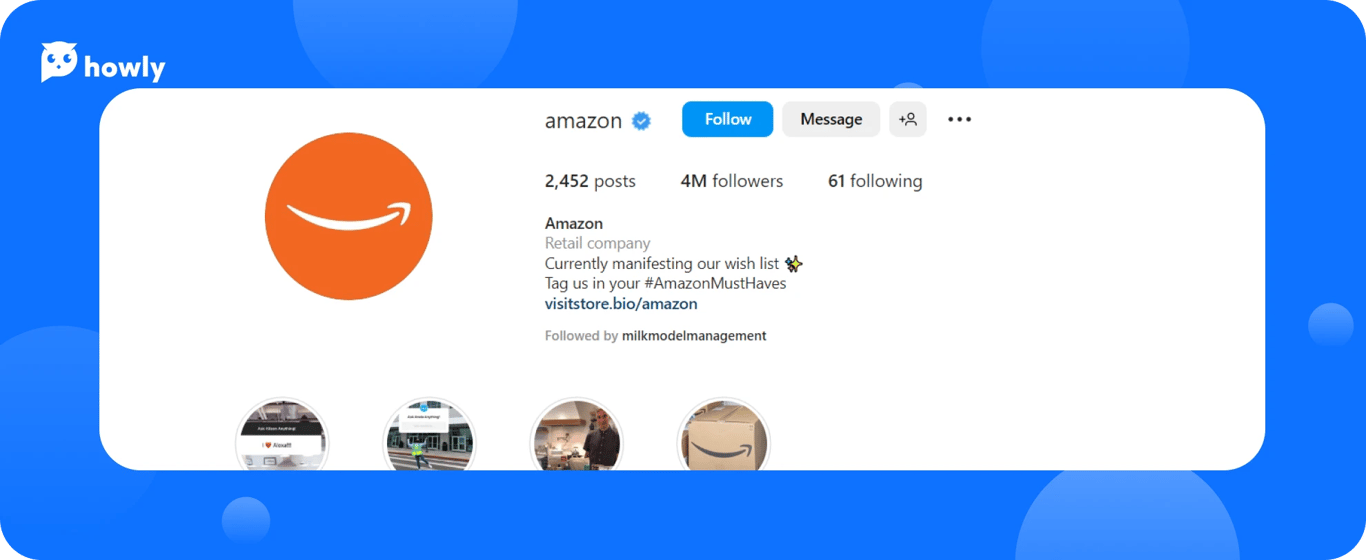 Another way to talk to Amazon customer service. Send a direct message or tag in the post @AmazonHelp account on Twitter. They answer in 10+ languages, including English, Spanish, French, and German.
You can also contact them on Facebook or Instagram pages. Beware that there is a lottery: you may get an answer almost immediately or wait for a few days. That's why it's the last method on our list.
F.A.Q.
What is Amazon's phone number and when can I call them?
Their number is 1-888-280-4331. They work around the clock even on federal holidays, so you can call at any time day or night.
How do I call Amazon customer service?
Make sure that your current number is linked with your Amazon profile, it helps agents identify you. Dial 1-888-280-4331 and wait until the representative can answer you. Usually, it happens within 15-25 minutes.
How do I send an email to Amazon customer service?
Write a detailed email describing your issue and send it to cs-reply@amazon.com. It may take up to a few days to get a reply. It's not the fastest, but a guaranteed way to contact Amazon account customer service.
Conclusion
You have seven options on how to get help on Amazon. Firstly, browse Customer Service and the Amazon user's forum. They usually have information that helps you solve common issues. Use it when you have a common issue and don't want to wait for a representative reply.
Call the hotline or chat with Amazon customer care online. You can do this both on the web and app versions. Those are ways to solve some urgent Amazon-related problems that you don't want to share publicly. You can also write an email, but it may take up to a few days to get a response.
If you prefer using only social media, you can tag the official Amazon account or write them a DM. Social media representatives usually answer within a few days: use the hotline or Live Chat to get an urgent response.