This service constantly analyzes your search and watch history to promote videos that suit your needs. But what to do if you need to delete the YouTube history for some reason? You may want to do some videos, so it won't affect YouTube recommendations, you may use someone else's device or just want to start everything from scratch. There are many reasons for this, and they all can be solved with user-friendly instructions.
Before we start
Save your time and let professionals resolve your issue in minutes!
Want to start solving your problem immediately? Experienced Howly troubleshooters can fix your issue ASAP. They're already waiting for you in the chat!
The benefits you'll get while troubleshooting your issue with Howly experts:
Qualified help with laptops HDD

Quick advice right in your device 24/7/365

Expert reply within 60 seconds

Clear step-by-step guidance

Limitless number of follow-up questions

Understanding and empathetic help till your laptop HDD issue is fully resolved

All answers you need in one place
Useful guidelines to clear YouTube search history
There are two main history types on YouTube: watch and search records. You can remove both of them by implementing easy guidelines. But beware that it affects all devices that use the same account. You won't be able to view your history on PC once you remove it from the phone and vice versa.
Sadly, you can't clear a YouTube search history without affecting the watch story on mobile. YouTube terminates this option back in 2020-2021. But you can manage both watch and search records separately on the desktop. It's not perfect, but still a fine solution for anyone who wants to modify their YouTube history.
In-app (iOS/Android)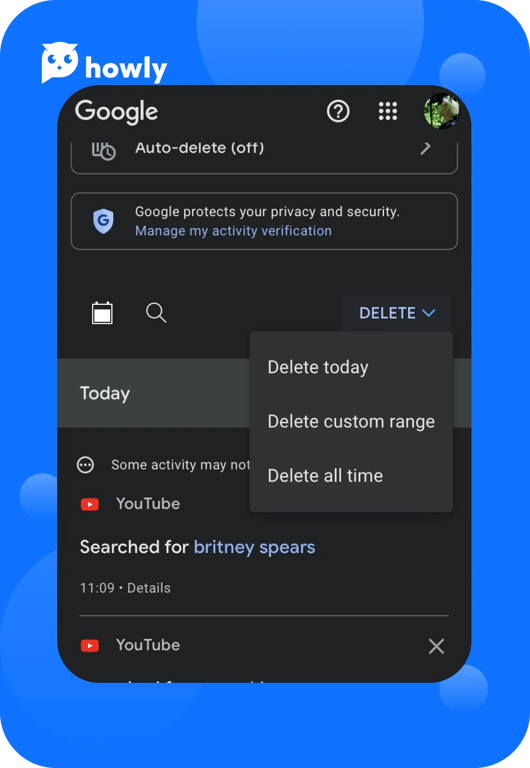 This service has similar instructions on both systems. So just make sure that you strictly follow these guidelines:
Launch the application and tap on your profile image.
Pick Settings → Manage all history.
Log into the account where you want to remove history. Service adds this step to prevent accidental history removal.
Click on the cross near the activity that you want to remove.
Click Delete to remove history from some time frame or the whole story.
If you want to remove some recent searches, go to the YouTube main screen and tap on the magnifier icon. Find the search request and swipe it to the right. Select Remove. That's the only way to delete some search queries without interrupting watch records.
On a desktop browser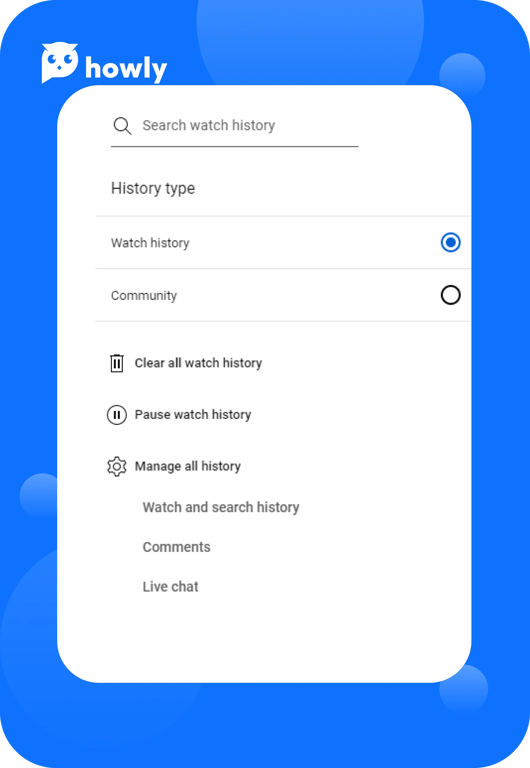 Luckily, desktop users can manage watch history and search records separately. We have two instructions for you. Here is how you can clear the YouTube search history:
Launch the YouTube site.
Look for three lines at the upper-left part of the display and select the History page.
Pick Clear all watch history. You can also pause it, so you can watch videos, but they won't be recorded.
If you want to clear some searches from the account, scroll records until you find the needed query. Click on the cross near it to remove it from the account. Unfortunately, you can't eliminate all searches in one approach.
How to set up YouTube auto-removal
If you think that removing all history will be too much, you can set up auto removing. Once the record passes a certain period, it deletes automatically. You should enter the Manage all story menu. If you are using a computer, open the YouTube site, and go to the History → Manage all history. On the mobile application, tap on your account icon, and select Settings → Manage all history.
Once you are in this menu, pick Auto-delete. Go to the Auto-delete activity older than and set the preferable time frame. Choose Next to confirm changes.
F.A.Q.
Why can't I clear my YouTube search history?
Maybe you log into the other account. It often happens with mobile devices. You may also have no records to remove. It happens when you pause history and forget about it.
How to delete YouTube search history on the mobile app?
Open the official YouTube application and go to the settings. Pick Manage all history and sign into the account where you want to remove information. Select Delete to clear history on YouTube.
How can I delete YouTube history on my computer?
Open the website and pick the three lines. Click on the bin icon to remove watch records. You'll still have access to your search history on YouTube.
Wrapping up
You can clear YouTube history with a browser or in the app. If you want to modify only watch history, use the first option. In the desktop version, you can remove only watch records or both watch and search chronology.
The mobile application doesn't have that liberty of choice. If you decide to remove it in bulk, you can delete only both types of history. There is no way to remove all watch records. If you want to remove a single history item, you can do it in the service's settings. You can also set an auto-clear option, so all records will terminate automatically after a certain period. You can set 3, 18, and 36 months time frames to delete history on YouTube.