USA foodies like DoorDash food delivery. To ease the life of loyal customers, the service has made a DashPass subscription. It gives people various ordering benefits, like priority delivery, reduced fees, premium promos, etc.
However, some users can't find it useful and wish to cancel it.
There are 4 ways to cancel the DashPass subscription: via PC, mobile app, email, or phone.
Before we start
Save your time and let professionals resolve your issue in minutes!
Want to start solving your problem immediately? Experienced Howly troubleshooters can fix your issue ASAP. They're already waiting for you in the chat!
The benefits you'll get while troubleshooting your issue with Howly experts:
Qualified help with laptops HDD

Quick advice right in your device 24/7/365

Expert reply within 60 seconds

Clear step-by-step guidance

Limitless number of follow-up questions

Understanding and empathetic help till your laptop HDD issue is fully resolved

All answers you need in one place
Reasons for canceling DashPass
Here are 3 reasons why people want to cancel the DashPass:
Users need to pay for their membership even if they don't order anything in a month. Some people order deliveries once every 2-3 months, so it will be cheaper to pay a one-time fee.
Not every restaurant works with DashPass. If you order from a place like this, you still need to pay for delivery.
You can enjoy most of the DashPass discounts only if your order exceeds $9,99.
As you see, this service is not everyone's cup of tea. If you order restaurant delivery once in a while or don't have your favorite restaurant in the DashPass, you can order with regular DoorDash. The subscription won't be helpful to you.
How to cancel DashPass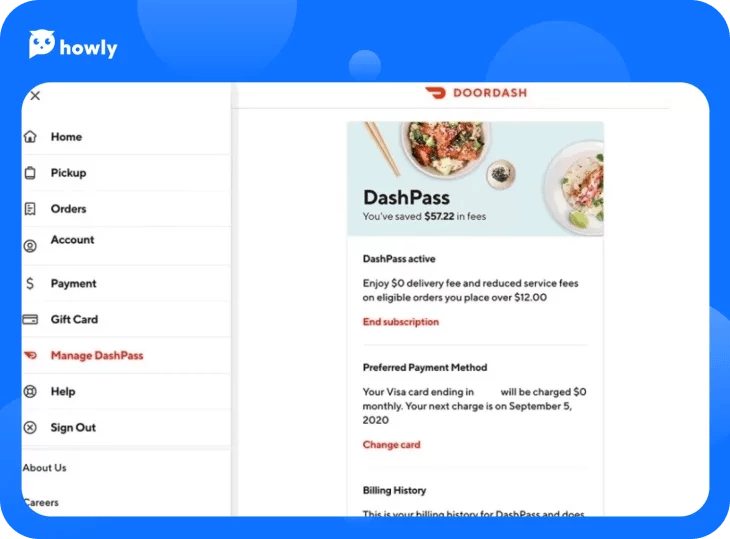 You have 4 methods to cancel the DoorDash pass. In two of them, you unsubscribe manually.  In the other two ways, you ask the support to end your membership. Usually, the DashPass cancel process takes up to 15 minutes. Stick to our instructions, and everything will work as intended.
With a web browser
It's the most common way to cancel a DoorDash subscription. Follow these steps to complete the unsubscribing process:
Log into the DoorDash website.
Find the account logo on the top left part of the screen.
Follow this path: Manage DashPass → End Subscription.
Confirm your intentions by choosing the End Subscription button.
That's it! From now on, you will be a regular DoorDash user.
Through the app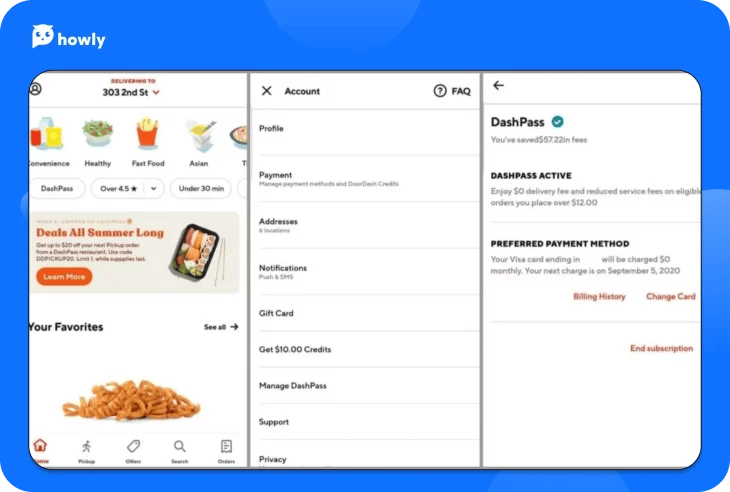 It's another common way to end your membership. Use this guide to cancel the DoorDash pass:
Open the DoorDash app and tap on the profile logo.
Find Manage DashPass → End Subscription.
Approve that you no longer want to have a DashPass membership.
You can check the account info to ensure you cancel the DoorDash subscription. You will have access to premium perks until the next billing day.
Via email
It's the third way to cancel a DoorDash Dash Pass membership. It will fit you if you forget the password. Stick to this guide:
Open any email client and start to write a letter.
The subject should look like "Cancel DashPass of John Doe".
Give them account details, full name, and login credentials. If you don't remember the linked email, share more information about a few last orders.
Address this letter to help@doordash.com. The support will cancel the DoorDash pass in 2-3 days.
Over the phone
If you don't like to cancel the DoorDash DashPass with digital methods, you can do it more classically:
Call the DoorDash hotline by dialing (855) 973-1040.
Ask the support to cancel the DashPass. They will process your request.
Wait for a few minutes. Usually, support agents end your subscription 10-15 minutes after the call.
How to cancel DashPass free trial
This service has a 30-day trial. If you don't want to use the service after the trial is expired, make sure to cancel it. Otherwise, DoorDash charges you for a full subscription. Deactivate the trial using this instruction:
Open the DoorDash site or app and sign in.
Choose the account logo.
Follow the next path: Manage DashPass → End Trial.
How do I know when my membership ends?
DashPass has two plans: monthly and annual. The first option renews every 30 days, and the second bills you once in 365 days. Here is how you can find the next payment date:
Open DoorDash and sign in.
Go to the left side of the page. Open the menu.
Choose DashPass.
You will see the subscription status, including the following billing date. Cancel the DoorDash subscription before it: you can do it even today. You will be a DashPass member until the payment day.
F.A.Q.
How long does it take to cancel my membership?
You get instant results if you cancel the Doordash subscription online via the site or app. If you call support, wait for 10-15 minutes after the call. It can take 2-3 days if you choose to write the email.
Will the cancellation of DashPass delete my credit card data from the system?
Usually, the system removes your card data immediately. But you can double-check it on DoorDash account settings.
If I cancel DashPass, will I get a refund?
No, you don't get any money back. But you can use it until the next billing. You can also put the DashPass on pause. The company will stop charging you, but your payment data will remain in service. It will be so much faster to reactivate the subscription.
How do I renew my DashPass subscription?
If you want to renew the membership, stick to this instruction. Go to the DoorDash site or app. Open Account → Subscription → Reinstate. After this, fill in your credit data info.
Wrapping up
DashPass offers you extra benefits only for $12/month. You can easily quit if you understand that you don't need this premium service.
You have 4 ways to cancel DashPass: using a web browser or DoorDash app, by calling the support, or by mail.  If you need even more detailed instructions that suit your situation, ask Howly for advice. Our experts will gladly help you solve any tech troubles, including subscription issues.