Facebook is still a highly popular social network. People use it for work and to stay in contact with relatives. Unfortunately, it's not rare when the user's Facebook email was changed by someone else. From now on, the person who hacked your account now has complete control over your profile.
Before we start
Save your time and let proficient specialists in Facebook problem-solving resolve your issue in minutes!
You may catch some panic when you see that your Facebook was hacked with a changed primary email. But Howly experts can solve even the most complex issues. Contact them to get individual guidelines!
The perks you'll get resolving your Facebook problem with Howly experts:
Specialized help with Facebook login issues

Quick advice right in your device 24/7/365

Expert reply within 60 seconds

Clear step-by-step guidance

Limitless number of follow-up questions

Patient and understanding help till your Facebook hacking issue is fully resolved

All answers you need in one place
On the other hand, there is no need to worry right from the start, as Facebook will immediately notify you if someone hacked your Facebook and changed the email and phone number, as well as any other information on your account. So, what should you do if your Facebook account gets hacked and your email is changed? Use these guidelines to bring back access to your account.
What is the "Facebook email changed" notification?
As mentioned, Facebook notified you with the mail "Is it not you?" each time after any change. That way they can confirm that the password or email was changed on Facebook by the account's owner.
If you notice it quickly enough, you can reverse those changes. But if you ignore the notification letter for 2+ days, Facebook considers you aware of those changes and confirms them.
If you recently change your email, then there's no need to be concerned. You can ignore this notification. The system shows you those notifications to find out that your email was changed on Facebook by a hacker or by you as the owner.
However, if you have received the notification but the email remains the same, then it's possible that a hacker is attempting to access your account right now, and you should take action right now.
What would you do if a hacker changed your Facebook password and email?
Suppose you have received a message that someone hacked your Facebook. If you still can access your account, change your credentials as soon as possible. When you get an in-app Android or iOS notification that your Facebook account was hacked and the email changed, you still have a chance that your mobile number is synced to your account.
When creating a new password, we strongly advise using a password generator to get a strong and unique password.
Сhange your Facebook password
To resolve this issue, you must first retrieve your Facebook password. Here's how to do it:
Open the Facebook website.
Under the Login button, select the "Forgot Password?" option.
It will open a new tab in which you must input your email address.
Note: If you can't access your email for whatever reason, you may enter your telephone number. There's also an option to find your account by your username.
Check the email and enter the secure code from here on Facebook.
Then you will be able to access your profile once again using the code. Facebook will immediately direct you to Settings, where you may create a new password. After you've completed the steps mentioned above, you will have to change your main email address by following the instructions below.
We recommend you create a new email with some gibberish in its name. So even when a hacker tries to crack your account again, you'll have more chances to save your account. Hackers usually try to crack the profile using variations of your name as the login. Thus, this "gibberish" method can save you from situations where your email will be changed on Facebook by a hacker.
Change your Facebook email address
If someone changes both credentials, the recovery process will take a bit longer. If you can't use your number/email, click "No longer have access to these?" at the popup window.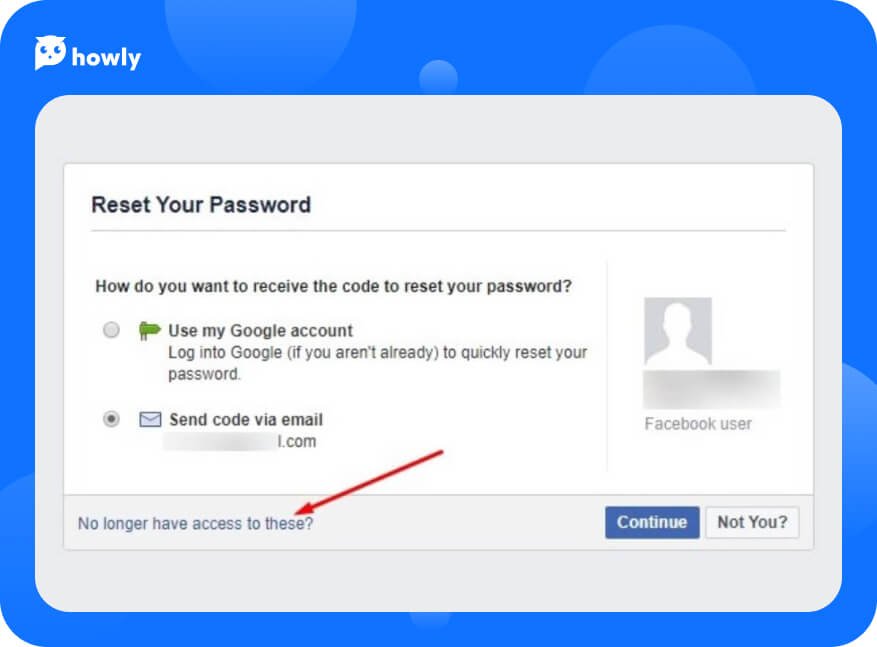 After you select it, Facebook will allow you to enter your password again. If you can't remember your password, select "I cannot access my email".
If Facebook does recognize your device as a friendly device, you will be offered to add a new email address. Follow these actions to do so:
Enter your name and upload your ID.
Then click "Upload ID" to select what type of document you want to upload as a verification of your ID.
Click "Send". If you have done everything correctly, you will receive a message that Facebook will contact you via email shortly.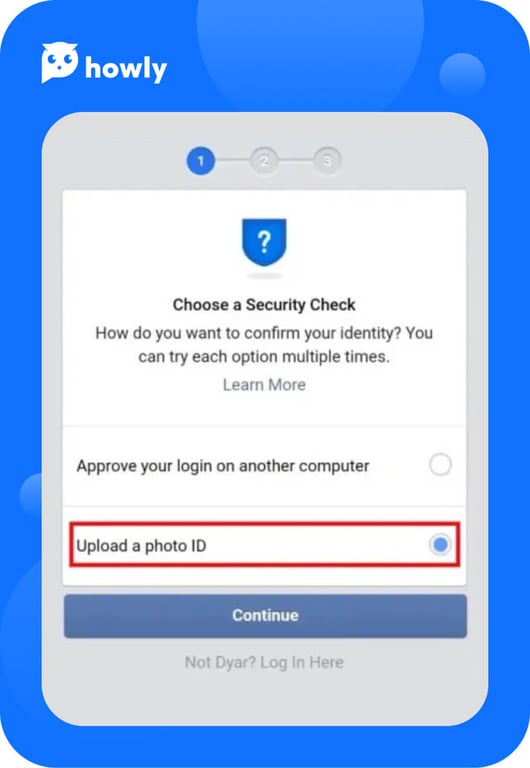 In case you don't have access to any of the ID verification options Facebook offers, follow these instructions to set up a new email:
Click "Show more" in the "Choose the type of ID" window.
Select "I don't have any of these".
Then you can upload 2 official documents to confirm your ID (utility bill, company or school ID, membership ID, transit card, etc.)
That's it. Just click "Send". If you have done everything correctly, you will receive a message that Facebook will contact you via email shortly.
How to recover a Facebook account that has been hacked?
You have two ways to restore access to the account after the Facebook account gets hacked and the password changed. Report your compromised account and confirm your identity. That way Facebook representatives can ensure that you are an account owner.
Earlier there was an option to restore the account with the trusted contact. But as of today, Facebook doesn't have this option.
Report about hacked account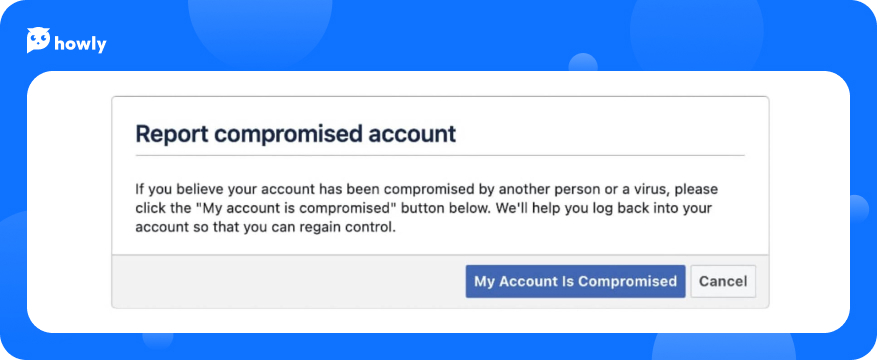 If you have noticed that your FB account was hacked and your email changed, the first thing you should do is report it. To do it, open this link in the incognito mode of your browser.
This step will assist you in regaining control over your account. When you click "My Account Is Compromised", you'll be automatically sent to a page asking you to enter your login or email.
Facebook will start searching for your account once you provide the required information. Next, you'll have to enter the password.
Once Facebook recognizes your account, you will be asked to choose a new password. Use a different password from the one you used on Facebook previously.
You'll get a congratulatory screen after selecting the Continue button. Additional security options can be enabled on the following screen.
Confirm your identity
Another way to recover a hacked Facebook account is to submit the "Confirm your identity" form. You can do it by following this link.
This form allows you to contact Facebook directly to restore your account. After you've submitted a form, Facebook will contact you via the email address that you provided.
You'll typically receive a response from the support manager in 1 to 5 business days. At times, you need to wait for their response longer. This is because Facebook receives an excessive number of reports daily, so it might take a while to get to yours.
Use trusted contact
Unfortunately, the trusted (friend) contact restoration method is no longer supported in 2023. Facebook officially claims that in their help section. So if you get the email that your trusted contact changed your password, it's a scam. Don't click on the links. Otherwise, your Facebook account will be hacked via a changed email.
The only way that a person may get almost full access to another person's account is by managing the deceased person's account. But when the page owner and the applicant are both alive (we hope that it's your case), there is no option to use trusted contact to restore access.
My Facebook is hacked and the email changed – what to do
Luckily, Facebook doesn't delete your account instantly. You still have 30 days until the system permanently removes your account from its servers. So, you have almost a month to restore your account from the moment scammers deleted it.
If they don't change your credentials, sign in as usual and scroll through Facebook to restore the account. You can't watch a news feed until you bring back access to the account.
If hackers change your password, sign in as usual. Facebook will show you the screen, saying that you've typed the wrong password. Pick Forget Password option, and choose a linked email or phone number. Facebook will send you a security code which you should enter while logging in.
If hackers change the login, you can still restore the account. It may be hard, but still achievable. Try to sign in with the last remembered login and password. You may see your profile picture and Facebook notification that ask you for identity confirmation.
Answer the questions to confirm that you are the page owner. Once you provide all answers, you'll see the Cancel Deletion option. Pick Yes, Continue to unlock your page.
But what to do if hackers change both login and password? The only suitable option is to restore access using your phone. If you don't sync your number with the Facebook page, or hackers withdraw your number from there, it's almost impossible to restore the account.
Try to enter the last credentials that you remember. Facebook will tell you there are no sync results in their database. They will give you the option to enter your phone number. You'll see it at the right part of the screen if it is still linked to your account.
You also will get the option to restore your account via SMS. Choose it and type the security code from the message to Facebook. That's how you can get back access to the stolen Facebook account with a changed email.
How to protect your account from being hacked?
Here are the main pieces of advice to protect your Facebook account from being hacked.
Keep your password safe:
Only use the password for Facebook, and never show it to anybody.
Make sure your password is difficult to guess.
Don't provide credentials even to trustworthy persons:
Fraudsters might set up a fake Facebook-like webpage and ask for your credentials to log in to your account.
Before entering your login details, double-check the site's URL.
Never forward emails from Meta (Facebook) to others. They may include sensitive account information.
Learn more about how to protect yourself from phishing attacks.
Be careful with malware.
Malicious software has the potential and the ability to harm your PC, server, and network.
Learn how to spot indicators that your computer or device has been infected with malware and how to get rid of it.
Regularly update your browser and uninstall any suspicious programs or extensions.
Even if you believe the link was sent by a friend or company, never click on it.
This applies to the links shared on Facebook and in emails.
The Meta service support team will never ask you for your password in an email.
Any shady links you come across on Facebook should be reported.
Make use of extra security features.
In addition, you may set up a two-factor authenticator and get notifications about unauthorized login attempts.
If you're using a computer to access Facebook, you may use the Security Check tool to check your security settings.
And one more piece of advice…
If you use your Facebook account for logging in to other services, remember to sign out every time you stop using them.
Conclusion
You have multiple ways to restore your Facebook. If hackers changed only your password, you can easily log back in and change it. When they modify your login, you need to prove your identity to ensure Facebook representatives that you are the account owner. If hackers changed both login and password, you can send a severe code to your phone.
Make sure you set a secure password regardless of how you solved your hacked Facebook/Meta account issue. To make future attacks even less likely, try updating the linked email and implementing 2-factor authentication.