Among many messages Discord tickles the fancy of gamers, in a traditional sense. But, the number of Discord users from different walks of life and interests is rapidly rising. Now, you can find like-minded people who chat about politics, TV shows, recent news, and even gaming.
Before we start
Save your time and let professionals resolve your issue in minutes!
Want to start solving your problem immediately? Experienced Howly troubleshooters can fix your issue ASAP. They're already waiting for you in the chat!
The benefits you'll get while troubleshooting your issue with Howly experts:
Qualified help with laptops HDD

Quick advice right in your device 24/7/365

Expert reply within 60 seconds

Clear step-by-step guidance

Limitless number of follow-up questions

Understanding and empathetic help till your laptop HDD issue is fully resolved

All answers you need in one place
Just like any app or software, Discord needs to be updated. An update introduces various changes from groundbreaking tolls to trivial bug fixes. Despite the purpose, it is better to check for Disocrd updates, since a new version will be safer, run faster, and be more optimized.
Below you can find a clear guide on how to manually update Discord.
Detailed guidance for Discord update on Windows
To ensure a smooth experience while using Discord, always keep the app updated regardless of the device you are running Discord on.
For now, we will focus on how you update Dicord on PC, especially if you have Windows as an operating system.
The way you update Discord on Windows is fairly easy. The good thing is that Discord updates automatically. You don't need to delete the program first before downloading and installing the newest version.
How do you update Discord on PC on launch
When you launch the app Discord, it immediately checks for updates. If you are not running an app on your computer, follow these steps:
Open Discord. You can do it by double-clicking an icon of the app.
Click on Allow. You will be agreeing to check(s) for an update on Discord.
If updates are available, the app will download and install them automatically.
A new feature list will be available when the update is finished.
Close the update window.
You are ready to use an updated version of Discord.
Force update Discord while the program is running
To check for updates, you don't always need to close Discord and start it again. You can force update Disocrd while using the application on your computer.
Use a shortcut for this operation.
Press Ctrl + R on your keyboard.
A black screen will appear. It is a sign of a restart session.
Any available update will be installed automatically. Meaning, Discord will detect and install it. There will be no pop-up windows to inform you about it.
Discord's interface will be refreshed.
When the update is finished, close down and open the app.
After a launch, all updates will be installed.
Update the Discord app during reinstallation
Sometimes reinstalling the app can be a handy solution. In case something goes wrong with the previous tips, you can always take the easiest road. Try reinstalling Discord.
Go to Start Menu.
Right-click the icon and uninstall the app.
Then, a window with Programs and Features appears. Search for Discord in the newly opened window.
Press the Uninstall button one more time.
After, search for Discord's website.
Choose Select for Windows.
Go through all set-up steps.
The software should now be updated on your computer after being reinstalled.
Run as admin
Here comes a backup option on how to update Discord on a PC. Without the required administrator credentials, certain apps struggle to operate correctly. Because of this, installing or updating certain programs is frequently problematic.
This could be the cause of Discord's failure to update on your computer. To have the rights of an admin, do the following:
On the Desktop or in Start Menu click on the Discord icon.
Choose the command to Run as Administrator.
Confirm your choice.
Now Discord should start up and update.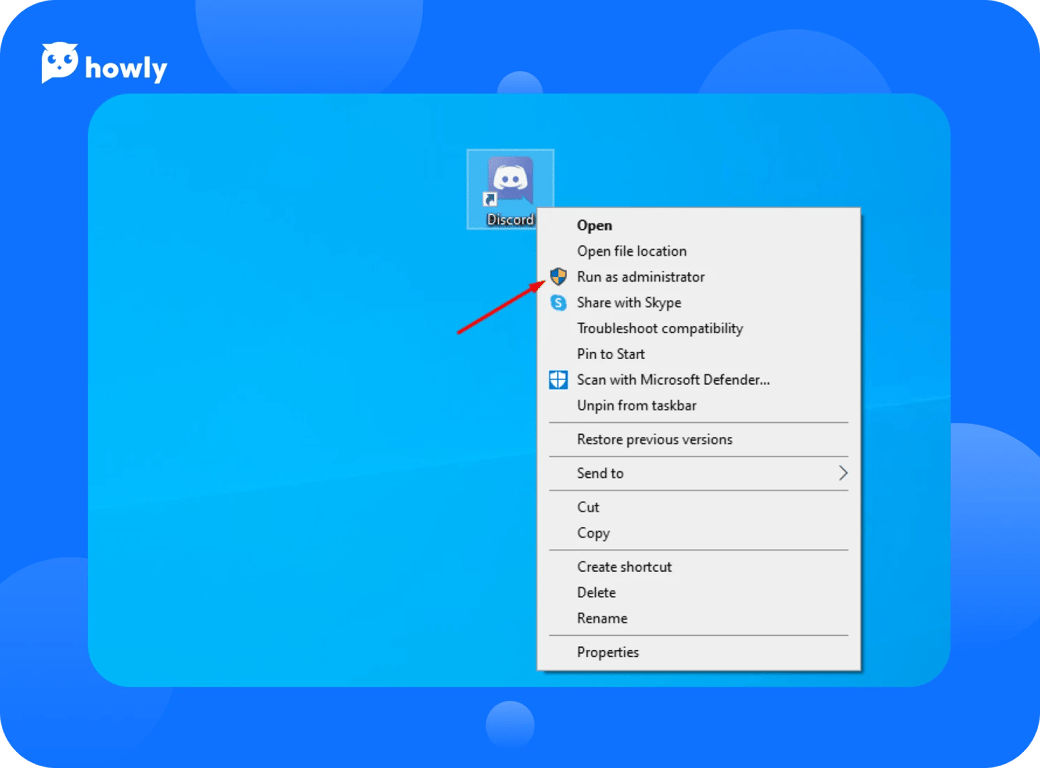 Disable Anti-virus
These days everyone has an anti-virus program on their device to ensure that all programs are protected. At times Anti-virus software can hurdle the decisions when you have administrator or owner rights. Meaning, it can detect false positives while supposedly protecting your software. For instance, it can flag a Discord update as malware or a virus.
To trouble, you can fix this situation by doing the following:
Go to the Start Menu.
Open Windows Security.
Go to the section Virus & Threat protection.
Open Settings.
There, disable Real-Time protection.
Run a Discord (ideally as an administrator).
If the result is positive, enable Anti-virus straight away after the operation. You do not want to leave your computer "bare" and susceptible to any unwanted viruses for too long.
F.A.Q.
Why is my Discord app not updating?
It is an easy problem that requires quick fixes. You solve the Discord Update Failed error by running your Discord app with administrative permission. In such case, a Discord updater will make changes to your device. So, when you download the app, a new update will be installed. To do so, please, use your local account as an administrator.
Does my Discord update automatically?
Sure, it does. Whenever you open the app, all update changes will be automatically installed. Some users tend not to shut down the program or even their computers. We recommend turning both the application and device off to update Discord automatically. Or you can use the reset command as an option.
How to make sure that the Discord app is updated?
As we described earlier, if you are running your device on the Microsoft Windows operating system the Discord app is updated automatically. Install the application, log into your account, and get ready to update it when needed. Use the shortcut Ctrl + R while your Discord is on. Then, you are ready to install new updates.
Wrapping up
There you go, several ways to update Discord on PC, so you can continue using a faster, more secure, and more advanced version of the app.
We recommend that you update Discord frequently and get the best out of the platform.
We hope that all these solutions will be helpful. Enjoy using your Discord app!