BET Plus is a widely-known service for streaming Black content. It's available on multiple devices and offers an advantageous free 7-day trial. After this period, the service charges $9.99 for a pack of the monthly sub in case you're willing to use its features in the future. But those who have nothing else to watch or just don't appreciate the service might have a desire to cancel the BET Plus membership.
Before we start
Save your time and let professionals resolve your issue in minutes!
Want to start solving your problem immediately? Experienced Howly troubleshooters can fix your issue ASAP. They're already waiting for you in the chat!
The benefits you'll get while troubleshooting your issue with Howly experts:
Qualified help with laptops HDD

Quick advice right in your device 24/7/365

Expert reply within 60 seconds

Clear step-by-step guidance

Limitless number of follow-up questions

Understanding and empathetic help till your laptop HDD issue is fully resolved

All answers you need in one place
This informative guide from Howly will help you learn all the ins and outs of deactivating your free trial in advance and preventing recurring payments.
Potential issues you may face when canceling BET Plus
People use a whole range of platforms to sign up for BET Plus. But due to the differences in the process of canceling a subscription on each of the platforms, subscribers often run into problems trying to get rid of the membership quickly. What's more, people often subscribe to the service via a particular device, which may cause additional headache when they seek a button to cancel BET+ subscription. Howly is well aware of all these issues and ready to present you with the most common cancellation problems we typically fix.
troubles canceling BET+ via Google Play;
errors when logging into your account;
BET Plus refund doesn't work;
subscription renewal issues;
no button to unsubscribe;
free trial refuses to cancel;
payments don't stop;
failures to contact BET+ support;
errors when making attempts to cancel BET Plus on an Android phone;
problems canceling subscriptions using an account in Amazon.
Cannot find your issue among the listed above? Don't worry! Howly specialists troubleshoot all existing tech troubles related to the BET+ subscription. So, they'll show you how to cancel BET Plus with no stress via any device or platform!
How to cancel BET Plus subscription on Amazon Prime
You have an opportunity to cancel your BET Plus subscription on Amazon from a mobile device or desktop computer:
Access your account in Amazon Prime.
Spot the Membership and Subscription menu under the Account section.
Pick Video Prime Channels.
Pick the sub you're willing to remove.
Tap Cancel Channel.
Don't forget to confirm your choice in order to make the cancellation work instantly.
How to cancel BET Plus subscription via its website
Let's consider how to cancel your BET Plus subscription via its web platform.
Access the official website of BET+ and sign in.
Hit the Gear button in the upper corner of the page to get to Settings.
Spot the Subscription section.
Pick the Manage Subscription link (near your plan).
Hit Cancel and confirm by picking "Yes, Cancel" in the pop-up window.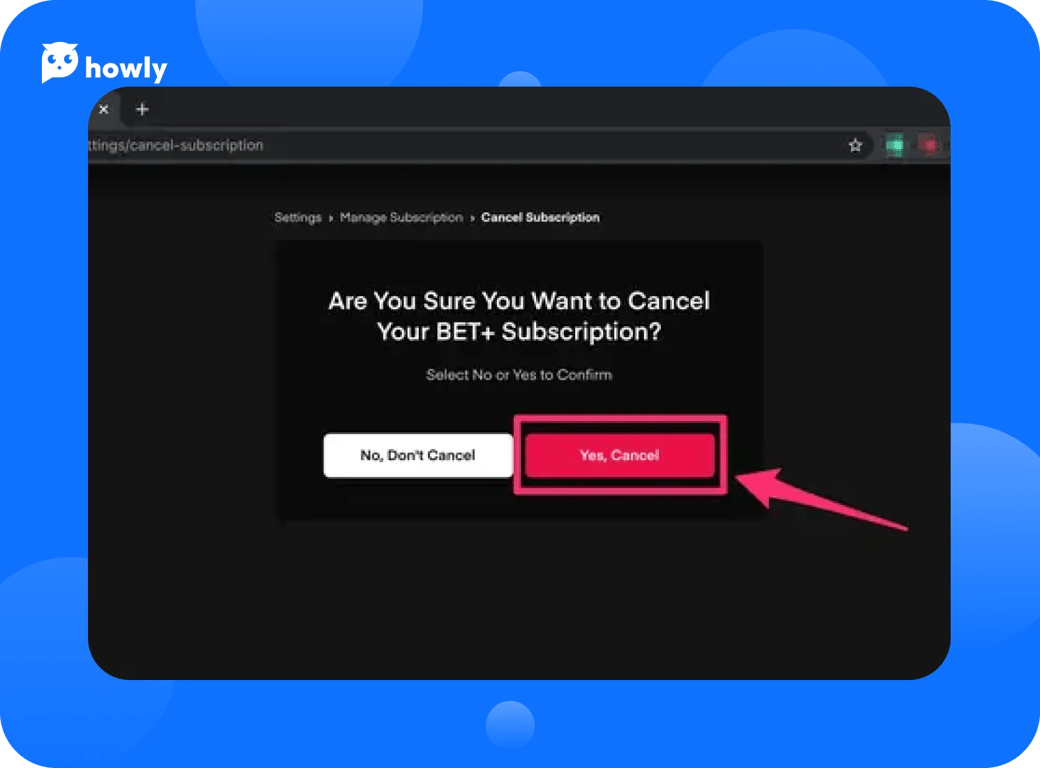 How to unsubscribe BET Plus via iOS device
How to cancel my BET Plus subscription with the help of an Apple phone? The procedure is rather straightforward in case you follow the guidelines below:
Access Settings.
Enter App Store&iTunes.
Tap Apple ID.
Pick your Subscriptions tab.
Move to Manage and spot BET+.
Finally, Cancel the subscription.
All is done quickly and effortlessly in just a few minutes.
Remove BET Plus using your Apple TV
How do you cancel the BET Plus subscription through Apple TV? There's nothing complicated in this process.
Access the Settings menu.
Navigate to the General section.
Scroll down to Manage Storage.
Pick BET+ and hit the trash bin icon near it to delete your sub.
How to cancel BET subscription via an Android device
Let's consider the algorithm to cancel Bet Plus on an Android phone:
Access Google Play on your Android-driven tablet or smartphone.
Pick Subscriptions.
Pick the BET+ sub you're willing to cancel.
Tap Cancel.
Before completing these steps, ensure you've entered the proper Google Account.
Delete your subscription via Roku
If you no longer want to have BET+ on your Roku device, follow the below-mentioned algorithm:
Press Home right on your remote.
Navigate through the channels and find your BET+ subscription.
Press "*" to highlight the channel.
Opt for the Manage Subscription option.
Pick Cancel in the next window.
End the process by hitting Done.
BET Plus cancel subscription via email
You should complete just a couple of steps to get rid of BET+ via email:
Write to support@bet.plus (include "Cancel BET+ sub" as the subject of your email).
When they text you back, submit the required details about your account and point out that you want to stop the sub before the next payment is charged.
F.A.Q.
How do I cancel the BET Plus free trial on my iPad Pro?
The free trial is canceled just as a regular subscription. So, to deactivate the membership, head to the iPad settings and pick Subscriptions. Spot your BET+ sub, tap on it, and hit Cancel.
Will I receive a refund for BET+ cancellation?
Unfortunately, customers should not count on a refund after BET+ cancellation. The service does not pay back money for any previous membership charges. Their subscription is non-refundable.
How long can I enjoy the BET Plus free trial?
Once you activate BET+ for the first time, you get access to a 7-day trial and can enjoy a wide collection of Black media. Please note that when the period expires, you will be billed a monthly membership fee.
Final thoughts
Keep in mind that you have the right to cancel BET+ anytime you find convenient. What's more, it's crucial to perform the cancellation process from the same device/platform you've used to subscribe. Although this guide is informative, you may still have some questions on the matter. Thus, don't hesitate to contact Howly for instant online help. Our experts are well aware of all the nuances concerning BET Plus cancellation and can provide you with practical solutions to any problem 24/7!